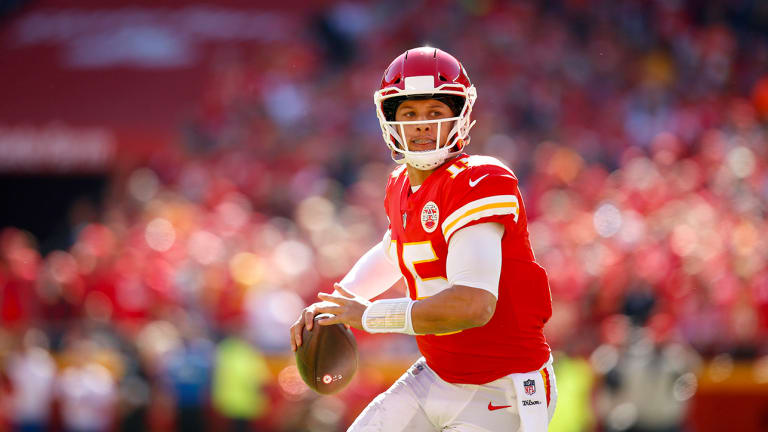 Will Mahomes Surpass Rodgers as the Most Talented QB Ever?
He's has less than a full season of games as a starter under his belt, but Mahomes continues to do things no one has ever seen before. Is it time to make "most talented QB to ever play" a two-man debate?
On the Monday Morning NFL Podcast, Andy Benoit and Gary Gramling analyzed Patrick Mahomes on his pure talent as a thrower…
GARY: Let's go to Baltimore-Kansas City. I would say the Ravens defense won the chess match against the Chiefs offense, but Patrick Mahomes just made a series of ridiculous plays, as he does. Maybe if you have Patrick Mahomes you're mildly disappointed by 377 yards and two touchdowns in this game, but he made so many plays that had no right being made to keep the Chiefs in it and eventually win it.
ANDY: So what I've learned in this industry working at Sports Illustrated, it's better to be early on something than to be late. You can't be late to a narrative. It's why we did the Zac Taylor/Press Taylor story this week, those young quarterbacks coaches, because someone else is going to point them out first before those guys are well-known and now we're late so we're gonna be the first. So I'm gonna be too early on this conversation, but I think this is a conversation that will come up one day and probably sooner than we guess: Do we start looking at Patrick Mahomes as the most talented passer we've ever seen, instead of that guy in Green Bay?
GARY: He's up there.
ANDY: Talking just pure talent as a passer.
GARY: The one thing I'll say about Aaron Rodgers is, when I think back to his best throws, there are so many throws where he's on the move, he's throwing to a guy who's covered, he's throwing at a defender's earhole and manages to come up with a completion. Mahomes, when he extends plays—not always, we had that play where he was on a dead sprint against Oakland and ended up fitting in a laser throw in the end zone to one of the tight ends that isn't Kelce.
ANDY: That was [Demetrius] Harris, and I tweeted the play because I was so blown away by it. I thought that was the best throw I'd seen all season until I saw that one today, the no-look one against Baltimore.
GARY: The no-look throw was insane. He had another one, which you couldn't tell much from the broadcast angle, it was just such a strange-looking play because it looked like he was about to take off and then Spencer Ware starts heading down the sideline and Mahomes just sort of flicks a side-arm bullet—you didn't realize how tight the window was until you saw the lower angle.
I will say, when Mahomes extends plays, a lot of times it tends to be he's throwing to a wide-open space and Tyreek Hill is running it down. Aesthetically, most people might like that more but I feel like the Rodgers's throws on the run where he basically whizzes it by a defender's ear is something. If we're just talking the elite, best of the best, I think those throws are a higher level of difficulty.
ANDY: I think Mahomes is a better weird arm angle thrower than Rodgers. I think Stafford's been the best I've ever seen at weird-platform throws and Mahomes is much better than Stafford at throwing from different angles. So we give it to Mahomes there. I think Mahomes is a little bit inconsistent if we're talking greatest that we've seen—again, just pure talent passing, not best passer, but talent. When you talk pure talent passing, it feels like at some point in the conversation consistency of precision accuracy needs to factor in somewhere, even if that's not pure apples-to-apples as a talent play. I do think Rodgers is a steadier big-time wow thrower. He's also probably the better downfield thrower. What's amazing is Mahomes, for as great as he is, he misses a few every game too and I think that's going to get cleaned up. I don't think he's going to miss for the rest of his career. He's going to get better at his reads and he's already getting there.
If you want the latest episode of The Monday Morning NFL Podcast in your feed when you wake up Monday morning, then subscribe to The MMQB Podcasts. For non-subscribers, there is typically a soul-crushing lag.
ANDY: This is a fun story that's unfolding here. I don't get wowed by guys throwing the ball very often, at least not on the throws he does. Sometimes a Cover 2 hole, deep outside throws, some of those gutsy throws I like, but these slants and intermediate throws he makes, they're wowing me.
GARY: When they were down late in this game—they were down a touchdown in the final minute—they had a fourth-and-9 where he was immediately pressured and had to sprint out right. It's just one of those plays where most guys don't have the arm strength to throw it back across the field at that point, but he had enough to find Tyreek Hill coming back across the middle of the field. They end up converting a fourth down touchdown later on the drive. They were on the brink for most of this one. The Ravens, all those disguises, a lot of times they put basically everyone on the line of scrimmage—
ANDY: —which is what New England did, remember? We said New England gave them trouble with that so we thought it might be the case going in.
GARY: Ravens did a lot of the same. They put a lot of pressure on him. This was probably the most pressure he faced all season, but he came out. He made the plays when he had to make them and lot of them were just a matter of a guy being supremely talented and being able to do things that no one else can do. I think he's the MVP at this point. I think he has separated himself from Drew Brees.
ANDY: Brees makes it look easy. That doesn't mean it is easy though. I don't want to take away from Brees. That's a well-oiled machine that he has built. It's going to be an interesting conversation though.
• Question or comment? Email us at talkback@themmqb.com.