Matt Cooke taking unfair heat for Karlsson's injury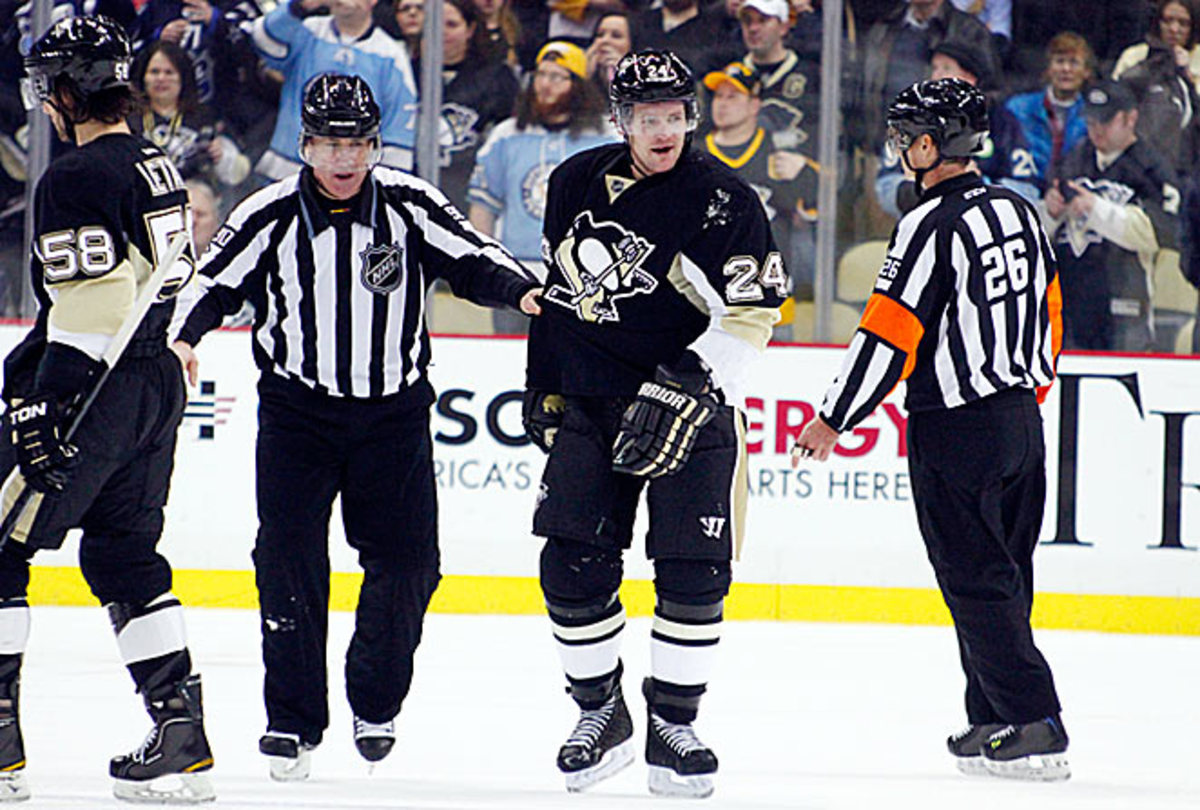 They're hanging the black crepe in Ottawa after the devastating injury on Wednesday night to Erik Karlsson, the reigning Norris Trophy winner as the NHL's best defenseman. The Senators have played only 14 of their 48 games and, as James Gordon and Wayne Scanlan write in The Ottawa Citizen, their "season officially ends on April 27, but from a truly competitive standpoint, it may already be over."
This is because Karlsson, who's only 22, has been the catalyst for Ottawa's attack. He scored or set up roughly one-third of the team's goals last season and finished 11th among all NHL players in scoring, with 19 goals and more assists (59) than the points total of any other defenseman. His six goals this season lead all blueliners. Simply stated, whoever the top puck-moving d-man is on your favorite team, Karlsson is better.
And some of the people who are hanging black crepe are also ready to hang Matt Cooke, whose skate sliced Karlsson's Achilles tendon as the pair battled for the puck as it came around the boards during Pittsburgh's 4-2 victory. Cooke's reputation -- well earned, as all hockey fans know -- is that of a cheap-shot artist, one who not only plays the game on the edge, but is willing to go over the edge. However, both hangings are not deserved.
MUIR: Which teams should panic?
The Sens may be in trouble, but they are not done yet, and Cooke did nothing wrong. Let's look at the incident first, one for which the NHL will not hold a hearing or subject Cooke to a fine or suspension.
In one sense, this injury never should have occurred. As the Penguins announcers describe it, the puck actually went out of play into the netting above the glass after hitting the crossbar, but bounced back onto the ice. That went undetected by the officials, which does happen on occasion. It makes what transpired even harder to take.
Most curious to some would be the positioning of Cooke's left foot as he rides Karlsson into the boards. He lifts it as they each attempt to get possession of the puck caroming around the perimeter. Especially in slow motion it can appear that Cooke is engaged in a sneak attack on the All-Star's leg. But the fact is that this lifting of the leg is a routine maneuver that checkers perform when they are intent on pinning an opponent to the boards, and it occurs perhaps dozens of times in an NHL game. The idea is for the checker to wedge his leg between the opponent's legs to prevent him from moving. It's so common that on the TSN telecast of the Dallas-Calgary game that aired after Senators-Penguins, former NHL defenseman-turned-analyst Aaron Ward was able to show that a pair of maneuvers just like it had happened during the first two minutes of the second contest. (Video)
"This is simply a hockey play with an unfortunate result," said Ward. "This is a hit and pin. This in an attempt to contain a player... There is no way, unequivocally, a player can sit out there and devise in his mind in that moment, 'This is the time I'm going to slide my foot down and take out the back of his leg.'"
You have to distinguish that move from something that is truly nefarious: when one player kicks the skates out from under another. That's called slew-footing. Here's an example from a Montreal-Pittsburgh game last season: P.K. Subban doing it to Chris Kunitz.
But in the video from TSN linked above, Ward shows Dennis Wideman of the Flames trying to pin the Stars' Eric Nystrom in the accepted manner and explains, "It's discreet, but again, he's trying to contain the player to simply control where he is in the corner. And since they've taken clutch and grab out of this game, players are using these more as tactics because that's what's available to them."
Him again
Certainly the Senators' brass knows this. Still, in their shock at seeing their most valuable player rendered hors de combat, they assailed Cooke on the basis of his inglorious and extensive rap sheet. GM Bryan Murray told Josh Yohe of The Pittsburgh Tribune Review, "It's Matt Cooke. What else should I say? Watch the replay."
And Coach Paul MacLean told the media afterward, "It's unfortunate it happens on a nothing play. We all know who is involved with it and that's just the way it is. Injuries are a part of the game and we just have to move forward."
No doubt, Sens Nation is ready to go to war, as Chris Neil did last night in challenging Cooke to a fight near the end of the game. Cooke declined. He got an undeserved 10 minute misconduct anyway, the refs using the penalty to get him off the ice and spare any further attacks as the game wound down. Neil also got a deserved 10 and a double minor for roughing.
Cooke has always been a valuable role player, a fine checker and hard worker. He was also a world-class irritant. Had SI.com's Allan Muir come up with his now celebrated 10 Most Hated NHL Players list two years ago, Cooke would have been Number One with a bullet.
But what Cooke was in the nasty department, he is no longer. After a series of highly publicized incidents, including five suspensions and a non-ban in 2010 for his blindside (but legal at the time) hit on Boston's Marc Savard, he changed the way he played, told to do so by his bosses in Pittsburgh, owner Mario Lemieux and GM Ray Shero. They sat Cooke down after his 2011 head shot on the Rangers' Ryan McDonagh, which earned a suspension for the remainder of the season and the playoffs. It came shortly after Lemieux had publicly spoken out against hits to the head. So he and Shero told Cooke that he had to play a less belligerent game or they'd drop him from the team.
Cooke responded and reformed, to the point where he adjusted the way he plays and even sought counseling. He described his new approach to the game earlier this week to Dave Molinari of The Pittsburgh Post-Gazette, saying, "The moment I'm chasing the puck, it's just trying to take as much information as I can in, as opposed to just going for the biggest hit I can."
Everyone in the NHL took notice last year. Cooke's penalty minutes plunged to 44 from 129 the season before. He was the Penguins' nominee for the Bill Masterton Trophy for his dedication to the game. NHL VP of Player Safety Brendan Shanahan recently told The Tribune Review that Cooke had "done a great job of showing that a player can change the way they play and be effective. I wouldn't say he's wiped out the past, but I will say he has done everything you'd like to see from a guy who was in his situation. He's playing the right way."
The old Matt Cooke might have slew-footed Karlsson. The new Matt Cooke just went for the standard legal hit that NHLers have become accustomed to delivering and absorbing. This time, his stick tangled with Karlsson's, and with his balance perhaps compromised as a result, it had bad consequences.
(By the way, Sean Gordon of The Globe and Mailhas another view, arguing that even though what Cooke did was commonplace, it is a dangerous play and he should have been suspended anyway because it would have been a teachable moment for the NHL's other players. Perhaps, but the rules would have to be changed first to make that move illegal. Right now, it's not and the league can't suspend a player who hasn't broken a rule.)
The consequences for Karlsson, according to Murray, now seem to be that he'll be out for between three and four months after surgery. Karlsson's tendon was only 70 percent severed, so that has to qualify as the good news. The bad news is that he's most likely done for the season.
How long Ottawa will survive this season is the next question. The Senators have already lost their top center, Jason Spezza, who is out indefinitely, and they are minus their two best skaters. They won't have an easy time trying to qualify for the playoffs. And yet, to write them off before the majority of their schedule has been played would be a mistake.
If there's a coach who can set the right tone and get the most out of his roster, it's Paul MacLean.
He's going to have to make some adjustments to his team without Karlsson, but he's got Sergei Gonchar to run the power play (this should end all trade rumors about Gonchar) and he's got arguably the league's best goalie right now in Craig Anderson. The Senators have strong veteran leaders in Daniel Alfredsson, Chris Phillips, Neil and Gonchar who know how to push players the right way.
Still, someone is going to have to play all the ice time that Karlsson eats up, and he's seemingly inexhaustible out there, averaging 27 minutes per game, fifth-most in the league. That's going to be a huge challenge for MacLean and his team. It's also going to be a huge loss for the fans.
Even though Karlsson won the Norris last year, you still get the sense here in the U.S. that a lot of hockey fans don't know who and how good this guy is. Only two other defensemen won the Norris before their 23rd birthday -- Bobby Orr and Dennis Potvin. As long as Karlsson recovers, he appears on his way to that sort of Hall of Fame career.
GALLERY: Defensemen who were drafted No. 1 overall
Sadly, we're all going to have to wait before we see him in action again. Many believe that he's been the best and most exciting player in the NHL so far this season. My pick would be Pavel Datsyuk, still the most complete player in the game, but I do love watching Karlsson. It's as much a loss for hockey fans as for the Senators to have him injured, but Matt Cooke shouldn't have to pay for that loss.