Jakub Voracek emerging as spark for Flyers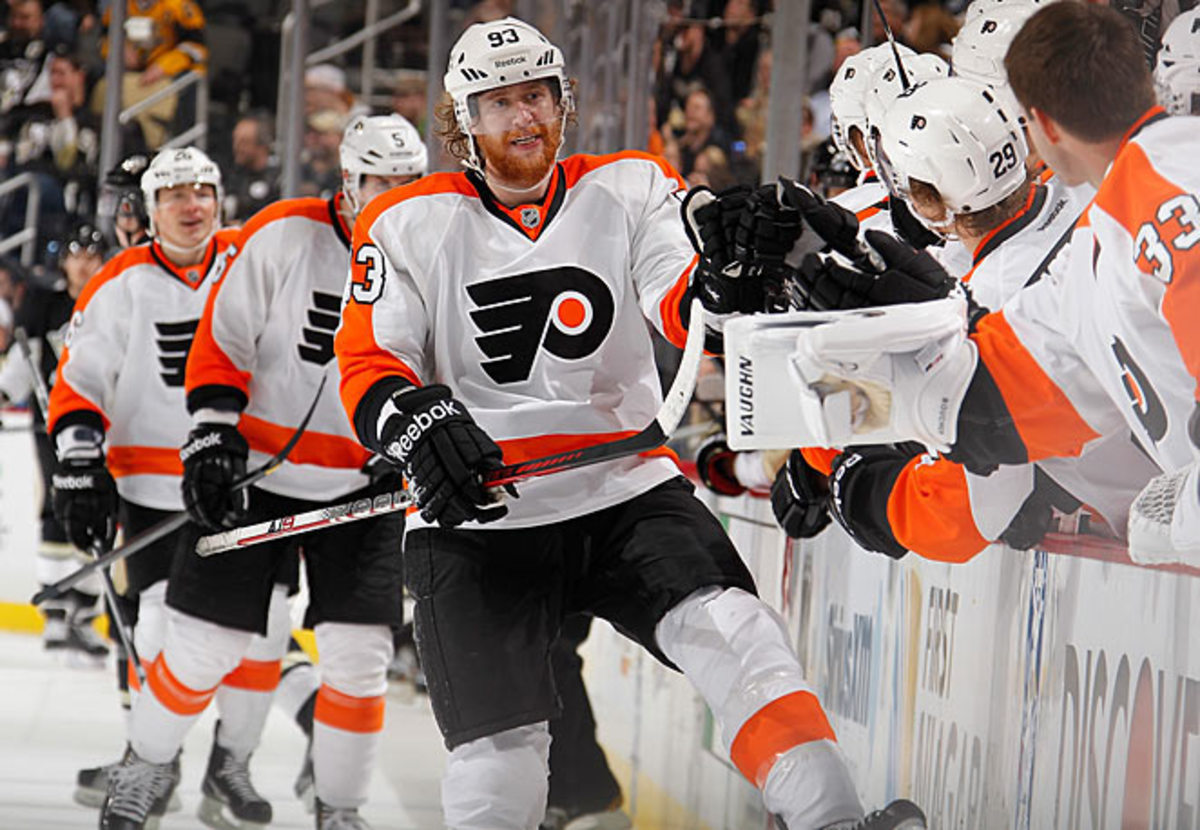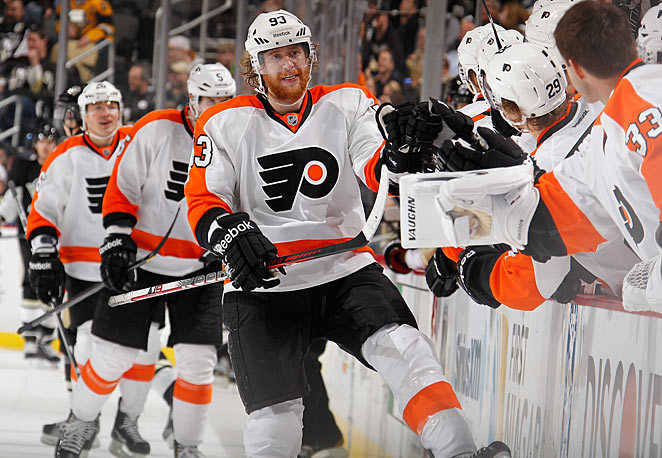 A couple hours before every Flyers home game, deep in the bowels of the Wells Fargo Center, you can see three hockey players congregate near a playground basketball net that's nailed into a painted brick wall. They chat animatedly during a routine game of H-O-R-S-E, trying to one-up each other with trick shots.
You might see Claude Giroux bounce the ball off the wall, then the air vent, and go between his legs as he drives for a layup -- impressive skills for a 5'-11" Canadian who was essentially born on skates. Maybe he'll then toss it to teammate Wayne Simmonds, who matches Philadelphia's star center move for move.
Last up is Jakub Voracek, the speedy Czech winger who was traded to the Flyers from the Blue Jackets in 2011 as part of the deal for Jeff Carter. The 23-year-old forward is decidedly less elegant with the ball, and it's not shocking to see his layup rim out. H... Voracek's next shot? O...
Giroux and Simmonds could go round after round, but it isn't very long before Voracek has missed his fifth and goes sprinting for the dressing room. He's not much with a basketball in his hands, but that's not why the Flyers signed him to a four-year, $17 million contract last July.
Voracek is proving his worth on the ice, riding a four-game point streak and leading Philadelphia with 19 points through Friday. His promotion to the top line, alongside the crafty Giroux, brought many firsts for the 23-year-old winger this week. On Monday night, Voracek picked up his first four-point game in the Flyers' 7-0 thrashing of the Islanders; Wednesday, against the Penguins, he netted his first hat trick, as Philadelphia won a wild one, 6-5. With his speed and knack for finding open space, particularly manning the half-wall on the power play, Voracek has blossomed into a major offensive threat.
There were definite signs of his growth last season, especially in the playoffs, but they were largely (and understandably) overshadowed by Giroux's spectacular play. Now, after a relatively slow start this season, Voracek is playing with far more confidence. He's always had impressive speed and quickness, but he's got greater control of the puck, minimizing giveaways in the offensive zone. He's learned to use his 6-foot 2-inch, 214-pound body more effectively to win battles and to protect possession. He's applied the lessons that he undoubtedly picked up last year from sharing a dressing room with his childhood idol, Jaromir Jagr, the future Hall of Famer with whom Voracek also shares a hometown.
And now, Voracek finds himself in the exact position that Jagr held last season, skating on the first line with Giroux. Though it's taken some time to find the right fit -- head coach Peter Laviolette has tried no fewer than seven players on Giroux's wings -- Voracek has made the strongest case to stick, exploding for eight points in the last three games and helping Giroux get back to the level that is expected of him.
It might tempting to turn a good week into more than just that, but this season's themes in Philadelphia haven't really included consistency. Every time the Flyers have looked like they might turn a corner, it seems to be more like a U-turn. They currently sit just outside the playoff line, trailing the eighth-place Rangers by one point.
With 16 points in 19 games, Giroux hasn't lived up to the expectations set by last season's 93-point campaign. And prior to Monday's game, only two members of the defense corps had plus ratings. Winger Danny Briere, who missed the first four games of the season with a wrist injury, had been largely ineffectual until, again, that night against the Islanders. He, too, is riding a four-game point streak, and it wouldn't be surprising to see his production heat up as the season wears on. Not only is Briere known for coming through when it counts, he should benefit from logging some minutes with a player like Simmonds, who has arguably been the most consistent Flyer this season.
The 24-year-old Simmonds, that impressive Horse player, naturally plays a workhorse type of game. Unafraid to get in close to the net, he bangs away and creates scoring chances out of sheer will. His outsized effort helps him play big and strong, which can open up space for Briere, who's had a lot of success in the past when skating with that type of hard-working and gritty player.
In theory, it all should work, of course. But the expectations in Philadelphia remain tempered for now. The Flyers aren't out of the woods, by any means, but the strides Voracek has made make their outlook just a little bit brighter. So does the imminent return of rugged winger Scott Hartnell, who broke his foot last month. Giroux's longtime winger is expected back on the ice in about a week's time. How the trio of Hartnell, Giroux and Voracek mesh will be key to the Flyers finally turning the corner for good.