Worthy rookies excluded from Calder Trophy field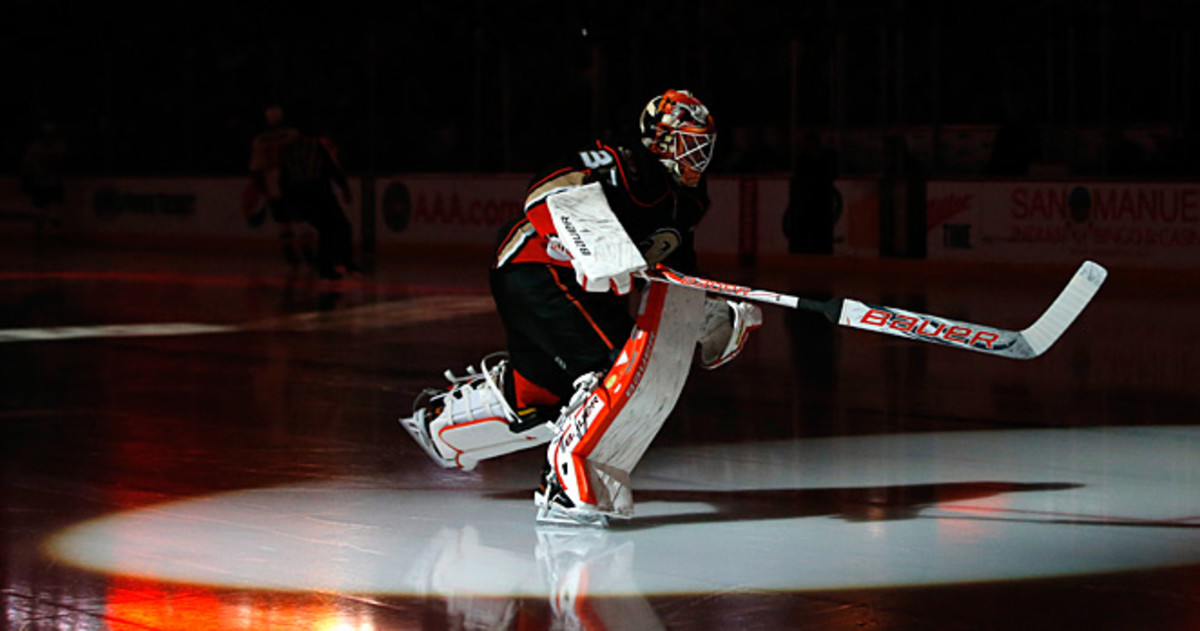 It's time for the NHL to repeal the Makarov Rule and make first-year players who are 26 or older eligible for the Calder Trophy as rookie of the year.
Scattered throughout the internet, you'll find a fair number of writers who are picking their midseason award winners. It's an old hockey tradition that dates back to the Original Six era when the selectors of the awards actually voted at the halfway point -- and the league gave monetary bonuses to the first-half winners and runners-up, probably something like $3,000 with the second place guy receiving $1,500. A real windfall, but I digress.
The Makarov Rule is named for Sergei Makarov, a highly decorated right wing, three-time MVP and 10-time All-Star of the Soviet Championship league while playing for CSKA, the Red Army team. He also compiled a magnificent international resume as well. For nearly a decade while skating with Igor Larionov and Vladimir Krutov, Makarov may have been part of the best forward line in the world, and he was in the first wave of Soviet players who were allowed to come to the NHL.
In 1989, at age 31, Makarov joined the Calgary Flames and led all players in plus-minus (plus-33) and all rookies in assists (62) and points (86). There were other very impressive rookies that season -- Mike Modano, Mark Recchi, Jeremy Roenick and Rod Brind'Amour to name a few -- and they had all come into the NHL via the traditional route of major junior hockey. They were also much younger than Makarov, who won the Calder.
The league's GMs believed that Makarov had an unfair advantage over the North American kids -- which he did --- and there was perhaps a trace of Cold War thinking and some envy when they made that judgment. Makarov was not a product of their hockey system, but the Soviets', which still rivaled the NHL's. Their solution was to put an age restriction on the Calder from that season forward, as they expected drastic changes and the loosening of restrictions among Eastern European countries to make it possible for a good number of players like Makarov to come into the NHL. The GMs believed those players should not be permitted to dominate the Calder Trophy race.
But today the rule is obsolete. Excluding all first year players who are 26 and over is a relic of a time gone by. No one disputes that the NHL is the best league in the world and any first year player who comes from Europe now really must make a step up to succeed, which was not necessarily the case in Makarov's day.
So when you look at this season's truly impressive rookie class, there are a trio of players who are automatically ineligible for the Calder Trophy, but they deserve consideration: Anaheim Ducks goalie Viktor Fasth, who is 30 and has been one of the year's major surprises; Detroit Red Wings forward Damien Brunner, 27 and quite skilled, who is providing Detroit with a third big point producer to go with Pavel Datsyuk and Henrik Zetterberg. If Brunner, who had 10 goals and nine assists in his first 26 games, were included in the rookie scoring standings, he'd rank second. And then there is Mike Kostka, 27, a lifetime minor pro and classic-late bloomer who has quietly become a top pair defenseman for the Toronto Maple Leafs.
They can't get a single vote, however, and that's something of an injustice.
The age exclusion provision in the Calder Trophy rules unfairly prohibits voters from recognizing these players. They've may have paid their dues at lower levels of the game far longer than teenagers Nail Yakupov and Jonathan Huberdeau, or even 24-year-old Jake Muzzin. But that shouldn't be held against them. Each of them has a great story and is, in his own way, an inspirational figure. They are still first-year NHLers, even though they took a bit more time to get here, and it's time the league revisited the Makarov Rule and considered returning the Calder to its original intent.
I write all that because of all the worthy but ineligible first-year players this season. Fasth might just be my pick as the first-half Calder winner. A savior for the Ducks both literally and figuratively, he ranks third in the entire league in both save percentage (.929) and goals-against average (1.92), and with 10 victories in 12 starts (he's relieved one other time), Fasth has forced his way into a rotation with former undisputed Number 1 Jonas Hiller. In nine of his 10 wins, Fasth has allowed two or fewer goals. No first year player has had this big an impact in the first 24 games of the season.
There are a few reasons why Anaheim has trailed only the runaway Blackhawks in the West, and Fasth is one of the big ones. In the past, a Hiller injury would spell problems for the Ducks, but no longer. Remember, Fasth came into the NHL after five years in Sweden, where the shooters aren't quite the same caliber as the ones he's facing now and the larger ice surface gave him a bit more time to get set for shots. He shouldn't be penalized for having played there; the NHL is really a higher level than the Elitserien.
The only thing that gives me pause when considering Fasth as the first half's top rookie is that he's only been in 13 games. First-year players who have played more regularly could have an advantage over him, but that should be the only reason why he's not considered.
Among the eligible rookies, well, figuring out who other than Fasth has been the best may be the toughest of all the major awards to determine. Many of these kids have made impressive starts to their NHL careers.
Huberdeau deserves consideration because his 12 goals lead all rookies and he's doing it while playing on a pretty shaky Florida Panthers club. Cory Conacher -- a great story himself -- leads all rookies in points, and the Tampa Bay Lightning aren't much better than the Panthers.
Dougie Hamilton od the Bruins is incredibly poised for a 19-year-old defenseman and he's playing big minutes. A few years from now, he may turn out to be the best of this entire group.
Muzzin, who otherwise might have been playing in AHL Manchester, was pressed into service because of injuries on the Los Angeles Kings' blueline, and he now leads all rookies in plus-minus. The Edmonton Oilers' pair of Yakupov and defenseman Justin Schultz are also among the rookie scoring leaders.
Two others have particularly caught my eye.
Brendan Gallagher of the Montreal Canadiens is just a little guy, listed at 5-foot-8, 174 pounds. But he plays like he's five inches and 30 pounds larger, always crashing the net and making things happen, a non-stop, high energy buzz-saw. This little pest seems to do a good job of annoying the opposition and he's got enough talent to be on Montreal's top line. He ranks among the rookie leaders in goals, points and plus-minus. I heard someone last week call him a Theo Fleury-type talent and that's pretty high praise. So is what Habs coach Michel Therrien said about Gallagher over the weekend, calling him "an example for his teammates." Sounds more like a Bobby Clarke-type. If Gallagher can survive the pounding, NHL foes could be seeing that maddening smile of his for years to come.
The other young guy I like is Chicago's Brendan Saad, a Pittsburgh-area product who has been skating on the left side of the Blackhawks' top line with Marian Hossa and Jonathan Toews. That's special company to be in, as Hossa and Toews are exceptionally powerful skaters. But Saad not only keeps up with them, he seems to be the one who is first to the puck. He's willing to take a pounding to make the play. Coach Joel Quenneville has given him more time on the penalty kill as well. The only drawback to Saad's game is that he's not putting up points like some of the other top rookies -- not that Chicago needs him to score. But that will probably keep him from getting the recognition he deserves as an effective first year player. Too bad. Lots of teams could use a player like Saad and would be happy to have him in their lineup.
But whoever is being considered, their age should not be a factor in deciding which of them has had the best debut in the NHL. Only their accomplishments should matter.