Dan Bylsma a great fit as next coach of the Buffalo Sabres
Many reasons why Sabres fans should hope Buffalo hires Dan Bylsma as the team's next coach.
Still smarting from being left at the altar by Mike Babcock, and after finishing second in virtually every other race the the Sabres have run, Buffalo's fans had every reason to be skeptical about reports touting a new head coach on his way to town.
But this time the Sabres actually have their man.
Former Pittsburgh Penguins/Team USA coach Dan Bylsma and the Sabres organization had been circling each other from the moment the Babcock deal fell apart. Today the team announced the signing.
Sabres hire former Penguins coach Dan Bylsma
It's easy to understand Bylsma's interest in Buffalo. Of all the available gigs this spring, this one might have been the most appealing. The team's ownership is on solid footing and highly motivated to bring a championship to town. General manager Tim Murray has revealed himself to be a canny and ruthless assessor of talent. There are plenty of player assets in place, both in Buffalo and in the team's system, suggesting that the Sabres are steaming in the right direction. And there's a development window that, barring a total meltdown, will ensure that their new coach has three or four years to start showing significant results.
And Bylsma looks like a good fit. He was certainly the most accomplished option available to the Sabres. The 2011 Jack Adams Award winner as the NHL's top coach captured a pair of division titles during six seasons on the job in Pittsburgh and led the Penguins to the Stanley Cup in 2009. Not that past success is a guarantee of future glory in Buffalo—see: Scotty Bowman and Punch Imlach—but there is something to be said for having an experienced hand on the wheel.
• Sabres fans react to Bylsma's hiring
But it's not just the winning that makes Bylsma appealing. It's his proven ability to deal with special players. Bylsma handled a pair of generational talents in Sidney Crosby and Evgeni Malkin in Pittsburgh. That experience sets him up nicely to get the most out of Jack Eichel, the player Buffalo is expected to tab with the second pick in next month's draft. The two are already familiar with each other. Both were part of the surprising American squad that captured bronze at the 2015 World Championship earlier this month.
Curious coaching moves by Sharks, Blues; Who's next for Devils, Sabres?
There's also something to be said about his style. Bylsma's structure is more sound than Pittsburgh's recent postseason disappointments suggest (some blame falls on Marc-André Fleury and his playoff meltdowns for those misconceptions), so he can get this team to play responsibly away from the puck. But it's fair to say that his inclinations lean towards offensive hockey. He likes his blueliners involved in the attack (good news for Rasmus Ristolainen and Mark Pysyk) and wants his team playing an up-tempo game. It's easy to imagine fleet-footed forwards like Tyler Ennis or Evander Kane reaching their full potential under Bylsma's guidance.
The Sabres will have to cough up a 2016 third rounder to Pittsburgh as part of the deal—ridiculous considering the Penguins fired him—but with four thirds in their quiver for that draft the lost pick won't hurt too much.
And for a coach who instantly ups their credibility, it's a small price to pay.
The numbers game
#http://www.120sports.com/video/v127144444/importance-of-goaltending
• The Blackhawks, who have yet to lose consecutive postseason games this year, are now 12-1 in Games 6, and 10-4 when on the brink of elimination, since the start of the 2009 playoffs. They are also 31-0-0 when leading after two periods during the 2014-15 regular season and playoffs, the only team that has not lost in that scenario.​
• The Rangers are 42-0-1 when leading after two periods of 2014-15 regular and postseason play, and 81-3-3 in that scenario during the tenure of coach Alain Vigneault.
• Both conference finals series are going to a Game 7 for only the third time in NHL history and second time during the expansion era (since 1967-68).
GALLERY: The 10 Greatest Conference Finals
The 10 Greatest NHL Conference Finals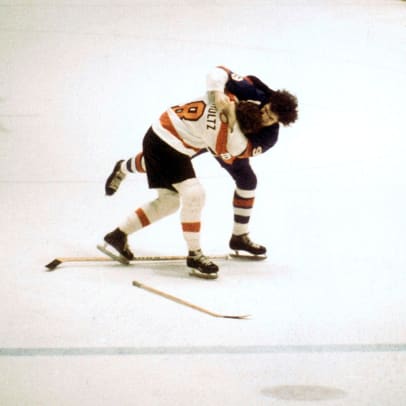 Hot links
#http://www.120sports.com/video/v127047612/who-benefits-from-gm-7-rest
• Replacing the Sedins as top liners in Vancouver sounds good until you consider this.
• Who should be the next captain of the Canadiens? If Guy Lafleur had a say it would be this guy.
• Speaking of the Habs, their best-known prospect is taking a beating from scouts.
• The Bruins don't seem to have the cap space to keep Adam McQuaid, but they're planning on making an offer to the pending UFA just the same. Can't see how this makes sense given that Kevan Miller appears to be NHL-ready at a much lower cost.