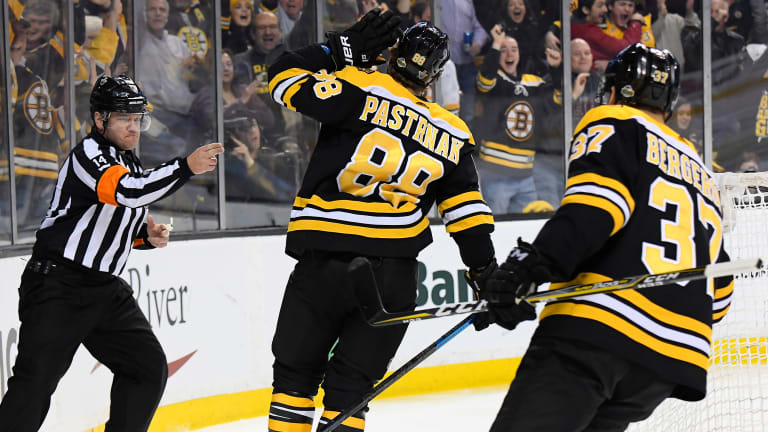 Stanley Cup Playoffs Roundup: Pastrnak, Bruins Blitz Maple Leafs for a 2-0 Series Lead
A hat trick from David Pastrnak and four goals in the first 15 minutes made the Bruins unstoppable against the Maple Leafs. Boston, Tampa Bay, Nashville and San Jose all bulked up on 2-0 series leads.
A hat trick from David Pastrnak and four goals in the first 15 minutes made the Bruins unstoppable against the Maple Leafs. Boston, Tampa Bay, Nashville and San Jose all bulked up on 2-0 series leads.
The Boston Bruins beat the Toronto Maple Leafs by four in Game 1, but for a while it was a lot closer than that scoreline indicates. They beat the Leafs by four again in Game 2, but it never really felt that close.
Capitalizing on multiple Toronto mistakes, Boston scored four goals on only six shots in the game's first 15 minutes to develop an insurmountable lead. From there, the Bruins content to ride the coattails of one magical player and coast to a 7-3 win in Game 2 of the first round.
Sometimes you can just tell when a player, in any sport at any time, is primed for a plus performance. On this night, that player was David Pastrnak, who had a hat trick and six points total Saturday. Merely 5:26 into the contest, Pastrnak called for the puck from Torey Krug, who kept it in at the left point. James van Riemsdyk couldn't do nearly enough with the dish, and Pastrnak spun around Connor Brown, flashing patience and skill, and finishing it off past Frederik Andersen with a backhand. The 21 year old skated to the end boards, cupping his hand around his ear.
If the fans at TD Garden weren't appreciative enough yet, they would be soon. The Maple Leafs did little to help their own cause with multiple first-period penalties, though they were quite unlucky a few times as well. Kasperi Kapanen rang the post on a shorthanded breakaway with a shot that could have tied the game, and instead the Bruins raced out to a lead they never looked like relinquishing. Jake DeBrusk scored on the power play to double the lead before Kevan Miller got a crazy redirect off Nikita Zaitsev to make the lead three. That spelled the end for Andersen, and backup Curtis McElhinney was greeted by a goal on the first shot he faced—another power-play tally, this time from Rick Nash.
Toronto is far too talented offensively to go quietly through two games of a series, and the Leafs finally got on the board in the second as goals from Mitch Marner and Tyler Bozak sandwiched one from Bruins' David Krejci.
Van Riemsdyk scored on the man advantage in the final frame, but the rest of the period was the Pastrnak Show (as if the rest of the game hadn't already been). Boston got into the zone after a bad turnover, and Pastrnak picked up some loose change, drove past Morgan Rielly to the danger area and beat McElhinney high blocker. He didn't really need another highlight reel submission but he provided one anyway, taking a Brad Marchand feed right to the cage, moving the puck through his legs, switching to the backhand and bouncing it off of McElhinney's skate and into the cage. This time, the building got loud, the ice got covered with hats, and the Bruins leave town with a 2-0 series lead.
BOS leads series 2-0 | Box Score | Full Recap
PREDATORS 5, AVALANCHE 4
The Colorado Avalanche started Game 2 just like they started Game 1—with a goal on their very first shot. Colin Wilson took a hit along the near boards to move the puck to J.T. Compher, who found Gabriel Bourque with plenty of space in the slot. After a plucky two periods in Game 1, Colorado wasn't able to keep pace with the Nashville Predators in the final frame. In Game 2, however, every time Nashville seemed to surge ahead, Colorado responded. The Avs kept the pressure on, but the Preds held firm to preserve a 5-4 win and a 2-0 series lead.
NSH leads series 2-0 | Box Score | Full Recap
LIGHTNING 5, DEVILS 3
The Tampa Bay Lightning's top line of Nikita Kucherov, Steven Stamkos and the newly acquired J.T. Miller deserves all the accolades that it gets—it's one of the best units in the league—but where would the Lightning be without their depth scoring? For the second straight contest, the "other" Lightning forwards featured prominently to help build up a big lead—Alex Killorn scored twice on the power play in the second period, part of a four-goal period for the Lightning to establish a 5-1 lead. Once again, however, the Devils put the pressure on and got two goals back, but Andrei Vasilevskiy was superb, making 41 saves total to preserve a 5-3 win and a 2-0 series lead for Tampa Bay.
TBL leads series 2-0 | Box Score | Full Recap
Sharks 3, Ducks 2
Tight checking, timely offense, dueling goaltenders and a fight to the finish: this is Western Conference playoff hockey. The Anaheim Ducks were much improved from Game 1, but the San Jose Sharks held strong and held off a late Ducks charge to win Game 2 on the road 3-2. Anaheim couldn't solve Martin Jones on any of its 25 shots on target in Game 1, but Jakob Silfverberg beat him on the very first Ducks shot of Game 2 for an early lead for the home team. The Sharks scored three straight—capped off by a highlight reel goal by Tomas Hertl—to build a lead, but Anaheim fought back. Hampus Lindholm scored top shelf midway through the second to get the lead back down to one, but the Sharks fended off a push with John Gibson pulled in the waning seconds to leave Anaheim with two road wins and a 2-0 series lead.
SJS leads series 2-0 | Box Score | Full Recap
HIGHLIGHT OF THE NIGHT
Mikkel Boedker made a nice pass in the neutral zone, but Tomas Hertl did the rest, schooling Brandon Montour with a series of moves before roofing a backhand over the blocker of a helpless John Gibson. It's only fitting that this beauty proved to be the game-winner of a tense tussle.
Three stars
1. David Pastrnak, BOS — The first Bruins player with six points in a playoff game since Phil Esposito. The youngest player to score six points in a playoff game in NHL history, beating out Wayne Gretzky. That's some darn good company.
2. Andrei Vasilevskiy, TBL — His team built up a big lead, but the Devils made a legitimate push late in the game. Tampa needed all of Vas's 41 saves to get this win.
3. P.K. Subban, NSH — The do-it-all defenseman had two shots, two assists and three blocked shots, one of which was an incredible sell-out that set up Ryan Johansen's breakaway goal.
LOOKING AHEAD
After a Game 1 rout at the hands of the Penguins, the Flyers got a measure of revenge and returned the favor in Game 2. "For all the doubters out there, there you go," Claude Giroux said after the 5-1 Game 2 win. What does Sunday's Game 3 in Philly hold? If the first two matches are any indication, a whole bunch of goals and some bad blood starting to bubble under the surface between the Keystone State rivals.
Being down 0-2 to the Winnipeg Jets, the Wild aren't quite in a must-win situation yet, but they know they must be better as the series heads to Minnesota. "We have to take care of business at home. That's all," coach Bruce Boudreau said. Wild goalie Devan Dubnyk has done all he can to hold Winnipeg's speedy forwards at bay behind a patchwork defense, but the offense must step up to the Jets' physical brand of play, and soon.
Barry Trotz has decided to stick with Philipp Grubauer rather than turn to veteran goalie Braden Holtby for Game 2. The Washington Capitals have had an extra day to forget about—or learn from—their mistakes against the Columbus Blue Jackets in their 4-3 overtime loss in Game 1, including third-period penalties that led to two power-play goals from the Blue Jackets to pull even.Columbus stayed resilient despite several injuries and a Josh Anderson ejection, and will be looking for a second win before heading back to Ohio, but the Caps are still trying to prove they can be a playoff team.
The Vegas Golden Knights continued to use home ice to their advantage, bringing a 2-0 series lead to Los Angeles on the heels of Erik Haula's double-overtime strike on Friday. Through two games, the matchup has been a goaltender's duel, with Knights goalie Marc-Andre Fleury and Kings counterpart Jonathan Quick surrendering just four goals in 155:16 of gameplay. "[Quick] gave us a chance to win like he always does," L.A. coach John Stevens said. The Kings can look forward to getting stud defenseman Drew Doughty back for Game 3 following his one-game suspension for a hit to the head in the opener.