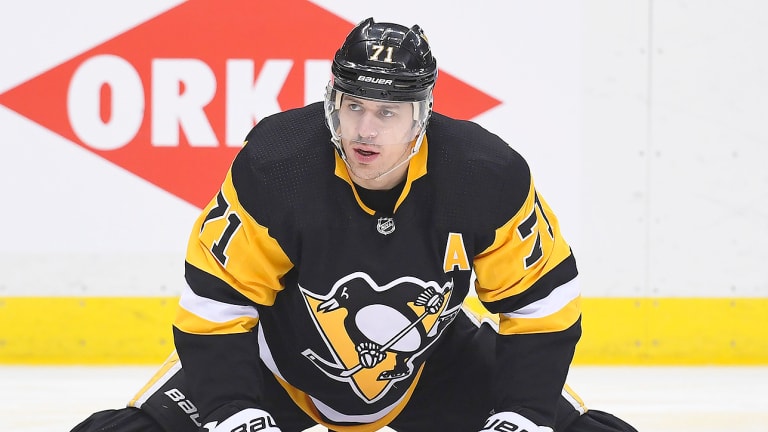 WASHINGTON — The Pittsburgh Penguins are hoping to have one of their primary weapons back in the lineup for Game 2 of their Eastern Conference semifinal series against the Washington Capitals on Sunday.
Center Evgeni Malkin was a full participant in Saturday's practice and coach Mike Sullivan said he will be a game-time decision Sunday afternoon.
Malkin has missed Pittsburgh's last two games after suffering a lower-body injury in Game 4 of the series against the Philadelphia Flyers.
"When you feel something wrong, you always hope it's not going to be bad. You hope it's small things," Malkin told the Pittsburgh Tribune-Review. "But sometimes you need time to recover. I'm trying to do my best. I can't play last (game), but maybe (Sunday)."
The Penguins will be looking to go up 2-0 after Thursday night's third-period rally.
Washington took a 1-0 lead just 17 seconds into Game 1 and had several odd-man rushes, something Pittsburgh worked on during Saturday's practice.
"When we don't pay attention to the details and support one another and make sure we get above the attack and get on the right side of people, then we are vulnerable to those types of circumstances," Penguins coach Mike Sullivan told the Tribune-Review.
Alex Ovechkin, Capitals Hope This Time Is Different Against Sidney Crosby, Penguins
"I don't think we did as good a job, especially early in the game. The first eight or nine minutes, we allowed a couple of odd-man rushes we can certainly do our part to limit and avoid just by attention to detail on our part."
The Capitals are no strangers to being behind in a series, having lost the first two games at home to the Columbus Blue Jackets before winning four straight in the opening round. Washington lost the first two games at home against the Penguins a year ago but forced a Game 7 on home ice, which they lost.
Still, they will have to learn to handle prosperity better if they want to keep advancing. The Capitals have built a two-goal lead in five of their seven games this postseason. They have proceeded to lose the lead—and the game—three times.
"We want to play a lot of ways the same way to get the lead," Washington coach Barry Trotz told The Washington Post. "The key to me is to not get on your heels, and I don't think we've gotten on our heels a whole lot. But teams have been able to get back in the games."
In addition to stopping Sydney Crosby, and possibly Malkin, the Capitals need to cool off Jake Guentzel, who has 16 points in the playoffs, half of them in the last two games.
"It's crazy," Pittsburgh's Patric Hornqvist told NHL.com. "He has eight points the last two games. I don't think that happens too many times in playoff history. He takes the pucks to the net, he goes there and he seems to find every single puck there, so hopefully he will do the same thing (Sunday) and find those pucks."
Linemates Guentzel, Hornqvist and Crosby accounted for Pittsburgh's three third-period goals Thursday night.
"They don't need a lot of chances," Washington defenseman Matt Niskanen told NHL.com. "If they have one good look, they can snipe. But you can't overthink it either. You've just got to play your game. But when it's your guy, when it's your turn to check, you've got to check hard and really take away their space."