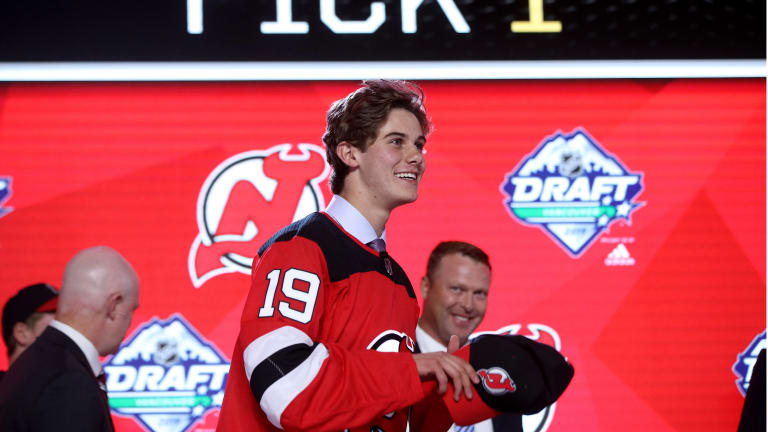 2019 NHL Draft: Devils Take Jack Hughes With Top Pick, Kaapo Kakko Goes to Rangers
The first two picks went as expected, but the rest of the first round had a few surprises and some American domination.
The Jack Hughes vs. Kaapo Kakko rivalry can now officially begin.
The first two picks of the 2019 NHL draft went exactly as expected with Hughes going to the Devils and Kakko going to the Rangers, and now these two skilled forwards will be linked together from the start of their professional careers, battling in an old rivalry across the Hudson River.
"We'll be linked together for a long time, Devils-Rangers, it should be pretty cool and a lot of fun," Hughes told NHL.com. "You saw (Alex) Ovechkin and (Sidney) Crosby do it all these years. I am not saying we're going to be Ovechkin and Crosby, but it's going to be pretty cool to be linked like that."
But after Kakko and Hughes were selected, there wasn't much of a consensus as to what would happen for the rest of the round, other than that the Americans would likely dominate. And that they did. Ten Americans were selected in the first round, with eight of them coming from the USNTDP, smashing the squad's previous record of three first-round picks. That crop included goaltender Spencer Knight, who went 13th overall to the Panthers. Knight was the first goalie drafted in the top 20 since Andrei Vasilevskiy went No. 19 to the Lightning in the 2012 draft.
The first real shakeup of the evening came when Steve Yzersman and the Red Wings selected German defenseman Moritz Seider with the sixth overall pick. Seider, who seemed as surprised as many in the room, was 16th on TSN's big board before the draft.
"I was just shocked. My hands are shaking. My legs are still shaking," Seider told ESPN. "I was so sweaty."
It was a mixed reaction from the Vancouver crowd when the Canucks took Vasili Podkolzin with the 10th pick. The Russian winger won't be available for two years because he is under contract with St. Petersburg in the KHL. 
Other surprises of the night included Cole Caufield dropping to 15th when selected by the Canadiens, and Peyton Krebs going 17th to the Golden Knights. Both players were expected to go in the top 10. Caufield, who is a 5-foot-7, tallied 72 goals in 64 games and was the best goal-scorer in the 2019 draft class. When asked what he says to people who knock him for his height, Caufield told NBCSN's Kathryn Tappen, "I don't think it's a risk anymore."
Here's how the rest of the first round of the 2019 NHL draft shook out on Friday:
1. New Jersey Devils: C Jack Hughes
2. New York Rangers: RW Kaapo Kakko
3. Chicago Blackhawks: C Kirby Dach
4. Colorado Avalanche (from OTT): D Bowen Byram
5. Los Angeles Kings: C Alex Turcotte
6. Detroit Red Wings: D Moritz Seider
7. Buffalo Sabres: C Dylan Cozens
8. Edmonton Oilers: D Philip Broberg
9. Anaheim Ducks: C Trevor Zegras
10. Vancouver Canucks: RW Vasili Podkolzin
11. Arizona Coyotes (from PHI): D Victor Soderstrom
12. Minnesota Wild: LW Matthew Boldy
13. Florida Panthers: G Spencer Knight
14. Philadelphia Flyers (from ARI): D Cam York
15. Montreal Canadiens: RW Cole Caufield
16. Colorado Avalanche: C Alex Newhook
17. Vegas Golden Knights: C Peyton Krebs
18. Dallas Stars: D Thomas Harley 
19. Ottawa Senators (from CBJ): D Lassi Thomson
20. Winnipeg Jets (from NYR): D Ville Heinola
21. Pittsburgh Penguins: LW Samuel Poulin
22. Los Angeles Kings (from TOR): D Tobias Bjornfot
23. New York Islanders: RW Simon Holstrom
24. Nashville Predators: C Philip Tomasino
25. Washington Capitals: C Connor McMichael
26. Calgary Flames: LW Jakob Pelletier
27. Tampa Bay Lightning: LW Nolan Foote
28. Carolina Hurricanes: C Ryan Suzuki
29. Anaheim Ducks (from SJS–BUF): LW Brayden Tracey
30. Boston Bruins: C John Beecher
31. Buffalo Sabres (from STL): D Ryan Johnson