Taste of Greatness: Galen Rupp's bronze a sign of things to come
The future of American distance running looks bright after Galen Rupp's performance during the 2016 Rio Olympics marathon.
RIO DE JANEIRO — Coming off a water station in the rainy, soggy and humid men's marathon on Sunday morning, Eliud Kipchoge surged to the front of the lead pack. It was brief as he turned to American Galen Rupp and told him not to worry because he did not plan on taking off yet. Rupp chuckled and stayed with the Kenyan for 35 of the 42 kilometers en route to a bronze medal finish behind Kipchoge and Ethiopia's Feyisa Lilesa.
Kipchoge is arguably the best marathoner in the world at the moment. As he's done in seven of the eight career marathons where he's finished first, Kipchoge beamed with a smile and waved to the crowd as he entered the Sambódromo, a parade area built for carnivale, and crossed the line in 2:08:44.
Kipchoge now owns an Olympic gold medal as well as a bronze and silver medal from his days on the track running the 5,000 meters in 2004 and '08. His personal best of 2:03:05 is the third best all-time. Before he threw down a 14:25 split for the 5K between 30km–35km, Rupp was one of the few who was able to stay on his heels.
"He's the greatest marathoner there is right now given the consistency that he's shown over the last couple races. It's not like he's a one-hit wonder," Rupp says. "He's done it over and over and over again. Whether it's in fast races or a tactical race like today."
• Feyisa Lilesa says after marathon: "If I go back to Ethiopia, the government will kill me"
While Kaptagat, Kenya, and Portland, Ore., are separated by thousands of miles and the Atlantic Ocean, there are some similarities to the development of Kipchoge and Rupp as respective stars in their country.
Kipchoge spent 10 years training under coach Patrick Sang and competing on the track before transitioning to the roads in 2012. With Sang, Kipchoge earned two Olympic medals and two world championship medals while running in circles on the track. Rupp shares the track pedigree with his own silver medal from the 10,000 meters at the 2012 London Olympics.
Rupp, who turned 30 in May, has been working with coach Alberto Salazar since he was a teenager but now finds himself at the point in the career where he could leave the track. Salazar, a three-time New York City Marathon champion who placed 15th at the 1984 Olympic marathon, believes the plan would be for Rupp to try and compete in the 5,000 and 10,000 meters at next summer's London world championships before a full focus is made on the marathon in 2018.
Sunday provided a glimpse of the future of American marathoning. Jared Ward, a former NCAA standout at BYU, went out with the leaders before settling into his own pace and finished sixth in 2:11:30 for his Olympic debut.
"To be able to medal in an event that is historically dominated by East African runners and have an American up there representing us at the highest level in the marathon bodes well for the future of our sport," Ward says. "We have Meb [Keflezighi] who is running here and has been an iconic runner for the U.S. for years. Now we've got more stepping up, we've got a deep pool of American distance runners ready to fill those spots for the next 10 years. American marathoning is in good hands."
Best Photos from the 2016 Rio Olympic Games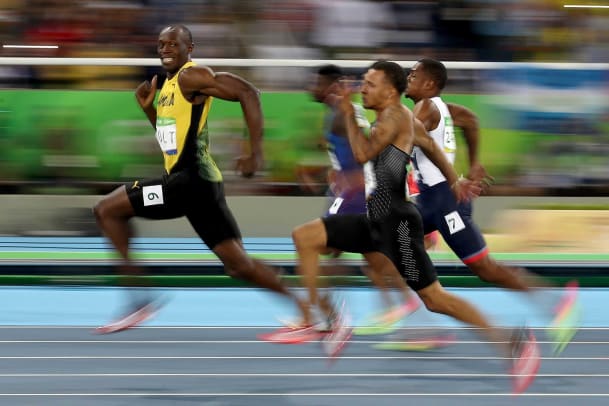 Rupp's bronze medal was also the first medal by an American man in the marathon since compatriot Keflezighi's silver at the 2004 Olympics in Athens. The 41-year-old Keflezighi stopped seven times throughout Sunday's race, struggled with cramping and keeping down fluids, but still finished 33rd in 2:16:46 for his final Olympics. Keflezighi plans to run two more marathons next year at 42 to honor the 42-kilometer distance that he has been running.
Back in 2001, he shared a vision with coach Bob Larsen, Joe Vigil and former training partner Deena Kastor, whose bronze medal in 2004 is the last won by an American woman in the marathon. Meb approached various shoe companies and expressed his hope for the resurgence of American distance running. As the United States leaves Brazil with seven medals in distance running—a gold in the men's 1,500 meters (won by Rupp's training partner Matthew Centrowitz), a bronze in the men's 800 meters, a silver in the men's steeplechase, a silver in the men's 5,000 meters (won by Rupp's other training partner Mo Farah of Great Britain), a bronze in the women's 1,500 meters and a bronze in the women's steeplechase—it's clear he was onto something.
"That dream has come true for me," Keflezighi says. "To be part of it and witnessing it has been a huge reward. I hope I was a small part of it but that was my goal. Now we have depth and we're trying to be the best in the world."
Kipchoge and Rupp smiled as they bit their medals at the Maracanã during the closing ceremonies on Sunday—just a taste of greatness between two stars of now and tomorrow.