Rating NBC's complete multi-platform coverage of 2016 Rio Olympic Games
Which NBC broadcasters deserve gold medals for their efforts in Rio? Which areas of NBC's coverage failed? This week's Media Circus takes an in-depth look at that, plus a Q&A with ESPN's J.A. Adande about his new role at Northwestern and suggestions for everything you should be reading this week.
The last 16 days have been very strange. As I wrote earlier this month, this was the first time since 2002 that I did not cover the Olympics for Sports Illustrated, meaning I have consumed the Summer and Winter Games over the last 14 years through mediums other than NBC, particularly the host broadcaster in that country. It is jarring how different Olympic TV coverage is away from the States. This is not to take anything away from NBC's behind-the-scenes production people, many of whom are the best in the world at what they do and work endless days. But the CBC, BBC and announcer-less in-arena feeds are a much better viewing experience for sports fans. They present events mostly from beginning to end, eschew packaging the coverage with created narratives, and they do not have NBC's obsession with Today-style segments and correspondents. Of course, most also air the Olympics live in all time zones of their country. But NBC is not a public broadcaster and as a for-profit business with shareholder demands, they have financial responsibilities much different than many other broadcasters. To their credit, they have never claimed otherwise.
With the Rio flame now extinguished—read this from the AP's Stephen Wilson on what Rio might mean for future Olympics—I offer below some quick hits (using a familiar ratings system) on what I thought of NBC's multi-platform coverage of Rio. Some of these are repeats from last week that I've amplified. Hit me up on Twitter and let me know what you thought of the coverage.
• Best photos from the 2016 Rio Olympic Games
Gold Medals go to…
• Ato Boldon: The track analyst is one of the best color commentators working today, regardless of the sport, and he proved it yet again over the course of the Games. Boldon actually educates viewers through his preparation, and when you listen to him, you realize how rare it is to have a sports TV analyst make you a smarter viewer. On Usain Bolt winning in the 200, Boldon explained, "He does something that no one else in this field is able to do. He doesn't get enough credit for his ability to run the turn...He is able to run the turn and then not decelerate during the final 100."
But the high point for me was when Boldon tipped Japan for a medal in the 4x100 men's relay prior to the race. "This is a sleeper team," Boldon said. "They ran an Asian-record 37.68 in their heat, beating Jamaica, and they pass the baton better than anyone else in this field. ... Some teams practice for a month or a week. Japan has been practicing for the entire year." The Japan team finished second in a new Asian-record time of 37.60 seconds, just 0.33 behind Bolt and his Jamaica teammates. Said NBC Olympics executive producer Jim Bell: "We are blessed with an abundance of talented analysts but Ato Boldon has been operating at a different level. A masters class in communication."
• Soccer broadcaster Arlo White's call of the penalty kicks during the men's gold medal soccer match between Brazil and Germany: The broadcaster—normally assigned to Premier League games—delivered perfectly during the tension-filled penalties. He was particularly brilliant on the save by Brazilian goalie Weverton Pereira da Silva on Germany's fifth kick as well as the lead-up to Neymar's kick that sent Brazil into ecstasy. In addition to White, I thought it was a terrific decision by NBC's primetime producers to replay the entire penalty kick session during its coverage on primetime Saturday night.
• Swimming broadcasting teams: NBC (Dan Hicks and Rowdy Gaines) and the world feed (John McBeth and Nicole Livingstone) announcers were excellent. Both teams explained specifics to viewers while maintaining terrific excitement and passion for the races. Swimming and gymnastics carried NBC's primetime coverage early, and Hicks and Gaines did their network well. The production team, led by producer Tommy Roy, was also on point—particularly excellent was the addition of a handheld camera in the ready room. If they had a misstep, it was too much focus on the husband of Hungarian swimmer Katinka Hosszu.
The world found out about Ryan Lochte's story ... by accident
One thing to watch: Michael Phelps told SI last week that he was interested in broadcasting in the future. I would be stunned if Phelps does not join Gaines and Hicks in Tokyo. Here is how NBC Sports chairman Mark Lazarus answered the question. "Of course we would love to talk to Michael Phelps," Lazarus said. "But let me put the big caveat on that: The guy who has been doing it the best for the longest is still our guy and that is Rowdy Gaines. I'm not looking for you to write that we are looking to replace Rowdy Gaines because we are not. Rowdy's knowledge is pure and his enthusiasm is infectious. He leaps through the TV screen and grabs you."
• Lewis Johnson: The trackside reporter is understated—no shtick, no doing side entertainment gigs. Just listen to the questions he asks of the athletes. They are always direct, open-ended, and he often has to interview multiple athletes given relays.
• NBC's streaming options: NBC's online coverage was very strong, particularly the ability to toggle between multiple live events. Yes, it could get too commercial-heavy and I imagine many of you have experienced buffering (which may be on your own carrier), but NBC gave authenticated cable subscriptions the option to program your own viewing. There was a point last week where you had 26 live events to choose from—it's hard to ask for more. The streaming options also provided viewers with natural sound from the arena, which meant you could often hear coaches and the competitors during breaks. All of the access was an Olympic junkie's dream and often the announcers were far superior to NBC's. It was a massive undertaking and major props to the digital production teams.
• The gymnastics world feed: If you watched the women's all-around final online, you could toggle between each of the apparatuses or watch the main feed live. That's just great access. Broadcasters Jim Watson, Jonathan Horton and Courtney Kupets Carter provided, in my opinion, much better commentary than the NBC crew. Listening to them, you felt like you were learning something about the sport.
Silver medalist Feyisa Lilesa: 'If I go back to Ethiopia, the government will kill me'
• Camera work: Whether the OBS feed (world feed) or NBC's additional cameras, viewers were given memorable shots throughout the games. One that comes to mind was the close-up of Allyson Felix's desperately attempting to toss the baton to English Gardner during the preliminary run of the women's 4x100 relay.
• Features: NBC had very good ideas and execution, from a brilliant feature on South Africa's Wayde van Niekerk and the many layers of his story, to showing the current members of the 4x100 relay team watching previous Olympic failures in that race, to Mary Carillo profiling the woman who inspired the 1960s classic, "The Girl from Ipanema."
• Tennis coverage: You can't control the quality of matches but you can provide a network to show all of them. NBC Sports executives making Bravo its dedicated channel for tennis paid off with Monica Puig's historic gold for Puerto Rico and Juan Martin del Potro's epic trilogy against Novak Djokovic, Rafa Nadal and Andy Murray. Bravo's live coverage of Andy Murray's victory in the men's tennis gold-medal match averaged 929,000 viewers.
• Bob Costas: One of the things I learned by watching NBC's coverage was just how little airtime Costas actually gets during the Games. But he was noticeably terrific when given some time. Here, Costas offered thoughtful words on doping in track and field prior to the women's 1500m final: "The favorite in is world record holder Genzebe Dibaba of Ethiopia. Two months ago her coach, Jama Aden, was suspended, or arrested I should say, in Spain on doping charges as part of an investigation to his training group. Aden has yet to be convicted of any crime, and he has denied any wrongdoing. Dibaba, who is a member of an accomplished distance running family, has never tested positive in her career. Still, given Aden's arrest and the current environment in track and field, Dibaba's presence in tonight's race has rankled some people. This is yet another reminder of the ever-present specter of performance enhancing drugs in track and field, and in sports in general." That told viewers a lot in 30 seconds. Costas will really be missed when he is gone.
• Al Roker: NBC's Today Show-ization is the least appealing part of the Games for me, and it imbues far too much of its major coverage. But Roker deserved all the plaudits he received for calling out Billy Bush's enabling of Ryan Lochte on the air. If nothing else, Roker exposed bro (rhymes with faux)-journalism in a very public way.
• Gadi Schwartz: As New York Times reporter Richard Sandomir accurately surmised, NBC was partially complicit in Ryan Lochte's lies. But Schwartz was always journalistically sound throughout, providing on-site reporting in Brazil.
• NBCSN: The channel was a joy for hardcore Olympic fans who wanted to experience the Games the way we experience most sports—from start to finish. It was also an oasis when you wanted to get away from main NBC's packaging to discover the best part of the Olympics, which is seeing great athletes you normally never see in sports that feel fresh. Even on the final Sunday, it was great, with full coverage of the mountain bike gold medal race.
Simone Biles and Aly Raisman send Marta Karolyi out on golden note at Rio Olympics
​
Silver medals go to…
• Volleyball coverage: This sport was consistently strong for NBCUniversal, from the production to the on-air teams, particularly Paul Sunderland and Kevin Barnett who did indoor volleyball and were excellent on the United States as well as the non-U.S. teams. Their work should earn them a first-class ticket to Tokyo for the 2020 Games.
• Added enhancements: Adding a camera in the swimming ready room produced some fantastic shots, especially Michael Phelps's staredown of Chad le Clos's pre-swim antics. Also, it was a very cool move to mic the challenge official during Bravo's field hockey coverage. Enhancements like that added to the viewing.
• The decision to interview Paul Kipkemoi Chelimo after he was DQ'd in the men's 5,000 (his silver medal was later reinstated): This was not a popular decision among viewers on Twitter, and I understand that, but it was honest television and provided viewers with remarkable insight from Chelimo. Johnson also handed it like a pro. Said Chelimo during the interview: "I was trying to go to the outside to get a position, because they were blocking me in, they were pushing me to the rail. That's what I was trying to save myself from all of the pushing, so I was trying to go the outside and stay to the outside. They wouldn't allow me to go where I was, because he was blocking me…I was trying to stay behind Mo Farah, but they were blocking me. I was trying to defend myself and go to the outside…I can't believe it. I was running a fair race. I wasn't trying to impede someone. I was trying to go to the outside because they kept blocking me the whole time, the whole race…I want to appeal that because my intention was not to block anyone."
Olympics show track and field's athletic brilliance should still define the sport
• NBC's hosts: Solid work all around, from Dan Patrick to Mike Tirico to Rebecca Lowe et al…
Bronze medals go to…
• Real time information: What actually happened?There were too many instances of viewers needing more info in real time. For instance, why did Chelimo get reinstated after initially being DQ'd? NBC gave you the replay of why they believed he was disqualified but viewers were left wondering why that disqualification was ultimately overruled. Another: NBC never explained to viewers prior to the actual event coverage that defending pole vault gold medalist (and an American) was sick. (They did mention it during her competition.) That was only something you learned if you followed Buffalo News columnist Jerry Sullivan.
• Lochte co-opting: As I said above, Sandomir wrote a very interesting piece on how NBC got co-opted by Lochte early on. I think he's mostly right, though that should not include someone like Schwartz. I also give NBC credit for addressing the incident during two primetime shows including significant time between Costas and Lauer last Wednesday. Killing Bush for being a suck-up is easy; this is the nature of Access Hollywood. I'm less inclined to kill Lauer because the onus is on Lochte, who lied to him.
• Linear viewership: Through 13 nights of Rio coverage, NBC had averaged a 15.0 rating (26.7 million viewers), the net's lowest figure since the 2000 Sydney Games, according to Sports Business Daily. No matter what they say publicly, NBC execs are no doubt disappointed with that figure given how well London did and that there were more ready-made stars entering these Games than any in the last two decades. The company had to deliver some make-goods to advertisers because it performed below ratings expectations. Still, the viewership numbers are massive against any other programming outside of the NFL, NBC crushed its competition for two weeks, and was way up on digital viewing. (Personally, I was dead wrong in my prediction: I thought this would be the most-watched Games of all time.) Something to think about heading forward: The impact of hard-core Olympic viewers dying off and millennial cord-cutters. PyeongChang is not a great time zone for 2018 and it's unclear what role hockey will play. This could be the beginning of a decline in Olympic ratings for NBC until the 2024 Games (expected to be in U.S.)
• Gymnastics coverage: NBC's gymnastics team—Al Trautwig, Tim Daggett and Nastia Liukin—rightfully faced criticism on Twitter for adherence to narrative and soap opera over specifics, and I'd urge you to read this New Yorker piece by Reeves Wiedman because it perfectly encapsulates why NBC offers a soap opera rather than treating gymnastics viewers like adults. To be fair, the group did improve for the individual apparatus coverage.
No Medals go to...
• Ticket Sales: NBC absolutely punted on the story of lackluster ticket sales for the Games. It was embarrassing to see the network not acknowledge, as they should have daily and often, the lack of attendance at venues and the reasons why. That's the kind of stuff as a viewer that makes you resent NBC's chumminess with the IOC.
• Billy Bush: Just watch this and this.
• The opening ceremony: For fans of morning television and parades with floats, this program was for you. Objectively, the production came across as choppy given the number of commercials (numerous people on Twitter timed it at one spot every six minutes for the first 40 minutes). Inconceivably, for a program that clocked in at more than four hours, NBC edited out a speech from Kenyan running legend Kip Keino.
 • Patrick Hickey: Did you see any reporting on NBC's primetime on European Olympic head Patrick Hickey of Ireland spending the closing days of the Rio Games in a prison following his arrest in a ticket-scalping scandal? Maybe I missed it.
• News coverage: The underbelly of the Rio Games, from performance-enhancing drugs to crime and protests in Rio to the Indianapolis Star's reporting on USA Gymnastics, was barely been touched on by NBC Sports, at least during primetime. As we said early on, if you were interested in Rio coverage away from the venues, you had to go with non-rights-holders first. I thought this piece by Phil Mushnick—who I disagree with on many things, particularly rap music and the WWE—really nailed it on NBC News here.
GALLERY: SOME OF THE BEST PHOTOS AND MOMENTS FROM THE 2016 OLYMPIC GAMES
Best Photos from the 2016 Rio Olympic Games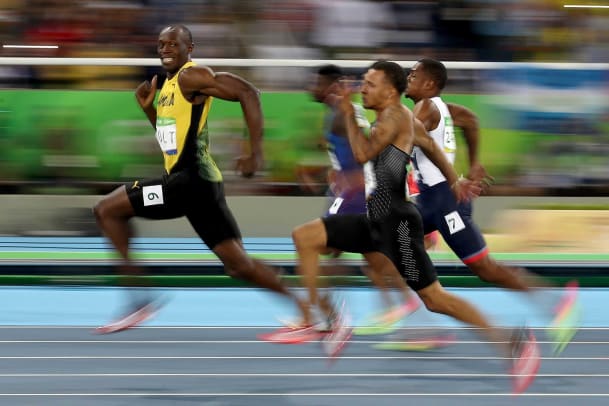 ​
THE NOISE REPORT
(SI.com examines some of the week's most notable sports media stories)
1. The Ryan Lochte story was a total fluke. Fox Sports Australia presenter Ben Way broke the story because he was sitting next to Lochte's Mom on a bus in Rio. The story.
1a. Here are the Top 10-rated TV markets for the Olympics through Saturday, via NBC Sports PR:
1. Salt Lake City 20.6
2. Denver: 19.3
3. Indianapolis 18.3
4. Austin: 18.2
5. Columbus, Ohio: 18.0
6. West Palm Beach 17.6
7. Minneapolis-St. Paul: 17.3
8. Richmond: 17.3
9. San Diego: 17.3
10. Norfolk: 17.2
10. St. Louis: 17.2
1b. Examining why Salt Lake City is No. 1 market for the Olympics.
1c. Saturday's coverage of the Olympics, featuring the last night of track and field, drew 14.4 million viewers, per Sports TV Ratings. The 2012 equivalent night drew 18.6 million.
1d. NBC said its Olympic Total Audience Delivery—which includes average minute viewing across broadcast, cable, and digital—had averaged 27.5 million viewers through Saturday. Based on that metric, which is an NBC metric, the Rio Games topped all Summer Games since 1988 outside of London.
1e. Carolyn Manno will host NBC's coverage of the 2016 Paralympic Games from Rio. The coverage begins September 7 at 7 p.m. ET on NBCSN, with the Opening Ceremony. (Manno will be joined by 13 play-by-play commentators, analysts and reporters.) On most days, NBCSN primetime Paralympic programming will air from 7 - 9 p.m. ET; daytime from 2 – 5 p.m. ET; and late night from 1 – 5 a.m. ET. One big question: How will NBC address this during the Games?
1f. Stratechary examined the interest in the Olympics through the prism of viewer age.
2. ESPN's Fantasy Football marathon was done as a marketing play to draw people to its website—no problems with that—but as someone who would like to see more Fantasy people get television reps, the programming never had a chance against the Olympics and WWE Smackdown. If ESPN does this again, they'd be wise to look for content away from a "celebrity" fantasy draft. That block drew just 294,000 viewers while WWE Smackdown drew 2.47 million viewers.
2a. Northwestern University announced last week that it had hired the ESPN journalist and commentator J.A. Adande to serve as the director of its new sports journalism program at the Medlil School. It struck me as an interesting and inspired move by Adande. Here's a email exchange we had on Adande's new role this week. 
Richard Deitsch:As specific as you can: What are your responsibilities at Northwestern?
J.A. Adande: My job is to make Medill the No. 1 sports journalism school in the world. Nothing to it, right? The reason it doesn't feel daunting is I don't have to do it by myself. It starts with the dean, Brad Hamm, who is committed to the sports program. Many of the great faculty members already in place have already reached out to me. And you wouldn't believe the number of people—fellow Medill alums as well as friends and colleagues in the media and sports business—who have already pledged to help in whatever way they can. George Solomon, my old sports editor at The Washington Post who is now the director of the Shirley Povich Center for Sports Journalism at Maryland, and Ron Thomas, who started the sports journalism program at Morehouse, have both offered to help. Theoretically they're now my competitors, but above that I have bonds with those two that go back to the early 1990s and we have a common interest in seeing as many students as possible succeed, wherever they might be. At Northwestern, my duties will include teaching, recruiting students and faculty, fundraising, putting together newsmaker panels and spreading far the fame of our fair name (sorry, had to throw in a line from the school fight song).
RD:Why did you decide to take this opportunity at this point in your career?
JA: It's a chance to expand my role as an educator and a chance to do it at my alma mater. Yes, there's a lot of prestige that comes with having Northwestern and Medill on the business card, and it's nice to know we have abundant resources at our disposal. But what matters more to me is that it's my school. That place is embedded in my heart. And education flows through my blood. My mom was a dance teacher who ran the dance department at El Camino College the last 10 years of her life, and I'm sure she would be more proud to see me get this job than any of the media positions I've held. That's one indication that this is the right move.
Teaching is so satisfying, whether it's seeing the progress the students make in class or seeing them covering games or on TV after they graduate. In the past couple of weeks, two students from the first class I taught at USC in 2004 mentioned things that I said in class that still stick with them. It was a reminder of how much of an impact you can make in this field. Now there's the potential to multiply that with even more people.
There's a lot of disbelief that I could leave my beloved Santa Monica and endure more Chicago winters. But the smartest thing I ever did was leave Santa Monica to go to Northwestern back in 1988...it's what enabled me to spend the past 20 years in L.A. with two great jobs (at the L.A. Times and ESPN) in the first place. I'm single, so there are no conflicts with a wife's career or kid's school situation to worry about. Lately, when I've been hiking in the Santa Monica Mountains or flying out of LAX I've looked down at the area and realized I've spent some 75% of my days in what amounts to a tiny patch of this earth. I can't confine my life to that space, as scenic and as valuable as the real estate may be. It's time to move.
One aspect that I didn't think about until a friend mentioned it is that this is a chance to leave a legacy. I got a taste of that by creating the Sports Commentary course at USC, which now will be taught by [ESPN-ers] Arash Markazi and Shelley Smith. It's something that didn't exist before I got there and will continue in my absence. Now there's a chance to build a whole program at Northwestern. If we do this the right way over the next, oh, 10-20 years it will thrive long after I'm gone. It might seem counterintuitive to make yourself replaceable, but that's the goal.
RD:What ESPN responsibilities still remain?
JA: Fortunately I don't have to quote from "Ozymandias" and say "Nothing beside remains..."
I will continue to appear on Around The Horn couple of times a week, continue to cover the NBA for ESPN.com and will be a regular contributor to The Undefeated. I love the avenue The Undefeated provides to expand into broader societal issues beyond the field of play and it's a great space for ESPN to enter.
I'm grateful for the opportunity to continue to tell stories and voice my opinions on the ESPN platforms, the premier venues for sports. It also helps my credibility in the classroom if I'm still actively producing content. I'm not ready to say "I used to do..."
RD:As someone who has morphed between reporting and being an opinionist for a television entity, how do you view both co-existing roles?
JA: Giving opinions is no longer just a function or byproduct of TV, it's immersed in writing as well. Most web sites and newspapers encourage their beat writers to share their opinion. Everything veers toward opinion. Remember when Facebook updates forced you to write about actions through their name/verb setup (i.e. "Mary Jane is...")? Twitter quickly went from updates to opinions as well. The churches and states are no longer separated when it comes to reporting and opinion.
For me, being on television has helped my reporting because my name and reputation precedes me into the locker room. It makes it easier to talk to people, or better yet, players coaches, athletic trainers, etc., will come up to me first and introduce themselves.
The flip side is when you express a strong opinion about someone and he considers it negative he might turn a cold shoulder to you, and there goes an important source of information. I was particularly mindful of that when doing sideline reporting, where you have to talk to players and coaches on camera and a good working relationship is essential.
Rio Olympics try to move on from Ryan Lochte's embarrassing debacle
RD: Is sports journalism better off today than when you started in the biz. If yes, why? If no, why?
Adande: Overall sports journalism IS better off today. There are more ways to tell stories, including podcasts, online video and interactive graphics. You don't have to be imprisoned by space limitations or printing press-imposed deadlines. As mentioned above, opinions are open to everyone, not just a select few columnists. The most significant improvement is there's no barrier to getting published. Anyone can get anything out there.
The downside is that it's not as easy to get paid for your work when you're starting off. The entry level newspaper jobs that were the foundation for so many sports writing careers aren't there. Nor are the high-end column jobs with a big travel budget. My last 14 months alone at the LA Times I covered two Super Bowls, the Winter Olympics, the World Cup and the NBA All-Star game. Very few people who are younger than me will get the chance to cover such a variety of big events. And those experiences are what make the difference between opinion and perspective (it might be slight, but there is a difference).
We'll try to get the students to some major events through Medill. And we'll try to emphasize the things that can stay constant no matter what the media landscape, primarily accuracy and fairness. You'll notice that the New York Times and The Washington Post aren't the news organizations getting sued into oblivion for running sex tapes or needlessly outing gay men. That's because they don't do those things. They realize that there needs to be a greater justification to run a story or video than the mere ability to do so.
I got my old school values from Medill. My freshman year we were the last students to use typewriters in the classroom. They have the latest tech now, there are new buildings and they're getting ready to renovate the iconic Fisk Hall. I still want to keep some of the old principles. That's what I know and can pass along. And as the new director of sports journalism I can hire people to teach the modern web production skills. So folks, send the resumes my way. Looks like I'll finally put my LinkedIn page to use.
2b. Major props to ESPN for its multi-platform commitment to a story on wrestling teammates from Miami who came to oppose each other in the cocaine wars—one as a drug smuggler, the other as a DEA agent. An SC Featured presentation of "Pin Kings" will air
Monday at 8 p.m. ET on ESPN2. There is also this web feature and a 16-part podcast series narrated by the reporters on the piece (Brett Forrest and Jon Fish). The episodes are 20-30 minutes in length and include podcast-exclusive interviews with more than 20 individuals related to the story. ESPN has been rewarded by the "Pin Kings" podcast ranking in the Top 10 in iTunes among the sports and rec category.
Tonga flag-bearer Pita Taufatofua making the most of unexpected Olympic fame
2c. The New York Daily News reported on Saturday that the NFL nixed the idea of Mike Tirico calling NBC's new Thursday Night Footballpackage of five games. Instead, those duties will be handled by Al Michaels and Cris Collinsworth.
Said NFL league spokesperson Brian McCarthy, in a statement: "When we bid out the Thursday Night Games, NBC came to us with an impressive pitch to bring the magic of Sunday Night Football-specifically Al and Cris and their production team-to Thursday Night. That was very attractive to us as we look to continue to build on the success of Thursday Night Football, and is similar to the deal we have with CBS for their lead broadcast and production team. We came to a contractual agreement with NBC on those terms.
In fact, when the NFL, CBS and NBC jointly announced the expansion of Thursday Night Football last February, we said: Both CBS and NBC will produce Thursday Night Football with their lead broadcasters and production teams, and both will contribute to the production of Thursday Night Football exclusively on NFL Network. CBS and NFL Network will televise the first half of the Thursday Night Football schedule with NBC and NFL Network televising the second half.
Our contract with NBC requires that the Sunday Night Team also do Thursday Night. It is up to NBC to determine who the talent is for both nights based on those parameters."
I'll weigh in more on this later this week. Deserves some space.
The Lochte of the Lowlands: Yuri van Gelder's second act
3.  Episode 72 of the Sports Illustrated Media Podcastfeatures writer Jim Miller, the author of "Powerhouse: The Untold Story of Hollywood's Creative Artists Agency." Miller also wrote the New York Times bestseller, "These Guys Have All The Fun: Inside The World of ESPN."
In this episode, Miller discusses why CAA is of interest to the public, how to land interviews with Hollywood talent such as Tom Cruise, Tom Hanks, Sarah Jessica Parker and Sly Stallone for a book project; how Stallone emotionally told him about losing his agent; CAA's impact on sports, using oral history as a literary device, why ESPN has lost subscribers over the past three years, what Chris Berman leaving ESPN means for that network, the short-term prospects for FS1, what Miller thinks of "The Ringer," and Bill Simmons's current projects, and much more.
A reminder: you can subscribe to the podcast on iTunes, Google Play and Stitcher, and you can view all of SI's podcasts here. If you have any feedback, questions or suggestions, please comment here or tweet at Deitsch.  
3a.Episode 71 of the Sports Illustrated Media Podcast features Terry McDonell, the former editor of the Time Inc. Sports Group and the author of "The Accidental Life: An Editor's Notes on Writing and Writers".
In this episode, McDonell, who ran Sports Illustrated for 10 years (2002-2012), discusses what it was like to edit Outside, Newsweek, Rolling Stone, Esquire and UsWeekly among other publications; spending time with Hunter Thompson and George Plimpton; the secret to managing editorial egos; being an outsider at Sports Illustrated; how Lance Armstrong repeatedly lied to him during his SI tenure; why surrogates on behalf of Alex Rodriguez called for SI writers to be fired; whether Rick Reilly leaving SI was a mistake for Reilly and why Reilly was angry with him when Reilly left for ESPN; discussing with the SI staff whether the Swimsuit Issue should end, putting Beyonce on the cover of Swimsuit; how magazines can survive in the future, and much more.
4. Non sports pieces of note:
•Via Buzzfeed's Anne Helen Petersen: On Nate Parker and the new limits of Hollywood damage control.
•From The Economist: To savor jerk chicken is to glimpse Jamaica's history.
•Via NYT Magazine: Fractured Lands: How the Arab world came apart.
•From New York Magazine: "Did I Kill Gawker?"
•Via The New Yorker: The race for a Zika vaccine.
•Via Chicago Magazine: A reporter on working nights in Chicago for three years.
•From Esquire's Don Winslow: El Chapo and the Secret History of the Heroin Crisis.
•From Katie J. Baker of Buzzfeed: Juanita Broaddrick Wants To Be Believed.
•From the NYT Magazine: How to pass a CIA test.
•From Washington Post writer Geoff Edgers: Will someone please give Norm Macdonald a job?
•Via The Atavist: Each year, California's child protective services agencies remove thousands of kids from their homes. The story of how some parents decided to fight back.
•The Toronto Star on The Tragically Hip's last show. 
Sports pieces of note:
•SI's Tim Layden on Usain Bolt's final race.
•From Martina Hyde of The Guardian: Blame it on the IOC: its profiteering Olympics has never looked more exploitative. 
•ESPN's Bonnie Ford offered some needed honesty on Rio.
•Via The New York Times: Why is the country's most dominant distance runner not in Rio?
•SI's S.L. Price on Russian wrestler Abdulrashid Sadulaev.
•ESPN's Zach Lowe on Manu Ginobili's legacy.
•From the New York Times: Can you beat Usain Bolt out of the blocks?
•Via Toronto Star writer Bruce Arthur: A dead man, and an embrace. In conclusion, the Olympics are a land of contrast.
•The Undefeated's Martenzie Johnson looks at the history of black performers in professional wrestling through the prism of The New Day.
•From The Wall Street Journal's Mara Abbott: My Ride in Rio.
•From CJR: Has Olympics coverage shortchanged Brazil?
5. Longtime Boston sports-talk host John Dennis has left WEEI's Dennis and Callahan show.
5a. Via Sports Business Daily assistant managing editor Austin Karp: HBO's Hard Knocks has been hurt by the Olympics. The show's debut episode Aug. 9, opposite Olympic coverage, drew 509,000 viewers for its 10:00 pm ET premiere, down from 826,000 for the debut episode last year featuring the Texans. The premiere of the second episode this past Tuesday drew 487,000 viewers, down from 831,000 last year.
• SI's Hard Knocks Reviews: Episode 1 |Episode 2
5b. ESPN will present An Undefeated Conversation: Athletes, Responsibility, and Violence—a discourse on athletes, guns, violence and law enforcement—on Thursday at 9:30 p.m. ET. The 90-minute program will be anchored by Jemele Hill.
5c. Per Sports Media Watch: Alex Rodriguez's final game earned a 0.7 final rating and 1.0 million viewers on Fox, the lowest rated and least-watched MLB telecast ever on an over-the-air network.
5d. Jamie Reynolds, ESPN's vice president of production for tennis, explains his view of the many conflicts of interest among his broadcasting group.
"When you reflect back on the Wimbledon situation and John [McEnroe] operating with the [Milos] Raonic camp, I think when you look at the roster of talent that we have, you look at this sport in particular, the crossover and the passion of everybody is pretty strong on all fronts. I would say to you I think we, ESPN, handled that identity of John's duality as well as some of the other folks on our roster, including Patrick Mouratoglou, who spent some time with us, you look at Darren [Cahill], Mary Joe Fernandez, her coaching responsibilities, as well as the other extended members of our family, I think we were open and very clear in our relationships with what we expected between their perspectives.
I think in a sport at a championship level, we framed it properly to give the viewer a chance to both appreciate the perspective and the insight that they can offer, but also openly acknowledge the fact that some of these folks are wearing multiple hats. And for the viewer how you assess that, how you might interpret their responses relative to that, either you like them or you think there may be a level of conflict.  At the end of the day, from taking care of the viewership, framing the event, I think their perspectives are still very valuable.
When you go back and look at it historically through a variety of other sport categories, it doesn't matter whether it's the Van Gundys, the Grudens, even the Grieses, there are a great many relationships, family-wise, that have some sort of attachment in the sports community.  I think the viewership, the audience, can understand and at times respects it, and some other times finds that it's awkward or sideways. At the end of the day I still think they appreciate what that insight and perspective can offer."
Neymar, Brazil finally win gold as program tries to reclaim glory
5e. On Tuesday HBO Real Sports reporter Jon Frankel examines the challenges women sports television reporters face. Here's a preview clip featuring FS1's Charissa Thompson, someone whose honesty in the business I have really come to appreciate.
5f. ESPN says College Football Live will have a new format and look this season. Samantha Ponder and Molly McGrath will rotate hosting duties Tuesday through Friday at 1:30 p.m. on ESPN while Chris Cotter will appear Mondays on ESPN2.
5g. FS1 launched three years ago (Aug. 17) this week. If you want to read how much has changed since their initial plans, check out this piece from 2013.
5h. Awful Announcing examined FS1 on its third anniversary.
5i. ESPN has hired Jeff Darlington—he was formally a national reporter for NFL Network—to work as a reporter on a variety of sports including the NFL and SportsCenter among other assignments.
5j. Marc Kestecher makes his debut as ESPN Radio's primary NBA play-by-play voice this season, alongside analyst Jon Barry, with P.J. Carlesimo (analyst) and Kara Lawson (analyst) returning for select games.
5k.Wishing ESPN college football analyst Rod Gilmore the best of health.