Landon Cassill readies for first Sprint Cup spin at Sonoma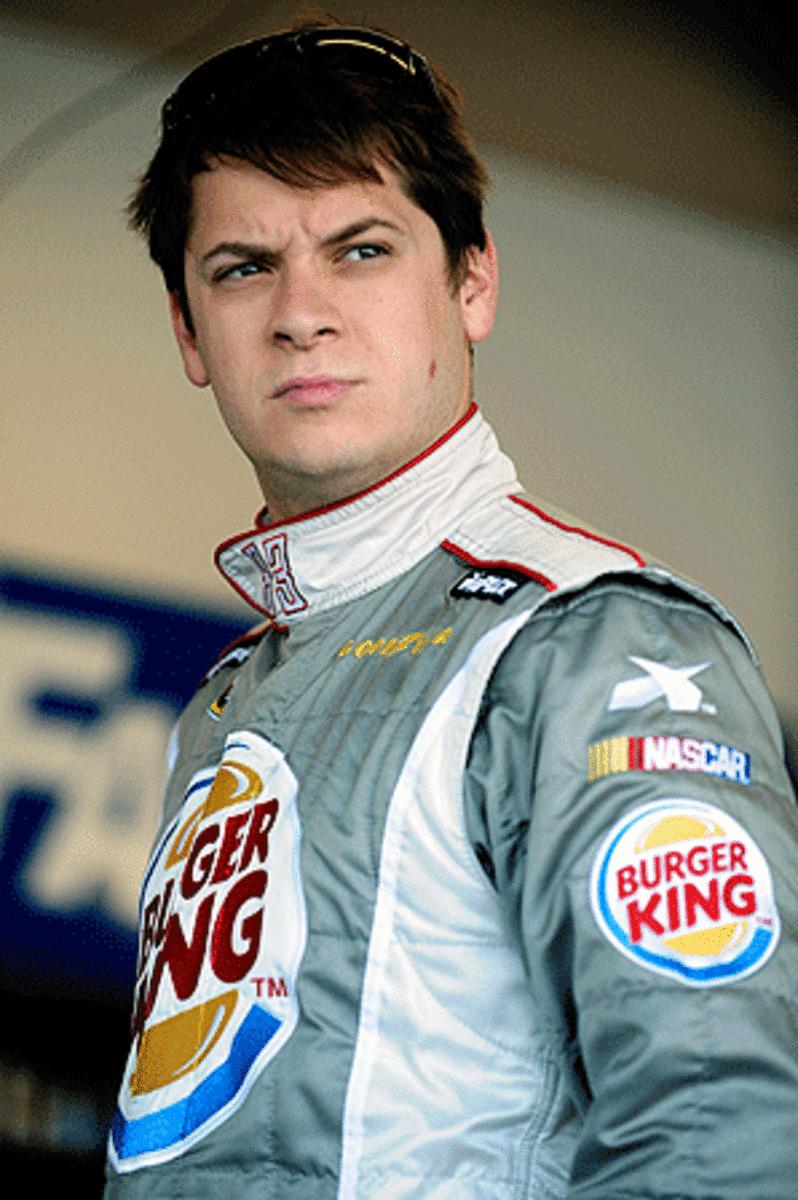 BROOKLYN, Mich. -- "I can make fun of NASCAR fans," comedian Alonzo Bodden quipped, "because if they chase me, I just turn right."
It's a twist on a long-standing joke, but the truth is it remains a departure for the Sprint Cup Series, which spends 34 of its 36 weeks turning left. Preparation for the first road-course event of the season -- Sunday at Sonoma Raceway -- requires a stark change in the setup of the cars and the mindset of drivers.
The Hendrick Motorsports contingent tested at Road Atlanta and wheelmen from Richard Childress Racing and Joe Gibbs Racing were among those who headed to Virginia International Raceway in preparation.
Meanwhile, Landon Cassill could only simulate Sonoma. Literally.
"I did, believe it or not, gain some experience through iRacing," Cassill said, referencing the online racing game. "That's kind of what's helped me out."
Cassill is the only full-time Cup driver who will be making his road-course debut Sunday. While NASCAR's bigger teams were able to offer a practical refresher for the 1.99-mile California track, it wasn't an option for Cassill, who drives the No. 83 Camry for first-year team BK Racing.
"We'll find out [if it helps]," he said. "I got some laps in at Sonoma and I'm going to do some more to kind of polish up for the race," Cassill said. "I try not to rely too much on it. You get a little bit of a reference and a visual for what the racetrack is going to be like."
Here's what iRacing can't simulate: with limited places to pass, the course, of late, has resulted in races that have been heated, both in temperature and temperaments.
Last season, Tony Stewart set off a seven-car pileup after he took out Brian Vickers for blocking him. Jeff Gordon left a voicemail apologizing to Martin Truex Jr. in 2010 after spinning Truex out and pushing him into a multi-car accident.
"It is a very physical race and it is usually hot out there and grueling," said Carl Edwards, who has just one top-5 finish in seven starts at Sonoma. "There is a lot of pride as a driver to run well because it is so much work."
It's for those reasons Cassill is keeping his approach for Sunday simple: stay on the track, don't miss the corners and keep the car in one piece.
"I think if you do that, you will end up in a good position at the end," he said. "There's a lot of guys that are going to tear up their equipment and there will be some attrition in the race, and I think we can take advantage of that.
"That's my main focus, but if we're competitive enough to get in the mix and fight for position, then by all means that's what we'll do."
Coming off an 18th-place finish at Michigan, in which he ran as high as fourth, Cassill is looking to build momentum in what's been an up-and-down first full season in the series.
After spending last season with Phoenix Racing, and the previous five years as the lead research and development driver for Hendrick, Cassill was signed to BK Racing, which purchased owners points, cars and equipment from defunct Red Bull Racing.
He's gotten the team into the top 35 in owners' points, meaning he doesn't have to qualify on speed each week, which is paramount for a start-up organization. But he's also had eight finishes of 30th or worse and is sitting 32nd in the standings.
Cassill's roller coaster ride was on full display at Pocono. He had qualified a season-best 15th, but didn't make it one lap as he got loose and spun, making contact with A.J. Allmendinger and Truex, finishing 43rd. Compounding matters, this came one week after he lasted six laps at Dover as part of a 12-car wreck that started when Stewart made contact with his left rear quarter panel.
"It's just racing, that's how it goes," Cassill said. "For me, we've run well and we've seemed to find a pretty good balance at some of the faster tracks and we just have to keep that going. ... We're in a building process with this new team."
It's a process that Cassill measures by what he deems a reasonable accomplishment.
Now, it comes in finishing in the top 25. The next step is making the top 20 on a consistent basis. And from there?
"Build a better team over the years and maybe become a Chase contender and a winning team," Cassill said.
But the immediate future is about tackling his first road course in NASCAR's premier series. A year ago at Phoenix Racing he was replaced by road-course specialist Boris Said at both Sonoma and Watkins Glen, but now it's all on Cassill, the sole driver of the No. 83.
He has the vote of confidence of Jimmie Johnson, a former colleague of Cassill's in his days at Hendrick.
"He knows what he's doing," Johnson said. "He's been in these Cup cars for a while now and knows what goes into it and focuses on showing up to the track prepared. I think he'll be ready to go.
"Knowing him, he's probably been on one of those Sim games trying to figure out how the flow of the racetrack works."
Sonoma Pick
Jeff Gordon. The Chase is all but out of reach for Gordon, who's 20th in the standings, unless he can start producing wins to steal a wild-card berth. That should make the best road-course driver of his generation all the more intriguing of a pick at Sonoma. He's already won at the California track five times, a series-best, and has finished in the top five in four of his last six starts. Plus, his 500 points over the last four races are only bested by Johnson's 515. A week after producing his best finish (sixth) in more than two months, Gordon should carry the upswing into career win No. 86 and a much-needed breakthrough in a season that's been full of frustration.