Tony Stewart's helmet toss raises questions about fan demands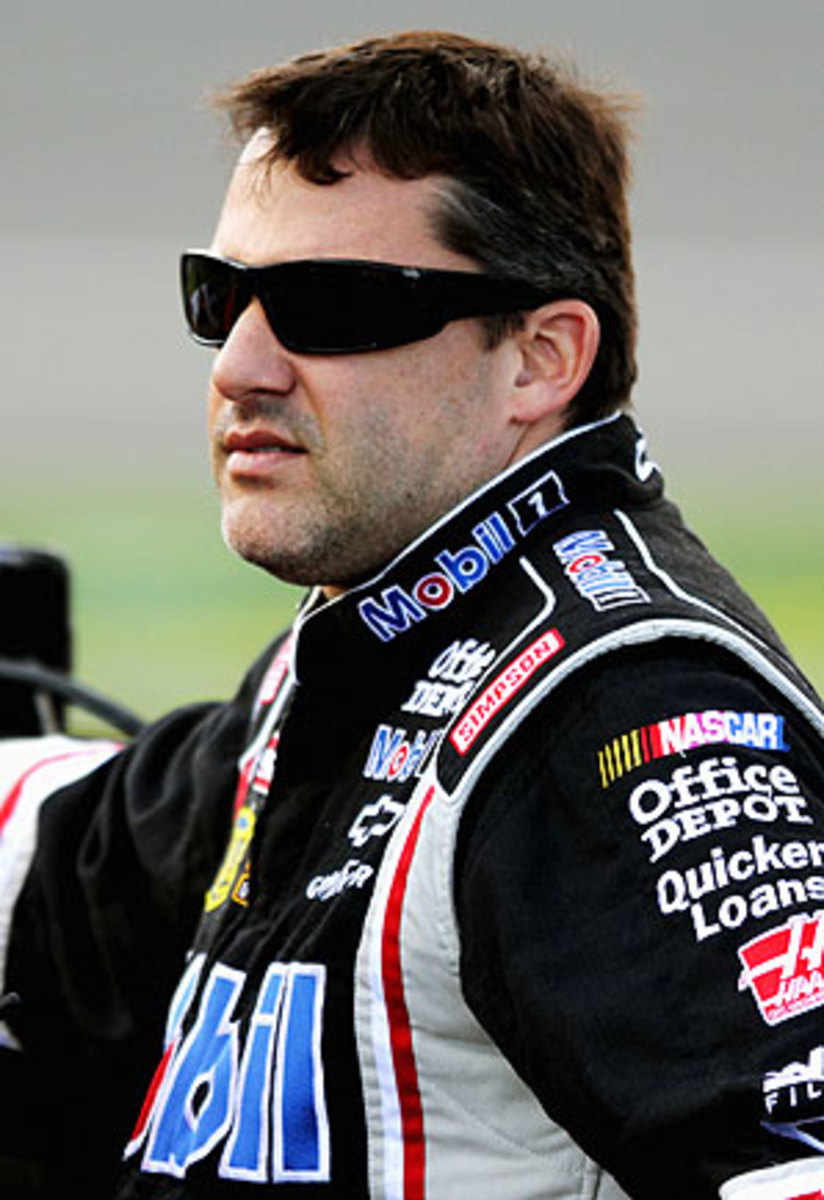 It was celebrated in Australia, cheered in Tennessee and viewed countless times on YouTube. While Tony Stewart's helmet toss thrilled some and enraged others, it created a buzz Saturday night at Bristol Motor Speedway.
Stewart's action toward Matt Kenseth after they wrecked was the type of emotion many fans said had been lacking in NASCAR. In a race with 13 cautions, 10 for accidents, Stewart provided the night's highlight.
The clip of Stewart's two-handed toss even made "Play of the Day'' on an Australian TV newscast with the announcer quoting a line from "Talladega Nights.''
There will be some who will admonish Stewart, noting the poor sportsmanship his action represents, and they'll be right. Yet, some of those who shake their head at Stewart likely are the same people who have complained about the sport being vanilla.
Their cry has been to let the drivers be themselves instead of a company clone. Now that a driver does something different, some people will want to punish him and question the sport.
So what is it that you want? Vanilla drivers or those with spice?
The quandary is similar to people who don't like wrecks but say that this Bristol race -- which had more accidents than the last two Sprint Cup races there combined -- was one of the more entertaining races they've seen there. Some might even call it one of the most entertaining races of the season.
Face it, without the emotion fans saw at Bristol, racing would truly be cars going around in circles to many people. Just as without emotion a Red Sox-Yankees matchup creates as much interest as a rec-league game for some.
After once being schoolmarm strict, NASCAR understands the need to give drivers freedom to express their anger. Series officials didn't penalize Todd Bodine earlier this month at Pocono when he threw his helmet at Nelson Piquet's truck after they made contact and Bodine crashed. And on Monday it was announced they would not penalize Stewart for his actions at Bristol.
If such things escalate, then NASCAR likely will react but what Stewart did created more talk about NASCAR than anything that happened in the race, including Denny Hamlin's victory.
While some will look at Stewart's incident and say this is another sign that NASCAR is like the WWE, understand this: Stewart's action was directed by anger not a script.
Bristol was only the latest in a month-long series of events that has sparked emotions and built excitement for fans on and off the track. After some fans complained about the lack of cautions earlier in the season, many relish what is taking place.
The action started at Pocono when Jimmie Johnson and Matt Kenseth triggered a multi-car wreck that allowed Jeff Gordon to take the lead just before rain ended the race.
The final lap at Watkins Glen was perhaps the most exciting all season. Leader Kyle Busch drifted wide after running through oil in turn 1. He spun after contact with Brad Keesslowski, who lost the lead to Marcos Ambrose soon after. Both Keselowski and Ambrose ran off the course at one point and dueled before Ambrose won.
Busch was so frustrated with that finish he told reporters he had nothing good to say and walked away. He didn't address the issue publicly for two weeks. Asked at Bristol what bothered him more, Keselowski bumping him or NASCAR not throwing a caution for the oil, Busch said: "All of the above.''
Last week at Michigan, Johnson seemed headed for his first career victory there before his engine blew in the final laps, creating another dramatic ending for fans as Greg Biffle celebrated the victory.
Keselowski's comments afterward about how some teams seemed to be "living in the gray area'' of the rules created a charge and stirred the Hendrick drivers.
"I think he likes to talk a lot, but I think his true skills shine on the racetrack not really behind the microphone,'' Dale Earnhardt Jr. said at Bristol.
"Me and Brad are friends I don't want any drama with Brad. I don't particularly like the things he says lately about the company I drive for. I take offense to the claims and accusations.''
Said Johnson of Keselowski: "He likes to talk a lot, and he says a lot of things. Everybody is entitled to an opinion, but I think you need to have your facts straight and understand what's going on.''
Then came the race where Stewart tossed his helmet and Danica Patrick scolded Regan Smith for wrecking her by shaking her index finger when he drove by.
Stewart and Kenseth have had their share of incidents through the years -- most notably the 2006 Daytona 500 -- and added another chapter in June at Sonoma when Kenseth said Stewart ran him off the course and cost him seven spots. Their issues continued last month.
"At Indy he was mad because he said I blocked him,'' Kenseth said. "I asked for five minutes of his time to clear the air and he wouldn't give it to me and pretty much just got cussed out and knocked my whole side off and put us in position to get wrecked, so I just said, 'OK, that's fine. I'm just gonna race you the same way you race me.''
As they ran side-by-side for the lead at Bristol, Stewart and Kenseth made contact and both slid into the inside wall.
"I checked-up twice to not run over him (Kenseth) and I learned my lesson there,'' Stewart said afterward. "I'm going to run over him every him every chance I've got from now 'til the end of the year, every chance I've got."
Kenseth drove away but Stewart exited his car. When Kenseth came down pit road, Stewart coiled his body and slung his helmet with both hands, firing a strike to the front of Kenseth's car.
The crowd roared.
It was what they came to see.