Does Jeff Gordon have the drive to contend for another Sprint Cup title?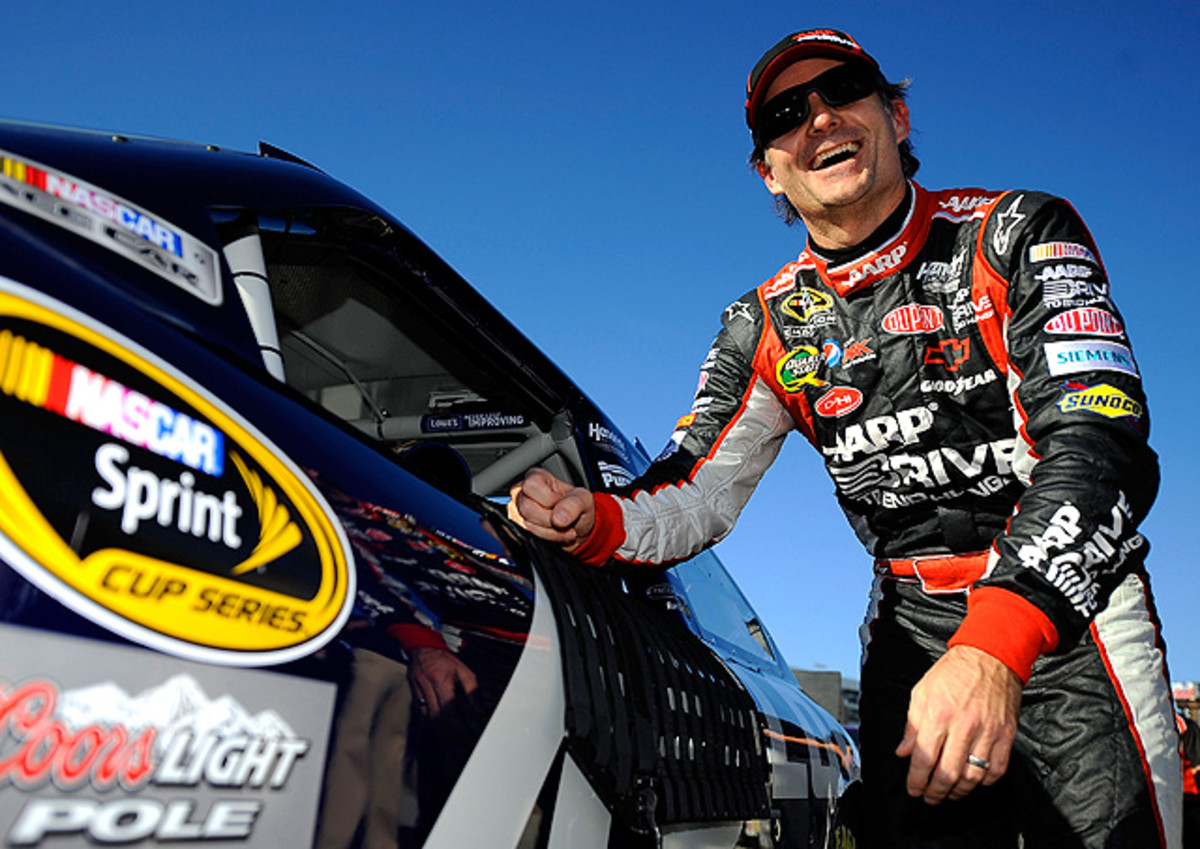 At 4433 Papa Joe Hendrick Boulevard in Charlotte, N.C., the championship banners hang from the rafters of the Team Center building, a cavernous hall where the 550 employees of Hendrick Motorsports frequently gather for luncheons and meetings. As you enter the building, the most recent title reminders are directly above you. There are Jimmie Johnson's five straight Cup banners, commemorating his dominating run from 2006 to '10. There's the 2003 Nationwide banner that Brian Vickers earned. Far down the line, almost obstructed from view by the other banners, is one from 2001--the last time Jeff Gordon drove his No. 24 Chevy to the Cup title.
Yes, the driver once derisively called "Boy Wonder" by Dale Earnhardt Sr. back in the 1990s, hasn't captured a championship in a dozen years. In '01, when he won the fourth title of his career, it was taken as an article of faith in the garage that he would day match -- and likely surpass -- the record of seven career championships shared by Richard Petty and Earnhardt Sr.
After all, between 1995 and '01, Gordon reached Victory Lane a staggering 56 times in 267 starts, which means he took the checkered flag in 21 percent of the Cup races. He was fast on every type of track -- short, intermediate, superspeedway, road course -- and he seemed to possess the perfect combination of brains and brazenness. What's more, he was a marketing dream: articulate, telegenic, and equipped with a ready-made, dimpled smile that flashed whenever he hopped out of his Chevy, which was usually parked in Victory Lane.
ESTES: What does Kevin Harvick's move to Stewart-Haas in 2014 mean for this season?
Now, 12 years and zero titles later, the question is this: Can Jeff Gordon, at age 41 and in the winter of his racing career, summon the old magic in 2013 and compete for one last title? In the last three seasons he hasn't finished higher than eighth in the points and he's won only six races in his last 185 starts, which translates to reaching Victory Lane only 3.2 percent of the time -- a far cry from those heady times in the late '90s and early 2000s.
"There is absolutely no doubt in my mind, none whatsoever, that Jeff still has the inner-drive and the talent to win a championship," says Steve Letarte, Gordon's crew chief from 2006 to '10 and who now sits atop the pit box of Dale Earnhardt Jr. "If you watched him closely last year, and trust me I did, he had the speed to win a bunch of races and be right there to contend for the championship. But in some years speed alone doesn't get it done. You have to have some luck in how things like cautions fall, and Jeff didn't have much of that last year. Jeff hasn't won a title in the Chase format. He hasn't been able to put those ten races together at the end of the season. But he has put ten awesome races together at different points in the season. Now he just needs to do it in the Chase. I don't think he's slowed at all."
But no driver in the Cup series has endured more hard crashes over the last six years than Gordon. In 2007 at Pocono his brakes went out and he plowed into the Turn One wall -- after roaring down the longest and fastest straightaway on the schedule -- at nearly 190 mph.
(True story: Later that night after the wreck, Gordon went to a hospital in New York City to get checked out. When the nurse saw that Gordon had written on a form that he'd been in car accident, she asked him how fast he was going. With a straight face, Gordon replied, "Uh, about 200.")
The next year, at Las Vegas, Gordon rammed violently into the inside the wall that wasn't protected by a SAFER barrier. And then in 2009, at Watkins Glen, Gordon was hit by Sam Hornish in the driver's side and redirected head-on into a steel fence that also wasn't lined with a SAFER barrier. All of these hits were ones that used to send drivers (at worst) to the hospital or (at best) into retirement, but Gordon never missed a start.
Yet there's no question that these wicked crashes have taken a toll on Gordon's willingness to put his car in a potentially perilous position. Even he admits that he's not as likely to daringly stick the nose of his No. 24 Chevy in a spot where he once did when he was winning championships if it means it could cause a wreck.
"I feel like I'm a smarter driver now but I'm not as aggressive in certain situations, that 's for sure," Gordon says. "When I first came into the sport I'd push too hard at times and make mistakes. But just because I'm not as aggressive doesn't mean I'm not as good of a racecar driver. We mature and we learn."
LONG: Will Kurt Busch control his emotions this season?
Gordon also is already looking at his options once he walks away from the driver's seat. He has, to put it mildly, a very good life. He's happily married to a former model, and they have two beautiful young children. He's earned more than $130 million in career winnings alone -- and millions more in endorsements. He has a penthouse apartment on Manhattan's Upper West Side that has a view of Central Park and he owns a newly built, sprawling house in Charlotte. He's guest-hosted in the past with Kelly Ripa on her late-morning show, and he's proven to be a natural in front of the studio cameras. Unlike most NASCAR drivers that fade from public view once they retire, Gordon will likely remain a visible figure for years to come.
But can he contend for one more title? If nothing else, last November he showed that he still has the intensity of an in-his-prime 30-year-old when he intentionally wrecked Clint Bowyer at Phoenix, triggering a garage brawl between their two pit crews. Gordon believed that Bowyer had been racing him too aggressively all season, and he administered some old-school racing justice in the desert. (Bowyer, who wouldn't even make eye contact with Gordon at the postseason awards banquet in Las Vegas, likely will exact revenge at some point in the 2013 season, perhaps as soon as the Daytona 500).
"As you get older, certain things change," Gordon says. "Your body changes. You need to work at staying fit. I've had some back issues, but other than that, I've been lucky. I'm in good shape. I'm relaxed in the car. I feel as good as I did ten years ago. I really do. I think we can win another title, otherwise I wouldn't still be doing this."
It's a long shot, yes. But if Gordon does raise one more championship banner at 4433 Papa Joe Hendrick Boulevard, it would be one of the most arresting career comebacks in NASCAR history.