NASCAR's redesigned racecars popular among drivers, owners and fans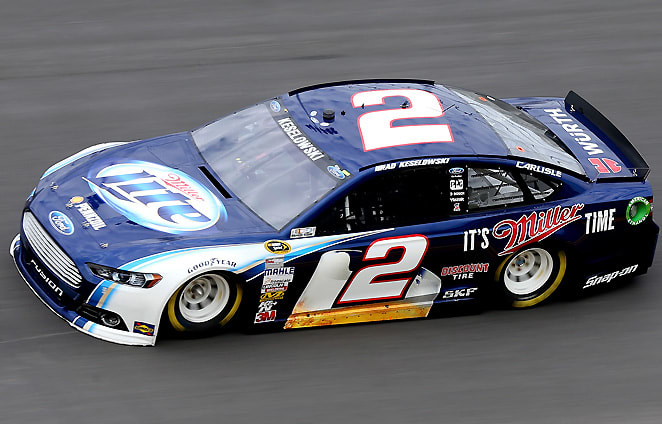 DAYTONA BEACH, Fla. (AP) -- NASCAR's Car of Tomorrow is a thing of the past.
Designed primarily to improve driver safety following the death of Dale Earnhardt in the 2001 Daytona 500, the car has been kicked to the curb, left in the rearview mirror and turned into scrap metal.
The redesigned replacements - at least so far - are a huge hit with drivers, owners, auto manufacturers and fans.
The new cars, dubbed "Generation 6," look considerably closer to the ones sold on showroom floors. It's NASCAR's way of putting the "stock" back in stock-car racing and possibly making the cars stars once again.
"It matters because it's the image we portray," defending Sprint Cup champion Brad Keselowski said. "I wear a fire suit with a helmet and a full seat around me. You can't see me. What you are seeing is this car going around the race track and the sponsors and the car construction, styling, etc. So that is what you see as a fan or as an ambassador of the sport. Absolutely it matters."
Cars used to be as iconic as drivers in NASCAR.
In the mid-1950s, race cars were virtually indistinguishable from production vehicles. Sure, they had some rudimentary safety equipment and numbers on the doors, but they often still had license plates and working headlights.
Against other real production cars, the very first Chrysler 300 was dominant. That set the stage for the next five decades of racing.
Fireball Roberts and his No. 22 black and gold Pontiac Catalina were mainstays in Victory Lane in the early 60s. Richard Petty's blue Dodge Charger was a series staple.
The Charger became so important to Petty that NASCAR extended the car's eligibility through the 1977 season, an unprecedented move for the sanctioning body. And few have forgotten Bill Elliott's sleek Ford Thunderbird or Earnhardt's stylish Chevrolet Monte Carlo SS in the late 1980s.
"People want that kind of connection with the car they're driving," NASCAR team owner Chip Ganassi said.
NASCAR hasn't had that in years.
The CoT debuted in 2007 after extension research and development. The driver's seat moved more toward the center of the car, which was longer and wider.
The result was a boxy car that was indistinguishable from make to make; NASCAR needed just one template to check every car during inspections. Maybe more troubling was that it was considerably less racy than its predecessor.
Drivers hated it, fans ripped it and NASCAR officials dismissed the backlash while continuously pointing to the car's safety record.
"It was something that's never happened in history, where manufacturers were basically treated like mushrooms - kept in the dark and under a pile a crap by the organizing bodies," said Lee White, president and general manager of Toyota Racing Development. "Now it's an opportunity for the manufacturers to become front and center."
Indeed.
With Chevrolet leading the way, and fellow manufactures Ford and Toyota gladly following its lead, the auto giants demanded change. By some accounts, Chevy even threatened to leave NASCAR if the on-track cars didn't become more relevant.
NASCAR listened, and allowed the three manufacturers to develop unique versions of the Gen-6 car. That led to cars that closely resemble the Chevrolet SS, the Ford Fusion and the Toyota Camry.
Grills and body lines are similar. Silhouettes are within millimeters of their showroom counterparts.
"This is stock-car racing," said Mark Reuss, president of General Motors North America. "Everything is supposed to be stock or at least as close as you can get to stock. NASCAR knew it. The manufacturers knew. The fans knew it. Everyone could feel things were off. We're trying to appeal to a whole new generation of people, and when the car's not relevant, it gets really hard because everyone starts aging. We did this as much for the sport as we did for the brand."
Still, the ol' "win on Sunday, sell on Monday" mantra is what auto makers really would like to get back to.
"It's been a long time coming, and it's finally here," said NASCAR team owner Rick Hendrick, who owns car dealerships across the country. "I've never seen this much energy about the car. We have the drivers as stars, and we used to have the cars as stars. Now I think we've got them both again, and I think that's the neatest part of this deal."
Feedback has been purely positive after two tests in January and through the first few days of Speedweeks.
Still, complete results won't really be known until the car makes its debut at superspeedways, short tracks and the all-important 1 1/2 mile ovals.
"The previous car was the ugliest car of all time," driver Jamie McMurray said. "I thought it was horrible. I think this is the best looking car we've ever been in. ... It's cool that we have some brand identity. If you're a Chevy fan, you have something to pull for. Before, the cars just had different decals on them. They are actually different now, which is cool."
And NASCAR isn't done making the race cars more closely mimic those on the streets.
The sanctioning body moved to ethanol-blended fuel in 2011 and then replaced carburetors with fuel-injection systems last year. Electronic power steering and glass dashboards could be next.
"It's our job to bring racing to fans in a format they can understand, that's relevant and not based on the past, but on the future," Reuss said.