Buddy Lazier gives the Indy 500 another shot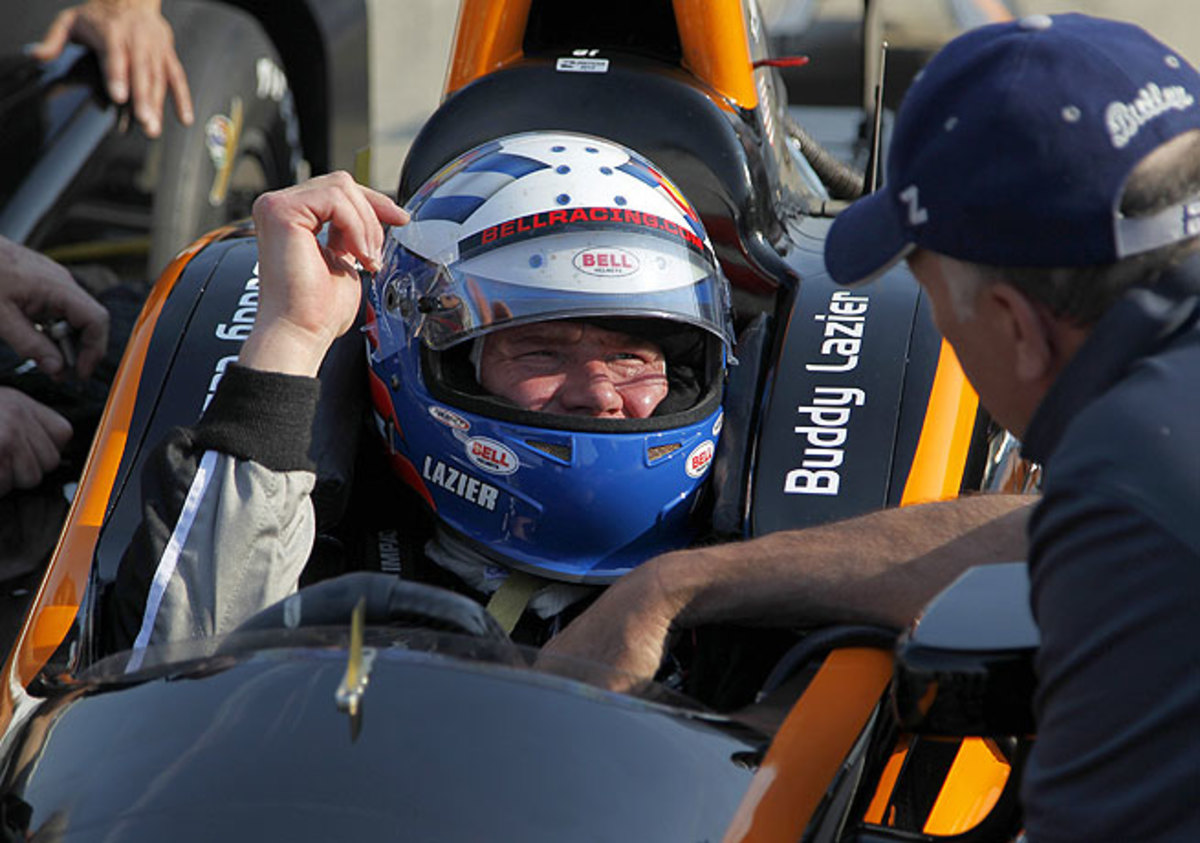 INDIANAPOLIS -- Buddy Lazier stood in front of his garage in Gasoline Alley signing autographs and having pictures taken with fans Sunday. He hasn't driven in the Indy 500 since 2008, but they hadn't forgotten him and they were happy to have him back.
Lazier will be in his 17th Indy 500 next Sunday, but his popularity isn't just based on longevity. He was fast and a finisher, a savvy driver. He was an Indy champion in 1996 and he finished second in 1998 and 2000, fourth in 1997, fifth in 2005 and seventh in 1999.
Lazier qualified for 14 straight races at Indy from 1995 to 2008, but failed with a late-starting, under-funded effort in 2009. He was an Indy 500 specialist at that point of his career and, in his early 40s, his opportunities dried up.
Sitting at home in Vail, Colo., in May didn't sit well with Lazier or his father, Bob, who remained confident in Buddy's ability. Six months ago, Bob formed Lazier Partners -- a group of eight -- and began making plans for Buddy's comeback.
"We basically thought we had a real opportunity to get Buddy back in the Indy 500," Bob Lazier said. "Drivers who can drive like Buddy, that doesn't go away, especially at Indy."
Buddy worked as a driver coach for Jean Alesi, a former Formula 1 driver who came out of retirement at Indy last year. Alesi was in one of the two poorly-powered Lotus cars. It ran nine laps in the race and dropped out. Lotus withdrew from the Izod IndyCar Series at the end of the season. The Lotus-owned Dallara DW12 was available -- likely at a basement-bargain price -- and the Lazier Partners grabbed it.
They signed an engine deal with Chevrolet, had the required updates done at the Dallara facility located across the street from the Indianapolis Motor Speedway, put together a team and began preparing the car.
Buddy didn't get out until Friday, the final full practice day, and it was for a shakedown run -- really a systems check and to make sure nothing falls off before cranking it up to speeds over 200 miles per hour.
They weren't ready to make a qualification run on Pole Day. On Sunday morning, Lazier popped in a lap that averaged 225.167 miles per hour and knew he was ready to qualify. He'd run a total of 35 laps.
It wasn't the speed he wanted, four laps that averaged 223.442, but it made little difference. Lazier will start in the middle of the 11th and final row in the famous field of 33. As a second-day qualifier, the highest he could have been was the inside of the ninth row. And he was safe with that speed. On Bump Day at Indianapolis, there were no bumps. Only 33 cars made qualification attempts.
But the circumstances didn't limit his excitement. He still had to have a car and he had to run a minimum speed to make the race. Lazier hadn't had those opportunities in four years.
"I'm thrilled," Lazier said. "I'm disappointed we slowed down from this morning when we ran 225, but the conditions changed. We're a small team that has not had the time on the track and that was a big challenge. The car I had in 2009 didn't have the speed and this car has speed.
Lazier went back out after qualifying to prepare for the main event. He's run a total of 77 laps.
"I think we're pretty good for the race," Lazier said. "Most of the time, we were running with three-quarters tanks [fuel]."
There is one more two-hour practice, known as Carburetion Day, on Friday prior to the race.
"I'm going to have to get out on Friday and run in dirty air," Lazier said.
Lazier has always raced better than he's qualified, but he's realistic about his chances in the race.
"I haven't dared to think about winning," Lazier said, "but who knows? Our chances are not good, but strange things happen. I can draw on my experience because I know what is going to happen in the race with the friction [grip] level changes. We just want to have a good, strong race."
Lazier is 45, the oldest driver in the race. But he wouldn't be the oldest driver to win the Indy 500. Al Unser holds that distinction, winning in 1987 five days short of his 48th birthday. Unser started 20th that day in a year-old car and was running third late in the race when in the span of five laps leader Mario Andretti fell out with an engine problem and Roberto Guerrero took over the lead and then stalled in the pits with a clutch failure. Unser took the lead and won his fourth Indy 500.
What are the chances of Lazier getting his second Indy 500 victory? He's a long shot for sure, but he's in the race and it gives him a chance.
It probably won't be a one-race comeback for Lazier.
"We're going to save the car for next year and do it again," Bob Lazier, an Indy 500 starter in 1981, said. "But if a sponsor comes along and wants us to run, we'll do that, too."