F1's Fernando Alonso: Red Bull complaints due to frustration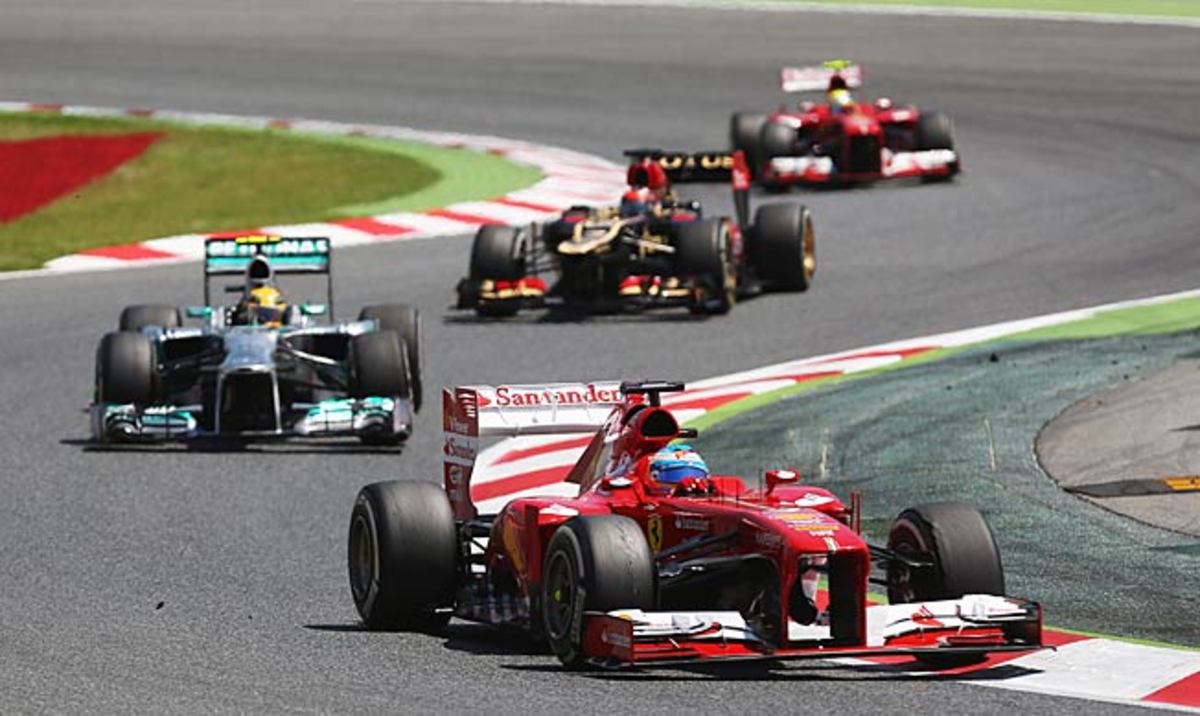 MONACO (AP) -- Closing in on Formula One leader Sebastian Vettel, Ferrari driver Fernando Alonso suggested Wednesday that Red Bull's complaints about Pirelli's fast-degrading tires are due to frustration at no longer dominating races.
Red Bull star Vettel finished fourth when Alonso won the Spanish Grand Prix two weeks ago to reduce the gap to the German to 17 points.
"Sometimes, when you win too easy for some years, it is difficult to lose some races afterward," Alonso said at the Monaco GP. "We know that Barcelona was a good race for us and not so good for some of our competitors."
That race was overshadowed by Pirelli's tires shredding, forcing most teams to take four pit stops instead of three. Strips of rubber peeled off early in the race, bringing an unhappy response from Vettel after the race.
"We are not going to the pace of the car - we're going to the pace of the tire," said Vettel, the three-time defending F1 champion.
Even when the tires are new, Alonso said, Red Bull has been behind Mercedes in qualifying in three straight races. Mercedes driver Nico Rosberg won the past two pole positions, in Barcelona and Bahrain, and teammate Lewis Hamilton qualified fastest in China.
"Some of these competitors, they claim to have a super car. But the last three pole positions were when the tires are new," Alonso said.
Red Bull has dominated F1 for the past three seasons, but Ferrari appears to be closing the gap. The Italian team is faster and has so far managed its tires better.
Two weeks in Barcelona, Vettel finished one place behind Ferrari driver Felipe Massa in fourth place despite starting third on the grid. The Ferraris beat both Red Bulls, with Mark Webber finishing fifth.
"The feeling is good. The team is confident as we saw we had a competitive package, getting both our cars onto the podium in Barcelona," said Alonso, who won the F1 title in 2005-06 and is looking to become the first driver to win in Monaco with three different teams.
Red Bull has three straight victories in Monaco, however. Webber won from pole last year and in 2010, Vettel did likewise in 2011. That means the pressure is on Ferrari to win its first pole of the season on a street circuit notorious for making passing difficult. Alonso's best qualifying result so far is third, Massa's is second.
Only two drivers have won from starting behind pole in Monaco since 2003.
"Monaco is a unique track where you need a special set-up and confidence in your driving," Alonso said. "A good lap on Saturday, finding a little something more than on the other laps, then a good start. ... You also want a clean strategy, which works well.
"We know how difficult it is to overtake here, so maybe that makes them favorite here. But we must not forget our main target, which is the championship. And in that battle, Vettel and Raikkonen are ahead of us. So if Mercedes has to win one race, maybe this is the one and we must just concentrate on finishing ahead of the others."