La Liga dominance at FIFA awards reflect troubling reality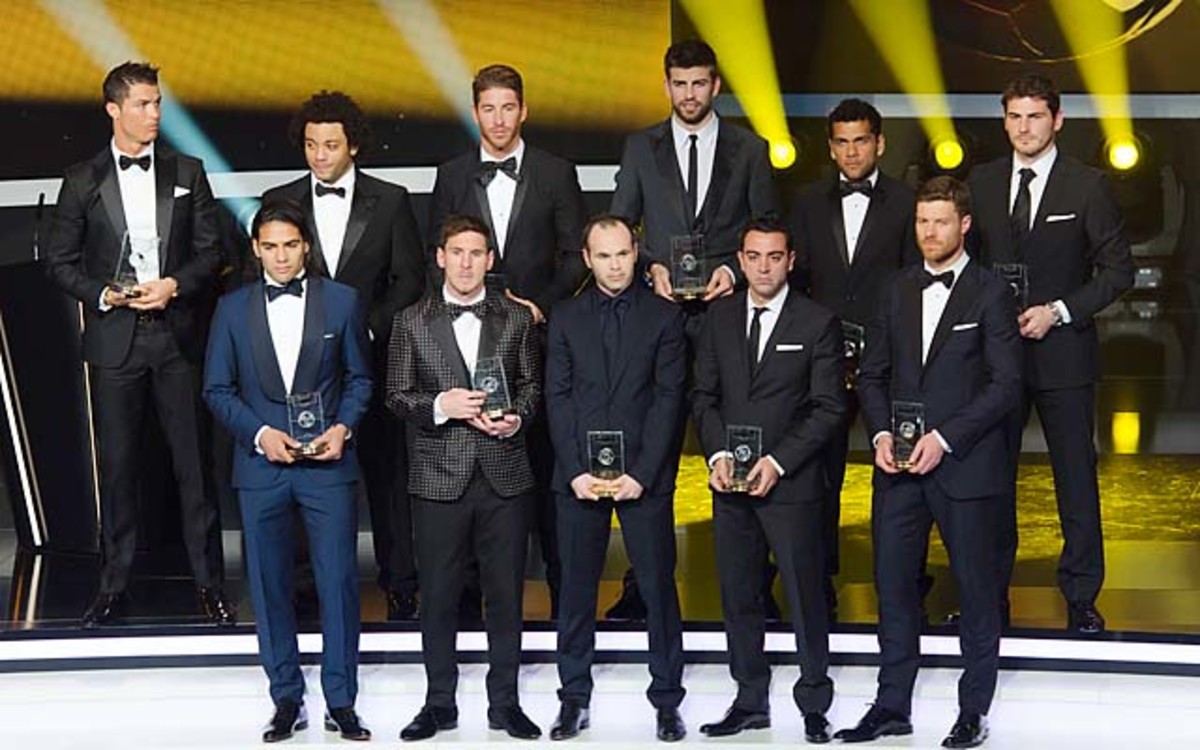 One by one they came onto the stage, shaking hands with Ruud Gullit and Kay Murray. Iker Casillas, Dani Alves and Gerard Piqué; Sergio Ramos, Xabi Alonso and Marcelo ... eventually, 11 men stood there. Five from Real Madrid, Five from Barcelona, one from Atlético Madrid. Eleven from La Liga. FIFA's team of the year, and every single one of them plays in Spain.
There was much to remark upon following the Ballon d'Or gala in Zurich; there was even more to say about the event and reactions to it. Like just how absurdly entrenched the footballing debate has become in Spain and how angry people get about the award, even though, whoever had won from Cristiano Ronaldo, Andres Iniesta and Lionel Messi, it would have been no scandal. About the accusations aimed at FIFA and UEFA, Sepp Blatter and Michel Platini; the need to remind people, again, that it's a vote, for goodness sake. Not a conspiracy.
And a fundamental point, all too easily forgotten: as Marcelo Bielsa put it, the problem with choosing the best is that rather than serving as a eulogy of that man it gets taken as a dismissal of the rest. Finishing second is no criticism; yet somehow it can seem that way. As if instead of declaring him the second best player in the whole world; you're voting him the worst. How could you?
There were questions about the criteria, criticisms about inclusions and the exclusions: what exactly was Dani Alves doing in that XI? Wasn't it a little odd that not one footballer who played in the Champions League final made it? What about Juventus? What about Andrea Pirlo? Why have some countries -- Angola, the Ivory Coast, Iran ... -- not voted? And arguably the really glaring omission: the absence from the ten-man coaches shortlist of Diego Simeone.
Other elements were made clear once again: short memories and shifting preferences. After the Champions League final, Didier Drogba seemed a clear candidate, before the Euro 2012 final, Pirlo did, afterward it was Iniesta. Then there was Radamel Falcao. All the way through there was Ronaldo and Messi, although the Argentinian accelerated toward the end of the year.
The clásico in October was presented as the game that might decide the Ballon d'Or; Messi and Ronaldo got two each in a glorious game. Yet in the end, as he racked up doubles in eight consecutive games and broke Gerd Muller's record, Messi won 41.6 percent of the votes and over 50 percent of first-place votes.
Access to the votes allowed the normal post-mortem, and there's something addictive about going through the spreadsheets; the very fact that you can pick through those votes surely conditions them. A player votes knowing that his vote will be known and analyzed, questioned. Most of them are picked over through curiosity -- and it is fun -- but many of them are looking for something to complain about.
No one seems to be allowed to just vote for who they think should win; last year Carlos Queiroz was attacked for not voting countryman Ronaldo. So what? His attacker was the country's federation chief, as if it was a crime that he thought Messi might have been the better player. This year, Piqué attacked Marca for voting for a foreigner -- Ronaldo -- for the UEFA award. Since when does a passport oblige you to vote a certain way? Since now, it seems. Some do not seem to simply vote for those who have most impressed them; too often there does seem to be more to it. Friendship, perhaps. Or, worse, fear.
Casillas' camp contacted Spain coach Vicente del Bosque to alert him to the fact that the goalkeeper had chosen Real Madrid coach Jose Mourinho ahead of him. Del Bosque told him not to worry; there is something a little sad in the fact that he ever thought he might have to. And he thought that because he did.
On one Spanish talk show prior to the award there was the normal complaints, angrily delivered. That European arrogance again. Whinging about managers and coaches from "small" countries who "don't know anything" and vote stupidly. As if they are not allowed a different perspective; as if their opinion is worthless (even though, in any case, it's just one of almost 600). Yet the most questionable votes came from the biggest nations; it was there that self-interest and politics seems the most apparent (and the politics is an issue that this column has looked into before).
The German manager voted for a German, the Italian for an Italian, the Spanish for Spaniards. Mirko Vucinic, the Montenegrin captain, voted for Juventus teammate Gianluigi Buffon.
Messi is the Argentinian captain: he did not vote for Ronaldo but instead for Xavi, Iniesta and Sergio Aguero. "It would be silly not to say that Ronaldo is one of the best players in the world," he said. The Portuguese captain is Ronaldo, but he did not vote because, he explained, he was injured so his vote passed to Bruno Alves. Ronaldo could not vote for Ronaldo; Alves did. You want to believe that it was not a cheap, slightly grubby maneuver, but ... there they were, five points for Ronaldo, none for Messi. Just like last year when Nuno Gomes took Ronaldo's votes.
In the end it made little difference. Messi was the winner. In Spain there was no real outcry, but there was a quiet sense of injustice: how could it be that the best international team in history has not had a Ballon d'Or winner? How could it be that Spain has only ever had one winner, Luis Suarez in 1960? There have been dark hints before; this time less so. Messi's brilliance, for all that some Madrid fans are furious and for all that Ronaldo had a very strong case in 2012, winning more than Messi did, tends to blunt the criticism.
Besides, there is a kind of compliment to Spain in none of their players winning the award; football is a team game, there can be no better expression of that than not having a single outstanding candidate to bring together the votes of all those that wanted to recognize Spain's huge success. In 2010, when they won the World Cup, Spain had five players in the top 10. Messi won with only 22 percent of the vote; between them Xavi and Iniesta, second and third, had 34 percent. Two players who are often seen as one.
For Spain, recognition this time came with the managerial vote for Del Bosque and with the men standing on the stage. All 11 of them from the league; six of them from the Spain team. It could even have been more (Jordi Alba for Marcelo?). There could be little doubt that Spain's Euro success had, naturally enough, influenced the votes, but the team of the year also rewarded Spanish football more generally: the world's best players all play in the same league. There was pride, cheering headlines. And opportunism.
In England there was concern: the Daily Mail proposed a La Liga versus Premier League face off, a perfect XI from each, head to head.
Spanish football deserves to feel proud. The best players do indeed play in Spain. And the dominance of Barcelona and Madrid is not founded purely on the weakness of the rest of the league; last year's Europa league final featured Athletic Bilbao and Atlético Madrid. Good players emerge at other clubs. Alonso began at Real Sociedad, Juan Mata at Real Oviedo, David Silva at Valencia. Nor is it based purely on money: Barcelona recently fielded an XI made up entirely of players who have been through their youth system at one point or other. And here, too, was Radamel Falcao from Atlético.
But the team of the year award masked a troubling reality for the Spanish league. In fact, more than masking it, it reflected that troubling reality. And in reacting to it, in puffing out his chest and glorying in it, the man responsible for it served only to underline it still further. The result did not so much reflect well on the Spanish league as on Spanish football. Nor did it change the fact that the league has serious problems, from falling attendances to poor organization, in-fighting, economic crisis, a lack of competitiveness and fragmented kickoff times.
If the Spanish league as an organization had contributed to those 11 men standing on stage in Zurich, it was at least in part in allowing two clubs to become so powerful at the expense of the rest as to dwarf not just the rest of Spain but the rest of Europe. Yet Jaume Roures, the head of Mediapro, the company that owns the TV rights of Spanish clubs and the de facto owner of the Spanish league took credit for himself.
"The best team in the world plays in Spain," he said. "That is evidence that things have not been done so badly after all," he wrote in a column in Marca. "Not a day goes by without someone attacking us for the dates of matches, the kickoff times or the TV rights. Everyone thinks they are a football manager; now it seems everyone thinks they can run the game off the pitch, too. Eleven players have been recognized -- this is also a way or praising the work of the clubs and all the professionals involved in this great spectacle."
Then he actually said it: "Let's hang medals on ourselves ..."
There was a flaw in Roures' discourse, an assumption that has done so much damage to the Spanish league; that has led to a league where the team in third has been closer to relegation than the top for three years in a row and where the best players have a choice: join Madrid or Barcelona or leave the country. As Silva, Mata, Aguero, Torres and Cazorla have done. As, incidentally, Falcao will do this summer. A league where Michu leaves for England because no one in Spain can pay £2 million for him.
Roures was right. So long as the "Spanish league" is synonymous with just two clubs. And for him, it is.