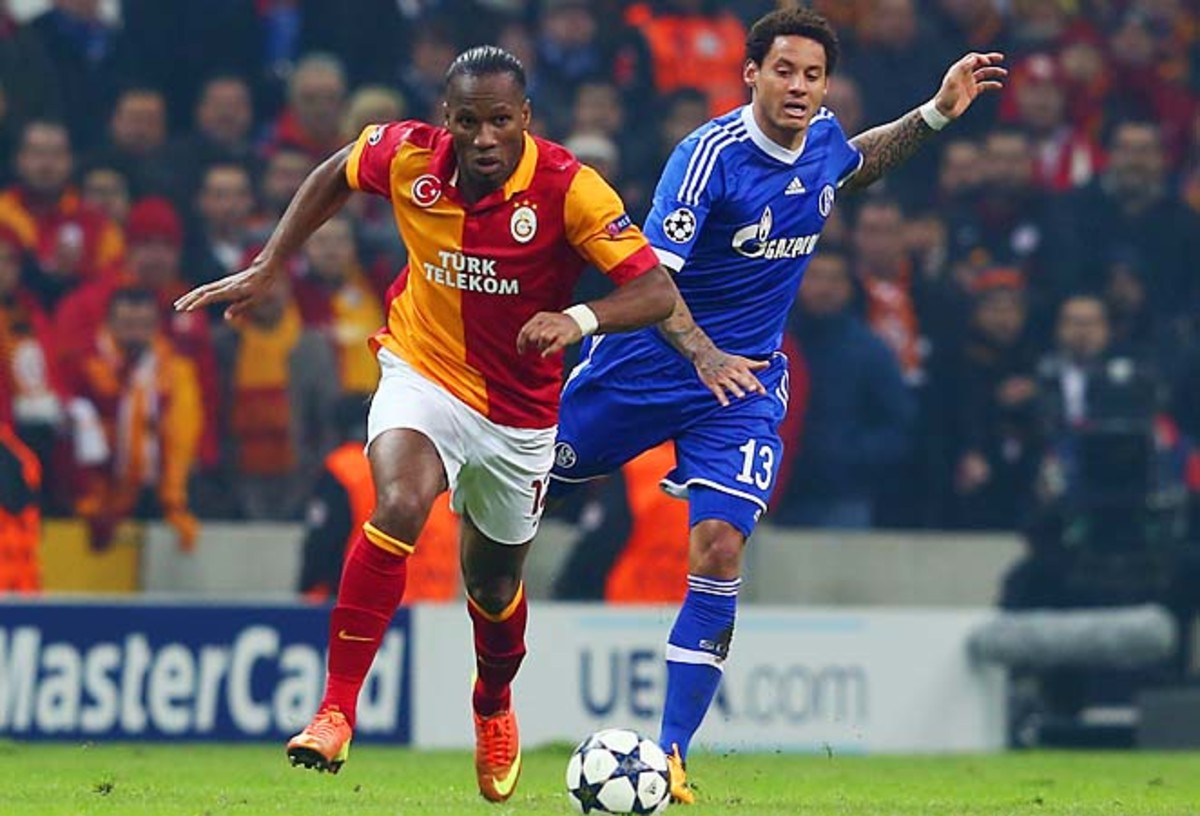 It was the tie that both sides wanted -- "Schalke were happy to get us we were happy to get them," Galatasaray coach Fatih Terim said before the match -- but neither side could be really satisfied with the 1-1 draw to open their Champions League round of 16 tie Wednesday night.
"We were not at our best and we know there will be no excuses in Germany," Terim said, ruefully. His team had failed to take numerous chances before and after Schalke midfielder Jermaine Jones equalized Burak Yilmaz's 12th-minute opener at the stroke of halftime.
Few thought the out-of-form Bundesliga club would be capable of such a good result -- Schalke came into it with only won win in the last 12 matches in all competitions. While Galatasaray strengthened by signing two genuine superstars in Didier Drogba and Wesley Sneijder in the January transfer window, Schalke lost Lewis Holtby to Spurs and got stuck in a spiral of decline.
Interim coach Jens Keller, a man on borrowed time and was probably only one defeat at Mainz on Saturday away from getting the sack (the game ended 2-2), was so worried about the atmosphere in the Türk Telekom Arena that he subjected the team to a full-volume play-back of Galatasaray chants in the final team meeting. Maybe that trick helped to settle the visitors' nerves, but it was of little practical benefit on the pitch.
"More than five meters, and you couldn't hear any shouts from your teammates," right back Marco Höger said.
The crowd's noise, Galatasaray's goal and the tricky pitch -- "it was lucky that the ball didn't bounce funny before Jones' strike," Keller said -- made it all the more remarkable that the ninth-placed Bundesliga team went home with a clear advantage. And yet, the Germans also took a sense of regret with them home from Istanbul. They had missed some good opportunities, too. "We feel that more was possible here," Höger said.
Still, the decent showing of Keller's men provided a hope and optimism that will go beyond the naked result. For the first time in ages, Schalke played with a sense of cohesion. Its game had structure, the players woturked hard. These things should be a given for a Champions League side, but they had all gone missing the last few months. All of a sudden, Schalke looks like making it to the quarterfinals.
Local paper WAZ knew who was chiefly responsible for the upswing in fortunes. It praised winger Jefferson Farfán, keeper Timo Hildebrand, but above all, the goal scorer. "Jones lets Schalke dream," it wrote.
LOWE: The trouble with Barcelona
Kicker magazine, too, singled out the U.S. national team player for his overall contribution and fine finish for the equalizer; Jones was named man of the match by Germany's most reputable magazine. The 31-year-old did what he does best: he broke up opposition attacks, supported his side's forays with powerful runs and calmed everyone down with his assured distribution.
For Munich-based broadsheet Süddeutsche Zeitung, the German-American "controlled the midfield with his dynamism" and ensured that "Schalke was physically and methodologically superior" than the hosts.
Both Schalke and Jones needed that kind of performance, desperately. The former Eintracht Frankfurt midfielder hadn't had a truly outstanding game since Schalke's 2-1 over Werder Bremen in November. The Royal Blues were second in the table then, only seven points behind leader Bayern. This was to prove the high point of their season. Jones' subsequent loss of form was neatly mirrored by the whole team. Schalke only won two of the next 15 games.
Tricky league ties against Düsseldorf, Wolfsburg and arch rival Borussia Dortmund could cause more problems for Keller's men by the time Galatasaray come to town for the second leg March 12. But for now, the club feels a corner has been turned. There was only one bum note, as far as Jones was concerned: a yellow-card-suspension will make him miss the return match.
He's found himself in similar positions before. Jones plays a hard game that can occasionally veer into brutality. A straight red card against Stuttgart saw him banned for four matches. A year earlier he had missed six games after video evidence showed him purposely stepping on Marco Reus' toe.
"He's a good player, but he needs to be more careful, (his suspensions make him) miss too many games," said former Germany international Didi Hamann, who was watching the Gala game for Sky in the UK.
Ironically, Jones wasn't booked for fouling an opponent but for unsporting conduct: he waved an imaginary card in the air after being on the receiving end of a foul.
"That was stupid of me," he said, "(the Galatasary player) trips me up and makes a tactical foul. I make the referee aware of it, but I shouldn't have."
Jones was genuinely sorry, no doubt, but his demeanor was relaxed. "The boys will take care of business in the second leg," he said, with an optimistic smile. That TV interview annoyed another TV expert. Jens Lehmann, the former Germany, Schalke and Arsenal keeper thought that Jones' statement portrayed an overconfidence.
"He talks as if they have already won the second leg," Lehmann said, "his body language suggests that everyone his happy. That's not enough for Schalke's ambitions. You have to say smarter things than that. If you aim for the (0-0) draw (in the return leg) you will lose."
Süddeutsche was less harsh on the player, but, too, noted that he didn't seem very bothered by his ban.
"He looked rather pleased to be available for (a possible) quarter-final, instead," it wrote.
It's fair to say Jones still has some way to go when it comes to winning over the German public after his switch of allegiance to the U.S. in 2009. At Schalke, they are more forgiving. But his relative position of power comes with responsibility. If Schalke is to fully recover from its midseason slump, Jones will have to get back to his best, consistently. Istanbul was but a start.
Or was it? On the day after the game, the Germans filed an official complaint over Galatasaray's fielding of Drogba.
"There are doubts about the validity of the permission to play (the Ivorian)," the club said.
The former Chelsea striker left Shanghai Shenhua in January, but the the Chinese club has opposed the move. UEFA is looking into the matter, but Schalke's protest could backfire spectacularly. If Drogba was indeed ineligible, the match could be replayed on neutral ground.
LYTTLETON: Milan stuns Barca; American saves Schalke