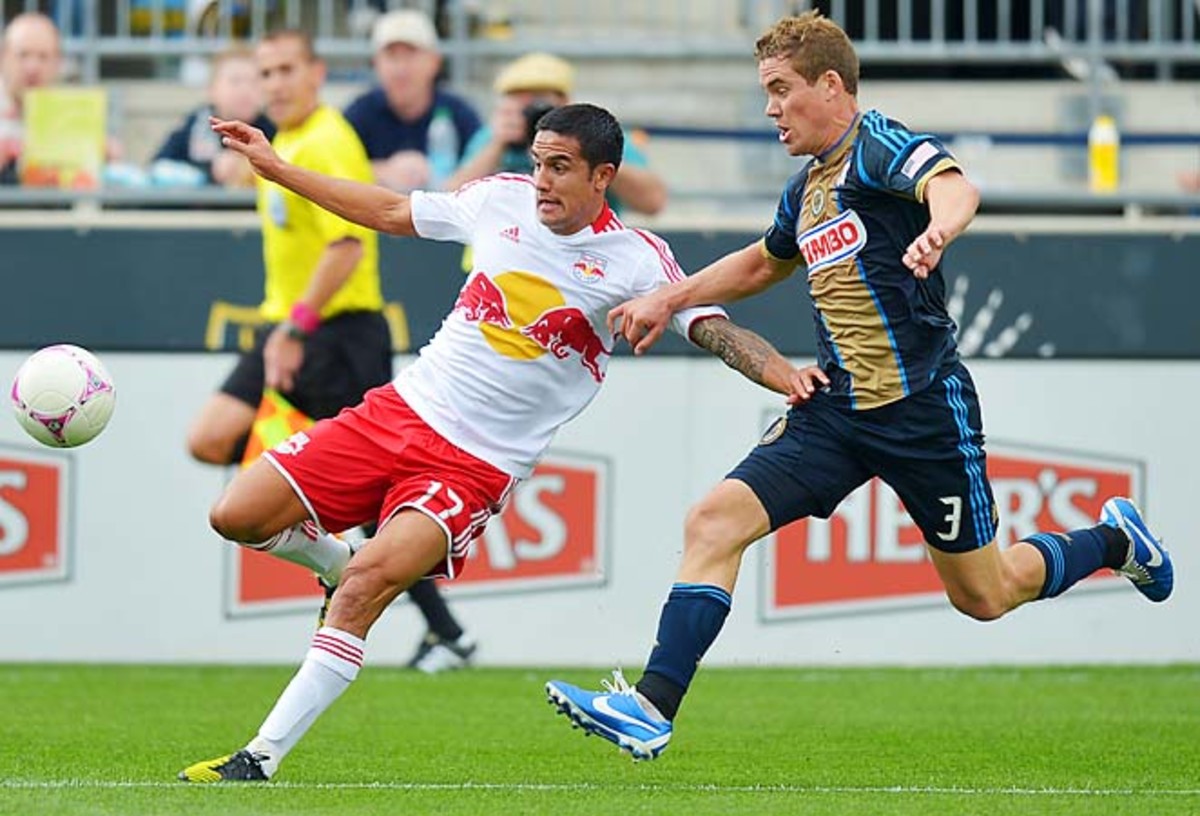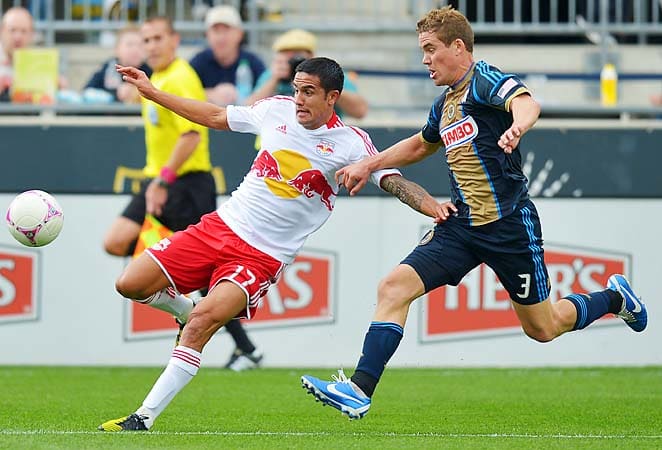 After 14 years at a pair of scrappy overachievers in Everton and Millwall, Tim Cahill is at an underperforming favorite that is expected to win with style. A culture shock? He hopes so.
The midfielder's first full season in MLS starts on Sunday as the New York Red Bulls travel to play the Portland Timbers. There is plenty on his to-do list: win an MLS Cup, educate youngsters, lay foundations act as an ambassador ... and enjoy himself. If the Premier League was a job, albeit a very special one, then MLS seems like a vocation.
Cahill became a symbol of Everton's best qualities during eight years on Merseyside and now wants to embody a revitalized Red Bulls. The vision is to bring stability and success to a franchise that has known little of either. A club that has struggled to establish a coherent identity -- perhaps inevitably given the topsy-turvy truth that it has achieved international renown without domestic success.
"I don't want to be just a passenger in the Premier League, I want to be someone that's leading the revolution of the Major League in a big way," Cahill said. "Whether that's on the park or off the park, my job is to make these kids play, to understand professionalism and the opportunity of playing in the MLS."
He is at a point where winning is not defined solely by lifting trophies. Finding happiness in his family life and leaving a legacy: this is winning, too.
"I'm 33, I still probably [could have had] a lot of years left in me in the Premier League," he said.
"I wanted different things in my life, not only me but my family as well, and I wanted to have a crack at the MLS. I could have stayed at Everton, probably could have gone to a few European clubs or moved in the Premier League to a number of clubs, but you have to ask yourself as a footballer where you want to be."
So last summer Cahill replicated the path he took as a teenager when he moved from Australia to England: a journey into the unknown. Given its reputation abroad as a retirement home for fading stars, few consider the possibility that a switch from Europe to MLS can be an ambitious choice. But even 18 years into the league's existence, imports arrive believing they are not only players but also pioneers.
"Everton was a fantastic chapter in my life, so was Millwall, but this is something overseas, something that I've always wanted to explore, whether it was going to be in China or the Middle East," Cahill said. "You've got to look at what the MLS has done in the last five to ten years. What (David) Beckham's done for the league, Thierry Henry, Landon Donovan, players like that. I want to be part of it."
The Red Bulls played in Tucson's Desert Diamond Cup against a trio of MLS rivals, losing three times and drawing once. While tournament winners Seattle Sounders were sharp and well-drilled, New York looked exactly what it is: a team undergoing extensive renovations. "Pardon our dust" ought to have been printed across its jerseys.
So Cahill's optimism is stained with caution.
"I think this season it's going to take time," he said. "We're going to find it hard to get used to each other. But the main thing is we've got a lot of quality going forward. I think we're still trying to find ourselves defensively and trying to fix the holes of what we had last year, but this year it seems like it's a lot more compact, and we seem to be working together a lot, and it's looking good.
"All new teams that have so many changes, change of staff, it takes time. We're going to lose some games, but also we're going to do it playing the way we want to play football, and that's keeping the ball and attacking."
BERLIN: Beckham doesn't disappoint in PSG debut
Since 10 of the league's 19 teams reach the playoffs, MLS' structure is forgiving to sluggish starters. But last impressions count for everything. After New York's third successive conference semifinals exit last year, Hans Backe was ousted as head coach and replaced by the 37-year-old former player Mike Petke. Helping him are two seasoned European tacticians in Andy Roxburgh and Gerard Houllier, making for an intriguing blend of local knowledge and worldly wisdom.
"This year [we are] most definitely better equipped on every level," Cahill said. "The best thing is, these coaches, American coaches, have got their style. I'm here to support it, get things underway. Over time we'll build a team that's going to challenge not only for one year but hopefully the next two to three years."
One of a pair of New York Designated Players along with Henry, Cahill's $3.6 million salary made him the fourth-highest paid MLS member last year. That level of outlay is usually spent on impresarios such as Henry or Robbie Keane, yet Cahill is a classic blue-collar player: battling, energetic and worked his way up from a modest start.
He believes that last July's switch could prolong his career and would recommend it to others.
"This really looks after my body, I go from 40-50 games a season to 30-plus," he said. The 34-year-old Chelsea midfielder Frank Lampard has been linked with a move to the United States.
"I think for Lampard, he's a quality player that's always going to score goals," Cahill said. "But maybe this quality of life is going to help his body and help him with the England national team. They need their players as fit as possible and trying to win something."
The Sydney native scored Australia's first-ever goal at a World Cup in 2006 and was one of the Premier League's most reliable and feared players for the next five years. Rumors of a move to a bigger club never came true, and so he was destined to remain admired by soccer fans in England without attaining the celebrity status that comes with a role at one of the elite sides.
Call him an attacking midfielder or a deep-lying striker, the method of operation was the same: he skulked in the gray area between midfield and attack, arriving fashionably late to meet a cross with an implausibly high leap and bash the ball into the net with his head.
His goal celebrations expressed his feisty character: he would unleash a flurry of punches on an unsuspecting corner flag. As with the very best players, defenses were acutely conscious of his strengths, yet their awareness rarely seemed to affect the outcome.
Few players are so alert, so opportunistic. Even talking to him soon after he'd walked off the training pitch his eyes darted left and right as he spoke, as if he was still playing -- scanning for space to make a run or find a teammate to supply.
The tactical transition from Everton's selfless and efficient unit to a disparate posse powered by stardust was not simple, and Cahill was far less of a threat to corner flags in MLS than in England. He provided one goal and one assist in 12 league games. Partly because he went forward more rarely and also since New York did not have wide men with delivery as reliable as Everton full back Leighton Baines.
Now, though, New York has signed midfielder Juninho, one of the finest free-kick takers of his generation.
"Last year was different, I was playing a defensive midfield role practically on my own 18-yard box, we had so many different circumstances to the team and the combination we had," Cahill said.
"I think what [Everton manager] David Moyes taught me was to be a more complete player, a team player that's someone who's going to defend first and not only attack. All in good time, I'll get my chances and it always ends up hitting the back of the net sooner or later."
Preseason is always a license to dream, to talk of renewal, hope and fresh beginnings. Especially under a new coaching regime.
"This year is going to be a special year for me, Juninho, Thierry, for the football club," he said. "Building from the start, not coming in last-minute and just picking up pieces. When I signed here, this is what I wanted -- I wanted the professionalism, I wanted to see the vision of being part of the team for a number of years and building it and looking to do something special."
DART: MLS fills void left by MLB in Tucson