Breaking down the 2013-14 Champions League draw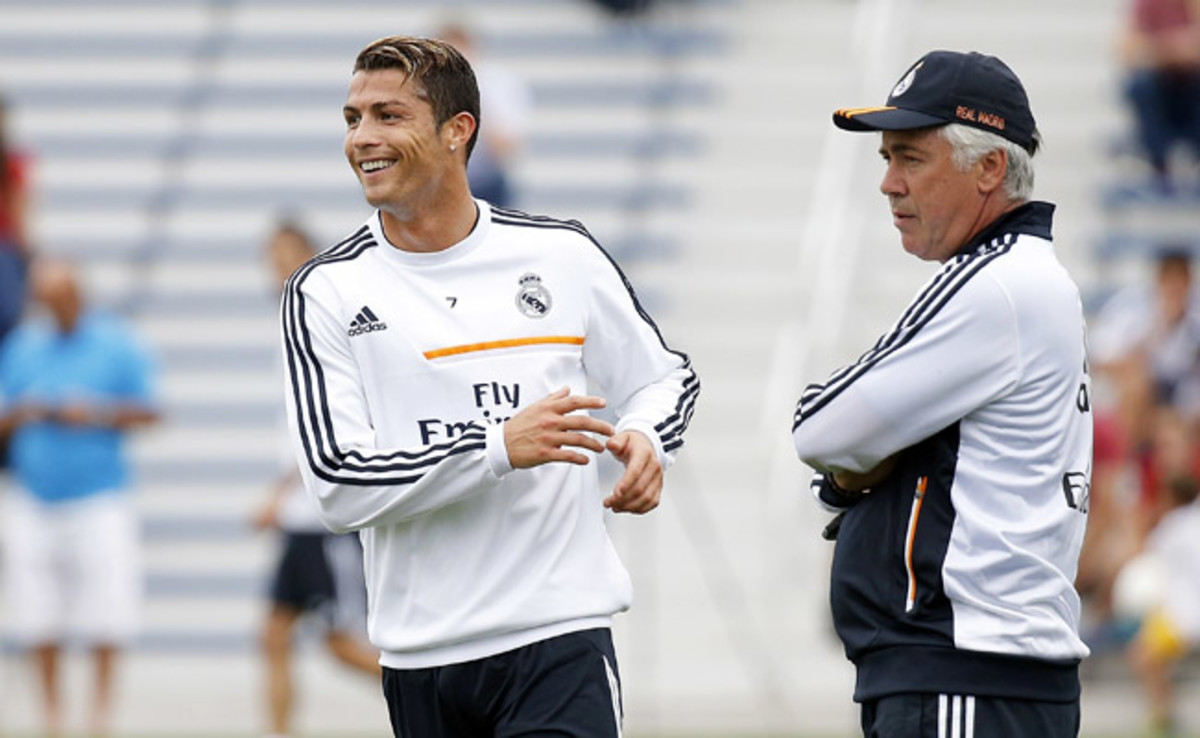 Group E
Chelsea, Schalke, Basel, Steaua Bucharest
Key match: Schalke v. Chelsea
If this is a nice draw for Europa League winner Chelsea, the same can be said for Schalke, enduring a tough time in the Bundesliga but sneaking through to the group stage after a dramatic 4-3 win over PAOK in Athens. Their hero was Julien Draxler and any clubs looking for a midfielder who can do everything -- break up play, pass superbly, create goals and break from midfield to score them -- should look no further than the 19-year-old who almost single-handedly dragged Schalke into the group stages, scoring one goal and setting up another. The big surprise is that no-one has met Draxler's €45m buy-out clause yet -- maybe they were hoping Schalke would miss out and so have to sell its crown jewel.
Owner to watch: Gigi Becali (Steaua Bucharest)
Steaua Bucharest, European Cup winners in 1986, is back in the Champions League for the first time in seven years, and that means outspoken owner Gigi Becali will be making his opinions heard, despite his current incarceration over a dodgy land exchange deal. "Steaua are a national symbol and all the success at this club is 100 percent down to me," he said.
Becali, a right-wing Christian politician with designs on the Romanian presidency, is not a man known for his modesty: He once commissioned a reproduction of Leonardo da Vinci's "Last Supper" with himself depicted as Christ and the Steaua players as disciples. When Steaua won its first group game in 2006, Becali immediately targeted a spot in the quarterfinals. "This clearly shows we are in the top eight in the world," he said, before calling two-goal hero Nicolae Dica "the second best player in the world, just behind Ronaldinho." Steaua ended up bottom of its group. Expect more bizarre pronouncements before the group stage is out.
Spoiler candidate: Basel
Who will advance: Chelsea, Schalke
Group F
Arsenal, Marseille, Borussia Dortmund, Napoli
Key match: Arsenal v. Borussia Dortmund
Two years ago, Arsenal took four points from Dortmund home and away, and the German side, also paired with Marseille in the groups, missed out on qualification after Mathieu Valbuena scored a stunning last-minute winner on Matchday Six. How the landscape has altered since then: Arsenal have sold Robin van Persie (who scored both goals in the win over Dortmund) and Alex Song, while Dortmund, though losing Shinji Kagawa and Lucas Barrios, reached the Champions League final last season. Marseille, meanwhile, have managed to hold onto its spine from last season, Valbuena included, and recruited sensibly, picking up the best of Ligue 2 in Gianluca Imbula and Benjamin Mendy. Marseille and Dortmund are stronger than in 2011 -- can the same be said of Arsenal? I wouldn't be so sure.
Coach to watch: Jurgen Klopp
Kloppo was the darling of Europe last season, smiling his way to the Wembley final and, with his easy media presence and ready quips, ensuring neutrals fell in love with BVB. "Not having money doesn't mean not being able to keep on working, it means you must find other ways," he said as his team swept past Shakhtar Donetsk, Malaga (just) and Real Madrid. "The club followed a path with a coach from the second tier and a young team. And we've been champions twice [in 2011 and 2012], which has surprised us." What modesty.
Klopp, in fact, would be an ideal replacement for Arsene Wenger, surely approaching his end-game at Arsenal. Though a word of warning for clubs looking to sign the man christened 'the German Mourinho': While he is undoubtedly a fantastic coach, much of BVB's success stems from sporting director Michael Zorc and his eye for a player. It was Zorc who signed Shinji Kagawa from Cerezo Osaka for €350,000; Zorc who bought Robert Lewandowski from Lech Poznan for €4.5m; and Zorc who bought Ilkay Gundogan, 'the new Schweini' from Nuremberg for a similar price. Klopp would thrive at a club with a similar structure; given the lack of transfer activity at the Emirates this summer, it's impossible to see Arsenal as that attractive an option for him.
Spoiler candidate: Napoli
Who will advance: Borussia Dortmund, Napoli
Group G
Porto, Atletico Madrid, Zenit, Austria Vienna
Key match: Zenit St Petersburg v Porto
The sub-plots to this tie are fascinating: Zenit likes to shop in Portugal, having signed Hulk, Axel Witsel and Danny from the Superliga. It also likes to use super-agent Jorge Mendes as its preferred method of signing players; the same Mendes that has just helped Porto get top-dollar for selling Joao Moutinho and James Rodriguez (coming to the Champions League next season with Monaco); oh, and the same Mendes who brokered the deal that took Radamel Falcao from Porto to Atletico Madrid, and then on again to Monaco this summer. The action on the pitch will be great -- this is a tight group with the top three teams closely-matched -- but the real action could be in the boardroom. Mendes will no doubt be there.
Coach to watch: Diego Simeone (Atletico Madrid)
Most people would assume that if Simeone continues with his success at Atletico -- it has won five trophies since he became coach, including the Europa League and the Spanish Cup final, beating Real Madrid in the final last season -- then he would get poached by a bigger club. But there is an argument that the Argentine and the Rojiblancos are made for each other: where else could he go? As a player, Simeone was tough and not afraid to win ugly. The same is true as a coach: perhaps his philosophy is best epitomized by forward Diego Costa, who likes to push the boundaries, whether he's getting booked against Barcelona, or flirting with Liverpool in order to earn a double-your-money wage hike. Thanks to Simeone, Atletico is on the verge of breaking La Liga's duopoly. He might just fancy a run to the last eight, or better, in this competition.
Spoiler candidate: Zenit St Petersburg
Who will advance: Atletico Madrid, Porto
Group H
Barcelona, AC Milan, Ajax, Celtic
Key match: Barcelona v AC Milan
This is the third successive year these two sides have faced each other -- and the last time they did so in the group stage, in 2011-12, both progressed. Winning the competition looks beyond Milan these days -- with its weak defense and reliance on the individual brilliance of Kevin-Prince Boateng and Mario Balotelli -- but it could still trouble a Barcelona side coming to terms with a new coach and a superstar forward, Neymar, still getting the hang of his new role playing second fiddle to Messi.
Philosophy to watch: The Cruyff model
So much has been written about the link between Barcelona's modern-day success and Ajax's treble-European Cup-winning side from the 1970s: the thread between the two is Johan Cruyff, who was in the Grimaldi Forum as part of the Ajax delegation (along with Edwin van der Sar and Marc Overmars, the start of a pretty decent five-a-side team there) and is credited with developing Barcelona's 4-3-3 system when he coached the 'Dream Team' to the European Cup in 1992. It was a special day for Cruyff: his foundation was the recipient of UEFA's generous annual charity donation, while the draw, which will no doubt throw up memories of great Dutchies at Barcelona, from Neeskens, Koeman, Kluivert and Van Gaal to, er, Winston Bogarde and Ibrahim Afellay. Surprisingly, though, this will be the first time the two sides have faced each other in European competition.
Spoiler candidate: Ajax
Who will advance: Barcelona, AC Milan