Growing up at Fulham: Life as an American youth in a foreign academy
MOTSPUR PARK, England – Without a soccer team of his own to coach for the first time in about four decades, former FC Dallas manager, Jujutsu black belt and "Most Interesting Man in the World" contender Schellas Hyndman took a February trip to London to visit his grandson.
Hyndman was born in Macau, to which his Portuguese father and French-Russian mother fled following China's communist revolution. When Hyndman was a boy, his family moved to Ohio, reportedly making most of the journey in the hull of a cargo ship. The silver lining to that early chaos was that Hyndman's son, Tony, and his Dallas-born grandson, Emerson, were eligible for Portuguese passports. And that passport eased Emerson's journey to England, where he's been playing for Fulham FC since 2011.
"We were spending some time together, chatting, and then he said, 'I've got to go to work.' Very matter of fact. Isn't that an amazing statement? He was 17 at the time," Schellas Hyndman recalled. "I was taken back on that and then I said, 'You know what? He's a signed professional.' They're paying him. They've got him in a beautiful condo right on the Thames River. They've invested so much into his development and they've educated these young players by telling them, 'This is a job. You need to show up and perform.'"
Klinsmann mixes youth, veterans vs. Colombia, Ireland; Nguyen returns
Emerson Hyndman has performed. A composed, technically gifted midfielder with influence that belies his size, he's progressed quickly through the Fulham ranks. This summer, he debuted for the Cottagers' senior squad (in a Football League Championship game at Ipswich Town) and the U.S. national team (as a substitute in a win over the Czech Republic). For fans on both sides of the Atlantic, Hyndman's career is just beginning. But he's been living the life of a pro for quite some time.
That life offers no guarantees. Despite cracking Jurgen Klinsmann's lineup two months ago, Hyndman is spending the current international break in Spain with coach Tab Ramos' U-20s. As a result, he'll miss Friday's friendly between the U.S. and Colombia at Craven Cottage, Fulham's historic home ground. Hyndman's absence won't reduce the poignancy of the occasion, however.
The small stadium on the Thames has been a comfortable port of call for some of U.S. soccer's most celebrated players. No foreign clubhas been more hospitable to Americans. Former national team captain Carlos Bocanegra spent five seasons at the Cottage. Kasey Keller and Marcus Hahnemann tended goal there and two Eddies, Lewis and Johnson, passed through.
Carlos Bocanegra's leadership made retiring USA star a valuable linchpin
Clint Dempsey was Fulham's player of the year twice in six seasons and in 2010, he helped it reach the UEFA Europa League final. Brian McBride's stature is even greater. Craven Cottage's bar is named in his honor and last month, he served on the committee that selected the Whites' new head coach. Chris Wondolowski trained with Fulham following the end of the San Jose Earthquakes' season. 
Now Hyndman is at the forefront of a new wave of young Americans hoping to follow in their heroes' footsteps, although they're doing so in a more traditional and challenging manner.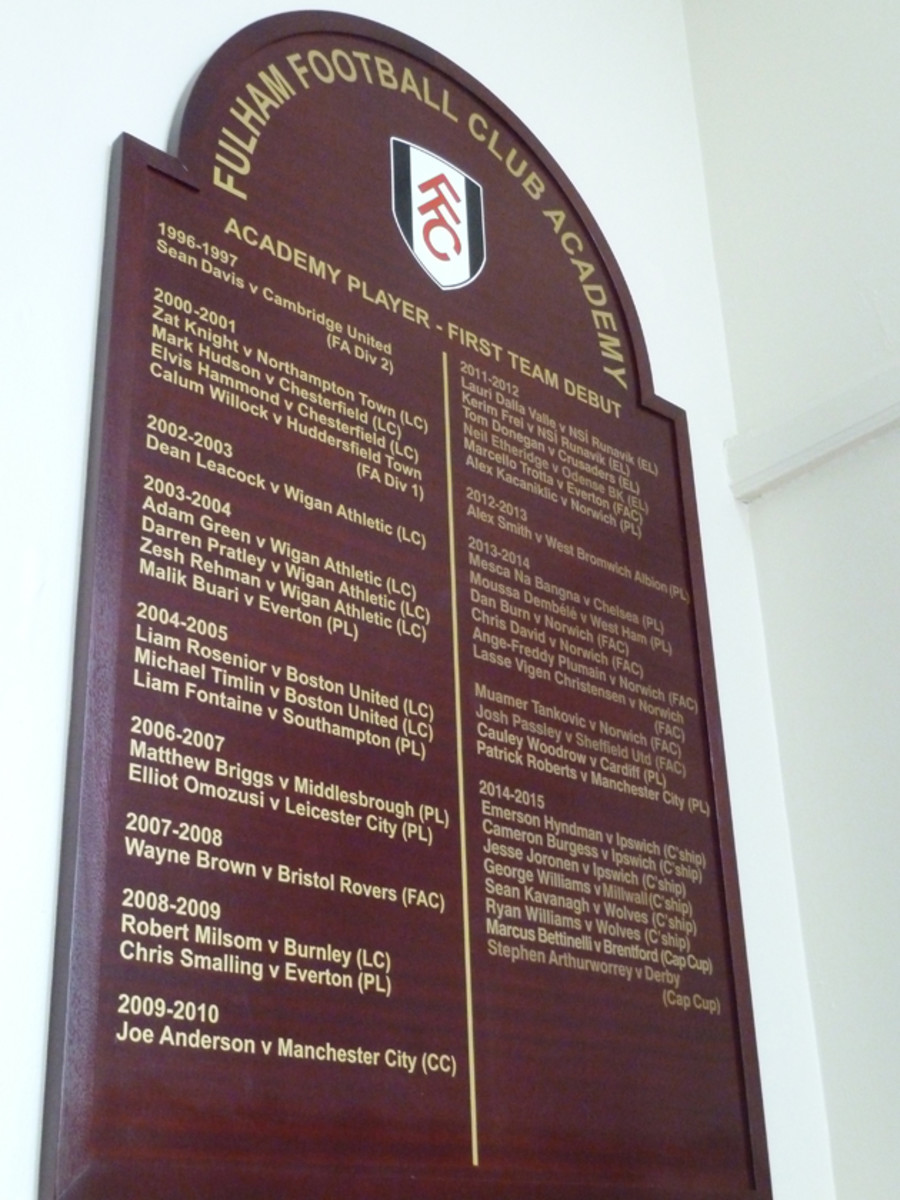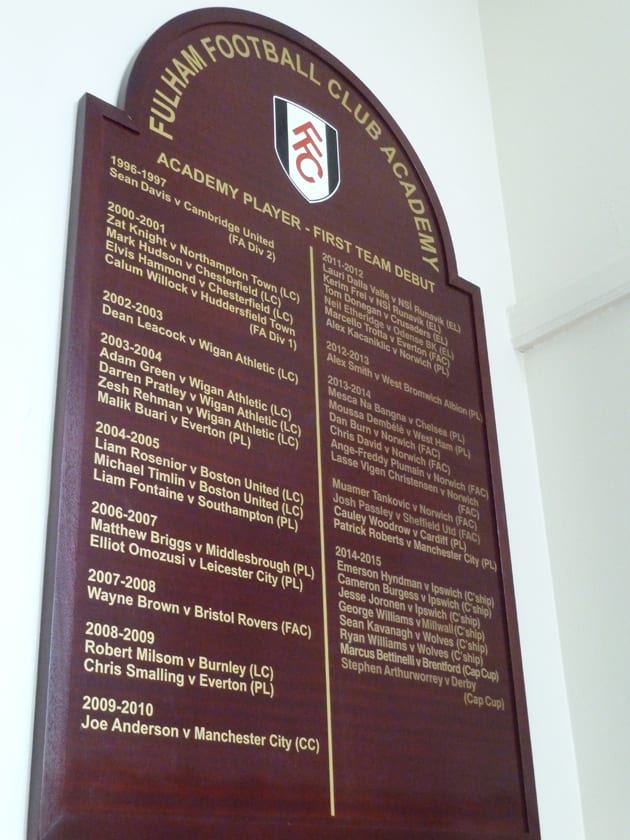 Professional player development is nascent in the U.S. and Canada. The U.S. Soccer Development Academy, a network of U-18, U-16 and U-14 teams designed to improve youth coaching and competition, just kicked off its seventh season. There have been a few notable successes. FC Dallas already has produced 13 pros, and Seattle's DeAndre Yedlin has raced his way from the Sounders' academy to MLS, the World Cup and soon, the English Premier League. But growing pains are evident.
Inconsistent standards and coverage remain an issue in a massive country where universities traditionally produce pros in many major sports and where trophies and scholarships have been youth soccer's customary targets. And investment and innovation vary. The Philadelphia Union opened a high school (scholarships are available) and Real Salt Lake has a successful program in Arizona. But some academies still charge players to join, thereby reducing the potential pool. Others can't keep up and have been kicked out altogether.
• STRAUS: Pareja cultivates strong environment for young players at FC Dallas
England's academy system, meanwhile, combines the tradition forged by soccer's century-plus reign as the country's favorite sport with the riches generated by the planet's most popular league. It's stocked with dreamers who were raised on the game and now are desperate for a pro career. Academies here offer the sort of sports science and nutrition, performance analysis and analytics that teenagers elsewhere can't access. They're even subject to government oversight, thereby ensuring educational programs meet certain standards.
Fulham's academy comprises around 150 boys aged 9 through 21. It employs 21 permanent staffers and some 60 part-timers, from groundskeepers to psychologists. Players train 46 weeks per year, and the club, whose senior team was relegated to England's second tier last season, spends approximately $4.8 million annually to maintain it (about a quarter comes from the Premier League). Some local parents may bear minimal transportation costs, but otherwise the program is free of charge. In 2013, MLS' 19 teams combined to put $20 million toward player development.
"I don't know if the coaching is that much better at the academy level [in England] than here. But I think they have a much greater history of developing players and players performing at that level, and they also have huge financial support," Schellas Hyndman said. "For the teams and the academy players there, it's a way of life."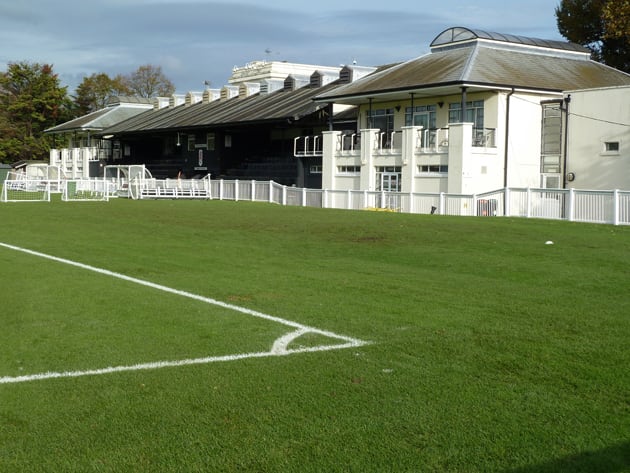 Motspur Park, Fulham's training center, symbolizes the collision between soccer tradition and modernity. Located in suburban London some eight miles south of Craven Cottage, the complex features six full-size fields and once was an athletics facility owned by the University of London. Roger Bannister attempted to break the four-minute mile at the track that used to ring the Arena Pitch, which features a gorgeous art deco stand, and parts of Chariots of Fire were filmed there in 1980.
The Rookery, which houses the academy offices, is around 150 years old. Along with Craven Cottage, Motspur Park infuses the club with a sense of timelessness. This is a place where the only academy players wearing neon boots are the trialists hoping for an invitation. The rest wear old-school black. There are more modern training facilities in England – in fact, Fulham's expansion options are limited by the site's historic designation. The gym is fully stocked but looks like a large trailer from the outside, and perks like hydrotherapy must happen off site.But Motspur Park fits the organization's ethos perfectly.
"It brings with it a sense of enclosure, which not all modern training grounds have," academy director Huw Jennings said.
• ​MORE: Altidore to captain USA vs. Colombia in Dempsey's absence
There, Hyndman now trains daily with Fulham's first team, for which he's already appeared seven times. Luca de la Torre, a 16-year-old from San Diego, takes the bus from the house where he lives with a host family. The players call those arrangements "digs". And the Moravek brothers, 12-year-old William and 10-year-old Michael, who moved with their parents from Northern Virginia in early 2011, commute via bicycle from their home in Worcester Park. Fulhamerica, as it was called back when McBride, Bocanegra and Dempsey starred at Craven Cottage, is alive and well.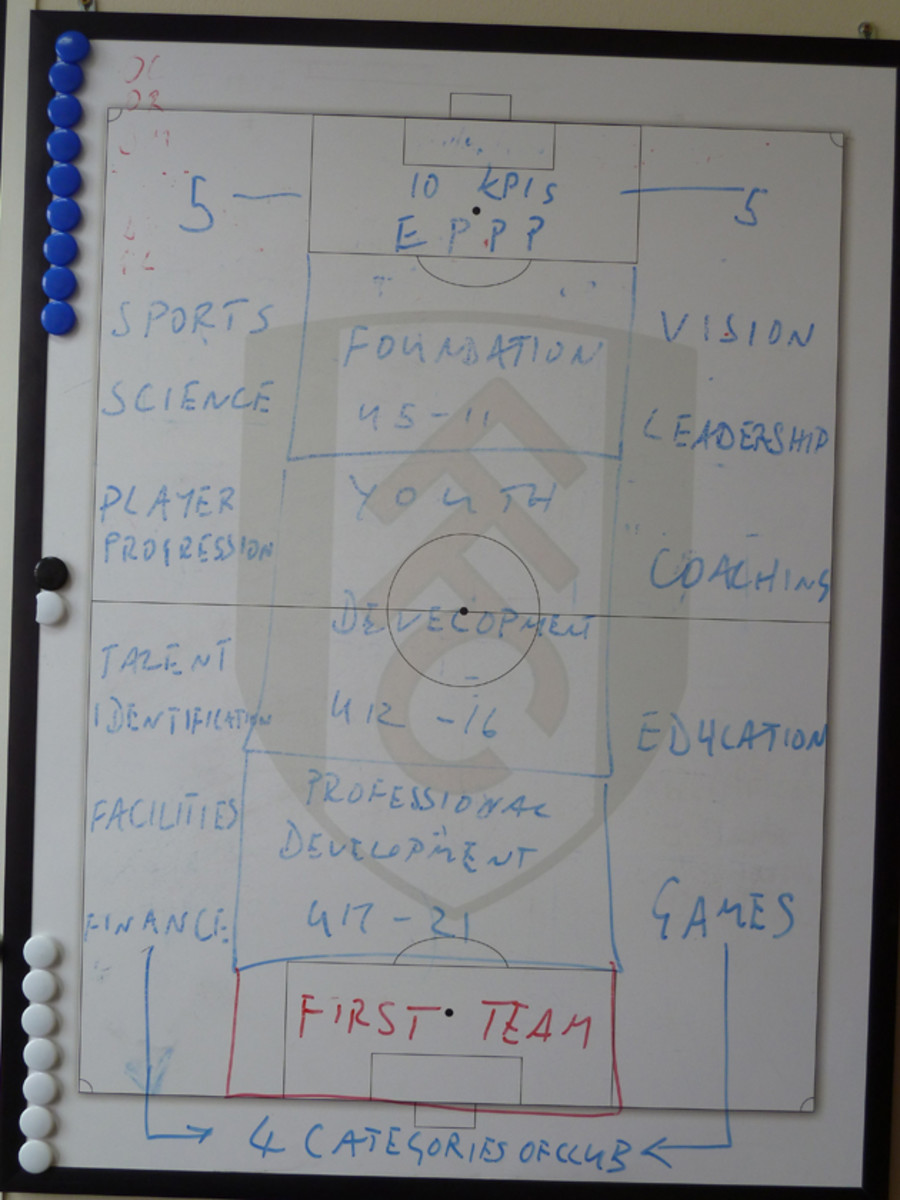 Tuesday was Remembrance Day in the U.K., and this year's was particularly meaningful. Known as Veterans Day in the U.S., Nov. 11 is the anniversary of the day in 1918 when the Allies and the Germans lay down their arms. This year marked the 100th anniversary of the start of World War I, and the British commemorated the occasion with a stunning display of ceramic poppies surrounding the Tower of London.
At Motspur Park, as 11 a.m. neared, De la Torre and his teammates took a break from their coaching course – at Fulham, learning to coach soccer is part of learning to play it – and walked toward the Rookery, where they were joined by fellow academy players, reservists, members of the senior team and club staff. De la Torre stood quietly and observed the traditional two minutes of silence, a foreigner fitting in seamlessly with the customs of a new culture.
An attacking midfielder who Jennings said has an "exceptional" ability to run with the ball, De la Torre was identified by a Fulham scout while playing in the U.S. He journeyed to Motspur Park for his first trial at age 13. Regulations prohibit players lacking U.K. residency from joining academies that early, but De la Torre and Fulham kept in touch and he continued to make the occasional trip to London before signing permanently this summer.
"That was a good way to get used to the idea of moving over to England. It made the transition so much easier," De la Torre told SI.com. "At the time, I probably had three clear options. I could stay home, play high school and club and then go to college and get an education. I could go to [U.S. Soccer's U-17] residency program in Florida. Or I could move here. As far as football goes, when you're talking about everything they do here for individual players, I was really shocked at first by what they can do. There is no comparison. Some American academies are catching up, but I'm confident I made the right decision."
• ​MORE: USMNT's Ibarra named to NASL's 2014 Best XI
De la Torre, a member of the U.S. U-17 national team, is part of Fulham's apprenticeship program. It's monitored by U.K. authorities just like those connected to other trades. Every player must attain a minimum educational standard so he's eligible to attend a university if he fails to earn a permanent pro contract. Fulham's pre-professionals do about two hours of education per day, covering topics such as physiology and anatomy, career management, tactics and soccer history.
De la Torre trains at Motspur Park each weekday, eats most meals there and plays games on Saturdays with Fulham's U-18 squad. Their results are recorded, but in games contested by younger players the scoreboard is irrelevant. Instead, coaches set targets for individuals. If a right-footed defender spends his week working on dribbling and passing with his left, he'll play left back in that weekend's match – even if it costs the team.
Fulham will send younger academy players to tournaments where they're pitted against older boys, knowing losses are likely. Or they'll stay home and play the likes of Chelsea, Arsenal and Tottenham Hotspur. Jennings and his coaches aren't concerned with the final score. Fulham isn't spending millions to win youth trophies. It's investing in the future of its first team. The academy is judged by its ability to produce players who will either take the field at Craven Cottage or be sold to another club. Jennings' job is to create the crucible.
"The technical development of the typical U.S. player is good … There's a commitment to hard work and repetition. It's sort of built in the sports psyche of the young American. They recognize and accept the importance of acquiring those fundamental skills," said Jennings, a former teacher who worked at Southampton and for the Premier League before moving to Fulham in 2008.
"But I think there remains a lack of tactical appreciation, because I think it's too focused on team and not individual development. What we're able to do is work with the player on his individual attributes and his needs, and in that way we think we can help them improve more quickly."
Hanging in a prominent place in the Rookery is a large wood plaque featuring the names of the academy players who've progressed to play for Fulham's first team. Hyndman's name is one of only 31 added over the past decade. Fulham's academy is considered one of the country's best – it has maintained the Category 1 rating bestowed by the EPL despite the senior squad's relegation. But the odds are against any individual player reaching the top. Nevertheless, Fulham is confident in Da la Torre. He's already been offered a four-year contract that he'll sign when he turns 17.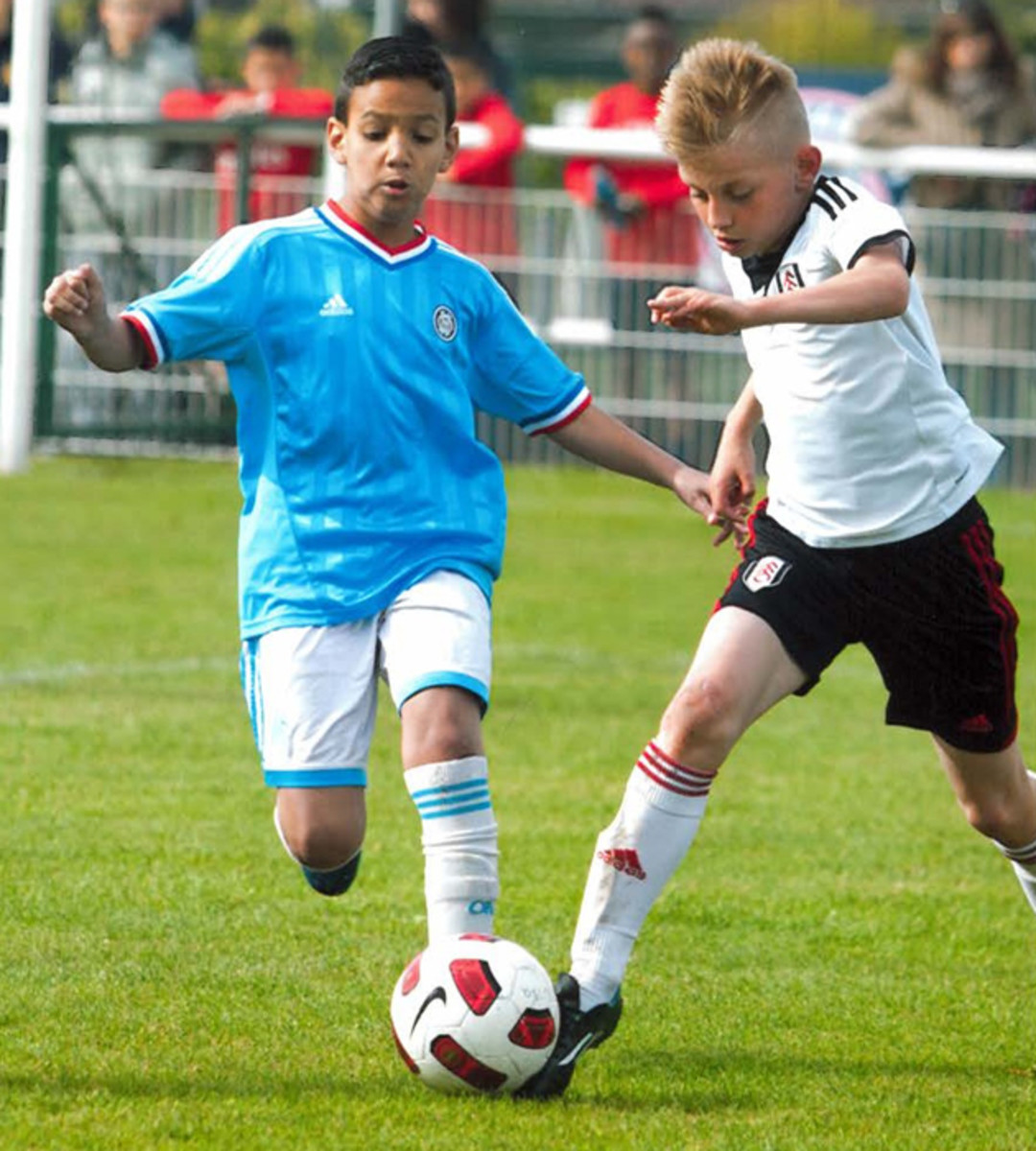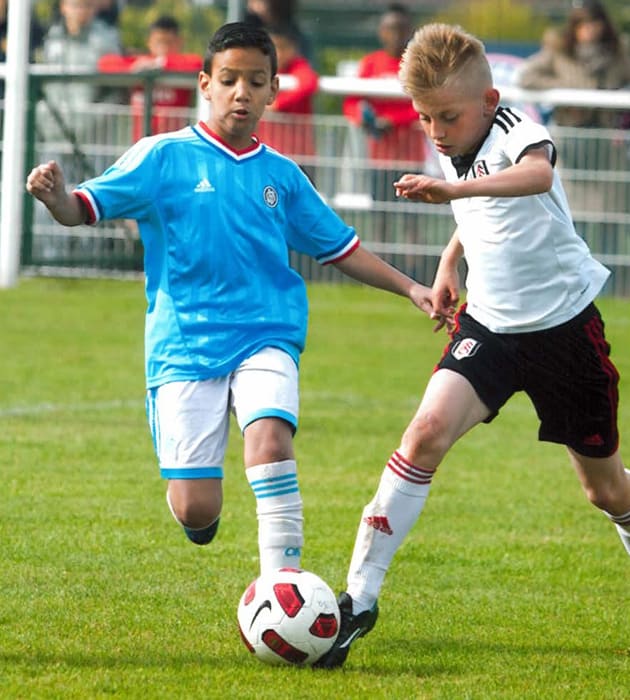 Later Tuesday, Fulham coach Kevin Betsy is putting the club's top 12-year-olds through their paces beneath the bubble that covers Motspur Park's synthetic field. Among them is midfielder William Moravek II, who used to commute with his brother, Michael, nearly two hours from Winchester, Virginia, to Bethesda, Maryland, to play. His football foundation, however, was laid by his father, Bill, whose soccer story is as intriguing as his sons'.
After failing to make the grade as a player, Moravek, a former Clemson Tiger, threw himself into coaching. In addition to running a camp in his native Virginia, Moravek leveraged connections established in the Caribbean to land jobs with the national teams of Jamaica and the British Virgin Islands (where he was the head coach), Jamaican club Montego Bay United and Southampton, where he met Jennings. Moravek married Cheryl, an English woman, and his two sons were raised with a ball at their feet. In January 2011, after seven years in the U.S., the Moraveks returned to England so the boys could pursue their dream.
"It's kind of cool, because you're like one of the only ones here who's from a different country and it's distinguished. You're the odd one out. It's special," William said, adding that occasionally his English teammates will tease him about Americans' weight and addiction to fast food.
Fulham has found no evidence of such indiscipline, however. Multiple coaches and members of the academy's conditioning and sports science staff said the four U.S. boys were among the club's most dedicated players.
U.S. Soccer turning to overlooked youth to discover next wave of talent
"For those boys who have come over from the States, they're at the same level, if not better, because they've got positive American attributes," said academy coach Arthur Brammer, who worked with William last year and has spent time coaching in California and at camps throughout the U.S. "They're not willing to give up. They go the hardest in every single session with a high intensity, whereas maybe some English players, not all, but some, would be very willing to just go through the motions and then just switch it on for the game ... Add that to a sort of European understanding of the game – players like Emerson and William have followed European football and they're a lot more technical and clever on the ball then the [U.S.] players I saw 10 years ago – and they'll get the best of both worlds."
Betsy's practice requires both. The boys are divided into two small teams, one defending and one attacking. If the attacking side scores, it gets to stay in that role. If the defending team wins possession and is able to successfully pass the ball through its opponents to safety, the sides switch places.
Betsy, a 36-year-old who still plays professionally as a member of Football Conference Premier team Woking FC, stresses Fulham's core tactical principles during his brief instructions. Build from the back – don't just bang the ball clear. Look first for angled, penetrating passes that beat defenders rather than safer options that might give an opponent time to organize. Attack space quickly. The 12-year-olds use both feet. They can turn or create space with their first touch.
When Betsy calls the boys together to give instructions, he speaks sharply and quickly. When a goal is scored, the ball re-enters play almost immediately. There's little time to rest and as the session progresses, the boys' emotions ramp up. Where there should be signs of fatigue, there's yelling. Nothing and everything is at stake.
If Fulham's coaches have noticed the Americans' dedication, then the Americans certainly are aware of their fellow players' intensity. They may wear the same uniform, but interests don't necessarily align. There are only so many places in the Craven Cottage dressing room.
"From where I was at FC Dallas, there's a lot of technically better players than ones I've seen at Fulham at that age. But over here it's just a quicker game, a faster pace. It's more intense at a younger age," Emerson Hyndman said. "Kids are really playing like it's their life, because a lot of them know they're fighting for a contract, whereas in MLS you're just part of an academy and you just see how you progress … I was part of a group that a lot people got cut from and when you see them walk out of the meetings and they're in tears at 15 years of age, it's hard to see that, but that's the nature of the game over here."
Bill Moravek said he works with his sons on finding a balance between confidence and realism. As long as they continue to love it, they'll continue to play. Michael is enrolled at a nearby primary school and William attends Coombe Boys School, which is a short walk from the training ground. Coombe releases around 45 Fulham players early several days per week so they have more time at Motspur Park. Both Moraveks are rated highly in their respective age groups.
Michael practices three times per week and plays matches on Sunday, and William has six or seven sessions each week, some of which may involve video analysis or "mental skills" like problem solving or public speaking. And he's already traveled all over Europe for games, from Portugal to Poland. He said he dreams of playing for Barcelona and for the U.S. national team. He's scheduled to be one of the flag bearers at Friday's friendly.
"I really want to become a professional," he said. "I love football and want to play for the best teams in the world. That's my goal."
The word "football" is the only one William says with an English accent.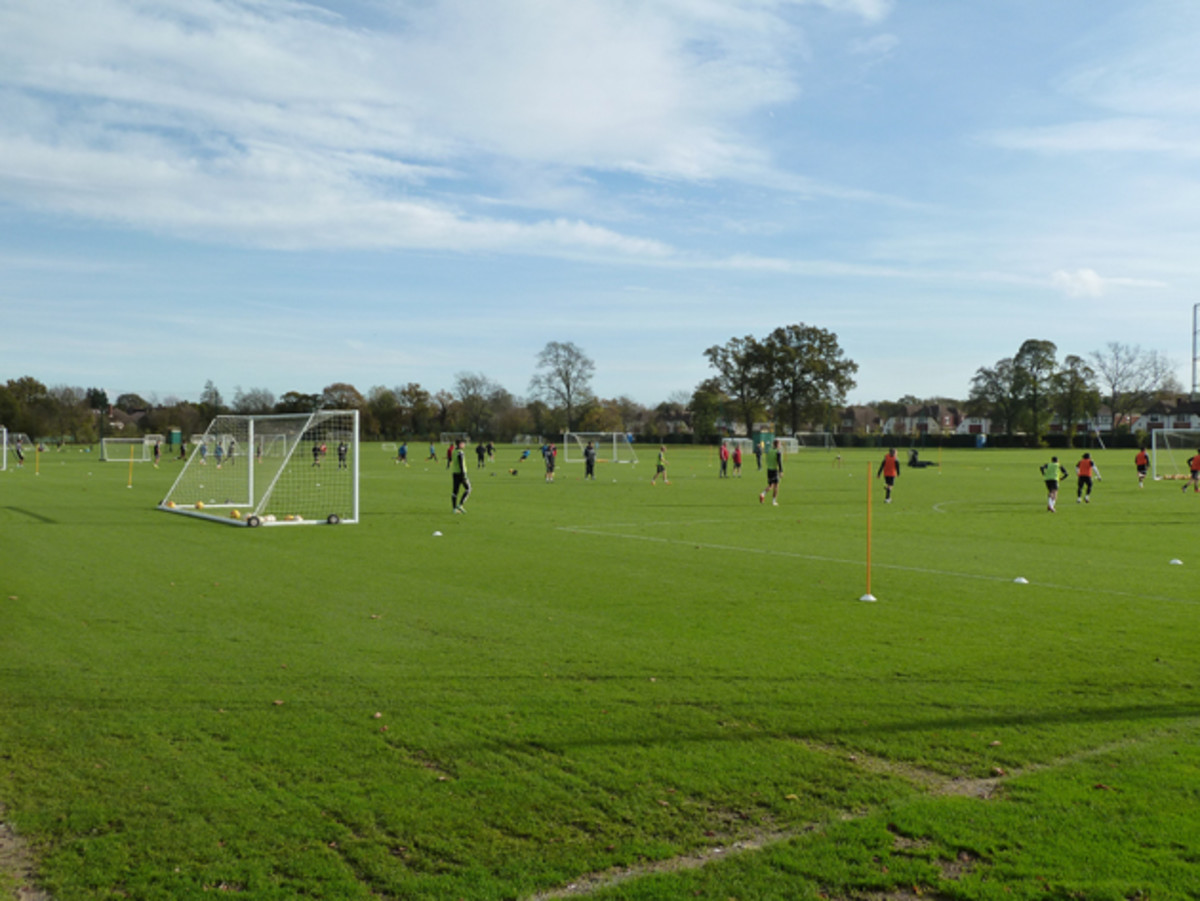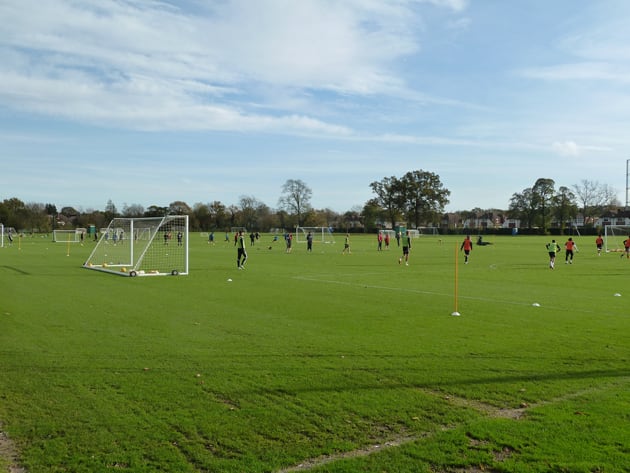 The demands are significant, but there's nothing Dickensian about these London laborers. Motspur Park is lush, green and welcoming and the players want desperately to be there. And they're treated quite well by a staff that closely monitors the boys' physical and mental well being, from nutrition and personalized exercise regimens to psychology and counseling. Each academy player has access to the Premier League's Performance Management Application website, which stores personalized game and fitness data, notes and assignments, benchmark targets and tailored videos.
"We've got to still create a holistic individual, one who's a very good footballer but a good individual," Brammer said.
Make no mistake, however, the boys are in England for one primary reason. Hyndman and De la Torre, in particular, have traded the trappings of American teenage life for the prospect of pro soccer.
"At first it was weird not having my family around, but you get used to it and I have a schedule that I keep up with and keeps me busy. I go in early and leave late from training. It makes life easier," said Hyndman, who also tried out at Newcastle United and Liverpool before deciding on Fulham. "I have missed out on things. I've missed out on college. I've missed out on parties in general, hanging out with friends in America. I've missed out on tons of things I can never get back. But when I look at the long run, if I can be a success here in Europe, then I have no regrets. I already have no regrets with what I've done. I'm proud of the decision I made every day."
• ​STRAUS: Klinsmann's latest experiment – Jones at center back
Jennings called the 18-year-old "probably the most intelligent midfield player I've worked with in the youth arena."
De la Torre said he loves the urban independence of London, where he can take the train just about anywhere. But he admitted that few friendships are forged beyond the hedges of Motspur Park.
"When I think about what I could be doing home versus what I'm doing here, I'd rather be here ... When I moved over here I realized that I'm moving halfway across the world not to be average. I want to be the best I can be, so I throw myself into it every day," he said. "If you're in it for the glamor then you're kind of in it for the wrong thing. If it's about the expensive Gucci handbags, it's not worth it."
William Moravek said that his most recent conversation with a sports psychologist involved visualizing a scenario where he had to take a crucial penalty kick in front of a hostile crowd. He said he liked the psychologist's mantra, which arguably applies to the boys' entire experience: "Keep your mind on ice and fire in your belly."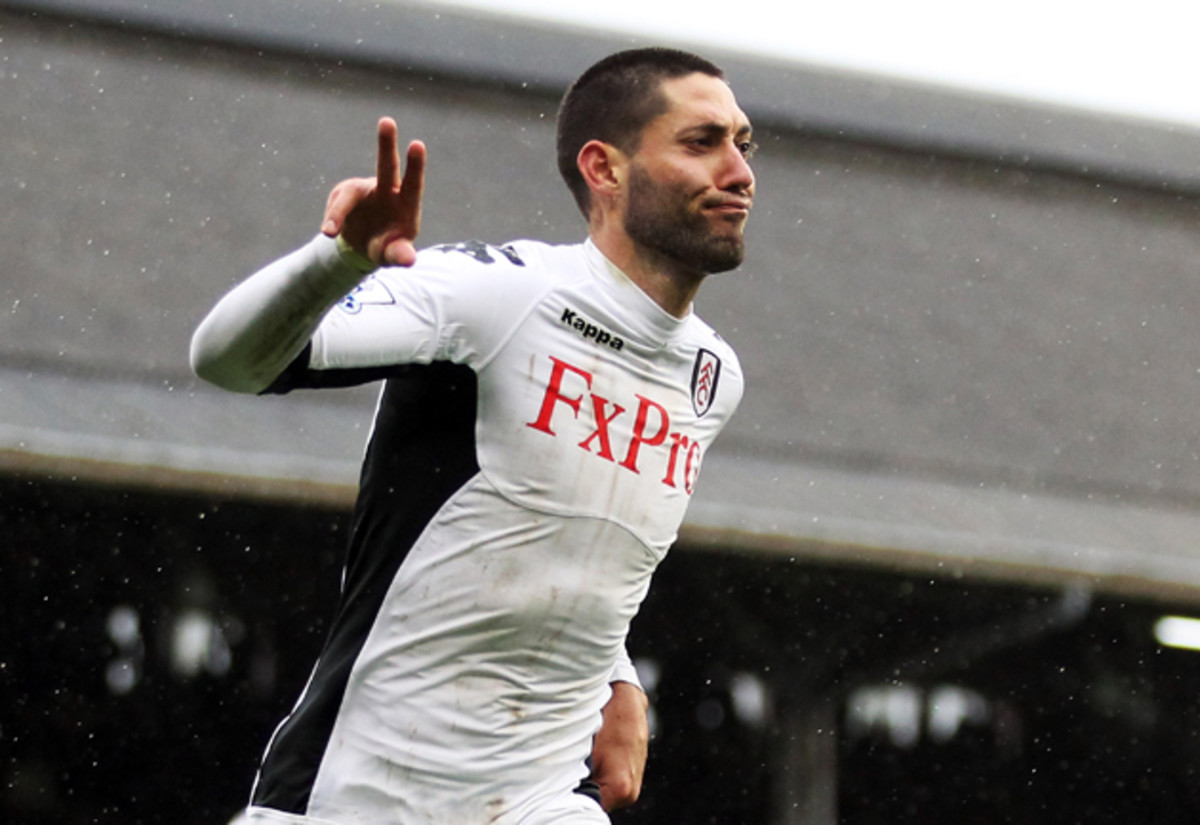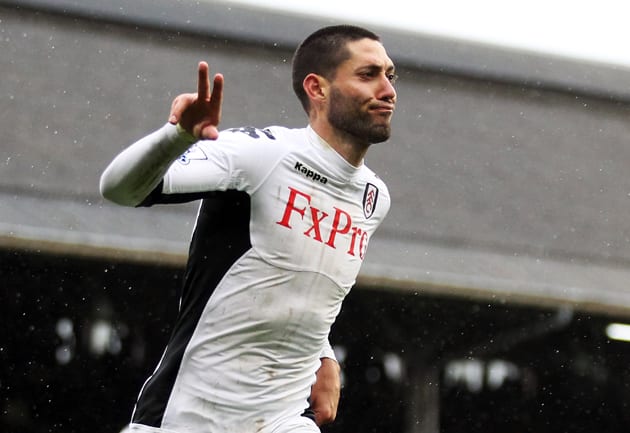 There are other young American players in England. Access to an EU passport is almost essential because it allows the player to move earlier, it absolves him from having to pursue a work permit and makes signing him or selling him far easier. Jennings said that a U.S. law forbidding domestic clubs from receiving compensation for players who move abroad also helps, not to mention the character and commitment lauded by theFulham staff.
Among the notable names is Lynden Gooch, 18, a Californian midfielder with an English father and Irish mother who joined Sunderland in 2012. He'll be playing with Hyndman this week in Spain. Marc Pelosi, also from California, just turned 20 and has been at Liverpool for three years. Djair Parfitt-Williams, 18, was born in Bermuda but moved to California and played in the Earthquakes academy before joining West Ham United in 2011. Atlanta-born, Pennsylvania-raised defender Danny Barbir, 16, is at West Bromwich Albion. His father is Romanian.
Captain Clint Dempsey's exclusion from USMNT a matter of extra rest
All may make something of themselves, but none are part of a pipeline like the one created at Fulham. Jennings said the club doesn't scout and sign Americans as a matter of policy, but the trend is unmistakable. When Klinsmann's team takes the field on Friday evening, it will evoke memories of legendary players past and almost surely inspire the young men now hoping to emulate them.
As senior stars like Dempsey and Michael Bradley return to MLS, questions have been raised about whether U.S. players will ever receive the benefit of the doubt in Europe. For the next generation of Fulhamericans, it's becoming less of an issue.
"When you first get over here you may have to prove yourself a bit more. Maybe if I was Spanish it would be easier, or if I was English. It just makes you work that much harder to prove to everyone that you should be there," said Hyndman.
"The link now is getting stronger between England and America. When I arrived, it was just Dempsey. I came in and had Dempsey to look up to. Now it's more andmore. Now Luca is looking up to an 18-year-old in me, and we've got another one in Harrison Paton, he's Canadian and playing with the U-18s also. The North American pack is getting bigger and bigger … It's starting to become where people don't care if you're American or not. After the World Cup, people here were very impressed. I think people were surprised with how well we did and I think people are changing a bit because of it."