Roundtable: All-time MLS honors entering league's 20th season
MLS will be kicking off its 20th season as originally planned after the players and league agreed to a new five-year collective bargaining agreement. The landmark provides a great time to look back at the history of the league–to examine how far it's come, to remember the greats and to mull over what can be done to ensure continued growth down the line.
2015 MLS season preview: Our experts predict MLS Cup, MVP, more
In 19 seasons there have been nine champions; seven World Cup winners (with an additional two debuting against one another Sunday); three contracted teams; two commissioners; DPs; HGPs; a slew of soccer-specific stadiums; one legendary Arena; one LegenD; undisclosed amounts of allocation money; undisclosed financial thresholds, drafts on drafts on drafts and, lest we forget, one blind draw.
So before the league enters Year 20, our expert panel of Grant Wahl, Brian Straus, Jeff Bradley and Alexander Abnos takes a trip down memory lane and offers all-time honors and thoughts on MLS from 1996-2015:
Best Player in League History
WAHL: Landon Donovan. All-time league leader in goals, assists and (most importantly) MLS Cup titles won (six). Plus his individual stats would have been even higher had MLS not scheduled so many league games on FIFA international dates.
STRAUS: Donovan took the mantle from Jaime Moreno after leading LA to the 2011 title (his fourth of an eventual six). The MLS record book could be a chapter in his autobiography. The recently-retired LegenD's combination of individual and team productivity, consistency and longevity makes him the easy choice.
BRADLEY: Donovan. The goals, the assists, but mostly the championships. Also factor in that Donovan played his virtually entire career in the league, not just showing up for a spell.
ABNOS: Donovan. There really are no other viable candidates, for all the reasons we all stated at length after he announced his retirement. On the field, off the field, doesn't matter. He is, by some measure, the best player in the league's history.
Best Coach in League History
WAHL: Bruce Arena, and it's not even close. His five MLS titles with two clubs are even more impressive when you think about the efforts the league makes to ensure parity.
STRAUS: There have been two great dynasties in MLS history. Arena coached both of them.
BRADLEY: Arena. Built dynasties in D.C. and L.A. Not much more that has to be said.
ABNOS: Dominic Kinnear. I haven't seen my colleagues' selections, but I can only assume they have extolled the virtues of Arena in full, and deservedly so. I choose Kinnear, because perhaps no other coach better represents that it takes to build a winner in the grind of an MLS season. Arena achieved many of his highs with big-name players in primetime markets. Kinnear, on the other hand, assembled a series of hard-working sides that became lethal in the playoffs, while rarely relying on a big-money star to make that success happen.
Best Team in League History
WAHL: This is a tough one, not least because only two of the 11 teams with the best regular-season goal-differentials in league history have actually won the MLS Cup title that season. In my opinion, the best team in MLS history was 1998 D.C. United, but the best team that has won an MLS Cup trophy was the 2014 LA Galaxy.
STRAUS: Arena's late '90s D.C. teams featured internationals front to back (except in goal). There were no weak links. There's never been an MLS starting XI like the one that took the field against Vasco da Gama in the 1998 InterAmerican Cup: Garlick; Pope, Llamosa, Agoos; Sanneh, Williams, Harkes, Olsen; Etcheverry, Moreno, Lassiter.
But if I had to win one game, I'd send out the 2011 LA Galaxy. Donovan, Robbie Keane, David Beckham and Mike Magee were as clutch as they come. Omar Gonzalez anchored a back line that yielded only 28 regular season goals. That LA team may have had more disparity among players 1-11, but the top end was the best in MLS history.
BRADLEY: 1999 D.C. United. The Thomas Rongen-coached side won 23 games and lost only nine en route to the Supporters' Shield/MLS Cup Double. With Marco Etcheverry, Jaime Moreno and Roy Lassiter leading the attack and Jeff Agoos and Carlos Llamosa in the back, they lacked nothing.
ABNOS: 2001 Miami Fusion. This, I'll admit, is a sentimental pick. The 2012 Los Angeles Galaxy are probably "better" in the traditional sense, but the 2001 Fusion were an absolute joy to watch at a time when the league was still getting its footing and the quality of play in most instances was rather low. Full of slick passing, speed, and skill on the ball, the Fusion ripped through MLS and in doing so made one believe that it was possible to win and play beautifully while doing so. There's also an element of tragedy to the team–it folded the year after this magical season.
All-Time MLS Best XI
WAHL: GK: Nick Rimando; RB: Frankie Hejduk; CB: Eddie Pope; CB: Jámison Olave; LB: Jeff Agoos; RM: Preki; DM: Shalrie Joseph; AM: Landon Donovan; LM: Cobi Jones; F: Jaime Moreno; F: Robbie Keane.
STRAUS: GK: Nick Rimando; RB Robin Fraser: CB Eddie Pope; CB Omar Gonzalez: LB Jeff Agoos; DM Shalrie Joseph; LW Dwayne De Rosario; CM Marco Etcheverry; RW Steve Ralston; F Landon Donovan; F Jaime Moreno​.
BRADLEY: GK: Nick Rimando; RB: Frankie; CB: Jeff Agoos; CB: Eddie Pope; LB: Ramiro Corrales; DM: Chris Armas; LW: Marco Etcheverry; RW: Landon Donovan; AM: Peter Nowak; F: Taylor Twellman; F: Jaime Moreno.
ABNOS: GK: Kevin Hartman; LB: Carlos Llamosa; CB: Eddie Pope; CB: Chad Marshall; RB: Jeff Agoos; LW: Landon Donovan; DM: Shalrie Joseph; AM: Preki; RW: Steve Ralston; F: Dwayne De Rosario; F: Jaime Moreno.
Best Game (regular or postseason) in League History
WAHL: November 9, 2003: San Jose comes back from a four-goal deficit in the second leg of an MLS playoff to beat the LA Galaxy in extra-time. Wrote the next day that it was the greatest game in MLS history, and it still is. San Jose went on to win the MLS Cup title.
BRADLEY: San Jose winning 5-2 and overcoming a 4-0 aggregate deficit in the second leg of their Western Conference playoff with the Galaxy in 2003.
STRAUS: A big part of what makes a game special is the atmosphere inside the stadium–the color, sound and tension that only can be experienced live. That trumps TV. So, I'm a bit biased here toward the 2004 Eastern Conference final between D.C. and New England. Six goals. Three D.C. leads. Three Revs' equalizers. Eighteen shots on target. More than 21,000 fans in RFK Stadium's bouncing stands. Goals, several of them spectacular, from legends like Jaime Moreno, Taylor Twellman, Christian Gomez and Steve Ralston. Six rounds of penalty kicks, which started with Matt Reis' save on Ben Olsen and ended when Nick Rimando denied Clint Dempsey. Shalrie Joseph, Earnie Stewart, Jay Heaps and Freddy Adu. It was a spectacle.
ABNOS: Regular season: New York 5, LA 4, Aug. 18, 2007. Incredible game on a lot of levels. Back and forth. Lots of goals. David Beckham's first start. Juan Pablo Angel, back when he was tearing defenses apart. 17-year-old Jozy Altidore with two goals. A sellout crowd at Giants Stadium. Without a doubt, this was a landmark game for the league.
Postseason: D.C. United 3, New England Revolution 3 (D.C. wins 5-4 on PKs), 2004 Eastern Conference final. This game had just about everything you could want in an MLS playoff contest. Bad blood, drama, and great goals.
Best Goal in League History
WAHL: John Wolyniec for the MetroStars in 2003. Do you know how hard this is to do?
BRADLEY: Wolyniec's last-second left footed volley for the MetroStars in a 1-0 win over Columbus. Wolyniec took a 50-yard ball from Amado Guevara out of the air with his left and hit it upper 90.
ABNOS: Eric Hassli vs. Seattle, 2011. The angle, the audacity to even try it, the fact that it was on Kasey Keller…I haven't seen too many other goals like it anywhere in the world. Marcelo Balboa's bicycle kick in 2000 gets an honorable mention, if only because it might still be the most powerful bicycle kick goal I've ever seen.
STRAUS: Since this needs to be published before the season starts, I'm going to pick from among the goals that jumped immediately to mind when reading this question. Otherwise, I'd spend two weeks watching highlights. So with all due respect to Marcelo Balboa, Clint Mathis, John Wolyniec, Marco Etcheverry and several others, I'm going with this. I could watch this all day:
Best or Worst Uniform
WAHL: Best: Columbus Crew new yellow shirt. I love everything about this: The classic look, the new logo, the subtle yellow-on-yellow pattern and the fact that you know who's playing the second you see this color. Fantastic.
Worst: It's fair to say the rainbow color scheme of the original Kansas City Wiz/Wizards was a poor choice—and for that reason I'm proud to own a long-sleeved version of the rainbow-striped-sleeves shirt in my own closet.
STRAUS: Sorry, but can't possibly pick just one.
Best: D.C. United 1998 primary, Philadelphia Union 2010 primary, Portland Timbers 2011 primary, Sporting Kansas City 2014 secondary, Colorado Rapids 2014 throwbacks.
Worst: A dozen-to-a-hundred-way tie between every lazy, uninspired, derivative, cop-out all-white kit.
BRADLEY: Worst: The 1997 San Jose Clash uniforms (the pea green ones).
ABNOS: Worst: 2001 Tampa Bay Mutiny. The fact that the team was so, so bad probably makes this jersey seem worse than it actually is in my mind. That said, there's no excusing the number font, which looked like a drunk's drawing of a digital clock.
GALLERY: Critiquing the full 2015 MLS uniforms
Critiquing every MLS uniform, head to toe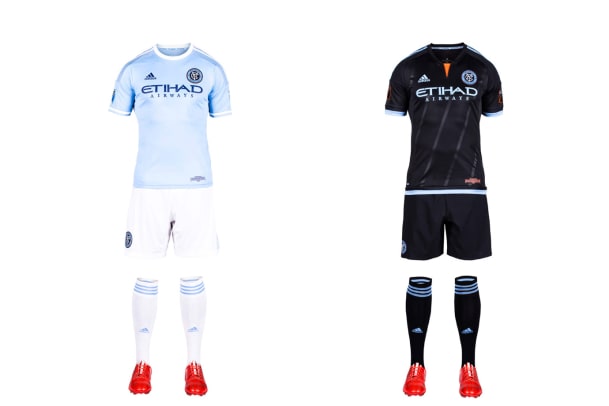 Best Foreign Signing in League History
WAHL: On the field: Jaime Moreno is the best foreign signing, while Robbie Keane is the best foreign Designated Player signing. His quality and consistency with LA have been remarkable. Off the field: David Beckham. He took MLS to a new level of recognition both inside and outside North America.
STRAUS: Let's not complicate things. Robbie Keane and Thierry Henry probably were/are better players, but neither comes to MLS unless David Beckham comes first. His impact was massive. On the field, he helped LA win two MLS Cups and two Supporters' Shields. Off it, he brought unprecedented attention to U.S. pro soccer and helped speed the maturity of the domestic fan base.
Despite accolades, LA Galaxy's Robbie Keane maintains competitive fire
Even when he was bad, he was good. Yes, there was hero worship at first. But over time, Galaxy supporters demanded more from Beckham and held him increasingly accountable. Fans on the road stopped taking photos and started treating him as an enemy rather than an icon. Beckham and the DP rule gave clubs another way to differentiate themselves, adding personality and partisanship to a league that needs it.
He forced people to take sides, which strengthened the bond between club and supporter. Beckham was a turning point.
BRADLEY: Dwayne De Rosario. Yes, DeRo, because when he came to MLS, there were no Canadian teams, so he was technically a foreign signing. Frank Yallop signed him under the radar and all he did was win four MLS Cups as a member of the San Jose Earthquakes and Houston Dynamo. And just when it looked like he was done, DeRo won an unlikely MVP award as a member of D.C. United. He scored great goals. He scored big goals. And he's played in the league for 14 seasons.
ABNOS: Keane. While Beckham propelled the league into a new era commercially, it took him a little bit to get his feet under him and play to the best of his ability in the league. Keane has had no such problems, and he doesn't show any sign of stopping anytime soon. Where other big-name signings have been aloof or disinterested (hello, Lothar Matthaus), Keane has been a consummate professional from Day 1. For a league that is constantly seeking to improve its quality on the field, that is the best advertisement of all. 
Worst League Decision (a team, a rule, a logo — open to interpretation)
WAHL: Let's be honest: The original team names for 1996 were a disaster. The Kansas City Wiz? The Dallas Burn? The Tampa Bay Mutiny? The San Jose Clash? It's amazing how some things from the '90s hold up extremely well—like, say, Nirvana, Pearl Jam and Soundgarden—while the MLS team branding just … makes … you … cringe.
MLS at 20: Epic original branding, logos for the league's first 10 teams
Were they really thinking "Kansas City Wiz" and rainbow colors would hold up 100 years down the road? In any case, most of the original teams righted the wrongs and renamed themselves, and only five of the 10 originals have (more or less) the same name today: the LA Galaxy, Colorado Rapids, Columbus Crew, New England Revolution and D.C. United. But if we're being frank, I suspect only D.C. United would choose the same name if they started over today.
STRAUS: Chivas USA is the obvious answer here, and MLS commissioner Don Garber called the folded club's struggles the biggest "setback" of his tenure. It remains baffling that anyone believed a team targeting a segment within a segment of a fan base could succeed in a competitive market.
The inside story of how new MLS team LAFC went from dream to reality
MLS got lucky and might not wind up paying a heavy price. It bought out Jorge Vergara in early 2014 and sold expansion rights to a second LA team for $30-$40 million more. If LAFC gets a stadium built, the league will wind up ahead.
So, as for a decision that still impacts MLS negatively, I'll go with its refusal to adequately explain the mechanisms through which players are acquired and assigned.
It's O.K. that there are rules. It's understandable if the league has to adjust because of an unanticipated problem or opportunity. Just tell us. We can handle it.
BRADLEY: The Shootout. The last thing a fledgling league needed in the beginning was a gimmick. But there was MLS rolling a big, Price-Is-Right-style clock on to the field at the end of regulation, so players could settle ties in the same way they settled ties in the dying years of the old North American Soccer League. Truth be told, if MLS had used the shootout as a way to decide deadlocked knockout games (instead of penalties), the world might have thought it was a cool and innovative idea. But not to decide regular season draws.
ABNOS: Taking so long to adapt the league to the standards by which the game is played everywhere else in the world. it's hard to believe that overtime in regular season games was still a thing as recently as 2003, eight seasons after the league's inception. ​
Biggest Takeaway on League's Growth, Progress, Needs Heading into Year 20
WAHL: On the eve of its 20th season, MLS has already outlasted the old NASL (which made it to 16 years) and unlike the NASL has put down real roots, including soccer stadiums and a commitment to developing U.S. players. But if MLS is going to reach its goal of becoming one of the world's top leagues by 2022, it needs to loosen the reins and start spending significantly more money.
STRAUS: Whenever MLS frustrates or infuriates, I try to remember what going to a big-time soccer game was like when I was young. There were the bleachers at George Mason University in Fairfax, VA, where Gordon Bradley roamed the sidelines, plus a couple years in the late 1980s when the Washington Stars played at local high schools. Bruce Murray and John Kerr Jr. were the Stars' stars.
Columbus Crew take the next step with MAPFRE Stadium naming deal
Now, there's Sporting Park, BMO Field, Red Bull Arena and Providence Park—60,000 fans in Seattle and, perhaps, in Orlando this Sunday. A culture has taken root, only just, and the options and outlets are so much more plentiful.
At its core, soccer is a community exercise. World Cups and national teams are fun. Fans around the world love watching clubs from Madrid and Manchester on TV.
But in most places, it's the week-in, week-out rhythm of the local club, and the bonds that form among players, fans and families, that fuels love for the game. MLS, for all its faults, has played a massive role in planting those roots. Now it must tend to them wisely and respectfully to ensure they grow.
BRADLEY: The league looked to be in peril in the early 2000s, but Phil Anschutz took charge of a bunch of teams and helped to steady the ship, which is why they've reached season 20. The most important thing over the next decade will be the academies and their ability to produce quality professional players.
ABNOS: Slow and steady wins the race. Huge player signings provide decent signposts, but their arrival means nothing if you don't have a well-formed team. Big-time commercial dealings may bring the headlines, but the best deals, like the ones for soccer-specific stadiums, are long-drawn out processes that take a lot of legwork before the first ounce of concrete can be laid for the foundation. On the field and off the field, the trick to success in this league has proven to be gradual growth. The biggest challenge, then, is remaining comfortable with that rate of change.