Amid new faces, unexpected long-term USMNT players keep returning
SAN ANTONIO – Jurgen Klinsmann has used 46 different players across the nine games the U.S. national team has played since falling to Belgium in the second round of the World Cup, including a dozen first timers.
The coach has explored the depths of the American player pool, calling up the likes of Miguel Ibarra, who plays for the NASL's Minnesota United, and Jordan Morris, who's still a college student at Stanford. Younger players in transition, whose club careers are still taking shape, remain on Klinsmann's radar. And with the CONCACAF Gold Cup now less than three months away, he's still eager to add new blood.
Two of the most sought-after players during the media scrum before Monday's training session here in San Antonio, where the U.S. will meet Mexico in a Wednesday friendly (8:30 p.m. ET, FoxSports1, UniMas), were goalkeeper William Yarbrough and defender Ventura Alvarado. They made their international debuts last month.
"It would be foolish not to use this one year of time to try out a lot of things," Klinsmann said via U.S. Soccer's website. "To integrate new players, to tryout different systems, to move out of your comfort zone going to Europe, going to other places and risking some results. If we wouldn't do that, there'd be no growth."
USMNT roster for Mexico friendly offers opportunity for younger players
It was a bit interesting, then, to look out on to the soccer field at Trinity University and see the likes of Chris Wondolowski, Nick Rimando, Brad Evans and Kyle Beckerman—MLS lifers who fought their way into the national team picture later in their careers. Wondolowski, Rimando and Beckerman are all well into their 30s. Evans turns 30 next week. Considering their age and the competition, none of them is likely to be on the flight to Russia in 2018.
But they're here, now, for much the same reason they broke in to begin with. Despite unexpected successes, they remain unsatisfied and as a result, provide younger U.S. players with the sort of role models Klinsmann appreciates.
"Whenever you get called upon to represent the United States, you take it. You grab a hold of it and you go with it," said Rimando, who was a reserve at last summer's World Cup. "You're called in for a reason. [Klinsmann] values me, what I bring to the team on and off the field, and I'm never going to go question that. I think I can still play. I think I can still bring something to this team and after such a great year of 2014, with the World Cup, I didn't know if I was going to get called because of the process and new blood and developing new players. But when the call came, it was a no brainer."
Klinsmann speaks frequently about "givers," lauding those players whose work ethic and sense of the bigger picture make them good teammates and set an example for others. He called Rimando a "pure giver" last year, praising the goalie for "always looking after people. He's always there for them and he's always a giver to the next generation as well."
Following November's loss to Colombia, Klinsmann said of Beckerman, "Kyle is, in a certain way, a huge role model for this entire team … Whenever he comes into our group, he's 100% focused."
USMNT trends: Results aside, key developments from March matches
Regarding Wondolowski, Klinsmann has said, "He brings an enormous amount of energy into that group. He's a pure giver. He's always thinking about his teammates. He's always thinking about the others. Does he want to score every second he's on the field? Absolutely. But he's also a player that, when he sees somebody positioned better than him, he will pass that ball."
Those votes of confidence—the sense that they're needed and valued and integral to the continued evolution of the national team—is part of what keeps them coming back.
"I come in with the same mentality I've always come in," Rimando told SI.com on Monday. "Work hard. Be a leader and lead by example. If I continue to do that, there's no reason I shouldn't be involved if he continues to see me as a goalkeeper that brings something to the team."
Said Beckerman in November, "With the young guys, it's about leading by example, letting them know what it is to be a pro and how serious to take this national team …That's something I'll take on whether [Klinsmann] asks me or not."
Close calls also motivate. Rimando, 35, went to Brazil but didn't play. Wondolowski, 32, rose spectacularly from MLS benchwarmer to league MVP and World Cup forward but missed his scoring chance of a lifetime against Belgium. Evans, after performing so well during qualifying, was cut during the pre-World Cup camp in California.
Wondolowski brought up that play against Belgium without prompting. Despite his impressive run, which has continued this spring with three goals for the San Jose Earthquakes and the joy of playing for his hometown club in a stunning new stadium, he's incapable of resting on any laurels. That's just the sort of approach Klinsmann loves.
The Year in Photos: U.S. Soccer in 2015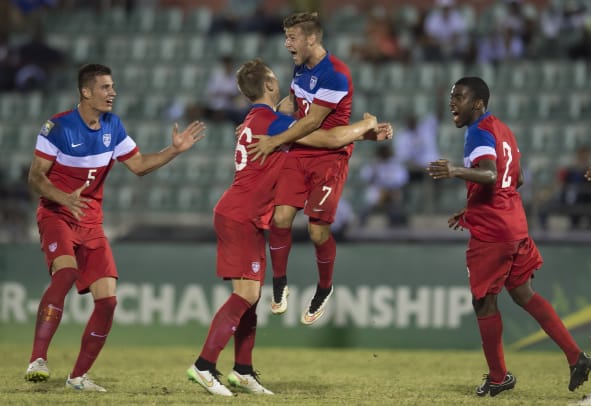 "I still love it, absolutely. Enjoy it, even coming to practice. It's not easy, but I get to come out, have banter with these guys and I still love playing," Wondolowski told SI.com in preparation for facing El Tri. "Whatever level it is—It'll never be the same as a World Cup—but I want to keep improving myself. [The miss] definitely left a bitter taste in my mouth and I just want to show I can play at that level."
He continued, "It was not a gimme. It's a 50/50 whether I make it. But it's got to be on frame, 100%. I think that's the thing that haunts me the most. If I hit it and [Belgium goalkeeper Thibaut] Courtois makes a great save, credit to him."
For players wired a certain way, every success and every failure fuels the fire.
"That drives me and I love that and it keeps driving me," Wondolowski said. "It drives me, in a sense, when I'm starting to hit a wall and you start getting tired and start questioning stuff, that's what pushes me through it. 'This is why. You can do more. You can do better. You can continue to do this and play at this level.'"
Rimando has started five games since the World Cup, including all four in 2015. Beckerman is returning to the national team for the first time since the November friendlies against Ireland and Colombia, his only two appearances since the World Cup. Wondolowski has four caps since Brazil and Evans, if he takes the temporary grass field Wednesday at the Alamodome, will play in his first international in 14 months. He withdrew from Klinsmann's January camp with a knee injury.
None were heralded. Appreciation came later. And the national team continues to be influenced and bolstered by players like them because of it. They're hanging around. And as Rimando said, as long as Klinsmann thinks they can help, there's little chance those opportunities will be taken for granted.
"You get a little bit of a taste of it and this is great, and it's great to get those rewards and you want more. You want to continue to try to replicate that," Wondolowski said.
USA vs. Mexico Soccer