1. Leicester City defies the odds, wins unprecedented Premier League title
Leicester City's remarkable run to the EPL championship is the top story of 2016 in the world of soccer.
It was the best sports story of 2016—and perhaps of the 21st century so far. Lightly regarded Leicester City, which had required a near-miracle to avoid relegation from the Premier League in the previous season, was a 5,000-to-1 shot to win the league in 2015-16. Upsets happen all the time in the Premier League when it comes to single games, but the title-winners in the Premier League era over 38 games have always been the wealthiest clubs. A championship by a team as humble as Leicester seemed unconscionable.
Yet somehow it happened. With a mix of talent, chemistry and sound counter-attacking strategy, Leicester made a run for the ages. Jamie Vardy, who had been playing in semipro leagues only a few years earlier, became one of the most reliable goal-scorers in the Premier League. RiyadMahrez turned into a lethal attacking threat, while N'GoloKanté established supremacy covering acres of space in the midfield. First-year manager Claudio Ranieri, a genuinely nice Italian man, finally won a trophy by showing restraint in the changes he made to a team nobody expected to challenge for the top.
Leicester City's Premier League title celebrations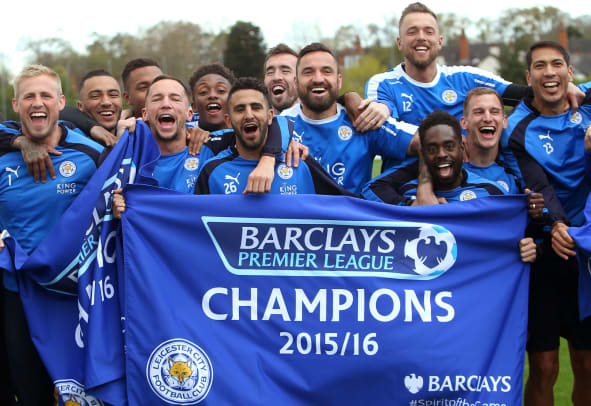 ​
Leicester's struggles in the 2016-17 season only serve to show its title was a truly singular event. When the Italian AndeaBocelli sang for Leicester on the day it won the trophy, it was impossible to keep a dry eye. These Foxes had achieved the unthinkable.