MLS expansion race began with 12, but will enough viable bids even emerge?
One by one, MLS's preferred destinations for expansion are falling by the wayside and experiencing difficulties in securing what's needed, and the league is left with some dilemmas on its growth to 28 teams.
For as long as there's pro soccer in the nation's capital, Jason Levien's machete will be part of Washington sports lore. The blade was metaphorical at first. When he and partner Erick Thohir purchased the MLS club in 2012, Levien said he saw a "pathway" to the long-awaited, almost mythical stadium D.C. United hoped to build.
"We also know we're going to have to use our machete to get there," he said.
The machete soon become real—it was a gift from fans—and after nearly five years of negotiations, Levien raised it high as he celebrated Audi Field's February groundbreaking. Next season, United's 22nd, the stadium will be real as well.
Even with Thohir's money and Levien's political savvy, it took five years. And there were setbacks, false starts and revisions. Imagine what would be required to get a stadium deal done in half the time—or maybe less. Certainly more than a machete. There aren't many tools that can hack through the political and financial red tape required, and that thicket has become even denser in today's increasingly partisan and polarized political climate.
Sacramento isn't loaning out their burgundy and beige bulldozer, leaving the other 11 MLS expansion hopefuls trying to figure out a way to expedite their efforts. The league, which will have 23 clubs when Los Angeles FC enters in 2018, confirmed in December its plan to grow eventually to 28. One of those new members is expected, still, to be David Beckham's Miami outfit. Applications for the remaining four were due January 31, and MLS intends to identify teams No. 25 and 26 by the end of this year.
That's a really quick turnaround. At first, it appeared 12 applicants were too many. How would MLS choose only four from among all those ambitious investors and worthy markets? Why deny them top-tier soccer if they can support it? Why limit yourself? Just add six or eight, many said.
Five months later, we know the answer. There may not be eight, or even six, viable bidders by the end. What looked good on paper, in online stadium renderings and in the sparkling presentations submitted at MLS HQ in January has proven to be quite difficult to put into practice. What was once a sprint contested by 12 fit and fast runners has become a race of attrition that will be won by those left standing.
Potential, future soccer stadiums in America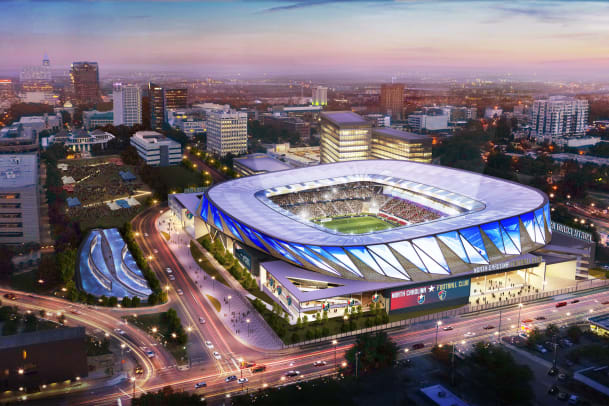 It's worth noting that technically, there are still 12 MLS hopefuls. Nobody's officially dropped out. But the expansion landscape now looks far different than it did in January.
Two cities that were very heavy favorites to earn one of the four spots—St. Louis and San Diego—now need a miracle to remain in the race. The St. Louis group's proposal to funnel revenue collected from a new business use tax toward construction of a downtown stadium was defeated in an April referendum. San Diego's investment group, which includes retired star Landon Donovan, didn't even get that far.
Its request for an early vote on its plan to purchase the land around Qualcomm Stadium on an expedited basis (and at market rate) and then pay for a venue designed for MLS and San Diego State football—along with a park and mixed-use development—was denied Monday by the city council.
Hundreds of fans and supporters showed up Monday to speak on behalf of the San Diego SoccerCity project. And Nick Stone, one of the investors and the group's unofficial spokesman, said their public polling indicated 68% support. But politics is messy and unpredictable, and the pressure brought by a suddenly reticent SDSU, rival developers and labor unions made the difference.
Landon Donovan finds his post-playing passion in San Diego's MLS expansion bid
"I don't think this is a reflection of the sport at all," Stone told SI.com. "Sadly, this is much more a reflection of local politics today. The fact that 68% of the public can support this and we might not even have a vote is a testament to the influence of money and power in local political decisions."
Luck and timing are factors as well. Many San Diego and St. Louis residents felt burned by the money-driven departure of their respective NFL teams. The city of St. Louis, already saddled with the white elephant Dome at America's Center, has boundaries relatively close to downtown that left many stadium supporters ineligible to vote. In San Diego, rivalry with Mayor Kevin Faulconer, a SoccerCity supporter, sparked some of the council's pushback.
Public-private partnerships are common throughout the country on stadiums, shopping centers, company headquarters and all kinds of projects. Some deals are good. Some aren't. But asking for anything in the current climate—even if no public money is involved—is fraught with peril. And competing in MLS, which entails everything from a stadium to an academy, is increasingly expensive.
Jeff Berding has been on both sides. He's a former Cincinnati city council member who, before his election, was instrumental in the negotiations that led to the construction of stadiums for the NFL's Bengals and MLB's Reds. He was a long-time Bengals executive and is now the president of FC Cincinnati, an MLS hopeful whose second-year USL team is drawing tens of thousands of fans to the University of Cincinnati's Nippert Stadium.
LAFC sets out to create the MLS 3.0 standard
"While each site is unique and presents its own set of challenges and opportunities, the process of identifying, evaluating, analyzing and assembling a stadium site, pulling together the necessary financing, and then building public support is enormously difficult," Berding told SI.com. "The effort can go sideways at any point and set you back."
The MLS effort in Charlotte, which was among the favorites thanks to the city's size and importance in a growing area of the country, is on life support after the city declined to approve the funneling of tax revenue earmarked for tourism toward a portion of a stadium. In Indianapolis, an effort to get the state legislature to pass a bill allowing taxes generated at and adjacent to a new soccer stadium to be spent on its construction has gone nowhere. In Detroit, billionaire NBA owners Dan Gilbert and Tom Gores have offered to foot the cost of a brand new jail and courthouse in exchange for a plot of downtown land where an unfinished prison now sits. The Wayne County government has yet to make a decision, and there's some local opposition to handing over such a prime piece of property.
MLS president and deputy commissioner Mark Abbott said the league is far from discouraged, and he pointed to the D.C. effort as well as several other slow but ultimately successful stadium projects around the league as evidence that these things simply take time. And there's still six months to go before the board of governors meets in December to select two clubs and lay out a plan for choosing teams 27 and 28.
"We recognize stadium projects are complicated, but we know—and our history shows us—that when you have committed groups in communities interested in attracting MLS teams, they find a way to get those projects done," Abbott said. "The advantage we have today is given the growing popularity of the league, and the interest from multiple markets across the country, it helps our case and helps us finalize projects."
We'll see how true that is in the coming months. San Diego and St. Louis still have a sliver of hope. Maybe St. Louis can find another way to plug the $60 million hole in its stadium plan. Perhaps Stone, Donovan and their colleagues can find some sort of common ground with the opposition and convince the council to authorize a special election. Stone said that's necessary to meet the league's timeline.
"MLS has publicly stated they would hate to see San Diego lose out over a lack of certainty for its stadium, and our best understanding is that means we need a decision by December of this year," Stone said.
But it seems more likely that their difficulties will spur other markets that just climbed the power ranking.
The next six months will tell us whether the owners of the Tampa Bay Rowdies and Phoenix Rising, who are asking for no public money, can raise the funds required for their new facilities. Rowdies owner Bill Edwards wants to rebuild Al Lang Stadium, which sits alongside the St. Petersburg harbor. Rising governor Berke Bakay, whose partners include professional musicians and Didier Drogba, plans to build an air-conditioned venue on Salt-River Pima Maricopa Indian Reservation land east of downtown. It'll be expensive.
Inside Drogba's road to Phoenix and his role in its promising MLS expansion bid
Bakay and Edwards aren't billionaires. Carl Lindner III and John Ingram are. Yet both are hoping to strike public-private partnerships in cities that appear hungry for new pro sports options. 
Lindner owns FC Cincinnati and Ingram heads the bid in Nashville. The former, Berding said, plans to build a new stadium on one of three sites—two in Cincinnati and one just across the Ohio River in Newport, Kentucky. FCC wants permission to use the incremental gains in taxes generated by the new venue to help pay for it, while Lindner and his partners have pledged a minimum of $250 million toward the arena and the league expansion fee. 
"We feel very good about our chances in Cincinnati, but we have a ways to go," Berding said.
Nashville, which is riding high following the Predators' unexpected run to the Stanley Cup finals, is targeting two sites at the city's Fairgrounds for a new soccer stadium. Mayor Megan Barry has endorsed the bid and called Nashville's relationship with Ingram a "private-public partnership," stressing his contribution. The state has passed a bill allowing sales tax generated at the stadium site to be used to pay off debt, but the city's ultimate investment hasn't been determined. It could be the land, more or something else. MLS executives are expected to visit Nashville when it hosts the CONCACAF Gold Cup opener between the USA and Panama on July 8. After that, the real negotiating will begin. And if San Diego is any indication, mayoral support doesn't necessarily guarantee success.
Questions remain in Raleigh and San Antonio as well. The demographics are appealing in both areas even though neither is a top-20 media market (Raleigh and Durham rank 24th and San Antonio is 31st). San Antonio FC, a USL team owned by the NBA's Spurs, will have to expand and upgrade Toyota Field. The financing for that project hasn't been revealed. MLS is intrigued by soccer's potential in the Alamo city and it loves the Spurs' ownership group, but it remains to be seen whether a new Toyota Field will be funded and sufficient. The NASL's North Carolina FC, which now plays in suburban Cary, has solidified itself as a soccer club with the addition of several youth organizations and a pro women's team, but there's been little in the way of public MLS stadium progress. It still feels like a bit of a long shot at the moment.
Stabilized Sacramento maintains a quiet confidence, poised for MLS expansion
Meanwhile, Sacramento waits, and waits, having fulfilled all the league's criteria and overcome a few obstacles of its own. Republic FC is ready to build, and has been for a while. But it still hasn't gotten the green light. There's been a sense that MLS has been giving other cities time to catch up to California's capital, whose bid has stressed substance rather than style. It may not have the cache of several competitors, but those competitors still lag far behind.
Sacramento is going to have to wait a little longer.
"We're disappointed any time there's a setback in a stadium project, but we also remain encouraged about the commitment from the people in those communities," Abbott said. "There are countless examples in the history of the league where we've had setbacks, and in the end we've ended up with wonderful opportunities in that market."
D.C. United had 22 years to get it right. The New England Revolution still haven't. Real Salt Lake and FC Dallas were in trouble at one point and then found their way. The Chicago Fire got their stadium, but it's been far from ideal. New York City FC, well, get used to Yankee Stadium. It takes time, luck, will and a lot of money. So far, every bid but Sacramento's lacks the right combination. MLS believes it'll have options. Either way, it's fortunate 12 cities applied. The attrition rate may be high.
Two new teams should be identified in December, and the league isn't interested in going too far into 2018 before naming 27 and 28. The remaining bidders have a lot of work to do. Get those machetes and bulldozers ready.