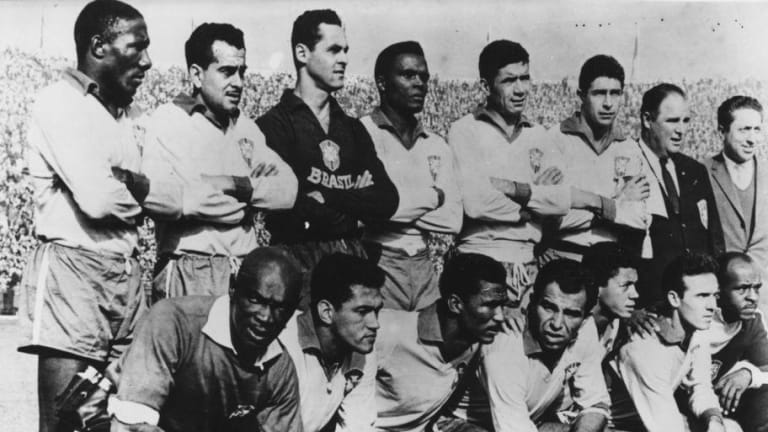 World Cup Countdown: 14 Weeks to Go - Brazil's Astounding Performance in the 1962 Final
Confidence, and namely its more sinister sibling overconfidence, has thwarted Brazil on more than one occasion in World Cup history, and infamously so. Nevertheless, its presence before the 1962 final thankfully came in a much more welcome form. 
Instead of manifesting itself from an air of mercurial superiority, inducing ill-preparation and lacklustre endeavour, Brazil's conviction on the 17th of June came from a place of steely resilience. 
They had come through so much just to reach that moment, disproving all claims of inadequacy along the way, that they approached the closing game with a hard earned entitlement that couldn't be quashed.

Reservations surrounding their supremacy arose when Pele sustained a groin injury in just their second game (against Czechoslovakia), prematurely ending his tournament. 
How do you replace the most resplendent, most transcendent player in the sport in the middle of a campaign? Who could possibly bear that burden? And how would the former supporting cast member Garrincha assume his new role as the leading man?

Perhaps no one put it as bluntly as Spain's notoriously hardened coach Helenio Herrera, who is quoted as saying before their group stage clash: "Brazil without Pelé is nothing. Who is Amarildo?"
Pele's replacement quickly set about introducing himself to Herrera, scoring twice to send Spain packing, and advance his side through to the knockout stages. At which point, Garrincha rose to the plate, and duly responded to the third query with a brace of his own in both the quarter, and semi finals.
According to Mario Zagallo, such a seamless transition to life without Pele was indubitable. As he explained: "It was such a mature and experienced side that not even the absence of Pele could upset us.
"Amarildo came in and we all helped him settle, a task made easier because he played for Botafogo with me, Didi, Nilton Santos and Garrincha. He felt right at home. And Garrincha played like never before. 
"There was no way we were going to lose that title." 
At this point, it may be timely to mention those plucky Czech's who came to be the Canarinho's seemingly redundant opponents. 
The side from the Soviet Bloc had only made the competition by scraping through a World Cup playoff with lowly Scotland. Yet, upon arriving in Chile, they quickly made their mark, conquering a strong Spain side 1-0 before holding the holdersBrazil to an impressive stalemate.

A 3-1 loss to Mexico in their final group stage encounter did not derail their progression, and they quickly regrouped to get past Hungary in the quarter finals.
A semi final with the much fancied Yugoslavian team awaited, and despite their presupposed inferiority, the Czechs rose to the occasion, with  (eventual French defector) Adolf Scherer adding a brace to his winner against Hungary to set up their Brazilian rematch.
And so came the final, upon which everything rested. Until then, the 7th edition of FIFA's global contest had in many ways been its darkest yet. Of course, this wasn't helped by the enforced absence of its most luminary figure, but it was the abhorrent violence on the pitch and toxicity in the terraces that was most damaging.

Nevertheless, if you were to watch the condensed four minute highlights (maybe not the best representation) of this game youtube, you would find over a quarter of it taken up with Brazil's warm up alongside shots of Pele in the stands: not exactly The Greatest Show on Earth. You may also observe that the only discernible difference between the two kits was the markings on the Czech's socks, but that would be that. Hardly a legacy reversal.

However, upon witnessing a more extensive version, a few things become abundantly clear. Firstly, the kits really are confusing. It wasn't just the poor resolution of the first video. Secondly, and more importantly, the match was genuinely a classic, with both sides playing with admirable intent and skill right from the off.
Indeed, the emphatically English commentator proclaimed: "If this is just a sample of what we're going to get for the rest of the match, only six minutes gone, this could well rank with greatest of World Cup Finals."

Thirdly, all the talk of the humble Czech's commendable exploits in the face of their formidable foes rings decidedly true. Their patient probing, and attacking composure is a joy to watch, and was justly rewarded in the 15th minute.
Once again, it was the soon to be ominously "erased" Scherer who provided the spark. Cutting in off the right flank with purposeful deliberation, he slid through an expertly weighted ball for the galloping Josef Masopust to clinically convert. Unfortunately, their lead would last just two minutes.
For this is when the Selecao's brilliance came to the fore, in conjunction with the nominal 'finest goalkeeper' in the World's sudden implosion. While I have been unable to see for myself Villiam Schrojf's apparent excellence, it is well noted in the history books, and twice intimated in the action before the equaliser. Firstly by the commentator, who provided the above quote, and then by a begrudging Brazilian, who acknowledged one save with a complimentary pat on the head, Eusebio style.
Still, despite the barrage of information suggesting otherwise, you would be forgiven for perceiving Schrojf as what he was on that fateful day - woeful. It all kicked off with Amarildo's leveller. The young winger made a penetrating dash for the byline, before whipping it into the box, only to see his speculative cross/shot fly past the recklessly ill-placed keeper into the net. Strike one.
There was then a 51 minute wait for strike two, but when it came it was equally galling, undoing all of his side's valiant efforts. Once more, Pele's stand-in was his chief adversary, cutting back inside after a scurrying run before again finding Schrojf out of position, this time with a tantalising dink. As the then 31 year old watched the ball glide over his head, a grateful Zito finished off the move he started with the simplest of headers to snatch the lead. 
Strike three was the most heinous of the lot. With 77 minutes played, and the Czech's fighting for a way back into the game, Djalma Santos hoisted the ball high into the box with little intent - only for Schrojf to haplessly misjudge his leap, and hand the ball on a plate for Vava to clinch the Jules Rimet Trophy. 
While this "tragedy" of a performance - as the commentator kindly put it - no doubt assisted Brazil in their quest to join Italy and Uruguay as two time winners, it was not the defining factor. The winners from '58 simply had a gear their opponents couldn't reach, and a willpower they couldn't match, regardless of endeavour.

This loss sadly represented the end of the line for Czechoslovakia; they would not qualify for '66, and failed to progress beyond the group stages for another 28 years. In stark contrast, the Verde-Amarela were just getting started.