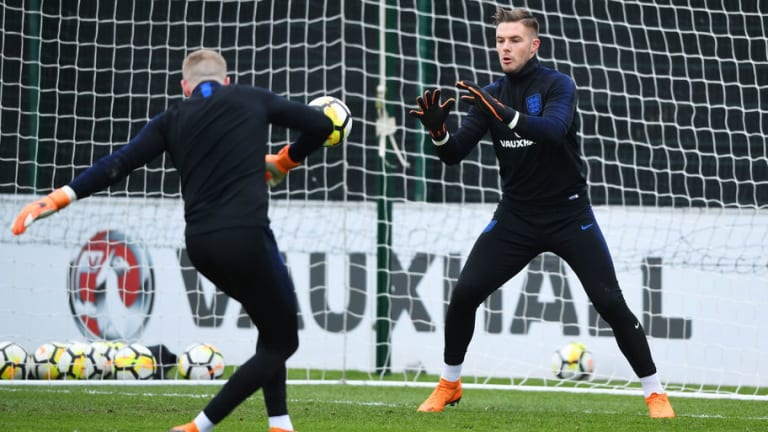 Stoke Goalkeeper Jack Butland Relishing Fight for England Number 1 Spot at the World Cup
England goalkeeper Jack Butland has insisted that the competitive battle to be England's first choice between the sticks at the World Cup in Russia is a 'good thing'. 
Fighting it out for a place with fellow keepers Joe Hart, Nick Pope and Jordan Pickford, the Stoke City star looks set to have won one of the first battles, with a guaranteed start for England in their match against Italy at Wembley on Tuesday night.
As quoted by the Belfast Telegraph, he expressed the enjoyment he gets from fighting for his place.
"It's a good thing isn't it, having competition? I enjoy it," he said. "Training between all of us is extremely intense. Obviously it's one we're all trying to take for ourselves but ultimately whoever deserves it, whoever the manager feels, will get it and we're all trying to do our bit to make sure it's us.
"The manager will make his decision when he's ready, until that time and even beyond that time we'll all be battling to show who is best. I think that's a great way to go into a World Cup, the fact not knowing who it is just yet shows the competition is great."
In recent years, Joe Hart has been England's first choice in goal, featuring at both the World Cup in 2014 and the European Championships in 2016. However, Butland holds no grudges over his lack of selection and insists that the quartet of keepers all support each other. 
"It's a great group and we back each other - whoever it's been in the team everyone has always supported them," he said.
"That's how you become a winning team and become successful. It's not by turning your head at people or being a bad egg, that doesn't work for anyone."
Despite making his debut for the Three Lions at the young age of 19, Butland has only won five caps for his country in a career often sadly plagued with injury. 
Ever the optimist though, the player believes that this has all been part of one big learning curve, remarking: "I've had to deal with fears of not playing again, I'm a bigger man for it and I will be better for it in the future."