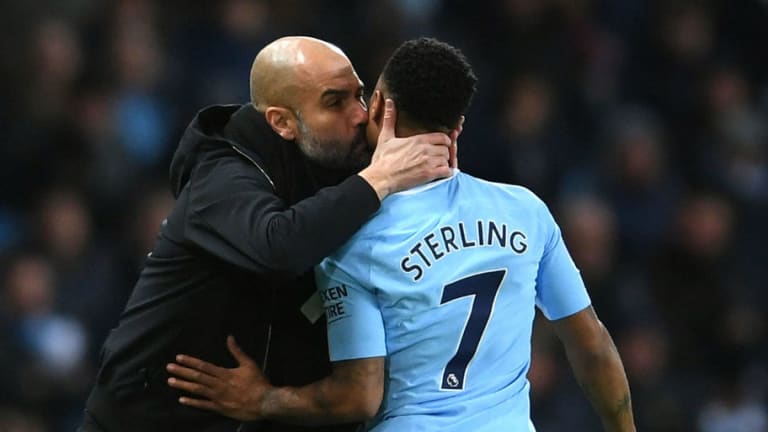 Raheem Sterling Reveals How Pep Guardiola Has Pushed His Form on to Next Level
Raheem Sterling has claimed that Pep Guardiola's perfectionist attitude is getting the best out of him at Manchester City.
The England international has been stellar form for the Premier league leaders this season, but hasn't been without his off-day displays such as the 0-0 draw with Crystal Palace on New Year's Eve - a performance that Sterling says Guardiola 'killed' him over.
In an interview published by the Telegraph, however, the forward explained that it is those dressing downs that spur him on to become better - and it showed when Sterling netted in the win over Watford just 48 hours later.
He revealed: "He [Guardiola] lets you know when he's not happy with you. I remember coming on against Crystal Palace. I lost the ball three times and I didn't think I was going to play until the end of the season after he killed me in the dressing room.
"A manager like that brings the best out of you, when he makes sure to tell you when you're in the wrong."
It's that type of tough love that is seeing every City star do their best when called upon in a bid to retain their place in the side when Guardiola selects them to feature.
The arrival of Bernardo Silva from Monaco, for example, was a prime motivator for Sterling to push on and try to keep his starting berth after the Portugal international's big money switch.
He continued: "When there's doubt, when it comes to that point, that's where I'm at my best, when I have got competition. Last summer, I saw Bernardo Silva signed and I thought 'when I get back, I've got to make sure I'm on it because there's more competition'. 
"I was looking forward to it. Sometimes you read you might not be in the squad and I think 'OK then, cool, we'll see about that'. Stuff like that brings the best out of me."
(You may also be interested in Leroy Sane Praises Morale of Manchester City Dressing Room Ahead of Season-Defining Period)

And what of the treatment he's received from opposition fans over his own £49m transfer to City, which led Sterling to be called a money grabber?
He added: "It's obviously disappointing, when you put on the shirt and get negative feedback, but at the same time the fans want to see you perform well. 
"I've learned they're not doing it in a malicious way, they're doing it in a way to make you know you need to step up. In a way, it's good for someone like me because I thrive on stuff like that."