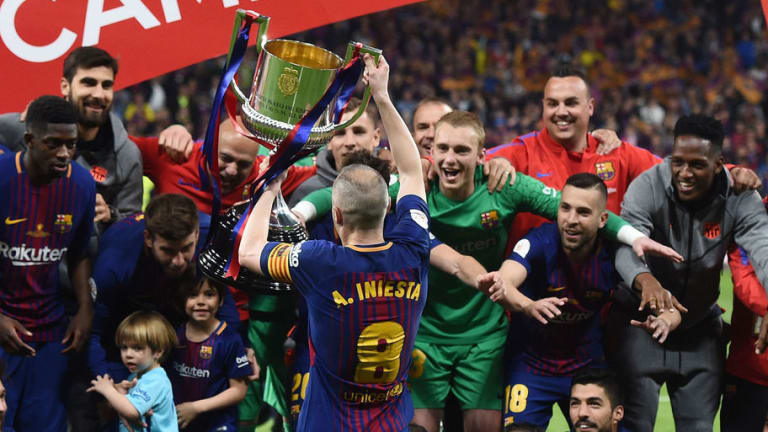 Publish date:
Conflicting Reports Over Andres Iniesta's Future Emerge Amid Talk of Proposed Move to China
Andres Iniesta's future is still shrouded in uncertainty as a proposed move to China looms. 
Reports coming from Spain had previously claimed that the midfielder would announce his departure following the Copa del Rey final on Saturday. Yet days later, nothing concrete has surfaced and the player has so far refused to comment.
Marca report that the Spaniard will make an announcement regarding a move to China -Chongqing Dangdai Lifan F.C. to be precise - on Friday, but they also point out that things could be delayed due to differences as it relates to the sums involved. 
Iniesta is said to have already agreed a €20m-a-year wage package, but the club's president hasn't signed off on it, hence the potential delay.
Sport, though, have put out a report claiming the former's story is inaccurate and that everything is moving along smoothly. Barca, meanwhile, are understood to have scheduled a press conference for Friday to facilitate the 2010 World Cup winner's announcement.
The 33-year-old scored to help the Catalan side to a 5-0 final win over Sevilla on the weekend and lifted what could be his last trophy with the club. He did hint that a move was on the cards, though, describing the goal as an "emotional" one, yet it's hard to pin anything down at the moment given all the reports which have been flying around.
Chongqing manager Paul Bento has since shared his thoughts amid all of the talk, steering clear of confirming anything, save his desire to coach a talent such as Iniesta's.
(You may also be interested in: Sergio Ramos Claims Andres Iniesta Would Have Won 2 Ballons d'Or Had His Name Been 'Andresinho')
"It's just a rumour," he said. "It's hard to talk about rumors. But I do not think there are any fans in the world or any coach who does not like a player like Iniesta."