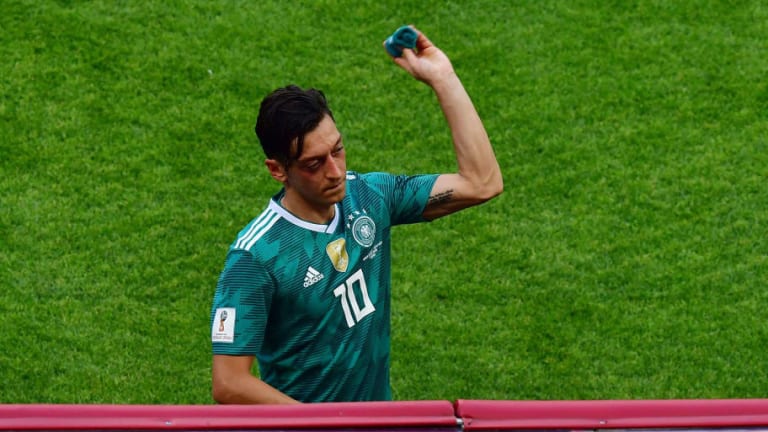 Arsenal's Mesut Özil Embroiled in Furious Row With Germany Supporters After Dramatic World Cup Exit
Arsenal forward Mesut Özil became involved in a heated argument with a group of Germany supporters yesterday afternoon following his side's 2-0 loss to South Korea, which saw Die Mannschaftexit the World Cup in the group stages.
As reported by the Mirror, a group of supporters headed towards the German bench at the final whistle, and directed abuse at a number of players, including Özil. The 29-year-old is believed to have taken exception to the comments hurled towards him, and had to be restrained by staff as he responded with some choice words of his own.
The shocking 2-0 loss saw Germany record their worst World Cup performance in 80 years, as the side held the lead for just a single minute across their three group games. Things started badly with a 1-0 loss to Mexico, before a last gasp 2-1 win over Sweden kept their dreams alive. However, the stunning defeat to South Korea saw Germany crash out dramatically.
Özil, a player much maligned by Arsenal fans for his perceived lack of effort, put in another abject display against South Korea, which clearly enraged fans of the 2014 world champions. Germany's premature exit will give hope to a number of sides, as the path to glory has become significantly easier with their departure.
The reaction in Germany has been as expected - a combination of absolute rage and sheer disbelief. Despite having one of the most impressive squads in the tournament on paper, Joachim Löw's side simply haven't been able to live up to their high expectations, and will have a long four-year wait to atone for their shoddy performances in Russia.
Meanwhile, goalkeeper Manuel Neuer branded his side 'pathetic' after their early exit, claiming that his side's performance was not representative of what Germany are capable of. The Bayern Munich ace was at fault for the second goal, as he was caught charging up the field to pursue an equaliser, and allowed South Korea to score into his vacant goal.