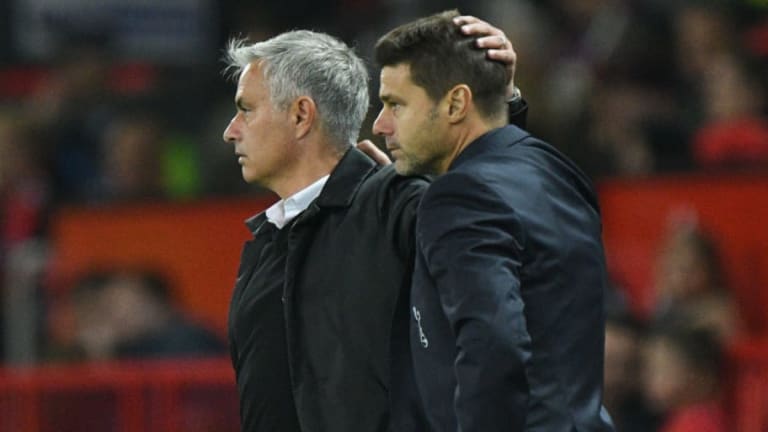 REVEALED: Premier League Fans Decide if Jose Mourinho or Mauricio Pochettino Has the Better Style
Premier League fans been voting for which manager they believe plays with the better style, Manchester United boss Jose Mourinho or Tottenham's Mauricio Pochettino, with supporters making their choice in an online poll for Virgin Media.
The voting was going on ahead of United and Spurs' meeting in the Premier League at Old Trafford on Monday night. But even before the 3-0 away win that has seemingly left Mourinho clinging to his job there was one very clear poll winner.
Of the 9,773 fans who cast votes, 86% chose Pochettino as playing with the better style.
That means just 14% opted for Mourinho, whose penchant for pragmatism has morphed into a reputation for being overly defensive or 'parking the bus' in recent seasons.
Mourinho's style has delivered countless trophies over the years, from eight league titles in four different countries, to numerous domestic cups and two Champions Leagues. He has even guided United to EFL Cup and Europa League success, as well as mounting the closest challenge to a runaway Manchester City to finish second in the Premier League last season.
But his magic touch seemed to be wearing off in the second half of last season, with negative and restrictive tactics finally outweighing the benefits of a pragmatic approach. And where fans see Pochettino as enabling the likes of Harry Kane, Dele Alli, Christian Eriksen and others, Mourinho is seen to be limiting talents like Paul Pogba, Alexis Sanchez and Anthony Martial.
United's defeat to Spurs was their second in the space of eight days, the second time they've conceded three goals and enough to sink them to 13th in the table. Spurs, on the other hand, have won three in a row at the start of 2018/19 and are only not top because of goal difference.
Pochettino is viewed as one of the brightest young coaches in Europe and many United fans might even have eyes on the Argentine should Mourinho leave Old Trafford in the near future.