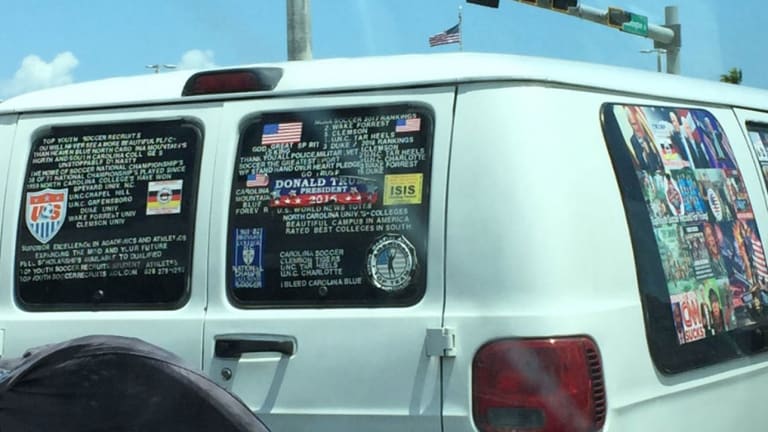 Alleged Mailbomber Cesar Sayoc Had Ties to the Soccer, Sports World
Alleged mailbomber Cesar Sayoc's van featured a host of political propaganda and soccer bumper stickers. So what was his connection to the sports world?
Alleged mailbomber Cesar Sayoc's van featured a host of political propaganda and soccer bumper stickers. So what was his connection to the sports world?
There is not much known yet about Cesar Sayoc, the alleged serial mail bomber who was charged Friday afternoon in connection with the explosive packages mailed to prominent Democrats and Trump critics. But the little public information available about Sayoc connects him to the sports world in unexpected ways.
Pictures of Sayoc's van that circulated around the web Friday morning depicted a number of bizarre references to the soccer world. One banner on the van's side mentioned "Top Youth Soccer Recruits for Trump" and appeared to feature a picture of a youth soccer team as well as pictures of a dozen unidentified soccer players in action. The rear windows of the van included a U.S. Soccer sticker and a testimonial to Carolinas schools, including Brevard, UNC-Chapel Hill, UNC-Greensboro, Duke, Wake Forest and Clemson, as well as where those schools ranked in the NCAA in the last two seasons.
Although the lettering is difficult to decipher, Sayoc's van also appeared to mention "excellence in academics and athletics," "Expanding the mind and your future," and "Full scholarships available to top youth soccer recruits student-athletes." Those words are followed by a phone number; when dialed, a voice answering machine referred to Top Youth Soccer Athletes, though it wasn't clear what role, if any, Sayoc played in recruitment for any school.
Sayoc's apparent connection to the soccer world stems from his own intercollegiate soccer career. He played first in 1980 at Brevard College in Brevard, N.C., which was then a junior college program. A photograph in the 1981 school yearbook shows Sayoc sitting in the front row in the team photo; another picture shows him kicking a ball in a game.
After leaving the school after the fall of 1981, according to a school spokesperson, Sayoc transferred to UNC-Charlotte. He played 11 games for the 1983 team. Bob Warming, the coach of that team, and currently the head coach at Nebraska-Omaha, did not remember much about Sayoc's presence. "He was a walk-on in 1983," Warming told SI. "He was on the team for about six or eight weeks. There were several guys that left the team for various reasons."
Marty Apple, who also played on the 1983 squad, hadn't yet heard the news of Sayoc's arrest when reached by phone Friday afternoon. He wasn't close with Sayoc, but what little he remembered left him with a strange feeling. "It's not a stretch to imagine that he'd be extreme in some manner," he said. "You're spending 20-30 hours with these guys a week, you form a really strong bond with most of these people, but he was not one of them. He was just one where I said I'm not really sure what thinks about the world."
SI attempted to reach other former teammates of Sayoc, who included prominent collegiate soccer coaches Ray Leone (women's head coach, Maryland) and Joe Bartlinski (women's head coach, West Florida), but none had responded as of Friday evening.
His soccer career is not his only connection to sports. According to Vice News, Sayoc was involved in MMA promotions a number of years ago. Also, a number of Sayoc's tweets about sports—which ran the gamut from anti-NFL to pro-Papa John's takes—surfaced on Deadspin late Friday. On that account, Sayoc made occasional reference to "real sports." That list included rodeo, MMA, rugby, hockey, and, naturally, soccer.