With 12th Slam, Bryan brothers embody beauty of tennis tandem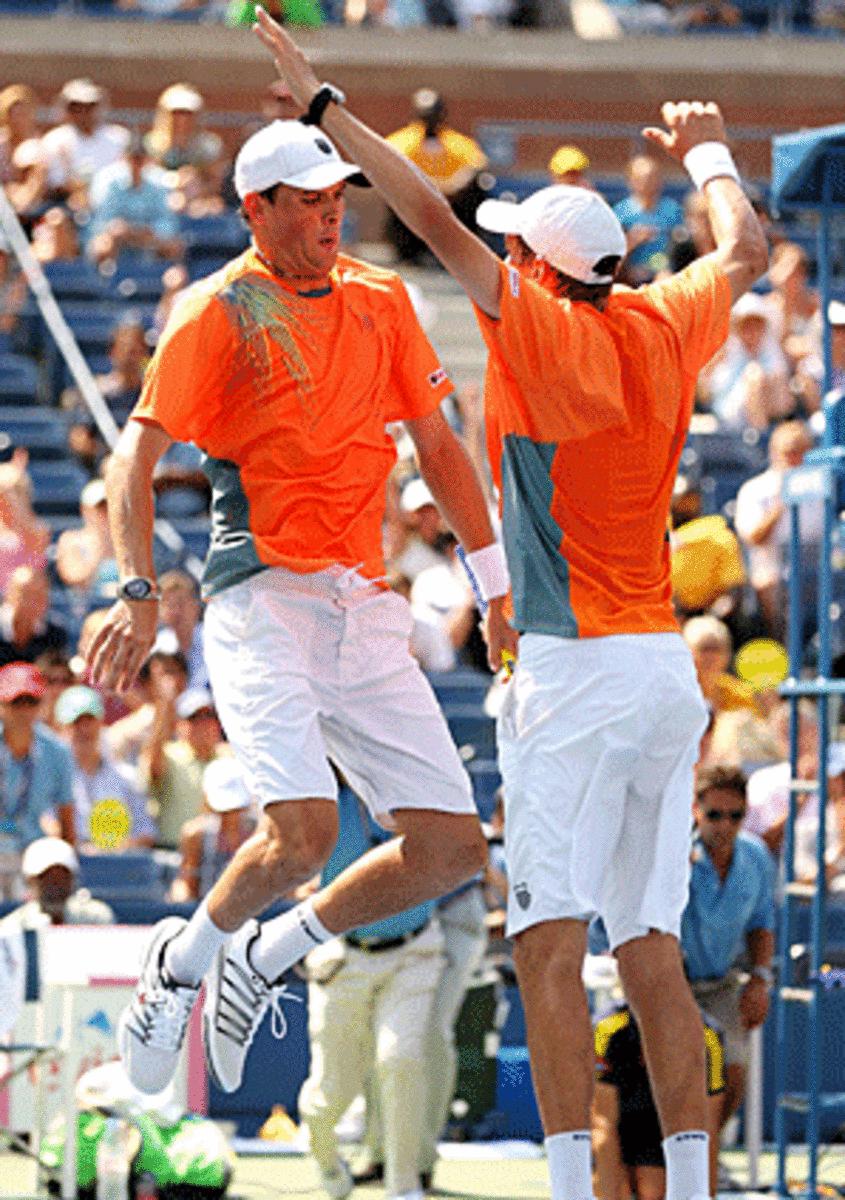 NEW YORK -- The post-match celebration might rank among the most casual in history. There was no dropping to the blue turf, no climbing into the players box, no quavering speech when Bob and Mike Bryan defeated the fifth-seeded Indo-Czech team of Leander Paes and Radek Stepanek 6-3, 6-4 at Arthur Ashe Stadium for their record 12th grand slam title. The twin brothers merely shared a jubilant chest bump and a handshake and leaned back on a decade's worth of muscle memory.
They heaped praise on Paes and Stepanek -- who, in this year's Australian Open final, thwarted what seemed their last best bid to break a tie with Australian doubles legends Mark Woodforde and Todd Woodbridge for the most grand slams doubles titles ever. The Bryans signed autographs on court. Out of a racket bag, they dug out their good luck charm, the Olympic doubles gold they won at the London Games, and flashed it to the cameras.
It was one of the few impulsive moments that the Bryans allowed themselves on this cloudless, 80-degree afternoon. The next came inside Ashe, in their post-match news conference, when Bob tossed the medal into the audience for reporters to pass around as a prop for their own photo ops. As a replacement, he was given another prize -- his seven-month-old daughter, Micaela, clad in a red-white-and-blue dress and earrings and ready for her close-up. He gathered her from the dais and tried setting her inside the oversized silver Tiffany bowl that he and her uncle just won, but she wouldn't stay put. So he set her back down in front of the bowl, and she banged on it like a steel drum.
There used to be something so captivating about a duo. There was a romance about two halves fusing into a great whole. Duos were more than exceptional; they were dynamic. Their symbiosis gave oxygen to the idea that the shortfalls of one could become the strengths of another. Their hive genius made us aspire to be yoked in ampersand -- like Lewis & Clark or Abbot & Costello or Rogers & Astaire. Their camaraderie seeded in us a longing for the honor and satisfaction that comes with true partnership.
The Bryans keep this legacy alive. The second-seeded team was barely 20 minutes past match point before they started looking ahead to a Davis Cup tie with Spain on September 14. "We're leaving [Saturday] night, going to get our clay court shoes on and hopefully help the U.S. out," Mike said. For them, there is only one direction -- forward -- and the urge to press on never tapers.
That urge is what has kept them a duo for so long on a circuit where partner-swapping is the norm. Stapanek has burned through 11 alone, Paes through 10. Paes's on-again, off-again relationship with countryman Mahesh Bhupathi ranks among the game's great tragedies. Together, they became the first doubles team since 1952 to reach the finals of all four Grand Slams and captured titles at the French Open and Wimbledon. Who knows what kind of nemesis they could have been to the Bryans if they had worked out their personal differences?
The Bryans have their combustible moments too -- "We're a little bit more violent with each other behind closed doors," Bob said -- but they have to stay together. The doubles game depends on them. Without the twins, people would care even less about that circuit, where apathy has been the prevailing sentiment for much of the decade-plus that they've been on tour. Singles is the main attraction now, with all of its bashing from the baseline. Doubles retains the grace and variety that was lost from singles and yet, somehow wound up -- in Woodforde's words -- "its ugly step-sister."
It wasn't always that way. Before the Bryans broke onto the scene, singles stars pulled doubles duty. "We had to play the Beckers and the Endbergs and the Wilanders and the Lendls -- and we loved it," Woodforde told me three years ago. But now, the only times the stars align are during the Olympics.
In the intervening years, the burden falls to the Bryans to carry the circuit. What's remarkable is that they've had strength in reserve to also put their country on their backs. Along with Serena and Venus Williams, who have won a combined 21 majors in singles and 13 more as a doubles team, the Bryans make mockery of the idea of a drought in American tennis.
The fact that they've been able to share the pressure has been key to their prosperity. Compare that to Andy Roddick, who had to handle the legacy of Sampras, Agassi et al alone and is excoriated for falling short. While Roddick abandons the chase for more majors, the Bryans -- who, at age 34, are four years older than the retiring American -- are arguably hitting their prime in on a league where the best teams are well into their 30s.
They hope to hang around until the 2016 Rio Games before ending a partnership that started as 2-year-olds, back in their native Camarillo, Calif. It's those 32 years together on court, of hitting "with the No. 1 player in the world every day of the year," Bob said -- not some magical twin ESP -- that is at the foundation of their success.
Loyalty is another cornerstone. They certainly had enough talent to pursue separate careers on the singles tour, and yet they knew they were better together than apart. The thinking runs counter to everything we are taught about American exceptionalism, where to be No. 1 is to stand at the top alone. Rare is the duo that grows old together.
Eventually, Batman leaves Robin, Bugs leaves Daffy. Serena stands apart from Venus, joining forces with her occasionally. For two players that are most beloved as a sister act, that's a shame. These days, the only duos that capture the imagination are rivals: Kobe versus LeBron, Peyton versus Brady, Federer versus Nadal. The ampersand is an antique.
The Bryan Brothers are the last of a dying breed. They fight together, they win together and they make it all seem so enchanting. They make you long for the days when there was no higher form of heroism than having someone's back.