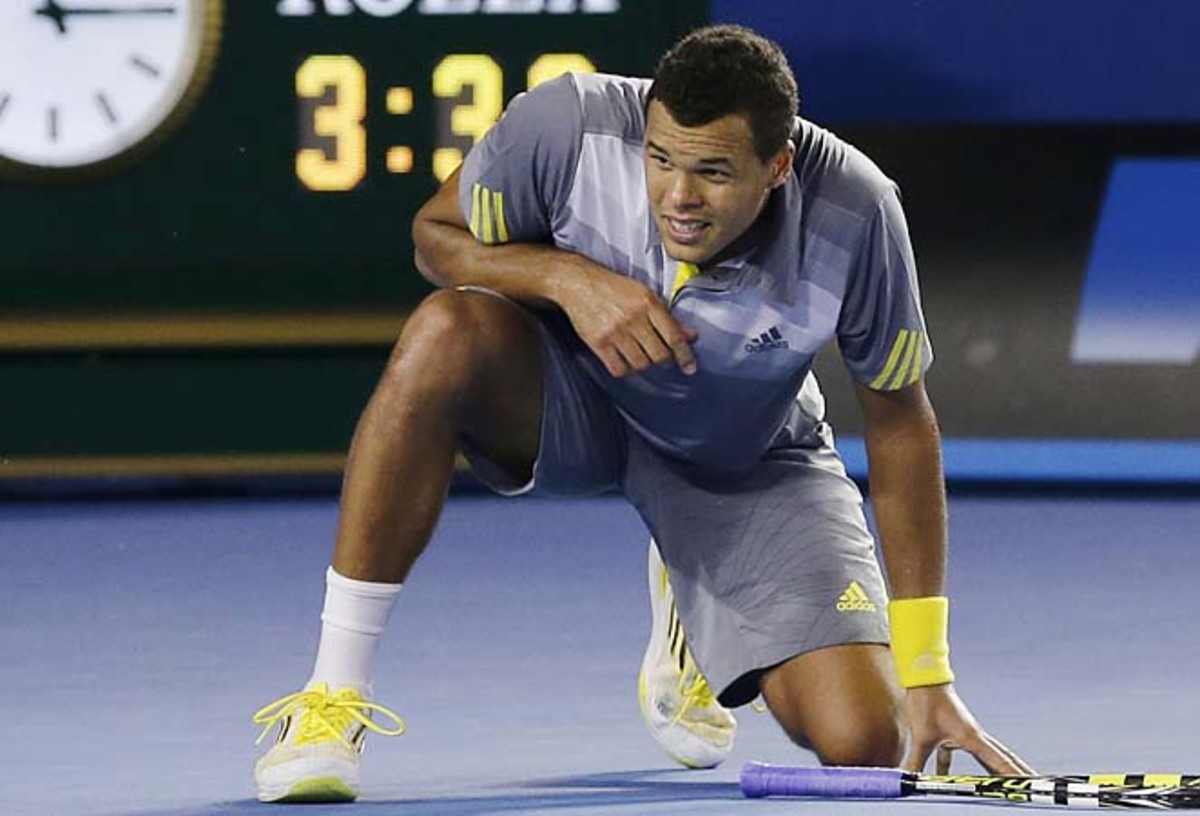 Five years have passed since Jo-Wilfried Tsonga made his dazzling run to the final of the Australian Open at the age of 22.
The flashy Frenchman hasn't been back to the final of a major since then.
Tsonga has a big game that can trouble the top players - he rallied from two sets down to beat Roger Federer at Wimbledon in 2011 - but he's struggled to beat them consistently. He was just 1-15 against the top 10 players last year, with his only win coming against Juan Martin del Potro in Rome.
The seventh-seeded Frenchman lost another tight match to a top player in the quarterfinals of the Australian Open, falling to No. 2 Federer 7-6 (4), 4-6, 7-6 (4), 3-6, 6-3.
When asked after the match why he feels it's so tough for him to beat the top players, a disappointed Tsonga was at a loss.
"To be honest, I have no idea. You know, if you have some advice for me, I will take it because I don't know. I don't know what is the difference,'' he said.
Tsonga might find success again with a new coach. After going more than a year without a coach, the Frenchman hired Roger Rasheed - the former coach of Gael Monfils and Lleyton Hewitt - a few months ago and said the impact has been immediate.
"He's giving me an extra motivation,'' Tsonga said. "It's great because he's always positive. He wants maybe more than me to win. He's incredible.''
Even if he never wins a major, Tsonga remains one of the most entertaining players on tour - both on and off the court.
In his news conference after the Federer match, he drew laughter when he shared his thoughts on the difference between the top male and female tennis players.
"You know, the girls, they are more unstable emotionally than us. I'm sure everybody will say it's true - even the girls,'' he said, jokingly. "I mean, it's just about hormones and all this stuff. We don't have all these bad things, so we are physically in a good shape every time.''
At one moment deep in the fifth set against Federer, Tsonga sprinted to hit a drop shot and, after hitting the ball, kept running around the net all the way to Federer's baseline.
He then turned and made a motion like he was going to hit Federer with a ball. The playful moment got a big laugh from the crowd - and even a little smile out of Federer.