Caroline Wozniacki, Maria Sharapova to face off in BNP final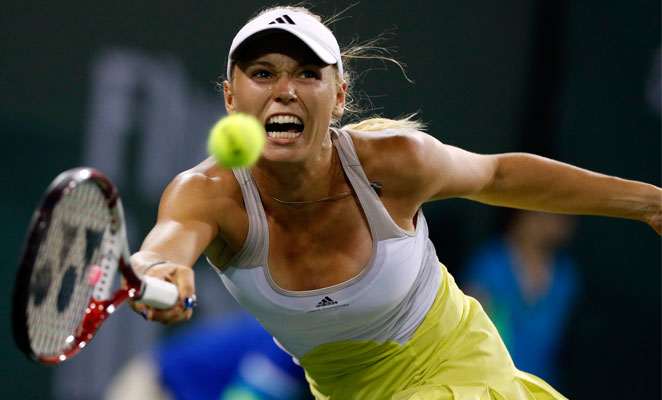 No. 8-seeded Caroline Wozniacki outlasted fourth-seeded Angelique Kerber 2-6, 6-4, 7-5 in a 2 1/2-hour semifinal that included 14 service breaks, seven of them in the final set, to reach the BNP Paribas Open final.
Wozniacki, the 2011 Indian Wells champion, will play Maria Sharapova, a 6-4, 6-3 winner over No. 13 Maria Kirilenko, in Sunday's final.
Sharapova (27) and Wozniacki (20) are third and fourth among active players for most titles won, trailing only Serena (47) and Venus Williams (44).
In the first women's semifinal, Wozniacki and Kerber resembled junior players at times as they exchanged countless moonballs. Kerber pulled a moonball wide to set up match point and then netted a forehand to end it, ending her three-match winning streak against Wozniacki.
"I missed a lot of these balls, and, yeah, maybe next time it will be better," Kerber said.
Wozniacki led 4-1 before her German opponent won four of the next five games to tie the third set at 5-all. Wozniacki held at love and Kerber won just one point on her serve in the final game.
"I feel like I have been running and grinding and playing really well this week. I have reached a lot of balls and felt comfortable," the Danish former world No. 1 said.
"I really enjoy going to the net. I missed a few volleys today, but it's definitely something I have been working on and something I feel more and more comfortable with."
Sharapova earned the only two service breaks of the second set, winning the match with a forehand down the line.
"I made the first set more difficult than I had to," she said. "I stepped it up in the second set."
The 2006 Indian Wells champion hasn't lost a set in five matches so far. By reaching the final, she will move from No. 3 in the world to No. 2, overtaking Victoria Azarenka when the WTA Tour rankings come out Monday.
"It's nice," she said. "Better than No. 3, right?"
Kirilenko is projected to rise to No. 13 - one spot from her career high of 12th - after losing the biggest semifinal of her career.