U.S. teen fulfilling lifelong dream by playing in U.S. Open main draw
Noah Rubin is hunched over a few feet beyond the baseline, clutching his racket and swaying back and forth. Across the court, Rubin's opponent, Collin Altamirano, dabs his face with a towel before grabbing a ball, bouncing it repeatedly on his way to the baseline, ready to serve. This point could be one of the most significant in Rubin's life: Winning this point will send the 18-year-old to the main draw of the 2014 U.S. Open.
U.S. Open men's preview | Women's preview | Draw winners and losers
Rubin and Altamirano are the finalists at the 2014 USTA National Boys' 18 Championship, played annually in Kalamazoo, Mich. At stake is a wild card to the U.S. Open main draw, the final Grand Slam on the tennis calendar, which is hosted in Rubin's backyard. Rubin, who hails from Rockville Centre, N.Y. -- a Long Island town of less than 30,000 -- grew up dreaming of playing floodlit matches at Arthur Ashe Stadium, only a half-hour drive from Rubin's hometown without traffic. But if the U.S. Open were to become reality, Rubin would have to overcome Altamirano, who won at Kalamazoo in 2013 and earned that coveted wild card.
Entering the match, Rubin's confidence in his game was high. On the way to the singles final, Rubin had topped No. 6-seed Francis Tiafoe and No. 7 Michael Mmoh, two of America's most promising youth players. And the previous day, Rubin had won the boys' national doubles title with Stefan Kozlov, and the two earned a wild card berth into the U.S. Open main draw for men's doubles.
After taking the first two sets 6-4, 6-4 against Altamirano, Rubin put himself in his opponent's shoes and envisioned the Herculean effort it would take for Altamirano to win. The Kalamazoo final is unusual for junior tournaments, as the two competitors play best of five sets, rather than the usual best of three. And by the third set, Altamirano had become noticeably rattled. His unforced errors were mounting. Shots that looked like surefire winners turned into errors, and frustration set in.
Altamirano had just smashed a serve deep in the box on the previous point, but Rubin's backhand return sailed deep. Already down two sets to love, Altamirano was now backed in a corner, losing five games to three, 15-40. Unforced errors were mounting for the defending champion, who had double-faulted two straight points prior to Rubin's backhand miss. It was championship point No. 2 for Rubin -- if he won this, Rubin would deny Altamirano a repeat title and earn his first trip to Flushing Meadows for the U.S. Open's main draw.
This wasn't the first big match point of Rubin's career, or perhaps even this summer. In July, Rubin won the Wimbledon junior tournament, defeating Kozlov, his doubles partner at the USTA championships, 6-4, 4-6, 6-3. Winning Wimbledon is one of the highest achievements for a junior player. But following up a victory at the All-England Club with a triumph in Kalamazoo is truly rare: Against Altamirano, Rubin was attempting to become the first player to win both tournaments in the same summer since Van Winitsky in 1977.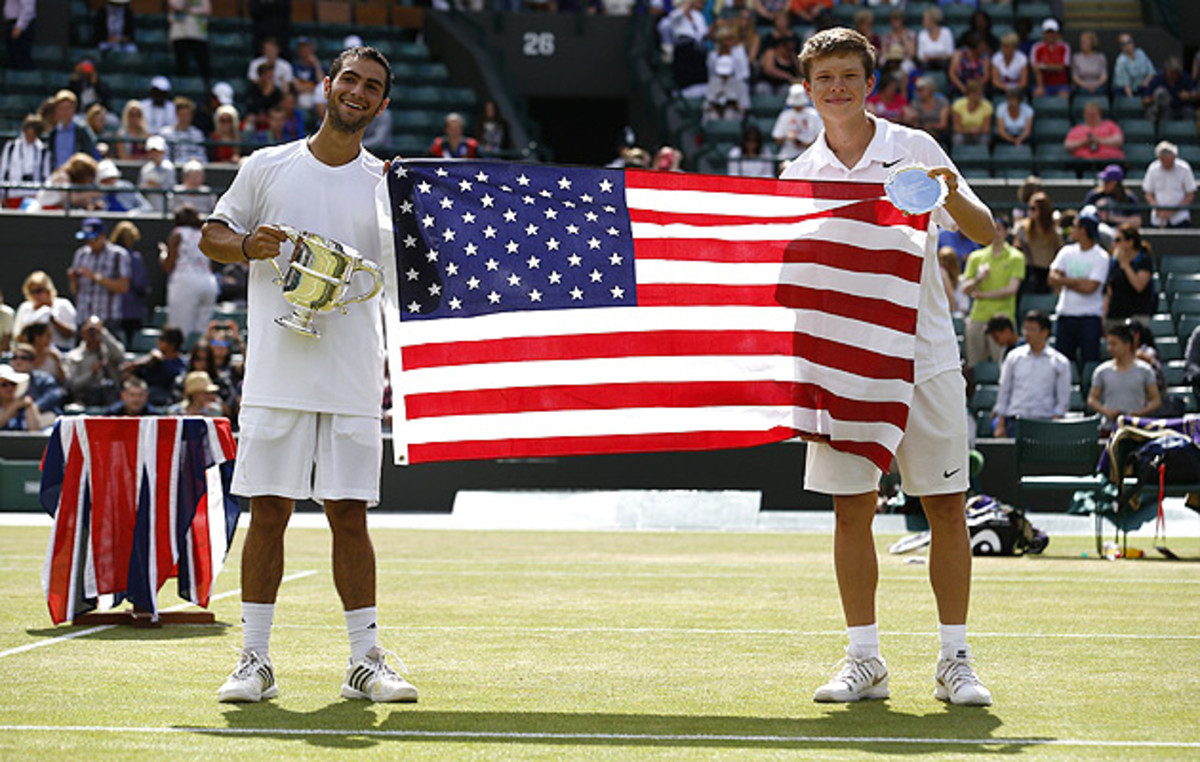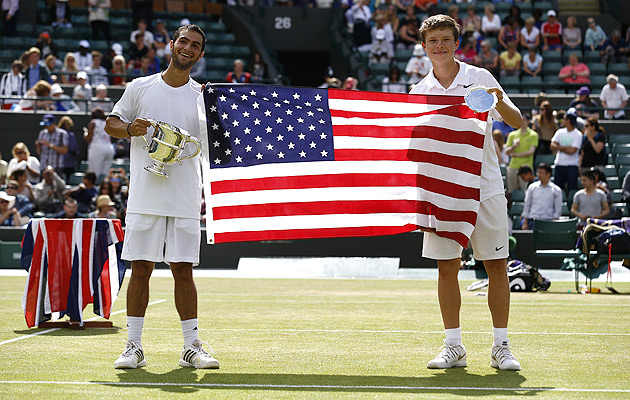 ​
*****
After reaching the baseline, Altamirano sets his feet and lofts the ball into the Michigan sky without much hesitation. He launches his racket forward, attempting to again overpower Rubin with his serve. But Altamirano's attempt goes wide, and he steps back to the center mark for his second serve.
Despite the high stakes of the match, Rubin's composure remained unperturbed. Lawrence Kleger, who coaches Rubin alongside the 18-year-old's father, has preached the importance of mental fortitude since he first worked with the boy as a seven-year-old. Many great players, from Bjorn Borg to Roger Federer, were hampered in their youth by their temperaments, and students in Kleger's program at the John McEnroe Tennis Academy on Randall's Island in New York City are prohibited from cursing or slamming their racket.
"Being mentally tough can be a real weapon," Kleger says. "If you're maintaining your composure, that's kind of intimidating."
Rubin considers his mental strength his greatest asset. Kleger recalls that once, when Rubin was entering his teenage years, the junior received a point penalty during a local tournament for hitting a curtain with his racket to dislodge a ball. During Rubin's next practice with Kleger, a standard warm-up agility session seemed to be dragging on longer than usual. At the 40-minute mark, Rubin asked Kleger whether he had done anything to upset his coach.
"You got a point penalty," Kleger replied. "If you tell me that's not going to happen again, we can stop."
Rubin's eyes opened wide. "Yeah, that's not going to happen again," he said.
Even when a match is going poorly, Rubin stays calm. If he feels his mental control slipping, he cycles through a mental playlist of music to alleviate his frustration. During matches, the music in Rubin's head keeps his emotions steady and to help him focus on his match.
WERTHEIM: Insider advice and tips for spectators attending the U.S. Open
*****
Rubin, bobbing toward the baseline as Altamirano tosses his second serve, allows the serve to rise before whipping a backhand down the center. Altamirano counters with a crosscourt backhand, but Rubin shuffles toward the alley and strikes another backhand.
Rubin's father, Eric, nurtured his son to be a tennis player. When Noah was just a few months old, his father dangled a tennis ball using an elastic band from an archway in the family's home. Noah would hit the ball with a little racket, hitting the ball back and forth with his dad long before he could form coherent phrases. Eric, who was taught to love tennis by his own father, wasn't trying to make Noah into the next Pete Sampras. He simply enjoyed playing tennis -- as well as other sports, like soccer -- with his son.
"Tennis parents are crazy," he says. "But I was just playing with my son and having fun."
Tennis became the defining aspect of their relationship. Though Eric wasn't trying to mold his son into a tennis prodigy, he noticed Noah's athleticism from an early age. Eric recalls his son's incredible hand-eye coordination. Even as a one-year-old, Noah made shot after shot on the Nerf basketball hoop at the Rubin's house. But while Eric recognized Noah's general athleticism, his tennis ability stood out from an early age. By time Noah was four, he was able to sustain slow-paced rallies with his father on the tennis court.
For Eric, the stakes of the match hold extra significance. Eric was raised in Queens and spent almost 10 years working as a ball boy at the U.S. Open. From his position on the court, he watched the likes of Bjorn Borg, John McEnroe and Jimmy Connors at Forest Hills and then Flushing, where the tournament relocated in 1978.
He brought his son to watch the U.S. Open throughout his childhood, allowing the top junior player to watch the professionals he admires most, like David Ferrer and Lleyton Hewitt. At 5-foot-9, the younger Rubin is the same height as Ferrer, and he appreciates the Spaniard's fight and resilience against physically imposing opponents. Rubin admires Hewitt's competitive spirit and quickness, another one of the junior player's best assets on the court. He's also in awe of Roger Federer.
"There is an aura that comes off this guy that cannot be matched, in my personal view, to anybody else. Being around him, it's just different," Rubin says. "He's the most elegant human being on earth."
As Rubin's singles match unfolds, Eric, who is sitting separate from Kleger at the Kalamazoo final -- Kleger chose a specific seat two courts away based on superstition from Noah's preceding victories -- is both coach and father. He's mostly coach throughout the match, arms folded in front of him, analyzing the tennis in front of him. But he's also Noah's father, and sometimes -- usually after the match, like the Wimbledon final -- he is emotionally overwhelmed by his pride.
*****
After powering his backhand crosscourt, Rubin stays to the left, anticipating another crosscourt shot. But Altamirano powers a backhand down the line, and Rubin bounds after the ball, pouncing on it with his forehand, which he directs down the middle. Rubin defends Altamirano's attack by hitting the ball deep, giving himself more time to recover and increasing pressure on his opponent. Altamirano easily deals with Rubin's forehand return down the middle, sending Rubin to retrieve a backhand again. Rubin hits the backhand deep crosscourt, and just like before Altamirano crushes a backhand down the line, sending Rubin sprinting toward the alley.
Rubin tries to never get caught up in the moment, and he says he very rarely feels pressure. Even when he does feel the weight of a big match, like the Wimbledon final or the USTA national championships, he reminds himself that it's just another tennis match, and nothing should be different. At Wimbledon, when Rubin walked onto Court No. 1, he gave himself "0.2 seconds" to take in the atmosphere. But even when he's nervous, he brushes aside his nerves by remembering his father's philosophy toward tennis.
"You just play," Rubin says, echoing his father's penchant for fun and positivity on the court. "You go out and have fun and enjoy yourself."
Rubin's composure, so important to his play on the court, is also part of his identity off the court. He speaks thoughtfully and meticulously, his Long Island accent distinctly audible. He compliments his opponents and his coaches. Even his Twitter feed -- typically a wild card for a teenager brushing up with fame -- is relatively measured, with inspirational lines mixed with well-wishes for opponents, banter with top American tennis players, retweets in support of Israel and photos from his travels.
Recently, Rubin had to decide whether to attend college or become a full-time professional tennis player. He mulled his decision extensively, knowing that he wanted to become a professional but not sure whether he was willing to delay at least a year. Ultimately, Rubin calculated that players today are peaking later in their careers and that his game could use some work before taking on the ATP. Just days after winning the Wimbledon junior title, Rubin committed to playing at Wake Forest University.
Wake Forest men's tennis coach Tony Bresky praises Rubin's game and character, but says he's confident the Long Island native made the right decision.
"You can turn pro and once you do that you can never go back to college," Bresky says. "You can always go to college and if you aren't happy you don't have to come back. For most kids, it's a no-brainer to give it a try."
While Wake Forest will give him the chance to further develop his game, Rubin will ultimately be judged for his professional career, particularly because America's standing in men's tennis has declined so much in recent years. Despite U.S. success in junior competition and promising play from a few Americans on the ATP, Rubin is well aware of America's decline on the highest level.
"We're almost desperate at this point for an American player," he says. "Being No. 15 in the world [top American male John Isner's current ranking] is by no means is bad. It's an unbelievable accomplishment. But it's not where it used to be."
Rubin credits the USTA for helping him a lot throughout his career, but he also says the organization's youth program is holding back America's tennis potential. He disagrees with the USTA's philosophy of bringing players to a central training facility, rather than allowing players to work with their own coaches.
Rubin, having grown up under the tutelage of his father and Kleger, doesn't believe centralized training is personalized enough. Though he is in favor of traveling with his compatriots, he believes the USTA will have to change its philosophy for American tennis to reclaim its past glory.
"USTA wants to have this central facility where everybody trains. It's a good idea, but it's the wrong mentality of what needs to be done," he says. "They're trying their best to get everybody into one program, and it just hasn't worked in the past."
An American hasn't won the U.S. Open since 2003, when Andy Roddick lifted the trophy. Roddick is also the last American male to win a Grand Slam title, which came just before the start of Federer's dominance. Whether Rubin will help lead a new American golden age of tennis remains to be seen, but he is certainly one of several promising junior players.
*****
On the cusp of qualifying for the U.S. Open's main draw, Rubin is dashing toward the alley. He pelts a forehand, which whizzes well over the net, but Altamirano rockets a crosscourt forehand to the corner in return. Rubin is forced to lunge for the ball, managing to block it back over the net, the ball barely staying in play along the baseline. Altamirano counters with a forehand. Rubin sends a forehand down the line, forcing a one-handed slice backhand crosscourt from Altamirano. Taking advantage of the extra time afforded by the slice, Rubin runs around his backhand, planting himself before stroking a crisp forehand to the right corner of the court. Altamirano's backhand sails deep and wide.
Rubin cocks his head back, standing several feet behind the baseline. He looks at his father for a moment. Initially, he thinks about the immense achievement of winning Kalamazoo, one of the most significant tournaments for an American junior.
Then, it dawns on him. Rubin, who drove past the U.S. Open facility every time he traveled to Randall's Island for practice -- several times a week for more than ten years -- would be playing in the Grand Slam's main draw.
Looking at his son, Eric is in awe. He marvels that Noah was able to stay so focused after Wimbledon and win both the doubles and singles titles at Kalamazoo. But he also knows it's a dream come true for both him and his son. Besides his own days as a ball boy, he remembers pushing Noah in a stroller at the U.S. Open. He recalls fond memories of he, Noah and Noah's grandfather, now 81, volunteering at the annual Arthur Ashe Kids' Day, something Noah's grandfather still does. Noah will join names like Bjorn Borg and Jimmy Connors on the list of players Eric has watched in-person in the U.S. Open main draw.
The younger Rubin's confidence is high heading into the U.S. Open. He's realistic about his chances against the best players, but he and his team believe he has a real chance to be competitive. In the first round of the U.S. Open, Rubin faces Federico Delbonis of Argentina, who lost in the first round at Wimbledon, and has gone 3-4 in the tournaments since. Kleger knows Rubin's dream is to play Arthur Ashe at night, and that he'd readily trade an easier opponent for the chance to play on the big stage. Rubin's father feels the same way.
"I think I can take out a lot of those guys," Rubin says. "The top ten or top twenty would definitely be a struggle, but I feel like my ground game can definitely compete with the best."
If Rubin's dream of playing a night match at Arthur Ashe becomes reality, he'll take a moment to look around and soak in the U.S. Open's unique energy. He'll take in the crowd and the raucous atmosphere for which the tournament is known. He'll see Lawrence Kleger, unless superstition dictates that he should sit elsewhere. He'll look at his father, who has been with him every step of the way, preaching the importance of enjoying himself on the court.
He'll only allow himself a moment. When the tennis starts, the fun begins.