A belly and a bat: The last ride of the slightly unbelievable David Ortiz
As David Ortiz prepares for his final season, we get one last chance to enjoy his irreverent, excellent, slightly unbelievable career.
Let's start with the belly, because few great athletes have bellies anymore. 
David Ortiz has always been mildly to moderately overweight. He has bridge-sized shoulders and hips like a redwood, the kind of frame that makes true slenderness impossible, and he has used that frame as a canvas. In the way a canvas, streaked with blues and reds and greens, in shapes evocative of faces or phenomena, communicates something specific even if it can't be put into words, Ortiz's belly — a magnificent dollop of fat in the middle of his giant body — communicates that he is a man about having a good time.
You see the way it protrudes as he leans back to admire a moonshot he has put into Fenway's 64th row, and can imagine him holding court late into an off-season night at some blessed hole-in-the-wall in Santo Domingo, ordering another round of chimichurris and beers for friends holding their stomachs in half-gleeful, half-weary no más! pantomime. The belly, which wobbles slightly as Ortiz rounds the bases and smushes up against the teammate he hugs at home plate, is an emblem of serious unseriousness. It stands in for what a delightful goofball who goes by Big Papi has always stood in for: a commitment to fun.
The broad, obvious ridiculousness of sports is simultaneously obfuscated and enhanced by the faux solemnity and empty pomp in which they often are cloaked. Field-length American flags and servicemen as sideline props, flinty studio analysts bellowing themselves hoarse about unwritten rules and integrity, rage-case athletes who seem to occasionally forget altogether that they dress up in colorful outfits and chase a ball around for a living.
In this overheated world, David Ortiz has functioned as a perspective-resetting figure. You don't ascend to the summit of your profession without an abiding commitment to craft, but Papi has treated that craft with all the reverence it deserves. He hits baseballs for a living. It's a thrilling thing, but it's not so important. When Ortiz and Manny Ramirez were at the peak of their powers, they were notable for their jokey dispositions as much as their astronomical slash lines. They worked hard, but didn't seem like they did. They bobbed atop the monotony of their arduous jobs like chuckling buoys.
Of course, Papi has produced not just fond smiles, but also chest-rupturing joy. It was his 12th inning home run that won the Red Sox their first game of the 2004 ALCS, and his bloop single the following night that sent the series back to New York. Between 2003 and 2007, he accrued 19 walk-off hits. Of his 503 career home runs, 11 have been game-ending. 
For more than a decade, there has been no richer drama in baseball than watching Ortiz in the batter's box, in that indelible semi-slouch, wound up like a gap-toothed spring, with the Sox down by a run or two in the ninth inning. It's not that he has delivered in these moments with inhuman frequency — surely, the memory omits many tame groundouts to the second baseman — but he has delivered often enough to make us believe he can do it every time. He's a player who makes the improbable seem likely.
Papi is 40 now, what should be an ancient age for a tall, portly man who has suffered through an assortment of injuries. Ortiz has been on the verge of bottoming out since the 2008 season, when his wrist started bothering him and his swing slowed considerably. He was 32 then, and shook off a thoroughly lousy March and April to hit .291 with a .953 OPS and 18 home runs the rest of the way. Then Ortiz fell off, by most contemporary accounts, for good in 2009, when he started lunging to catch up to fastballs and posted numbers reminiscent of his anonymous Twins days. It made sense at the time: Papi was just another lumbering slugger aging poorly.
Ortiz's regular season totals since the beginning of 2010, when he dropped a few pounds and showed up to spring training angry, claiming the murmurs about his demise were nothing more than gossip: 186 homers, 204 doubles, and a .931 OPS. In the 2013 World Series, he slugged 1.188 over six games on a now-permanently-sore Achilles, and took home an MVP. Rather than raging against the dying of the light, Papi turned himself incandescent.
All of this — Ortiz's sense of humor, his flair for the late-game spectacular, the fact that he's a tubby teddy bear still chugging along years after he was supposed to slink unceremoniously into retirement — lends Papi a magical quality. He's near-universally beloved, and because of that the idealized version of him exists in the mind purely, with no mainstream counterpoint to undermine it. This is unusual, given that we live in era where ballplayers are torn down as much as they're godded up. In the popular imagination, Mickey Mantle is a marvel and a depressive alcoholic. Michael Jordan is an indomitable champion and an all-world jerk. Papi, on the other hand, remains unblemished.
Rare SI Photos of David Ortiz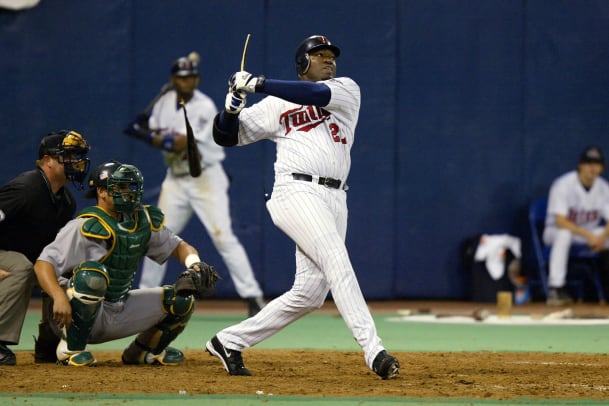 Except for that appearance, in a 2009 New York Times story, on a list of major league players who had flunked a drug test in 2003. Ortiz, following the standard protocol, denied any steroid use and said the positive was due to an abundance of vitamins and supplements he was taking at the time. That's about as much information as we have about Ortiz's possible transgression, and likely as much as we're ever going to get. It's scant evidence, but other athletes have been tarred as drug cheats on less. And it's not like Papi doesn't fit the profile of a product of PEDs: a burly power hitter with a suspiciously long career who signed with the Red Sox as a middling first baseman at 27 and suddenly turned into Frank Thomas.
What's remarkable is how, heading into what he announced on Wednesday will be his final season, Ortiz has more or less obliterated any whispers about syringes and testosterone creams. He exists simply, as all of the good things he has done, all of the happy thoughts we have had about him. The myth of Papi doesn't have any dark edges.
This is willful sports fan naïveté at work, but it is also the splendid totality of Ortiz's career. There's a rare, easy ebullience to the way he plays, a mountain of clutch hits to celebrate, a mid-30s renaissance that is only just now drawing to a close. There's that mall Santa belly. Once in a while, a special player charms our cynicism to death. We shunt his foibles to one side because he is too enjoyable not to enjoy. Big Papi is such a player. As he travels the country on a protracted farewell tour next year, he will be treated as a real-life folk hero. All the kind things said about him will be true, and positive vibes will abound, just as they always have in David Ortiz's wake.