What's next for the Catholic 7 and the Big East?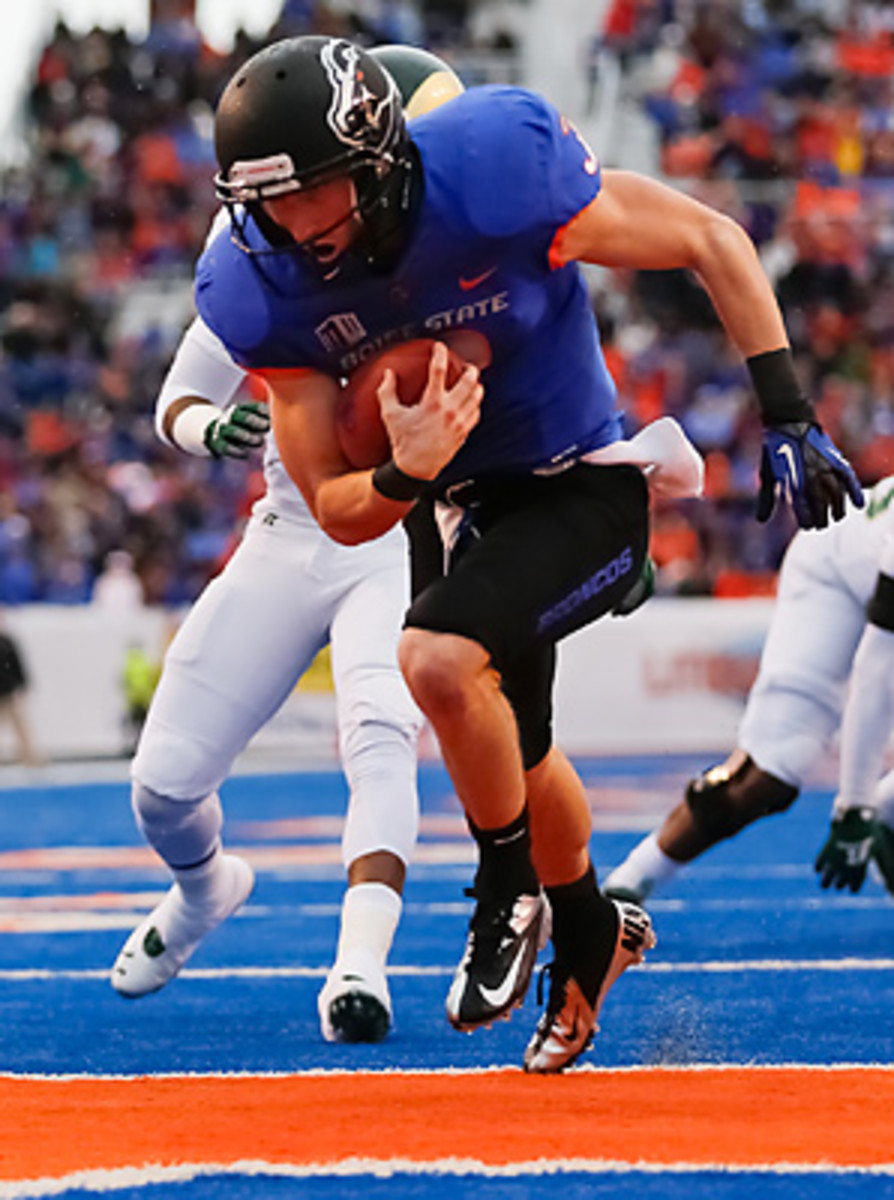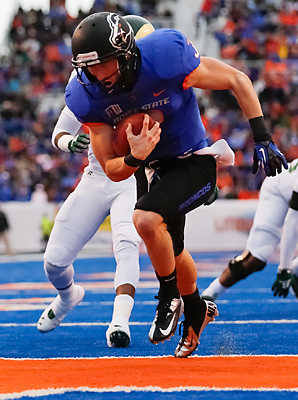 Less than a week after the so-called Catholic 7 broke away from the Big East, both leagues are beginning to shape themselves going forward.
In the spin cycle of conference realignment, every movement raises more questions. Here's a look at what's the next step for both the Catholic 7 and the Big East.
What's next for Boise State?
Boise State athletic officials and President Bob Kustra have been huddled in Las Vegas the past few days discussing the school's conference future. (Boise plays in the MAACO Bowl against Washington on Saturday.) Mountain West Commissioner Craig Thompson has been there most of the week as well.
Three sources told SI.com this week Boise pulling out of the Big East -- where it's slated to start play next year -- and returning to the Mountain West appears inevitable.
"Its not a matter of if, but when," said a source with direct knowledge of Boise's thought process. "I would be shocked if it didn't happen."
As with all things in realignment, there are numerous complicating factors, the most prominent here being exit-fee complications and Boise being already set on the Big East football schedule for 2013.
The timing is not as important now as the feeling, shared by athletic officials and television executives, that Boise's time with the Big East will end soon.
Much of the appeal of Boise going to the Big East has disappeared. The Mountain West has the same access to the BCS, the potential TV money from the Big East is uncertain and the once-coveted East Coast exposure has dissipated.
The Mountain West's current television situation is complicated, but there's a chance with the return of Boise (and likely San Diego State with them), that Mountain West teams could receive more than the current $1.0 to $1.5 million per school payout. (One of the frustrations with the Big East now is that they can't deliver any projected revenue figures.)
UNLV and Fresno State have been contacted unofficially by the Big East and had very general conversations. But right now, especially with Boise poised to come back, the likelihood of them jumping would be considered slim.
One final thing to keep in mind: The Mountain West is on the offensive a bit here. It has reached out to at least one non-Western Big East school. They're clearly being aggressive.
What's next for the Big East?
There's some empathy for new Big East Commissioner Mike Aresco, who walked into a bad situation. And he did so with no experience as a collegiate administrator, making an already difficult position virtually impossible.
At the same time, his lack of communication with schools has frustrated some members. Specifically, Aresco has done a poor job communicating about money issues, be it potential television money or the amount of money schools should expect from exit fees.
Aresco was brought in to execute a television deal to secure the league's future. And in an environment where schools' futures and decisions are based on potential television revenue, Aresco hasn't been able to deliver information consistently.
Aresco's biggest blunder was moving too fast on adding Tulane, which alienated the Catholic school athletic directors. Aresco went through the league's presidents, who found Tulane an attractive option because it's an elite academic school. The lack of conversations with athletic directors hurt Aresco's credibility and exposed his inexperience with dealing with the complicated political dynamics of conferences. The addition of Tulane helped kickstart the basketball movement, with the irony being that the basketball crowd in the Big East pushed for Aresco's hire. The question is whether Aresco can recover and salvage a more eastern-based league in some form.
The problem with the leftover teams in the Big East is that two of the would-be linchpin schools -- Cincinnati and UConn -- are shooting off signal flares that they want to join other leagues. How do you base a league around schools that don't really want to be there?
What's the next big realignment move?
What is hurting the future of the Big East the most is that no one in college sports expects the environment to be stable very long. There are three major leagues -- SEC, ACC and Big Ten -- sitting at 14 teams. The Pac-12 has 12 and the Big 12 is at 10.
All of the schools at 14 are peering suspiciously at each other, calculating who will make the next move. The most likely candidate is Jim Delany of the Big Ten, who just made a blatant television market play by grabbing Rutgers and Maryland.
Where would he go? Some suggest making a run at Vanderbilt to tweak his chief rival, Mike Slive. Others say that the ACC would be the target again. North Carolina is the league's best brand and happens to be Delany's alma mater. They'd certainly be high on his wish list. Georgia Tech would be attractive because of the window in the Atlanta television market. From there? Maybe Virginia? Could Carolina and Duke go as a package?
The move that would prompt total chaos would be any movement by the Big 12 to expand. They'd have to grow in a hurry to catch up with everyone else, potentially sending an already volatile environment into panic.
Don't expect much movement until the courts decide how much of the $50 million exit fee Maryland has to pay. That decision will likely dictate when and what happens next.
How does this impact the Big East? Obviously schools like Cincinnati and UConn are waiting for dominoes to fall, opening up a slot for them in the ACC. And their limbo undermines the league's power to get a deal completed.
How big will the Catholic 7 league become?
The most pressing question in the future of the Catholic 7 is how the league will shape up. Initially there was a debate about whether the league would go to 10 or 12 schools.
As of now, the answer is 12. Why? A favorite new buzz word of the realignment era -- inventory. If there are 12 teams, there will be 20-percent more conference games. That means 18 extra league games available, and that's quite a bit of content for programming-starved networks. (The total inventory will be much greater.)
The coaches, who have virtually no say in realignment, would prefer a 10-team league with a double round-robin. But inventory rules, so look for the league to go to 12 teams.
Who will be added?
The teams that will definitely be added to the mix are Xavier and Butler. Creighton and Dayton are the next two on the list, and should be considered near definite. (Dayton's biggest issue would be opposition from Xavier.)
That makes 11. From there, Saint Louis is a favorite for spot No. 12.
What makes the Billikens a strong candidate is their market, but it's important to remember that in this strain of realignment, markets shouldn't make a huge difference. Markets are critical for, say, the Big Ten, which has its own television channel, or the SEC, which is plotting one. The Catholic 7 have zero chance at having their own television channel. So they need programs like Dayton and Creighton with big arenas, rabid fan bases and winning traditions more than they do teams in big cities that command little attention.
Who else is in the running for slot No. 12? VCU has been bandied about, but they are neither private nor religious. They are light years ahead of Saint Louis as a program in terms of recent success and facilities infrastructure. VCU has proven through Jeff Capel, Anthony Grant and Shaka Smart that they are built to last.
Davidson is a sleeper option, as it's private but lacks a religious affiliation. Saint Joseph's could get a look, but they are unlikely because Villanova threw a fit when the Big East took Temple.
Where will we see the games?
A week ago, the feeling among the schools was that they'd be happy with $2 million per year from television. Multiple sources have indicated the $3 million per school figure is looking like a more accurate number. Who will pony up?
The lead suitor right now is Fox, which is starting its own national sports cable network that's expected to be on the air this fall. The glut of inventory means that it will inevitably be split between multiple networks, but Fox has been most aggressive so far.
There would be some symmetry to Fox using Catholic 7 basketball as a bedrock of its newly founded sports network. Some other upstart cable television network did that with Big East basketball in the late 1970s and early 1980s. It seemed to be a pretty good formula for ESPN.
The other leading candidate would be NBC/Comcast, which made a huge bid for the Pac-12 that ultimately ended up forging an unlikely alliance between Fox and ESPN. NBC/Comcast is certainly interested, as they been a persistent factor in the race for Big East programming before things began to fall apart in that league.
Could Fox buy it all and sell some off to other places? That seems feasible. Could there be a multi-network deal? That's highly possible as well.
What would surprise people is that ESPN's fingerprints were nowhere to be found on this Catholic 7 breakaway. The chances of them bidding for it -- especially with the potential eye-popping price tag -- are minimal. Could ESPN end up with some inventory? Sure. It could end up with a share if the Catholic 7 want to maintain a tie to ESPN. (There's certainly some nostalgia from ESPN for Villanova, St. John's and Georgetown). But for now, the chances of ESPN as the primary carrier of this league are slim. They're already overloaded with regular-season basketball that gets minimal ratings. Why overpay for more?
When will this happen?
This is the most asked question in college sports right now because it impacts so many different schools' schedules. The Catholic 7 league is expected to be playing by 2014-15. But there's a chance that it could happen next year. How good of a chance? Estimates from sources range from a 15-percent chance to a 35-percent chance. But no one really knows.
There are a dizzying amount of factors in play here -- the Catholic 7 doesn't have a name, commissioner, television deal or even know who will be in it. There is a lucrative postseason tournament to figure out and inevitable issues over exit fees and NCAA unit distribution.
It would be a mad scramble to get things off the ground in the fall, considering that soccer practice (yes, all the other sports will be coming, too) starts in about seven months.
But the one factor that can't be ignored is that the Big East's basketball contract ends at the end of this season. It would be awkward to start a deal with a league for one year when it will look radically different the next.
Also, the Catholic 7 have got this far. What happens when the television pressure -- say, to fill dead air on a newly formed sports network? -- heats up.