With the Global Squad, international prospects search for scholarships
POTTSTOWN, Pa. -- Had the Alexander boys stayed in China, they're certain of what would have happened: American college coaches would not have noticed them. The Alexanders were expat basketball players. Their father, Stephen, held executive jobs for (among others) Nestle and Hershey in Taiwan, Beijing and Hong Kong, and his three boys -- John, Jeremy and Joe -- grew up in Asia. They starred on teams at the International School of Beijing and aimed to play college ball in the U.S., but realized that coaches weren't making recruiting trips to China.
They felt the only way to get recruited was to move to Maryland, where their mother lived, for their final years of high school. The older two boys, John and Jeremy, landed roster spots at Division III Washington College, and played there in the early 2000s. Joe, the best of the brothers, had to do a prep year at Hargrave Military Academy to get noticed by West Virginia, where he went from an unknown to a breakout junior, to the No. 8 pick in the 2008 NBA draft. Never mind that Joe was a bust in the NBA; his leap from total obscurity to the pros was one of the better draft stories of the past decade.
After John Alexander's college career was over, he worked as a basketball skills trainer in Maryland, and he thought about the limited recruiting avenues for international players. "There were a lot of kids who were good enough to play in college, but didn't have the opportunity to move [stateside] like we did," he said. He hatched the idea for a month-long summer camp in the U.S. in which international students could get skills training, face American competition and -- most importantly -- form teams to play in big AAU-circuit events in front of college coaches.
In early July, after spending time at the Reebok Classic Breakout in Philadelphia, where scores of well-known recruits were playing in front of coaching staffs from national-title contending teams, I drove 45 minutes from Philly to the Hill School in Pottstown, Pa., where Alexander's idea had become a real, NCAA-certified camp. It's called the Global Squad, and the name is not an exaggeration. On one court he had a group of middle-schoolers and high-school underclassmen -- most of them Chinese-Americans under 6-feet tall -- from places such as the Shanghai American School and the International School of Beijing. On another court was a crew of players from Denmark, Switzerland, Sweden, Germany and Japan who are more realistic Division I or II prospects -- if they can find college coaches who like them.
Australian Ben Simmons takes unconvential path to top of '15 class
The Global Squad's biggest success story, in its three years of existence, is Peter Moller, a Danish combo guard who played for the camp's top team in the summer of 2013 and earned a scholarship to Liberty, where he'll be a freshman this fall. It was not surprising, then, that the lone Division I assistant I saw at practice was Brian Joyce from Liberty, on the hunt for another diamond in the rough. When the Global Squad's A team scrimmaged the Peddie School that evening, coaches from Hartford and Elon, as well as Division III Denison and Gettysburg, were in the stands. It was just the second day the Global Squad players could be evaluated, according to NCAA rules, and the expectation was that their exposure would ramp up once they appeared in the major Hoop Group team tournaments on back-to-back July weekends.
Because I'm always curious about how international players find their way into the U.S. college system -- and I think everyone should be, as the sport becomes more and more global -- I asked three of the camp's most promising players to explain why they made the trip. Their parents had paid $5,500 to send them to the camp from June 28-July 28, and there was no guarantee that they'd emerge with a scholarship.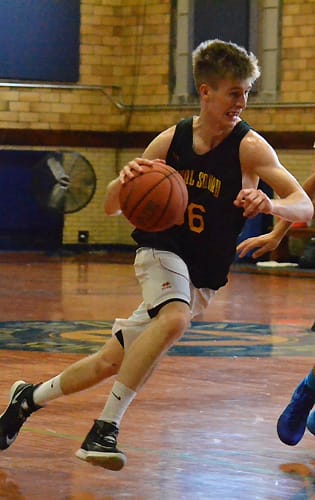 Clayton Le Sann is a 6-foot-4 lefty combo guard who was born in Geneva, Switzerland, but lives in Denmark. He is the grandson of a former University of Michigan physics professor. Le Sann's mother grew up in Ann Arbor, so he became a Michigan fan -- and a fan of the NCAA tournament -- from afar. Although he averaged 16.4 points and 3.2 assists for the Swiss national team in the 2013 U18 European Championships, he didn't draw interest from the few college coaches who scouted that tournament. (Switzerland isn't exactly considered a hoops hotbed: Its lone recent D-I player of note is Christophe Varidel, who helped Florida Gulf Coast reach the Sweet 16 in 2013.)
Le Sann found the Global Squad on Facebook. He was intrigued enough that he passed on an invite to play for the Swiss in the U20 European Championships in favor of spending the summer in the U.S. He felt that the sort of coaches who might recruit him -- either low-major D-Is or Division IIs who need a scorer for a structured offense -- were far more likely to see him in East Coast AAU tournaments than in an international event. "Maybe I won't get recruited," Le Sann said, "but I wanted to try this so I won't have any regrets."
Heading into the final weekend of the July period, Le Sann had drawn interest from a few D-IIs -- Gannon College and Assumption College, to start -- and had been watched by Princeton and Davidson, but had no solid offers. He still has a year left of high school in Denmark, but he knows this may be his last chance to play in front of American coaches.
The other two players I interviewed had an even greater level of urgency. They're both from Denmark, a nation that sent Christian Drejer to Florida nearly a decade ago and has players currently at Arizona State (Jonathan Gilling), Drake (Jacob Jensen) and George Washington (Kevin Larsen).
Frederik Brondsted, a 6-5 forward, is in his second year with the Global Squad after struggling to generate recruiting interest in 2013. He just graduated from Stenhus Gymnasium and turned 20, and he wants to join a D-I or D-II team -- some school that combines quality education and basketball in a way that Danish universities don't -- on scholarship this fall. (Paying tuition at a D-III isn't an attractive option to Danes, because college back home is free, funded by federal taxes.)
"I'm in a hurry, because I didn't get enough out of last year," Brondsted said. "It's my dream to get to the states. But it's pretty hard if you're not a big prospect, if you haven't been to a lot of European championships -- people just don't know you."
No-post era? Not for college team that lands prospect Diamond Stone
Brondsted, who made his first appearance with a Danish national team just this year, is the Global Squad's leading scorer and rebounder, and a viable D-II wing prospect ... yet is still waiting to receive his first scholarship offer. "That's been a real head-scratcher for me," Alexander said of Brondsted's recruitment. "He's been our best player, and I think he's a no-brainer for a D-II and would even fit in the right D-I system."
Alexander is taking the Global Squad to two team tournaments in the final recruiting weekend -- Live in Atlantic City and the West Chester (Pa.) Classic -- in hopes of finding a college for Brondsted, who's already taken the SATs.
Adam Heede-Andersen, an 18-year-old Dane, was a teammate of Brondsted's at Stenhus, and is also in search of an immediate landing spot in the U.S. Heede-Andersen is a savvy, 6-foot true point guard whose mother coaches youth teams in Denmark. She traveled to the U.S. to observe LSU's women's team while a former player was on scholarship with the Lady Tigers, and Heede-Andersen convinced her to subscribe to ESPN's online service so he could watch college hoops, often late into the night in Denmark. (He said he became a fan of Louisville's Russ Smith from seeing him on web-streaming telecasts.)
Heede-Anderson turned down a spot on the Danish team for this year's U18 European Championships -- even though it's during the NCAA's summer recruiting period -- to join the Global Squad. He said he considered it a better investment. Heede-Andersen has received a crash course in defending American AAU guards: "Sometimes it seems that they have no idea what they're doing, but they're quick and can be hard to defend," he said. "We're used to defending set offenses, and when the first thing that happens is a guard drives right through your chest and finishes, that's very different."
But Heede-Andersen ran the point well enough in this month's AAU events to be the Global Squad's first (partial) success story of 2014. Alexander said that two prep schools, Mt. Zion (in North Carolina) and Coastal Academy (New Jersey), invited Heede-Andersen to join their rosters for 2014-15, and he's leaning toward accepting one of the offers. Joe Alexander used a prep year to get on D-I teams' radar, and Heede-Andersen is hoping to do the same. If he goes that route, he'll still have no guarantee of a scholarship -- but he will have 30 more opportunities to be evaluated by college coaches stateside. He'll have won the battle for exposure. His odds, at least, will improve.