Travis Trice works to stay healthy, lead Spartans back to the Final Four
Michigan State senior guard Travis Trice looks to stay healthy and lead the Spartans back to the Final Four this season.
EAST LANSING, Mich. – In a career of injury upon injury, Travis Trice felt this was a bit ridiculous: An excruciating blister on his foot last December was not healing and proved too much to bear, so the Michigan State guard told trainer Quinton Sawyer to cut it. Trice figured he'd deal with any discomfort. Sawyer removed the blister. Neither he nor his patient found relief.
They found the first blister was on top of another one.
And the second blister was infected. So Trice turned his foot sideways and Sawyer went to work. On the first slice, whatever was inside geysered into the air. Two other trainers standing nearby jumped back aghast. Trice can't explain what the goo looked like, but he swears it shot up about three feet, and that it was nasty. Yet the pain disappeared. A player very familiar with health-related detours happily considered that a victory. No pus, no fuss.
"As soon as I cut that one open, I felt great," Trice says now. "But it was really, really weird. I get all the weird stuff."
The pressure release, though, has lasted for nearly a year. Trice isn't battling a strange, months-long fatigue that no blood tests or MRIs could diagnose. He isn't working through concussions. He isn't dealing with double-decker blisters. His greatest physical challenge since last December was a short bout of the flu. The 6-foot senior guard seems out of harm's way at last, and now he has to carry revamped Michigan State along with him.
Key question for 10 top teams as college basketball practice begins
He'll have the ball in his hands after eight starts in 95 games and a career scoring average of 5.7 points per night, commanding a rotation stocked with players who must do more than they ever have. It's a high-stakes responsibility to provide clarity for a program with five Final Four berths since 2000.
"He is a guy who has been through it all," Izzo says of Trice. "He's had the injuries, but he's also had some great nights. He has the best perspective maybe of anybody on my team."
In Michigan State's practice facility Friday, Izzo made two auspicious declarations before the first official workout: That this club has better leadership than last year's – "That's not a knock, that's just a fact," he said – and that Trice had the best spring and summer of anyone. For a program that lost two lottery picks (Gary Harris and Adreian Payne) and a point guard who started 123 games in four years (Keith Appling), Izzo better be right. The Spartans broke every huddle by shouting "Indy," referencing the site of April's Final Four, but that's idle chatter without nearly every player making a considerable leap.
Trice finished as the third-leading three-point shooter in the Big Ten as a junior (43.4 percent from long range), but his mission involves making sure he stays on the floor. To that end, he focused on core work in weightlifting and general preventative maintenance. "I have to be ready to log a lot of minutes, not only at the one but at the two, because of the way our team is set up," Trice says. "So really it's changed my mindset and approach to this season. Making sure my legs are strong, my back is strong, improving ankle strength – I don't have any time to roll an ankle. Preventing an injury is more important than what happens after an injury."
• MORE CBB: Five non-conference tournaments to watch this year
Yes, there are indeed ways to exercise an ankle; Trice straps a resistance band around his foot and repeatedly makes a motion like he's stepping on a gas pedal. And his diligence with muscle care before, during and after workouts borders on the obsessive.
"He's Stretch Man, that's what I call him," Michigan State swingman Denzel Valentine says. "Lots of stretching. He's gotten a lot stronger, too. When you're dribbling and you bump him, you can't (move) him anymore. He's staying solid."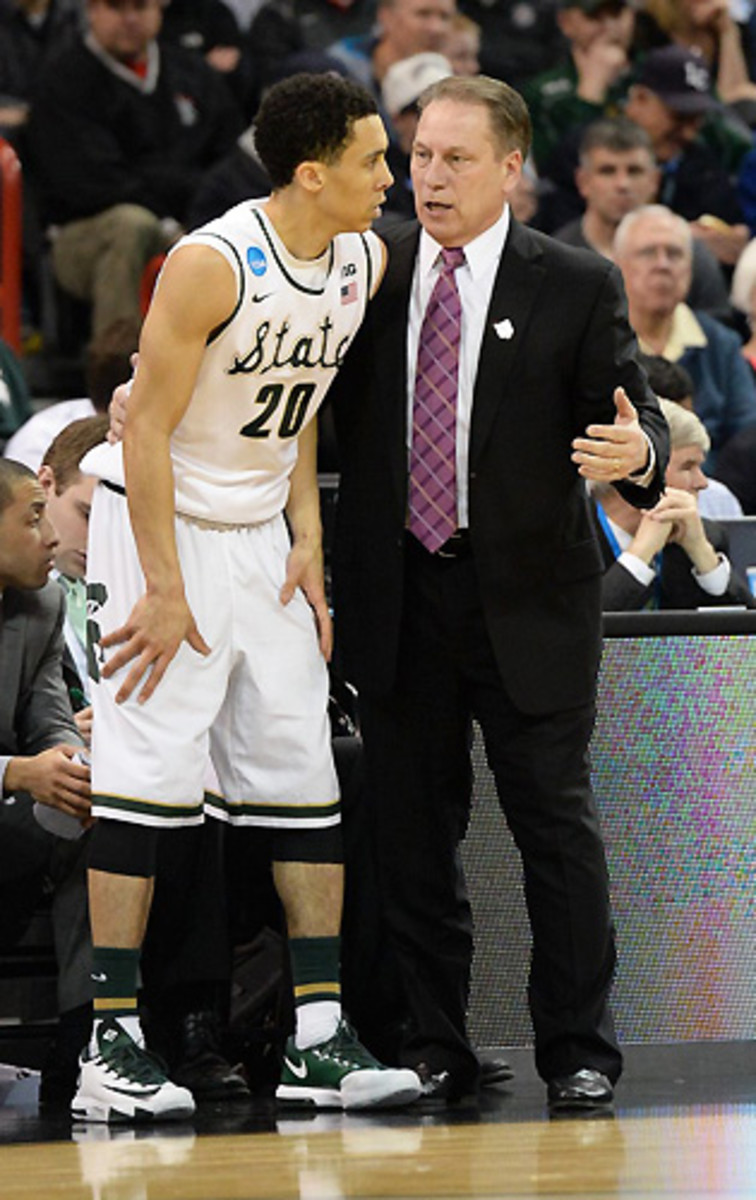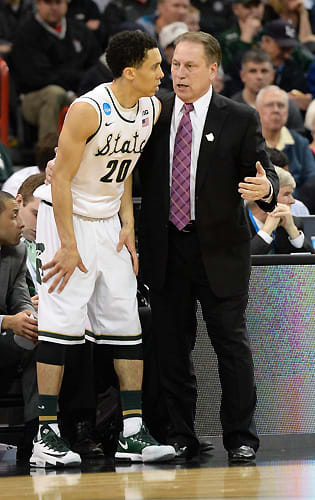 He's going to great lengths to do so. When home in Ohio last summer, Trice's basketball workout group included current Utah Jazz guard Trey Burke, Wisconsin guard Traevon Jackson and incoming Michigan State freshman Javon Bess. Their on-court drills at various Columbus locales began every day at 5 a.m. They worked on finishes at the basket -- ball-handling and dunking while wearing resistance bands -- for two hours or more. They'd then eat breakfast, after which they returned for shooting work and weightlifting before calling it quits around noon.
If Trice didn't stay with relatives in Columbus, he'd wake up at 3:30 a.m. to drive in from his home near Dayton. One day, Trice received a text message in which Spartans coach Dane Fife told him to cut out the tweets in the wee hours of the night and get some rest. "I was like, coach, I was just waking up," Trice says.
The comprehensive, exacting approach – Trice says he hardly even watched television over the summer – is intended to remove all uncertainty about his reliability, in every context.
"We got a lot of new guys, and I know they're going to need a lot of leadership," Trice says. "I'm just trying to prepare for every situation I might run into. You never know."
On that note, Trice can speak with more authority than he'd prefer. As he prepared for his sophomore season, he began to feel overwhelmed by fatigue to the point that he would lift with the basketball team and then sleep for 12 hours. Over a few months, he would lose about 30 pounds. Blood tests, MRIs and CAT scans couldn't pinpoint the cause. "Basketball kind of went out the window and I'm like, 'Am I going to die?'" Trice says. The malady then disappeared as mysteriously as it arrived. Trice was left to chalk that up to faith, and he took a serious-minded approach to gain a full recovery. And in his first game back, he broke his nose and suffered a concussion. He fought those symptoms, felt nearly normal once more and then another concussion came against Illinois during Big Ten play.
• SETH DAVIS: Bill Self, Kansas reload after losing Wiggins, Embiid
In all, Trice felt like he lost a year. Then he worked through the blister issues early on as a junior. This offseason was about making up for lost time. "He's playing with no fear," Valentine says. "A lot of people say, 'I'm on this mission,' and from what they do off the court and on the court, you can't really tell. But when he says he's going to do something, he's going to do something."
Before that first practice last Friday, Trice and a manager took over one basket for three-point shooting work. After every miss, Trice grimaced or slumped his head or shoulders. There was no room for error. Every stroke had to be dependable.
Dawson, Selden lead list of top 20 wing players for 2014-15
During the practice, when he hit consecutive three-pointers from the wing, Trice grinned and shook his head as he trotted down the floor, his confidence renewed. But the self-assurance wasn't limited to shot-making: One particular transition drill involved players triggering the action by dribbling through cones. And it was Trice, not any of the Michigan State coaches, barking out the instructions for the specific pattern of bounces – behind the back, through the legs, so on – to get through the mini-obstacle course.
In the bracingly loud and lively Spartans practice, his voice could be heard above the din, directing everyone on precisely what to do.  "We have to pay attention to detail," Trice says. "I want to stress to the younger guys that little things turn into bigger things. Say we run a sprint and we didn't touch the line this time. That can equate to you missing an assignment on defense and a guy gets a layup. That's two points and, you never know, two points might lose you the game."
Trice knows all about the you-never-know stuff. He's the program's resident expert on that. All he knows now is that he has to work to expunge every last fraction of uncertainty, both regarding his performance and his general well being.
He says he means it every time he shouts "Indy" with his teammates, sizing up that Final Four goal. Trice also recognizes it's largely up to him to drive Michigan State there. And he can't take another detour.