Hoop Thoughts: John Thompson III explains 'I Can't Breathe' shirts, more
On January 14, 1989, Georgetown coach John Thompson stood on the court at Capital Centre and watched his team warm up for a home game against Boston College. After his players were introduced, Thompson removed his signature white towel from his shoulder, flipped it to assistant Mike Riley and walked off the court. That was Thompson's way of protesting a recently passed rule called Proposition 42, which would have denied scholarships to freshmen who failed to meet the NCAA's academic standards.
Thompson's son, John III, was 22 years old. He was sitting in his usual seat about 10 rows behind the Hoyas' bench. When his father walked off, John III's foremost thought was, "I hope we can win without him." Two decades later, he laughs at how naïve he was. "At the time, I did not realize it would gain the attention that it did," he said. "It sparked a lot of conversations."
Nearly 26 years later, Georgetown's basketball program again sparked a lot of conversations after the players donned "I Can't Breathe" T-shirts while warming up for their home game against Kansas on Wednesday. They made the gesture in response to the announcement on Dec. 3 that a New York City grand jury had decided not to indict the police officer who caused the death of Staten Island resident Eric Garner. In recent days, several NBA players, most notably Derrick Rose, LeBron James and Kobe Bryant, donned "I Can't Breathe" T-shirts, but until Wednesday no college athletes had done so. (On Saturday, the Notre Dame women's basketball team wore the shirts prior to their game against Michigan.) Thompson, however, insists his players were not simply trying to copy their NBA heroes. Their decision came after extensive deliberation.
"This wasn't something that was done because it's trendy," Thompson told me by phone on Sunday. "This is something they brought to me. We had long discussions about it. The reasons they wanted to do it were all over the place, but there was unity in the fact that they wanted to do it."
• CBB POWER RANKINGS: Okafor's providers, Utah's secret, more
The origins for Wednesday's gesture trace back to Thanksgiving week, when Georgetown was in the Bahamas to participate in the Battle 4 Atlantis. When Thompson learned that the St. Louis County prosecutor was going to announce whether a grand jury had decided to indict the officer who killed Michael Brown, he decided to gather his players in one room so they could watch the press conference together. Like many young African-Americans across the country, the Hoyas were dismayed when they heard that there would be no indictment. "There was a wide range of emotions, from confusion to frustration to anger," Thompson said. "They were frustrated with the fact that there was no indictment, no trial, no accountability for people who look just like them being killed."
Why would a coach initiate such a dialogue when his players were getting ready for a big tournament? It's his job to teach them how to play basketball, right? Thompson would not be his father's son if he felt that way. "It sounds like a cliché, but the job is about more than basketball," he said. "We are an educational institution. People forget that these are 17-to-20-year-olds who are in college that are learning. Coaches are teachers. This is our job."
Still, nobody on the team suggested making a public stand until the decision not to indict was handed down in the Eric Garner case. After seeing what the NBA players had done, a few of the Hoyas broached the T-shirt idea to Thompson leading into their game against Towson on Dec. 7. They held off, perhaps they weren't quite ready, or perhaps they knew that they could cause bigger ripples if they did it before a nationally televised game against a top-10 team.
It might appear the players wore the shirts to protest the decisions of the grand juries -- and in truth, that is quite obviously how they feel -- but the two who spoke at the postgame press conference described a more limited scope. "We didn't wear the shirts to say that the cops were wrong or the system was wrong," said Joshua Smith, a senior center. "We wore the shirts just to show our condolences to the family because no matter how you look at it, we don't know who was right or wrong, but they still lost somebody. And they won't get that person back."
During the press conference, a reporter asked the coach a question that began with a reference to his father. At that point, a booming voice came from the back of the room. "This is a f------ school, man," the elder Thompson said. "That's your responsibility, to deal with things like that. This is not a goddamn pro team."
• MORE CBB: Strong Inside excerpt: Perry Wallace's story as the SEC's first black player
It was quite the full circle moment. John III is quick to point out that he also got his values from his mother, who spent her lifetime in education, but he also recognizes he is carrying on a very important mantle. "My father always said he didn't have the luxury of just being a basketball coach," he said. Thompson warned his players that not everyone would approve of what they were doing, and he revealed he has gotten some nasty, anonymous emails in response. (When I asked him how those people got his email address, Thompson laughed and said, "I have no idea.") Yet, he's proud that they went through with it anyway.
Still, what if his players say they want to champion a different cause for each game? When does it become too much? Where does a coach-slash-teacher draw the line? These are vexing questions, but we are not at that point yet, and Thompson doesn't expect we will get there anytime soon. He pointed out that his players did not wear their shirts before their game against Radford on Saturday. "I don't think it's a slippery slope," Thompson said. "I doubt we'll be doing a silent protest every time the wind blows."
For the time being, then, consider the statement made. "Regardless of how people feel, the fact that we're having this conversation is good," Thompson said. "The fact that people are talking about it is good." Indeed, the Georgetown Hoyas won an important victory Wednesday night, one that can't be quantified on a scoreboard. They are college students who took a chance and took a stand. Ain't that America.
Other Hoop Thoughts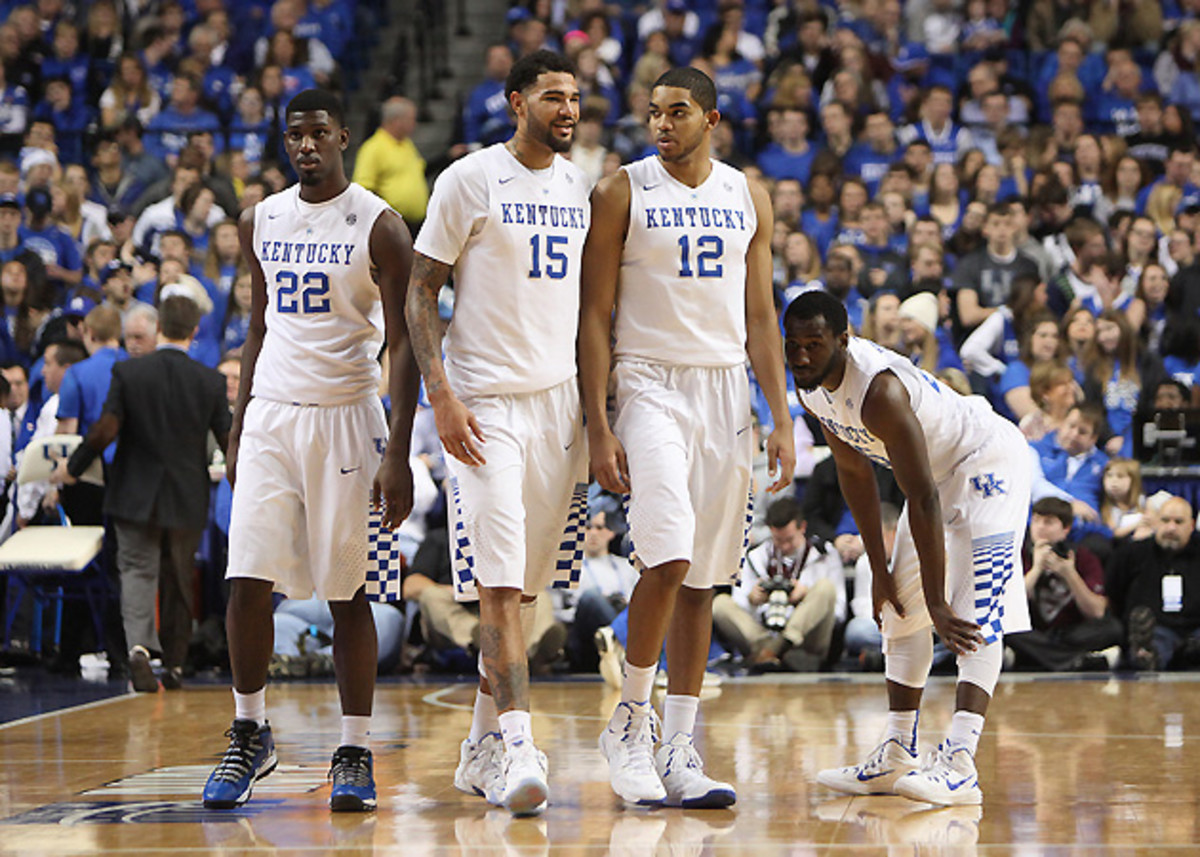 • You'd think that if a coach builds a Final Four-caliber program at a midmajor that he wouldn't have to worry about putting fannies in the seats. Yet, Wichita State's Gregg Marshall felt compelled to write an open letter in the Wichita Eagle asking students to come to the games. Hopefully it won't take Marshall leaving for another job to make those students appreciate what they have.
• It's time to start talking about Kentucky's Willie Cauley-Stein as a national player of the year candidate. At the very least, he's a first team All-America. Which is awesome, because he's the only player in John Calipari's two platoons who was not a McDonald's All-American in high school.
• Speaking of which, I feel very bad for Alex Poythress, the Wildcats' junior forward whose season ended due to a torn ACL. But the thing that people are afraid to say too loudly is that losing Poythress won't have a huge negative impact on Kentucky. If anything, this could help the rotation, because there is a big logjam in that frontcourt.
• I know you're getting tired of hearing it, and I'm getting tired of saying it, but Michigan cannot jump-shoot its way out of this bad stretch. The Wolverines have got to get the ball more in the paint, and they've got to grab more cheese on the foul line.
#http://www.120sports.com/video/v104064088/whats-wrong-with-michigan
• Texas freshman center Myles Turner has been somewhat quiet, but he has a chance to get really good really quickly. You know how I know? Because even though he is eighth on this team in minutes per game, he has attempted the most free throws and is making 86 percent. That's just scary.
• Another freshman who is doing an incredible job utilizing the free throw line is Maryland point guard Melo Trimble. He is averaging nearly eight attempts per game, and his 89.7 percent clip ranks first in the Big Ten. Oh, and even though he stands a wispy 6-foot-2, Trimble grabbed 12 rebounds in the Terps' win over USC Upstate on Saturday.
• By the way, it's good to see Evan Smotrycz make his return for Maryland. The 6-9, 235-pound senior forward missed eight of the team's first 11 games because he was recovering from foot surgery, but he had 10 points in 18 minutes on Saturday. And remember, the Terps are still playing without their leading scorer, Dez Wells, who is out with a fractured right wrist but will hopefully be back by the end of this month. I really think Maryland is an NCAA tournament team, and I would not have said that coming into the season.
Book excerpt: Jim Boeheim reflects on 50 years of Syracuse basketball
• Another nice win for Gonzaga at UCLA on Saturday, but there's a canary in this coal mine: Kevin Pangos has shot 6-for-25 (2-for-12 from three) in the Zags' last three games. On the season, Pangos is making just 36.8 percent from three, down from 41.2 last season when he played most of the year with turf toe. Just something to keep your eye on.
• Gotta love that St. John's center Chris Obekpa is rocking the short shorts.
• Keep in mind Kansas has three extremely talented freshmen who are not having a huge impact right now. But they will. On Saturday, freshman forward Kelly Oubre Jr., who has been buried on Bill Self's bench, made a couple of timely buckets to help the Jayhawks' stave off Utah in Kansas City. Of all the teams currently ranked in the top 25, the Jayhawks have the most room to improve.
• Don't look now, but Juwan Howard's kid can play. Juwan Jr., a 6-5 senior swingman at Detroit, scored 27 points in the Titans' loss to Wichita State on Saturday. On the season, Howard is averaging 19.5 points and 4.4 rebounds while making nearly 37 percent of his three-point shots. I don't know if he's on any NBA radar screens, but I'll bet this kid makes money somewhere playing ball next year.
• Good sign for Oklahoma over the weekend as Tashawn Thomas, the 6-8 transfer from Houston, had his best game as a Sooner, needing just 12 shots to score 25 points in a road win at Tulsa. The Sooners tend to get over-reliant on their jump shooters, so establishing Thomas as a viable post option would be a nice step forward.
• I love it when coaches wear their school colors on their ties. Guess I'm just a sentimental old fool.
• You all know I'm not big on talking about college players' NBA potential this time of year, but I see some of the draft boards that have Notre Dame's Jerian Grant as a mid-second rounder, and I wonder what people are thinking. Kid is a legit 6-5 point guard who is strong, athletic, knows how to play, makes teammates better, and is a lights-out shooter. Trust me, I'm way ahead of the curve on this one.
• Georges Niang is a 6-8 forward, but he has 22 assists in Iowa State's last three games. Respect.
• Good to see Cameron Wright back for Pittsburgh. The 6-5 senior point guard missed the season's first seven games because of a broken left foot, but he played 21 minutes in Saturday's four-point win over St. Bonaventure. The fact that the Panthers only won that game at home by four points shows just how desperate they are to have all hands on deck. That's especially true because Durand Johnson, a probable starter who was supposed to provide perimeter scoring, is serving a season-long suspension.
• It just occurred to me that I have not seen one player called for hanging on the rim this season. That's a good thing. You all know I'm a big sportsmanship guy, but the refs have been way too strict in college basketball in enforcing this rule.
• I've also seen more illegal screens being called this season. That's a good thing.
• Then again: If it's close, it should be called a block. Why is that so hard?
• Is anyone out there noticing what Tyrone Wallace is doing at Cal? Let these stats pop your eye: 19.4 points, 8.7 rebounds, 4.5 assists, 50.3 percent field goal shooting, 45.8 percent on three-pointers. He scored 20 points in the second half of the Bears' win at home over Princeton on Saturday. Wallace is a 6-5 junior from Bakersfield who is mostly a lefty, but when he maneuvers his way to the basket, he usually finishes with his right. Catch him if you can.
• I'm glad that Florida's Chris Walker is showing some signs of progress, but he still has a long way to go. Let's just let the cake bake a while.
• I'm pretty shocked at how Dayton's Dyshawn Pierre has regressed. I remember seeing him as a freshman and thinking he had pro potential, but the 6-6 junior can't buy a basket right now. His three-point percentage has plummeted from 41 percent as a sophomore to 15 percent this year (3-for-20). For a team that typically has a hard time scoring, this is a problem that needs to be solved, post haste.
• How come no one has ever done a remake/modern-day version of The White Shadow? Best hoops-related TV show ever, right?
• Gonzaga has played true road games this season at Arizona and UCLA. That means those two are going to return those games to Spokane next year. That's called smart scheduling.
• I promise, soon, I'm gonna tell you my Dennis Scott story.
• It was disconcerting to see Roy Williams troubled by dizziness again during North Carolina's loss at Kentucky on Saturday, but it was also nothing new. Williams has a long history of dealing with dizziness, and he has been on medication for vertigo. I noticed it happening to him during one of his games in the Bahamas. It's just an ongoing thing that he will have to deal with.
#http://www.120sports.com/video/v104056414/impressed-by-uks-win-vs-unc
• Illinois had a chance to score a decent nonconference win in Chicago against Oregon on Saturday, but couldn't make it happen. The Illini allowed Oregon to shoot 46 percent in a seven-point loss. If Illinois doesn't make the NCAA tournament, people will point to that game as a difference maker.
• Props to Vanderbilt guard Riley LaChance, who had 26 points in the Commodores' win at home over Purdue on Saturday. It was the most points by a Vandy freshman in six years.
• But I still don't like those benches on the baseline. And it has never been explained to me why Vanderbilt does it that way.
• One of the most frequent mistakes I see players make is leaving their feet to make a pass. That usually does not end well.
• Luke Fischer will become eligible for Marquette this week, and not a moment too soon. The Golden Eagles have really suffered from a lack of size, but at 6-11, 245 pounds, Fischer, a mid-semester transfer from Indiana, will shore that up.
• Best all-time college basketball name: Napoleon Lightning. He was a guard at St. Francis University from 1981-85. Also spent some time during the summer at Kutsher's Academy in Monticello, N.Y.
• We won't know until Jan. 3, when TCU hosts West Virginia, just what to make of the Horned Frogs' 10-0 start. But given that this has been arguably the worst power conference program the last few years, they have every right to enjoy it. By the way, one of those wins came on the road at Ole Miss, which is not so easy to do.
• If Utah guard Delon Wright ever added a long-range jump shot to his arsenal, it could be over with.
• How about what Robert Upshaw is doing at Washington. The 7-foot junior transfer from Fresno State leads the nation in blocks with 4.7 per game, and he's on pace to set the school's single-season record. In fact, Upshaw could very well set the Pac 12's single-season record, which would be the second straight year that record has been broken. Arizona State's Jordan Bachynski did it last year.
• Speaking of blocks, I am never impressed when I see a guy swat it out of bounds. And neither is Bill Russell.
• During UCLA's 11-point win at home over UC Riverside last week, all five Bruins starters played at least 32 minutes. That shows you how little confidence Steve Alford has in his bench right now.
Q&A: SMU coach Larry Brown discusses his storied career
• I never thought I'd say this, but San Diego State really needs Aqeel Quinn to get healthy. The Aztecs aren't just deficient on offense, they're godawful, and Quinn, a 6-3 fifth-year senior, is the closest thing this team has to a point guard. He is due to return soon from surgery to repair a broken finger on Dec. 1, although Steve Fisher tells me Quinn is doubtful for the Aztecs' game at Cincinnati on Wednesday.
• Also, I'm hearing that Texas is hoping to get Isaiah Taylor back in time for its Big 12 opener on Jan. 3, but it's far from definite.
• So UConn center Amida Brimah is going Olajuwon on us? Who'da thunk it. The Huskies scored just 44 points in a loss to Yale a couple of weeks ago, but Brimah scored 40 on Sunday night in a 21-point win over Coppin State. His previous high was 20 so this was, uh, better.
• Finally, at the risk of jinxing one of my favorite players, I'm happy to report that Stanford senior guard Chasson Randle has now made 36 consecutive free throws dating back to last year's NCAA tournament. The school record is 49. I hope he makes it! But if he doesn't, you can blame me.
Five Games I'm Psyched to See This Week
Alabama at Wichita State, Tuesday, 9 p.m., ESPN2
I'd like to tell you I see signs of hope at Alabama, but the Crimson Tide have only played two meaningful games this season and lost them both (neutral court vs. Iowa State, at Xavier). Winning this one seems way out of reach.
Wichita State 74, Alabama 60
Arizona State at Marquette, Tuesday, 9 p.m., Fox Sports 1
As I mentioned above, Marquette is getting 6-11 center Fischer for this one, and not a moment too soon. The Sun Devils will be bringing the Pac 12's best three-pointer shooter in Jonathan Gilling, so adding the interior reinforcement will come in handy.
Marquette 65, Arizona State 63
Belmont at VCU, Tuesday, 7 p.m.
This is a fun one if you're a midmajor nerd like me. Both these teams are ranked in the top five nationally in points per game, and Belmont has one of the nation's leading scorers in Craig Bradshaw, a 6-3 junior who is scoring 21.3 points per game on 46.4 percent three-point shooting. The high pace and home court will play into VCU's hands, but this one will be highly entertaining.
VCU 85, Belmont 80
San Diego State at Cincinnati, Wednesday, 9 p.m., ESPN2
First one to 40 wins!
San Diego State 46, Cincinnati 41
UConn vs. Duke, East Rutherford, N.J., Thursday, 8 p.m., ESPN
Usually, the Meadowlands is Duke's home away from home, but the Huskies will probably have more fans in the house for this one. Somehow I don't think Brimah will go for 40 against Jahlil Okafor and company. It's good news for UConn that Rodney Purvis is on the mend, but the Huskies' do not have enough veteran weapons to knock off one of the nation's top two teams.
Duke 78, UConn 64
A Few Minutes With ... Charles Barkley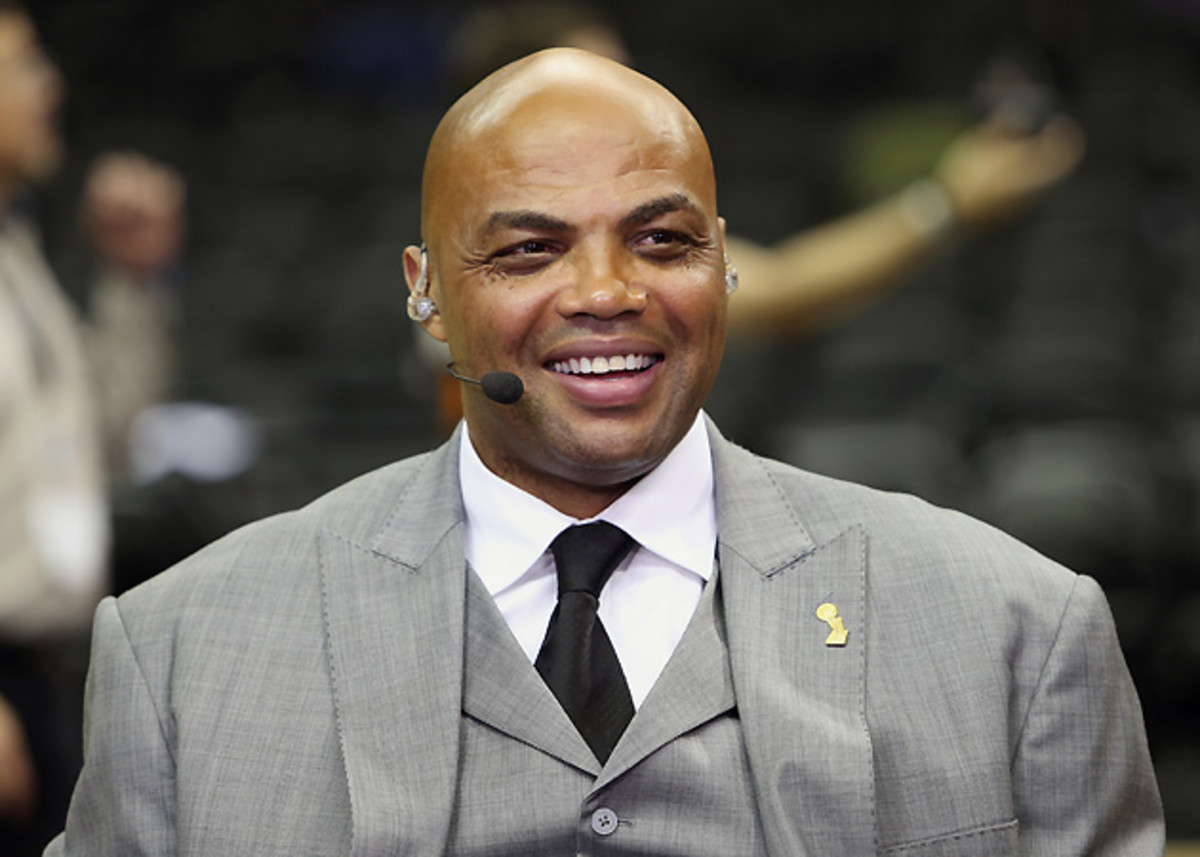 SI.com: You caused quite a stir with your comments about the non-indictment in Ferguson. It must have been an interesting week for you, huh?
Barkley: Interesting is a great way to phrase it. Hopefully, I provoked a conversation, good and bad. I'm a big boy. One great thing about me, I do no social media, never have and never will. The notion that you can make everybody happy is asinine. I tell people, being famous is like being the Homecoming queen. All the ugly girls hate you.
SI.com: When you are going through something like this, is it difficult? Or is it just another week in the life of Charles Barkley?
Barkley: What you do is sit back, because the good people come out and the bad people come out. It really helps you frame things going forward. Most of the time, guys only talk bad about you behind your back, and then they ask you to come on their radio show. I don't mind people disagreeing with me, but I don't like when they take shots. One thing I've learned, people only want you be honest if you agree with them.
SI.com: We always hear people say, "We need to have a conversation about race." Yet, it seems every time we do, it spins out of control and people just end up being angry at each other. At what point is it not worth it to have this conversation?
Barkley: It's never productive when you're angry. Racism is the greatest cancer of our time. The problem with race is we never have an intelligent conversation until something bad happens, and then everybody goes back to protect their own tribe. The key is to go into it with a pure heart, and a lot of people don't go into race discussions with pure hearts.
SI.com: Is there anything about this experience that makes you want to be more cautious in the future?
Barkley: What I don't get is that when I say something, it's controversial. I see guys like Jim Rome, Dan Patrick, Tim Brando, Colin Cowherd, Mike and Mike. These guys are all friends of mine, but they say stuff all the time and it doesn't become controversial. It's like, if you're a black guy, you're not supposed to say things.
SI.com: And in this instance, you got criticized just as much if not more by other African-Americans.
Barkley: I know. It's exhausting being black.
SI.com: If you go back to your three years at Auburn, every story about you is dominated by talk about your weight. When you went on the road, you were taunted with signs and chants about it. It dominated the conversation about you. Did that stuff ever bother you?
Barkley: It never bothered me. First of all, I was playing well, and Auburn had been in the doldrums for so long, we were doing anything we could to bring attention back to the program. To be honest with you, some of that stuff motivated me on the road. One of my proudest accomplishments was taking Auburn to the NCAA tournament for the first time my junior year. When I got there, we were awful. It's probably one of the greatest accomplishments of my life.
SI.com: You've said that when you were at Auburn, you accepted money from agents. Do you remember thinking that if anyone found out, the consequences would be really bad?
Barkley: Listen, when you're poor, you're not thinking about anything. I think the NCAA should let kids borrow money from agents. It would keep kids in school. Kids need to start taking advantage of being in school, especially black kids. You have too many black kids thinking they're going to play in the NBA or the NFL. They're not.
SI.com: Do you talk to Bruce Pearl?
Barkley: I talk to him all the time. I talked to him a few days ago, and he was pissed because they had just lost two game in a row. I said, "Look on the bright side, man. You could be me this week."
This Week's AP Ballot
*(Last week's rank on my ballot in parentheses)
1. Kentucky (1)
2. Duke (2)
3. Arizona (3)
4. Wisconsin (4)
5. Gonzaga (5)
6. Louisville (6)
7. Texas (7)
8. Virginia (8)
9. Villanova (9)
10. Kansas (10)
11. Wichita State (11)
12. Utah (12)
13. Ohio State (13)
14. Oklahoma (14)
15. Washington (15)
16. Maryland (16)
17. Iowa State (17)
18. Michigan State (20)
19. Butler (18)
20. St. John's (22)
21. California (25)
22. Notre Dame (NR)
23. Northern Iowa (19)
24. VCU (NR)
25. Colorado State (24)
Dropped out: San Diego State (21), Seton Hall (23)
There weren't a lot of significant results this week, so I took the opportunity to do a little eye-test reshuffling. The biggest beneficiary of that approach was Notre Dame. I realize Florida State is pretty weak right now (the Seminoles just lost their leading scorer to a season-ending suspension), but a 20-point win over a conference opponent is still pretty impressive. And I mentioned above what I think of Jerian Grant.
On the flip side, I dropped San Diego State, not because of the Aztecs' loss at Washington on Sunday, but because they could only squeak by Long Beach State by a single point at home. That loss dropped Long Beach State to 5-6, by the way.
Since you read this column regularly, you are way too smart to argue that if a team beats another team at home in overtime, it should be ranked ahead. So I rewarded VCU for beating Northern Iowa in double overtime without penalizing the Panthers too badly. That's fair, right? That's also why Michigan State can be ahead of Notre Dame and Wichita State can be ahead of Wichita State. This ain't the football committee. We actually make sense here week to week.
Among my teams tied for No. 26, I have LSU, Indiana, Eastern Wash, West Virginia, UConn, North Carolina and Georgetown. It's going to be a quiet couple of weeks as the schools get through exams, but before you know it, we will be geared up for conference play. So enjoy the respite while you have it, because before you long you will be thinking about college hoops all the time -- which is as it should be.