Villanova among CAA schools with legit chance to spring an FBS upset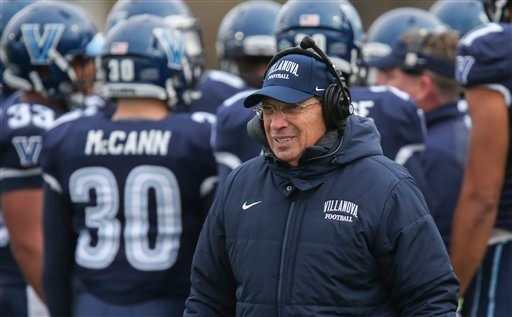 (STATS) - Despite going winless against FBS opponents last season, the Colonial Athletic Association appears to have a very good shot at preventing another shutout.
Leading that notion is Villanova, which came agonizingly close to knocking one off a year ago.
Ranked fourth in the preseason STATS FCS Poll and led by reigning offensive player of the year John Robertson, the Wildcats face an FBS foe coming off a two-win season and picked to finish last in its conference when they visit Connecticut on Thursday night.
This matchup of former Big East basketball rivals is among the first to kick off the college football season, one of nine games in Week 1 that puts CAA members up against FBS teams. The league went 0-11 in those matchups last year.
No CAA squad came closer to preventing that 0-fer than Villanova, which opened at Syracuse and left with a 27-26 double-overtime loss after being stopped on a 2-point conversion attempt.
"We've played (FBS) teams before in the opener, you need to play extremely well," said coach Andy Talley, whose Wildcats last beat an FBS opponent - Temple - during their 2009 national championship season.
"You need to keep your mistakes to a minimum, come up with a couple surprises and maybe get a cheap score now and then."
Robertson gets them plenty of scores, having thrown for 62 touchdowns and run for 45 in his illustrious three-year career. However, he's totaled only three touchdowns in three starts against the FBS.
The senior is facing even bigger expectations after leading Villanova to an 11-3 record last season and the national quarterfinals.
"You've got to have pressure on you and you have to be going into the season expecting to win yourself," he said.
The fleet-footed Robertson will look to pick apart a Connecticut defense which was ripped for 1,031 rushing yards during a four-game losing streak to close its 2-10 season in 2014. Yet Talley is focused more on how the Huskies will run the ball even though they had the FBS' 12th-worst rushing offense in 2014 at 108.0 yards per game.
"I'm a little concerned about how we hold up on the run up front, and I think UConn will test that early because I think most (FBS) teams wanna try to run over you a little bit," Talley said. "So I'm sure we'll get some of that. But I think the kids will rally around Robertson."
The Huskies are predicted to finish in the American Athletic Conference basement after tying for last place in 2014. Their only win outside conference play was a 19-16 victory over Stony Brook, which faces arguably the toughest assignment of any CAA team in Week 1 with a visit to preseason Mid-American Conference favorite Toledo on Thursday.
That evening also includes a challenging matchup for Elon, which is picked to finish last and must visit ACC foe Wake Forest. However, later that night presents another possible triumph by a CAA program, with ninth-ranked New Hampshire visiting a San Jose State team which went 3-9 last year and is expected to finish toward the bottom of the Mountain West.
Also with a seemingly decent opportunity to knock off an FBS foe this week: 18th-ranked Richmond, which faces a Maryland team that lost its starting quarterback, leading rusher and top two receivers.
A look at all the Week 1 games in the Colonial Athletic Association (all times Eastern):
---=
THURSDAY=
Stony Brook at Toledo, 7 p.m.
Stony Brook (5-7, 4-4 CAA) has 15 returning starters and a defensive line which includes 2014 All-CAA selections Aaron Thompson and Victor Ochi, a preseason FCS All-American. Stacey Bedell leads the offense after rushing for 1,070 yards and nine TDs. The Seawolves nearly knocked off UConn last year and took Buffalo to five overtimes in 2013 but could have trouble with Toledo, which comes off a 9-4 season - including a blowout of eventual CAA champion New Hampshire - and returns 1,600-yard rusher Kareem Hunt.
---=
Elon at Wake Forest, 7 p.m.
Elon (1-11, 0-8) finished last in the CAA in its debut FCS season and is expected to end up there again in 2015. Things are expected to get off to a particularly rough start with a trip to nearby Winston-Salem with either redshirt freshman Connor Christiansen or true freshman Daniel Thompson getting the start at quarterback. Wake Forest leads the all-time series 9-0-1.
---=
Villanova at Connecticut, 7:30 p.m.
Though Talley thinks his team has been 'overrated' entering the season, Villanova (11-3, 7-1) is picked to win the conference and does have both the CAA preseason offensive and defensive players of the year with Robertson and linebacker Don Cherry. Cherry had team highs of 134 tackles and 10 sacks in 2014 and will chase around Huskies sophomore quarterback Bryant Shirrefs, a North Carolina State transfer. The Wildcats lead the series with UConn 7-4, but the teams haven't met since 1989.
---=
New Hampshire at San Jose State, 10 p.m.
New Hampshire (12-2, 8-0) was picked to finish third in the CAA despite getting five first-place votes after winning the league last season and reaching the national semifinals. The Wildcats' defense has received plenty of hype, mainly due to a pair of preseason All-America picks in linebacker Akil Anderson and cornerback Casey DeAndrade. Sean McDonnell, the 2014 FCS coach of the year, is coaching his 200th career game.
---=
FRIDAY=
Delaware vs. Jacksonville, 7 p.m.
Delaware (6-6, 4-4) has uncertainty at quarterback, so third-year coach Dave Brock will turn to the ground game. Juniors Wes Hills and Jay Randolph accounted for 1,574 yards and 15 touchdowns rushing last season. The Blue Hens also feature the CAA defensive rookie of the year in tackle Blaine Woodson. Brock's Blue Hens beat Jacksonville 51-35 in his head coaching debut in 2013. Both teams earned votes in the preseason STATS FCS poll, though the Dolphins are ineligible for playoff contention due to violations.
---=
Rhode Island at Syracuse, 7 p.m.
Rhode Island (1-11, 1-7) has been predicted to end up with another 11th-place finish in the CAA and is not expected to challenge the Orange despite playing them tough in 2011 before falling 21-14. Coach Jim Fleming is in his second year and still has plenty of question marks on the offensive side of the ball, particularly at quarterback.
---=
SATURDAY=
Richmond at Maryland, Noon
The 18th-ranked Spiders (9-5, 5-3) kick off a season of high expectations with their first meeting against the Terps since 1977. Richmond has given Power Five teams trouble in recent years, owning a win at Duke in 2011 and losing by two at N.C. State two years ago. Quarterback Kyle Lauletta takes over an offense that returns a pair of 1,000-yard receivers in Reggie Diggs and Brian Brown.
---=
Maine at Boston College, 1 p.m.
Maine (5-6, 4-4) heads to Chestnut Hill, where it has been outscored 194-13 in losing all five meetings with the Eagles. With All-CAA defenders Christophe Mulumba Tshimanaga and Trevor Bates headlining a group of 19 returning starters, the Bears will be a more experienced group than the one that lost 40-10 to Boston College last year.
---=
Albany at Buffalo, 3:30 p.m.
Albany (7-5, 3-5) owns a 7-4 advantage in its all-time series with the FBS-level Bulls, though the schools haven't met since both were Division III programs in 1988. Coach Greg Gattuso engineered a six-win improvement in his first year on the job in 2014, but the Great Danes must replace 1,200-yard rusher Omar Osbourne and quarterback Will Fiacchi.
---=
Towson at East Carolina, 6 p.m.
Towson (4-8, 2-6) won 33-18 at Connecticut when opening with an American Athletic Conference team in 2013, the year the Tigers went 13-3 and reached the FCS title game. A repeat would be a tall task against an ECU program that's gone bowling eight of the last nine seasons, but the Tigers do bring back 16 starters, including first-team All-CAA running back Darius Victor, the conference leader with 1,305 rushing yards in 2014.
---=
James Madison vs. Morehead State, 6 p.m.
After ranking 10th in the FCS in total offense in Everett Withers' first season, No. 12 James Madison (9-4, 6-2) figures to be potent again with All-America quarterback Vad Lee back at the controls. The Georgia Tech transfer threw for 3,462 yards and 30 touchdowns while leading the Dukes to a playoff berth in 2014. Morehead State went 4-8 last season and lost 48-7 in their last trip to Harrisonburg in 2010.
---=
William & Mary at Lafayette, 6 p.m.
These teams will be meeting for the fourth consecutive year, with William & Mary (7-5, 4-4) winning the last two matchups, including a 33-19 home victory last season. The Tribe welcome back dangerous running back Mikal Abdul-Saboor (1,266 yards, 12 TD) but must replace reigning CAA Defensive Player of the Year Mike Reilly in coach Jimmye Laycock's 36th season.