After decades of defeat, Caltech finds formula for winning in conference
After decades of losing, Caltech and its coach, Oliver Eslinger, believe they can begin a winning tradition.
Picture a solitary figure, shooting baskets and muttering. The man is pale and skinny, with round glasses and wispy brown hair. Looks fortyish, like he should be teaching calculus. But instead he's here in an otherwise deserted gym, in Pasadena, on a warm fall morning and he's—well, it's not clear exactly what he's doing. But whatever it is, he's taking it very seriously. He shoots, mutters, shoots again.
Get closer and you can hear him. "Fourteen for 22," he says. The man is a coach, and he is conducting an experiment. He has rewatched every shot his team took last season—because this is the type of thing he does—and noticed something peculiar about home games. On one basket in this gym, his players made shots. On the other, not so much. Was that a fluke? Are the windows of the fitness center distracting? Are his players simply tired when they go that direction in the second half? He needs to know, because he needs every edge he can get.
So now he shoots, and he counts, and he instructs his assistants to do the same three times a week. All because the coach believes he's on to something, a philosophy of academia and athletics that will enable him to accomplish a feat few thought possible: Turn around the most un-turn-around-able program in the history of college basketball.
If, that is, he can just get his players to stop studying so much.
*****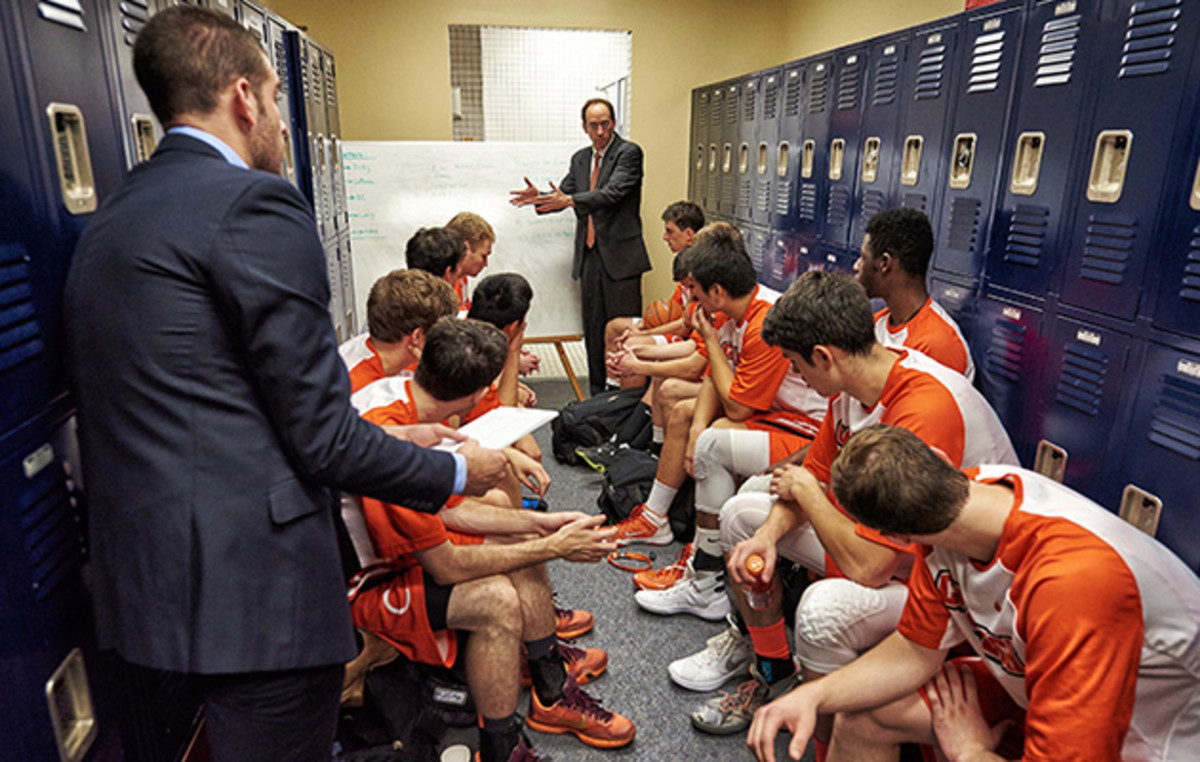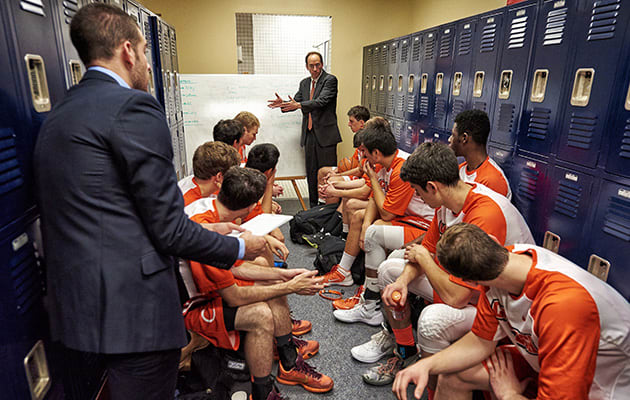 Perhaps you are familiar with the California Institute of Technology, a school of 1,000 in Pasadena, and, if so, perhaps you are also familiar with its contrasting reputations.
Academically, Caltech has few peers. It's regularly ranked as the top research university in the world, and faculty and alumni have won 35 Nobel Prizes. Albert Einstein once mulled his theory of relativity on campus, not far from where Richard Feynman hit upon the concept of nanotechnology. Students who survive the grueling course load make an average starting salary of $82,000 upon graduation. Most have paid off the bulk of their debt by then anyway, working summers at places like Google, Microsoft or Uber, bringing in up to $30,000 in three months. When the entertainment industry needs to depict really smart people, it often puts them at Caltech, from Real Genius to Num3rs to the Big Bang Theory to Modern Family.
Athletically, Caltech has few peers too, though for different reasons. The baseball team hasn't won a conference game this millennium. The football program was euthanized in 1993. But the hoops team's struggles are the most infamous. The Beavers once went a quarter-century without winning a game in the Southern California Intercollegiate Athletic Conference (SCIAC). They regularly lost by scores that, if they occurred in youth sports, would be considered cruel. Occasionally, players did homework on the bench during games, because at least that way they were being productive. When a filmmaker followed the team in 2006, in the midst of a historic, ongoing losing streak, the resulting documentary, Quantum Hoops, was optioned by Ben Stiller. As a comedy.
Fred VanVleet is driven (and haunted) by his hometown's history
Indeed, it's been easy to treat the team as a joke, as Rick Reilly did in Sports Illustrated nine years ago. (Sample line: "Wouldn't you think just once a ball would bounce off a pocket protector and in for a win?"). Context is important, though. Unlike the Ivies or its Division III opponents, Caltech makes no allowance when admitting athletes. Only a handful of students have the grades (3.8 GPA) and median SAT scores (2230 to 2340) to get in, and only a handful of those happen to be good at basketball.
Then there's the matter of time, or the lack of it. Students regularly study eight to 10 hours a day, slogging until the gray light of morning. Five times last December alone, starting guard Andrew Hogue arrived at practice having gone sleepless for more than 30 hours. At one point, after he slumped into the campus's lone minimart to purchase yet another bottle of 5-Hour Energy, the caffeine-laced elixir of truckers and ravers the world over, the cashier threatened to cut him off. "Dude," Hogue remembers the man saying, "You really can't keep doing this to your body."
Hogue's classmates couldn't figure him out. Here he was, a computer engineering major who'd spent his summer working at NASA's Jet Propulsion Laboratory. Why not just skip basketball practice? Why play basketball at all?
And it raises a valid question: Why would anyone sacrifice, and work so hard, when all he is going to do is lose?
*****
Two-hundred and sixty-nine.
Oliver Eslinger sat on the worn couch in his apartment in Somerville, Mass., in the summer of 2008, staring at his laptop. He pondered the odds of a college team losing that many conference games in a row.
"Are you sure you want to do this?" his fiancée, Austin, asked.
After six years as an assistant at MIT, Eslinger had been hired as the new head coach at Caltech. The job only paid 10 months a year. He'd have to teach P.E. And move across the country.
Still, Eslinger was an optimist by nature, fond of saying, "Well, if you look at it as an advantage," when confronted with a problem. The dirt around his childhood backyard hoop in Broken Arrow, Okla.? An advantage; it forced him to keep his dribble low. The lack of competition in the burbs when his family moved outside Albany, NY? An advantage; it forced him to venture to Washington Park, where his real basketball education occurred. When his father, a petrochemical geologist, lost his job? Well that sucked, for Eslinger idolizes his father, carries his handwritten advice notes in his wallet. And yet, still, an advantage; the family learned about resilience.
Malcolm Brogdon knows his impact can extend well beyond the hardwood
At D-III Clark University in Worcester, Mass., where he played guard for two seasons, Eslinger was shorter (6'1"), skinnier (160) and less springy (as in, not-at-all springy) than his teammates. His solution: work harder and be smarter. Just as a small animal puffs itself up to look bigger, he decided to use illusion to his advantage in sports. He took three giant strides off the line during suicides to create "competitive separation." After one particularly brutal set of ladder sprints during his senior year, a teammate stood nearby, panting. "You actually like this s--- don't you?" he said. To Eslinger, it was the greatest of compliments.
Around the same time, Eslinger fell in love with sports psychology and later titled his dissertation at Boston University, "Mental Imagery Ability in High and Low Performance Collegiate Basketball Players." His conclusion, after studying 172 players of both genders across all NCAA divisions: Envision your performance and you can enhance it.
Now, after beating out 120 candidates for the job, Eslinger had big dreams for Caltech: To win the SCIAC. To make the NCAA tournament.
And then he met his team.
They were smart, and nice and one—center Ryan Elmquist, a computer science major who is now a software engineer at Google—was even tall (6'5") and bouncy. Still, there was no depth or ball-handling. The roster contained more valedictorians than high school basketball players (a long tradition at Caltech). Eslinger was pretty sure they would have lost to his high school squad. During the second practice, he told them to do the weave, a sixth-grade-level basketball drill. The team couldn't make it down and back. He never tried it again.
Even so, Eslinger's preseason entries in his journal, a black moleskin notebook he filled with small, neat script, were infused with hope. He wrote of "shocking the world." Then the Beavers—so named because they are "nature's engineers"—engineered a whopping 38 turnovers in one of their first games. "I'm at a loss right now," Eslinger wrote three weeks in. "How do you get students to play basketball confidently if they've never played? Is it impossible? ... I miss home." In mid-January, the team lost 90–25 to SCIAC opponent La Verne. "Stumped. Helpless. No direction," Eslinger wrote. "[Our guys] fold like a poker player who has never seen a good hand, not even a LUCKY hand that he can win with."
Meanwhile, he acclimated to Caltech culture. Austin was still back East, finishing grad school at Tufts, so he lived in Caltech housing. Without a car, he walked everywhere until the son of an alum brought him a used mountain bike. Often, he bummed rides from his assistant coach, Jamayne Potts, a gregarious man who Eslinger hired partly because he was willing to work for next to nothing.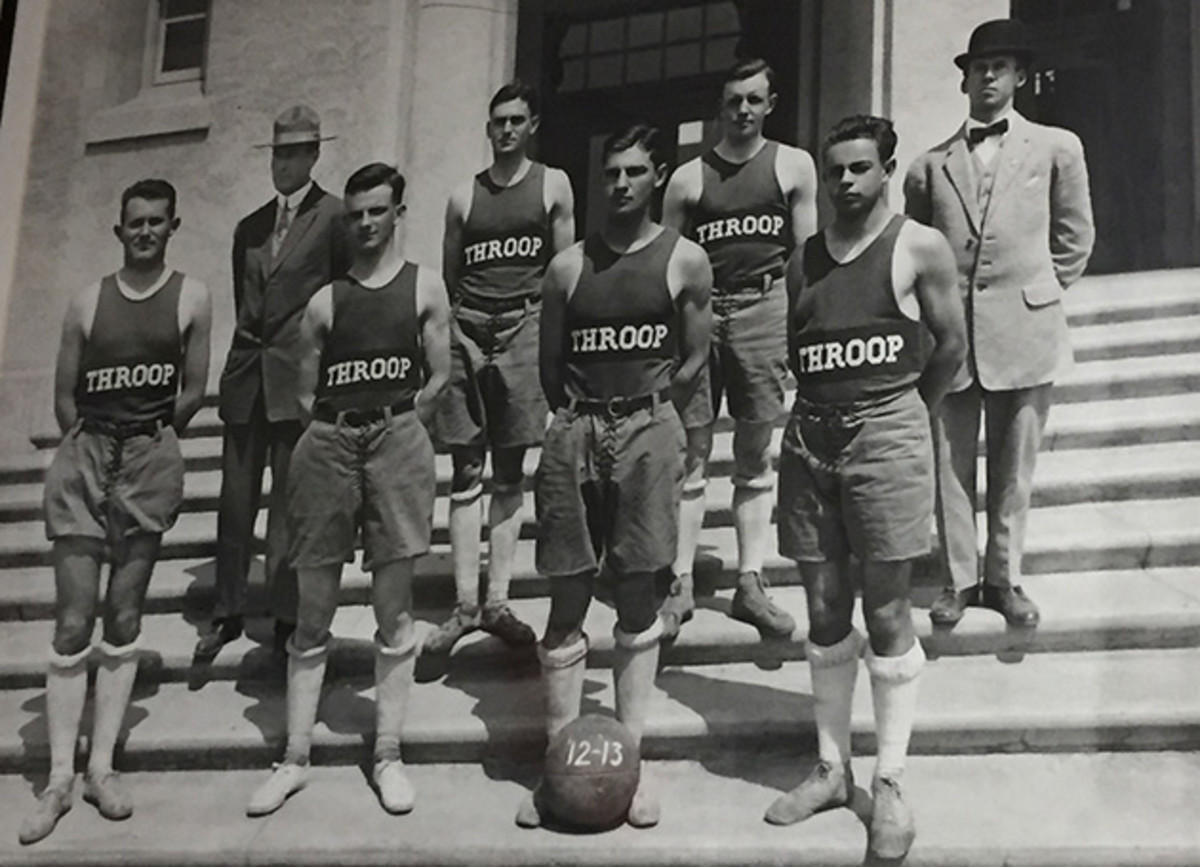 Once upon a time, Eslinger learned, Caltech was something of an athletic powerhouse. In the '30s and '40s, the football team regularly beat UCLA. Basketball won its lone SCIAC title in 1954. Occasional bouts of hope followed. In 1980, the Beavers beat Pomona, then helmed by a first-year coach named Gregg Popovich. In 1985 they defeated La Verne. And then ... nothing. The team went 0 for the 1990s. Had Huck Seed stuck around it might have been different. Six-foot-seven and springy, he left Caltech after one year to use his brain for more lucrative pursuits. In 1996, he won the World Series of Poker.
By Eslinger's arrival, in 2008, losing had become a badge of honor at Caltech; being bad at sports only proved how smart the students were. Two years earlier, the Provost's office had even explored the idea of eliminating the school's NCAA program entirely. "There were some dark years," says Robert Grubbs, a Nobel-winning chemistry professor and one of the few hoops boosters on the faculty. "The first time I took my older son to a basketball game here, by halftime he was cheering for the other team."
To change the culture, Eslinger knew he needed allies. He contacted former players. Spent long lunches at the campus cafeteria and befriended the head of the dining center, the custodians and the sports equipment manager. Since there was no Sports Information Director, he launched a p.r. makeover that included regular e-newsletters (The "THROOP Times"), a redesigned website (the existing version appeared cached from the early Netscape era) and tri-fold recruiting brochures ("Become the Evolution").
None of it muted the pain of losing. Caltech finished the season 1–22, 0–12 in conference. The players ran hard but played soft. They led the nation in the only category you don't want to lead the nation: turnovers.
"What else can I do?" Eslinger asked Amherst coach David Hixon, after losing by 50.
Hixon was stumped. Finally he said, "Get some players."
*****
In the spring of 2009, Jeff Bowker, the coach at Colony High, outside of Wasilla, Alaska, received an email from a college coach in California who was interested in one of his players, Collin Murphy. Bowker was shocked. Murphy was a terrific kid, tough as they came, but, as he wrote to Eslinger, "He is not a very skilled basketball player." Though a 5'11" shooting guard, Murphy neither shot (two three-point attempts all season), scored (six points per game), or handled the ball (Bowker forbade Murphy from bringing it up court).
Still, Eslinger persisted, asking for film. So Bowker scraped together "highlights" of a short-ish, wild-haired blonde kid setting screens, sprinting on the break and throwing his butt into people on rebounds. For reasons Bowker couldn't fathom, Eslinger remained enthused. He wanted Murphy's home number. Bowker warned him that family had dial-up Internet and the Murphy kids often tied up the phones line all night. Eslinger didn't care. He knew he couldn't change Caltech's culture by himself.
*****
The summer before his freshman year of college, Murphy tossed a bag in the family's beat-up Expedition and, three hours by car and three by boat later, arrived with his father at Main Bay, in the Prince William Sound. They had three months to catch enough salmon to support the family for the year.
As they'd done since Collin was a boy, they set to work each morning at 5 a.m., when they shuffled out of their 8x12 shack, the one with a tarp for a roof and walls jammed with newspaper insulation. On busy days, when the six-pound sockeyes were slamming into the 100-fathom nets, they ate only once. By midnight, when Collin crawled into a sleeping bag, his forearms burned from hauling, lifting and cleaning the nets and his cheeks were raw from salt and the jellyfish.
His friends wondered why he still did it. Many of them dropped out of school at 15, as soon as they could find work driving oil rigs on the tundra. But Murphy was different. He scored 1860 on a practice SAT as a 12-year-old. By high school he was choosing between the Ivies, Rice and Stanford. Dartmouth and Cornell recruited him to play football. And then Eslinger called. And called again. And again. The guy was so persistent, and optimistic. This is my first recruiting class and I want to make it special, he told Murphy. You have a chance to make history. All the coach could offer was a vision, and playing time.
Eslinger saw Murphy as the foundation of the program he intended to build: Tough, resilient, unlikely to be intimidated by an eight-hour problem set. Who cared if the kid wasn't good at basketball? Neither were the rest of his players.
By the fourth game, Murphy was bringing the ball up, for lack of a better option. On defense, he guarded 6'5" forwards and quick point guards, outworking, outthinking and out-cheating them all. Murphy stepped on shoes, locked down off-arms, grabbed jerseys. "He was," says Eslinger with awe, "exceptionally dirty."
Sarcastic and goofy, he wore shirts that read "I'M NO ROCKET SURGEON" and yelled "Shooter in the corner" whenever he spotted-up in scrimmages. On the website, he listed his career aspiration as, "professional fantasy football player." He spent his free time in the basketball office, watching film. From the start, Eslinger knew he wanted Murphy as an assistant one day.
And yet, loss followed dispiriting loss. Against Claremont McKenna, the Beavers fell prey, as Murphy calls it, to "an 87–21 run." They finished the season 0–25, extending the conference streak to 297 games. "It was," Murphy says, "straight awful."
At least the 2010–11 season began auspiciously. Some nonconference wins. A few close SCIAC losses: in overtime, by a point, by two points. Eslinger's plan was working: the recruiting, the scheming, the positive reinforcement. "Does anyone else believe?" he wrote in his journal. "It's my job, a coach's manifest, to make others believe ... Confidence will conquer."
Still, by the eve of the season finale, at home against Occidental, Caltech's losing streak had reached 310 games. That week, Murphy sat in a dorm room with Elmquist, now a senior, downing vodka. "I can't believe," Elmquist finally said, "That I'm going to go four years and not win one f------- game."
*****
Sometimes inspiration comes from unlikely places. Like, say, the trunk of a friend's car.
The weekend before the Occidental game, Eslinger played pickup ball with Doug Eberhardt, a coach from Vancouver in town for the NBA All-Star game who had recently embedded for a week with the Knicks. Eslinger peppered him with questions until, finally, Eberhardt said, "Why don't I just give you D'Antoni's playbook," he said. "I've got it out in my car."
That night, Eslinger stayed up late studying the diagrams in the two-bedroom house he now shared with Austin, now his wife and seven months pregnant with their son Julian. (They now also have a daughter.) Occidental's switching defense had hurt the Beavers the first time they played. What if, he now wondered, he just ran never-ending pick-and-rolls between the 6'5" Elmquist and freshman point guard Todd Cramer, a legitimate ball-handler whose arrival had moved Murphy to two guard?
And so, the following Saturday, in front of a relative throng of 400 on senior night in Braun Athletic Center, the Beavers came out in an unorthodox scheme: two shooters in the corners, one on the wing and Elmquist and Cramer in the roles of Steve Nash and Amare Stoudemire.
For one glorious half, it worked. But then, inevitably, Occidental pulled away. With four minutes left, the score was 45–37. For years, Eslinger had peddled the silver lining. He tried to empower the at-times disinterested Elmquist. In disastrous 3-on-2 drills he chose to praise the defense. He focused on two-minute sequences hidden in 50-point losses. It was time for the hard truth. "If we let them score again," he said now. "We lose."
And, amazingly, it worked. Occidental didn't score again. With eight seconds left, Caltech had the ball in a tie game. On the right wing, Murphy spread to his slot, sure he was about to take the last shot. After all, he was a sophomore averaging 1.3 points per game. Sure, they were using two players to box him out on some possessions, but he had yet to attempt a field goal. If he were coaching Oxy, he says, there's a 100% chance he'd have made the Murphy kid shoot it.
Instead, inexplicably, Occidental didn't run a hard double. Elmquist slipped the screen, Cramer lobbed it high and, as Elmquist went up, the whistle blew. Two free throws. Three seconds left. Silence. Elmquist stepped to the line and ... timeout, Occidental.
As the team walked to the sideline, Eslinger racked his brain for what to say. And then it came to him. "This is perfect," he said to Elmquist, a 67% free throw shooter. "I read a study about field goal kickers. It proved that icing doesn't work!"
For the first time in a life of constant inquiry—of nearly acing the ACT, of spending a summer working with the autonomous navigation of mobile robot teams at University of Minnesota, of subjecting everything to a decision matrix—Elmquist felt his mind go blank. He heard nothing, remembers nothing.
Swish.
The second free throw missed. Oxy's desperation heave went wide. And then: nerd bedlam. Students stormed the floor. Nobel winners celebrated. On the baseline, television cameras rolled. No one wanted to leave the court.
The next day, for undoubtedly the first time in school history, Caltech basketball players missed class for a press conference. The news of the win even briefly led the Caltech website, just above coverage of the lab's development of a new Mars Rover. And in the heady days to come, in between appearing on ESPN and in the New York Times and receiving a deluge of ecstatic alumni emails and an invitation to coach the Washington Generals against the Harlem Globetrotters, Eslinger remembers a sneaking feeling. Everyone was celebrating one win. But few noticed that Caltech made only 12 field goals and shot 24.5%. Or that Occidental's best player was injured. Or that Elmquist was graduating.
After all, the goal wasn't to win one game. It was to turn around the program.
*****
Looking back now, it sounds comical: NCAA violations at Caltech? But integrity matters, even for losers. When Betsy Mitchell was hired as the new athletic director in August of 2011, she did what all good administrators do: familiarized herself with protocol. Tall and solid, with a booming voice and ready smile, Mitchell set the world record in the 200-meter backstroke in 1986 and won a gold and two silver Olympic medals. After retiring, she climbed Mount Kilimanjaro, competed in the world sculling championships and got a master's from Harvard. As the AD at Allegheny College (Pa.), she oversaw a national champion football team. Her whole life had been about winning. And now she was at Caltech.
The week she was hired, she called the registrar to inquire about eligibility. "Well of course they're eligible," the woman said. To which Mitchell thought: Oh crap.
Under the NCAA's byzantine logic, being a good student didn't necessarily equate to eligibility. And, since Caltech allows students to "sample" classes for three weeks before officially registering, Mitchell found 30 instances over four years when athletes were briefly ineligible. There was only one thing to do: Self-report. "We teach through our sports," Mitchell explained, "and we're teaching through this."
Caltech punished itself with a $5,000 fine, vacated ineligible wins, banned off-campus recruiting for a year and instituted a postseason ban on 12 sports. And that, everyone assumed, would be that.
But then the NCAA, clearly with nothing better to do as scandals raged at USC and Miami, weighed in. Rather than commending Caltech for being a model of integrity, it piled on, adding public censure and a three-year probation. Wrote Bill Plaschke of the Los Angeles Times, "[Caltech] has chosen to vacate wins it doesn't have, shut down the recruiting it doesn't do and be ineligible for championships it never wins."
But that wasn't true. The basketball team had won—and, to everyone's relief, that Occidental victory stood. And Eslinger did recruit. Now he was stuck on campus, on the phone, explaining bizarre NCAA sanctions. Meanwhile, two of his assistants were gone, with his blessing. Worse, in January of the following season, Cramer transferred to MIT with no warning and, shortly after, stopped playing college basketball.
It was a crushing sequence. Instead of building on the Occidental win, Caltech again finished winless in the SCIAC.
The Streak was dead; a new streak was born.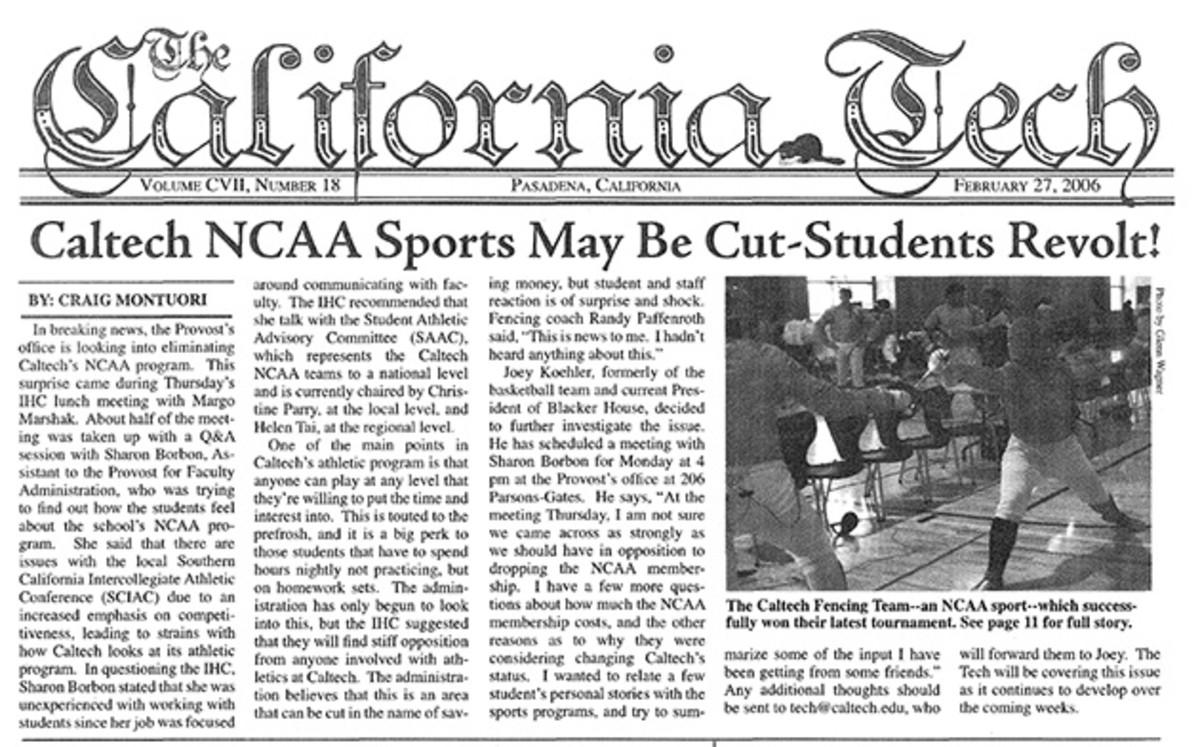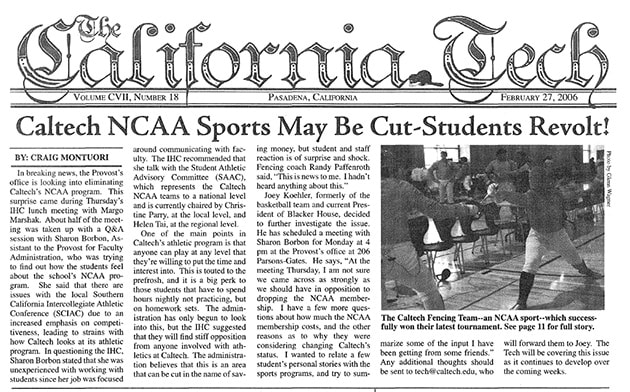 *****
In the spring of 2012, a 22-year-old named Dave Briski saw an online job posting at Caltech. The son of a construction worker, Briski had never been to California but, after four years as the student manager for the University of New Hampshire, he was desperate to get into coaching. Reading Eslinger's bio on the school website, he was impressed: school records, historic accomplishments. "I was like, 'Wow, this team must have gone like 26-3 last season'," Briski remembers. "Then I got further into my research and I read about the streak. And I was like, 'These guys are jacked up after winning one game!?"
Still, Briski couldn't be choosy. He applied, got the job and called a cousin in Glendale, who let him crash in his unfinished basement. His salary for the year was $1,000. To make ends meet, he worked part-time as a lifeguard, arriving at 5:30 a.m. To hide his age, he grew a beard and kept his hair short, the better to highlight his encroaching widow's peak.
Briski proved a welcome contrast to the analytical Eslinger, forever trying to exude professorial calm. Briski drank life out of 24-ounce steins, a scruffy, enthusiastic bulldog of a man. When he jotted down recruiting notes at elite academic camps, his assessments included technical terminology like "Plays his f------ a-- off,"; "STUD, Big, great hooks with both hands"; and "Fast as f---, lefty, tremendous passer."
At first, Briski tried to connect to players by talking academics. Then Kc Emezie, a polite, talented freshman, set him straight. I don't want to talk to you about computer science, Emezie said. I want to talk to you about basketball. Thank god, thought Briski.
It made sense. The students spent the rest of their lives geeking out. School pranks were legendary. During the '90s students soldered networks of copper tubing, reconfiguring old refrigeration units and priming them with Freon so they could turn a dorm hallway into a sheet of ice for skating. Another time, students hacked into an electronic coke machine on campus using an old Compaq with an 8MHZ processor and 640 kB RRAM, creating prepaid accounts, a ledger system and, eventually, rigging it to serve Miller Genuine Draft. Most famously, in 1984 a group of Techies snuck in and rewired the scoreboard during the Rose Bowl so that it read "Caltech 38" and "MIT 9".
Still, even the smartest kids in the world sometimes wonder if they're smart enough. Elmquist compares Caltech to a treadmill forever speeding up. "You have to make a serious calculation," he says. "Is this hour lecture worth my time when I can spend my time doing homework?" Junior guard Ricky Galliani's low point came freshman year while sitting in the library at 6:15 a.m., realizing he'd been there eight hours and his paper was due in six. Says Arjun Chandar, a reserve guard, "Anyone who tells you they didn't think of transferring at least once is lying to you." Murphy, who worked at the campus coffee shop, regularly had to cut off jittery students trying to blaze through the night. "They'd come up, hands shaking, and try to order another triple espresso," says Murphy. "I was like, 'No way man. I don't want to be responsible for your heart attack.'" There's a reason the marriage rate is one of the highest in the country, despite the 3-to-1 male-to-female ratio. Nothing bonds humans like surviving a crisis.
For many, basketball became an escape from schoolwork or, as Chandar says, "a coping strategy." Elmquist liked that during practice he could, "turn my brain off." But of course that wasn't truly possible. Not with these kids. Eslinger struggled at times to reach them. Some players didn't look up when he spoke; eventually he realized they were just processing the information. Others wanted to engage, just not about basketball. Wilson Ho, a 5'6" Chemistry major, once described to Eslinger how you could theoretically stop time, scrawling equations on scrap paper.
After the quake: Skal Labissiere's incredible journey to Kentucky
The previous Caltech coach, Roy Dow, was an old-school yeller. Eslinger's college coach was too, once challenging the whole team to a fight. Now, Eslinger tried a different approach. He understood basketball came second. So if players were burnt from all-nighters, he held them out. Later in the season, when the cumulative sleep deficit grew, he reduced team conditioning. He learned to explain the purpose of drills, lest students raise their hands to debate the rationale. After all, they were trained to challenge professors, to think outside the box. Or, as school president Tom Rosenbaum puts it, "to try to solve unsolvable problems." To expect blind, militaristic submission was silly. Instead, Eslinger read about relative value systems, trying to see the world through his students' eyes. In the end, says Murphy, "I actually felt like he was a little nicer to us during the losing than we deserved."
The defeats continued. In 2012–13, the Beavers again finished winless in the SCIAC. Murphy soldiered on. "I'm from Alaska," he explains. "The darkness never bothered me." Still, he finished his career with one conference win. He's more proud of the fact that he never missed a game, even when he fractured his elbow. His career averages were pedestrian; his impact was not. "The best leader I've ever seen," says Eslinger.
By this point, Eslinger's confidence was wavering. Self-analytical by nature, he began to question his grand plan. He changed the offense from game to game. In his lower moments, he couldn't help but wonder if that Oxy win had been a mirage. If maybe it wasn't possible to build a real program at Caltech. If sometimes a problem wasn't an advantage; it was just a problem.
*****
There is, Eslinger believes, a life lesson to be gleaned from what happened next: If you think you've looked under every rock for what you seek, your problem may simply be that you need to find more rocks.
By the spring of 2013, Eslinger had changed the culture. Alumni were engaged, returning for fundraisers and attending games. He'd initiated Midnight Madness events. Hit a half court shot and win a ball signed by five Nobel winners! He'd logged more than a dozen nonconference wins. Early recruit Mike Edwards, a deadeye shooter, broke the school scoring record. The team now understood defense, passing and teamwork. The only thing lacking was the same thing as ever: talent. And then one day Eslinger picked up the right rock. Under it was a kid named Nasser Al-Rayes.
Once upon a time, Nasser's parents, a normal-sized man and a normal-sized woman, met at the University of Denver. During the Gulf War they eloped to Qatar and had Nasser. To their surprise, he grew to be more than normal-sized: 6'10". And, after four years at the American School of Doha, he boasted both a prodigious GPA and an abundance of athletic potential.
Eslinger first heard about the 6'10" Al-Rayes from John Alexander, the head of an international basketball academy and the brother of former NBA player Joe Alexander. Eventually MIT, Wesleyan and Williams also called, among others. Al-Rayes made a flow chart, weighing his interest in going to a winning program against the strangely persistent Caltech coach's assurance that his program was about to win. When he finally committed, he came with a bonus: a friend from Alexander's team named Lawrence Lee, a 6'6" post player from Hong Kong.
And thus, Eslinger welcomed his first, honest-to-goodness big man recruit. That fall brought a good omen: the school broke another drought, seven years without a Nobel laureate, when Martin Karplus won for the development of multiscale models for complex chemical systems.
Al Rayes' first season was rocky—which is to say, winless in SCIAC as usual. But by last fall, Al-Rayes had matured. Hogue, now a senior point guard, rebounded like a forward. Emezie, an athletic 6'6" wing, only had one move—drive right and finish right—but it was a hell of a move. And, to Eslinger's delight, Murphy had returned as an assistant coach, while also working at a startup (naturally, it's a pickup hoops app).
The 2014–15 season started well enough. Then conference play began. The Beavers lost by 25 to Claremont, 19 to Redlands, 21 to Cal-Lutheran. They hung in against La Verne, only to fall in double overtime. As January turned to February, the losing streak stood at 55 games. Hogue realized he was about to "go donut" for his career.
It was time, Eslinger decided, to change it up. He'd long-since embraced analytics with a gusto rare for D-III, tracking usage rates and true shooting percentage and a host of other stats. At one point, he logged the outcomes of practice drills, hoping to determine why some players always win, but the data was too noisy. He videotaped and re-watched practices. He consulted with former Caltech player Dean Oliver, considered by many the father of basketball analytics. He and Briski uploaded game film to a service called Krossover, a do-it-yourself version of Synergy that quantified the footage. His journals, once filled with musings and occasional poetry or the odd Billy Joel quote, now contained pages and pages of scribbled plays with names like Pitch, Gimme, Fade, Flare Bang Bang, and Black Deal. And now, while watching scouting film of Redlands, he and Briski noticed something.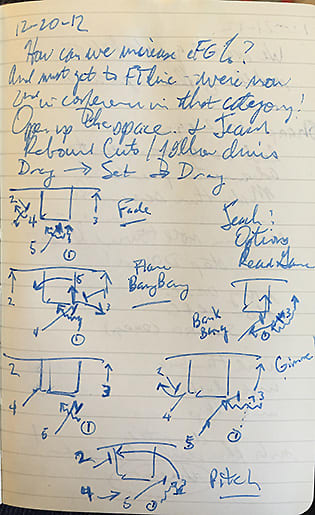 Against Redlands on Feb. 3, Caltech started with a normal alignment. But as the game went on, it became clear that Al-Rayes was rarely venturing further than 10 feet from the basket on defense. It was akin to what Golden State Warriors center Andrew Bogut would do months later in the NBA playoffs: Lay off the non-shooter and pack the paint. Flustered, Redlands made just 4 of 15 threes while Al-Rayes clogged the lane, swatting shots. At 8:06 p.m., Josh Sonola, a one-time walk-on and one of the team's biggest fans, madly tapped out an email to the entire campus. "Basketballs winning vs Redlands, 22–13," it read. "Come to the damn game".
Some even did, leaving their studies. Meanwhile, at the half, Caltech led by eight. Slowly, inevitably, the lead dwindled. And yet, with 17 seconds left, the Beavers were still up three, and Emezie, the team's best free throw shooter, was at the line. But this was Caltech, so naturally things went awry. Emezie missed. Redlands raced down and sank a three. Tie game. On the sideline, Briski felt a familiar pit excavating his stomach. "Now," he remembers, "the mountain feels tall."
Study game theory and you're familiar with the concept of the gambler's fallacy. Just because a quarter comes up heads forty times in a row doesn't mean it is more likely to come up tails. Each moment is independent of the last. Or at least this is what Eslinger wanted to believe as he drew up a play in the huddle. It's what Hogue wanted to believe as he charged downcourt and, seeing the middle cut off, dished it to Emezie at the top of the key, who did what he always did: drove right. His best move. His only move. Only he took off too deep on the baseline. In retrospect, teammates swear he couldn't even see the hoop.
The ball hit the glass at a crazy angle. And, against the longest of odds, historically and technically, it spun in.
Joy. Players hugging and jumping. Murphy joining them, now part of a second SCIAC win in five years. Eslinger, jubilant, looking for his dad, who stood in the back of the crowd, smiling.
The final stat line was bizarre. Al-Rayes went scoreless but finished with six blocks. The scheme had worked; Redlands shot a dismal 25% for the game. Caltech had simply out-thought its opponent. For Eslinger, it was validation. This time, the opponent's best player wasn't injured. This time, Caltech hit 40% of its threes. Hogue didn't care how it happened, just that it had. He dashed off a campus-wide email: "Yo, we're studying after our win. Come by." By the time they were done that night, the ceiling of their group house was stained with champagne.
And if that were the end of the story, it would be fine. Another streak broken. But it's what happened five days later that changed everything. All season, Murphy told the other coaches that if they could ever win a conference game with at least one more to play—just one—watch out.
The opponent was Whittier, which beat Caltech by 14 a month earlier and was notorious for rubbing it in. Hogue remembers his freshman year, when the Poets were up 57 late in the game but still playing their starters. And pressing. While their fans chanted, "Win by 60!"
From the opening tip, Whittier pressed. Caltech, as it reliably had for decades, succumbed, falling behind early. But then, an unlikely surge. Flying layups. Deep threes. Dunks. By half, the Beavers were up nine. And that's when, to the players' surprise, a torrent of students entered the gym, many in formal wear. It was Wine and Candlelight dinner—the Caltech version of Valentine's Day—and word had gotten out about the lead. In a testament to the culture Eslinger, Murphy and the rest had created, the students actually left a rare social opportunity and walked 10 minutes to watch a basketball game. Now 200 of them stood, a couple of glasses of chardonnay deep, jumping and chanting "I believe that we will win!"
Meanwhile, the players were transformed. Call it confidence or, perhaps straight-up swagger. Three players slapping the floor on defense simultaneously. Al-Rayes throwing down a thunderous follow dunk off a free throw. Three pointers raining down. On the sideline, Murphy fretted that the team was bound to go cold, or that Whittier would adjust. But neither happened. Caltech extended the lead. "Guys," Eslinger shouted as he walked the length of the bench, eyes afire. "We're for real!"
And they were. This wasn't a squeak-it-out, low-scoring, ugly Caltech win. This wasn't a fluke. This was an old-fashioned, high-scoring 92–77 butt-kicking. Al-Rayes finished with a fantasy basketball line: 22 points, 12 rebounds, six assists and six blocks. "For the first time," says Hogue, "we had no regard for the other team."
Now, as the clock wound down, the crowd stood and sang: "Na na na na, na na na na, hey hey hey, goodbye." The starters sat on the bench—no longer even needed in the game—arms around each other, grinning in disbelief. The buzzer sounded and a wave of students in loosened neckties and black strapless dresses crashed onto the court, whooping and hugging the players. The Whittier players trudged by, dejected, but no one paid any mind. Meanwhile, Eslinger kept his composure, at least for the moment. Later, when he and Briski and alumni bar-crawled through Pasadena, they drank away years of frustration one frothy pint at a time.
Then, the icing: 10 days later, in its next home game, Caltech beat La Verne 70–69. In three weeks the team had equaled the number of conference wins from the previous 43 years.
For Eslinger, the future had finally arrived.
*****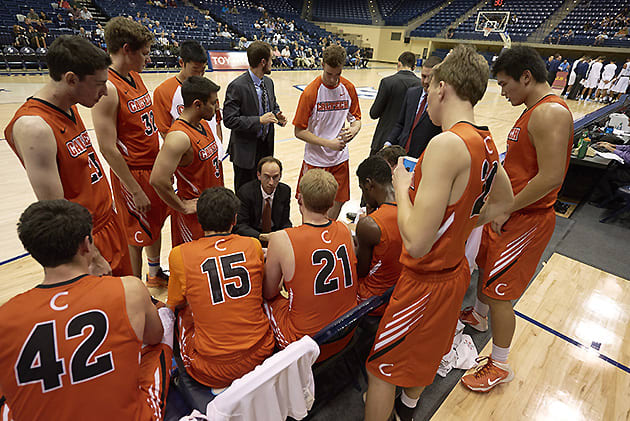 "Go, go, go!"
It's 7:30 on a recent October morning and the Caltech players are charging through suicides and then the weave, the drill that once flummoxed their predecessors. One pass leads crisply to the next until 6'4" freshman Brent Cahill catches it and, with shocking nonchalance, hammers down a two-hand dunk. Cahill, it turns out, declined a walk-on spot at UCLA. He's a basketball unicorn: a crazy smart kid who can shoot and, if he really tries, come close to grazing his head on the rim. And he chose Caltech.
Al-Rayes is next. He yanks the rim hard so hard, you fear for its mooring. Rather than working for NASA, Al-Rayes spent last summer at IMG in Bradenton, Fla., training with TrailBlazers forward Moe Harkless and others. He still intends to go to grad school, and become an engineer—once he's done playing professionally overseas.
The team is stacked by Caltech standards. There's Emezie, second-team All-SCIAC last year; Galliani, who can stroke it; and Lee, a gregarious big man who dropped 38 in a game last year and is nicknamed "Larry Love" on account of his big heart. (When feeling down he says he'll go to the theater alone and see a movie like Frozen.)
Still, because it's Caltech, nothing is easy. Ty Ochse, an athletic guard and elite math student, is sitting out the season as he endeavors to simultaneously earn a master's in math in four years. Nick Buoniconti, the grandson of the Dolphins linebacker and a key 6'7" post defender, also opted not to play to focus on academics. Meanwhile, Murphy finally left to work full-time on his startup, replaced by Jordan Mast, a former walk-on at Gonzaga. But this is the new Caltech. No longer is the program about one or two players. No one talks about winning "a" game anymore.
Today's players reject the stereotypes of the past. Lee says he gets, "weird, judgmental looks" when he admits that he "only" studies four to five hours a night because basketball is his priority. Galliani says, "I might be learning more from the basketball part of my education than the actual part of my education." It's a fascinating transformation. For decades, Caltech acted as the counterbalance to the bloating of corporate college sports, an exemplar for those trying to put athletics in perspective. But perhaps it went too far. "In the past, being a jock was almost a negative," says Grubbs, the Nobel winner. "At least now it's not a negative." He laughs. "That's sort of progress."
Last year, women's tennis posted its first winning season since 1997. Cross-country sent a runner to the NCAAs for the first time in forever. And, despite the crushing academic load, the GPA of athletes at Caltech is just as high as that of non-athletes. "We hear from the recruiting wars that people are being told to choose," says Mitchell. "Do you want to be an engineer or do you want to play sports?" But isn't that why D-III sports exist? An Ernst & Young study found that 52% of women at the C-suite level played college sports, and one imagines the number is similar for men. "Some of those will be Stanford and the like," says Mitchell. "But by definition, a lot of that will be a D-III thing."
At Caltech, basketball didn't get the players into the school and it won't lead anywhere afterward. "I don't want to go to some C league in Iceland," says Galliani. Cahill chose Caltech over UCLA because, "Why would I want to practice four hours a day if I'm not going to the NBA?" Others say they would have transferred if not for hoops. "No one at Google cares what grades I got," says Elmquist. "They cared that I learned stuff and can do things." And guess what he usually ends up talking about over drinks? He laughs. "That time I helped Caltech break the streak."
The man who spearheaded this change sits in the cramped office he shares with Briski, squinting at a computer screen. On the wall above his desk, in neat cursive script, is a congratulatory note on Spurs letterhead from Popovich, one of the last SCIAC coaches to lose to Caltech prior to 2011. It came attached to a case of pinot noir. Nearby, overstuffed shelves are lined with Phil Jackson books as well as titles like, "Help the Helper: Building a Culture of Extreme Teamwork."
On this morning, Eslinger and Briski are going over potential recruits. The pickings remain slim. Anyone with a GPA under 3.8 gets discarded. Anyone not good enough to play gets bumped. How many does that leave?
"In the whole country?" Briski asks.
He does some math, consults his Front Rush recruiting software, then says, "About 250."
The vast majority of those, he explains, will choose a place like Harvard or Columbia or, if cowed by Caltech's academic load, a less-stressful D-III school. Others won't get in. One of last year's top recruits had to settle for his safety school, MIT.
Rick Barnes's last ride: Tennessee's new coach revs up the Volunteers
For now, Eslinger can't worry about that. He is fixated on the final step in the program's evolution: shooting. Last season, the Beavers hit 29% of their threes. Upon analyzing the data, Eslinger noticed something: "When we hopped into a shot, we hit 40% of our threes," he says. "That was 20% better than when they one-two stepped into it."
He heads downstairs to the gym, eager to demonstrate: Hop and you're already squared up; step and you're out of balance. He is pumped. "I'm going to blow their minds when I show them the video and data!" Eslinger still regularly plays pickup ball and recently completed Tim Grover's "Jump Attack" workout, hoping to glean tidbits for his team. Players like Al-Rayes notice; if their coach is working that hard, then they should be too.
Now, as Eslinger shoots, a bald man with a bushy gray beard peeks into the gym. He is wearing a Hawaiian shirt, old jeans and sandals. His shirt pocket bristles with pens. He is, naturally, a Nobel Prize winner, the theoretical physicist David Politzer. He ambles over. At this point, the season is still a few weeks away. Eslinger has yet to determine the truth about the discrepancy between the two baskets—in the end he will conclude the 12% gap is an anomaly, though he will still stage shooting drills on the better hoop, in case it boosts confidence. Likewise, he has yet to institute his dream of a nearly position-less team, with Al-Rayes launching threes. And he has yet to break down film from the Beavers' emphatic 86–77 preseason road win at Occidental a month later—the first road win against a conference opponent since 1980—searching for insight that he hopes will allow Caltech to chase its first conference crown in a half century.
No, for now he is just a skinny guy in glasses who looks an awful lot like an older version of the kids he coaches, gleefully shooting jumpers while a Nobel laureate watches, all the while working toward the same goal as every Caltech student: Trying solve the unsolvable problem.