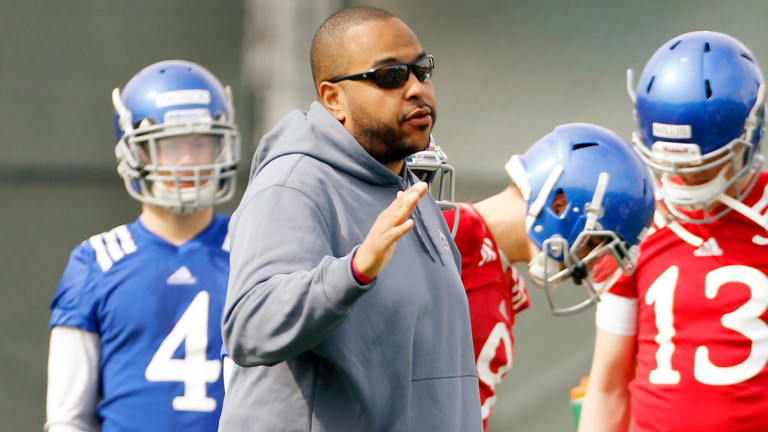 Meet the rocket scientist guiding Kansas's surprising recruiting success
The most surprising story in college football right now? Kansas's success with the 2018 recruiting class. Get to know the rocket scientist-turned-football coach who's responsible for the Jayhawks' rapid rise.
With the clock ticking on the contact period prior to the signing of the 2016 recruiting class, Kansas coach David Beaty climbed aboard a plane in California with assistants Clint Bowen and Kenny Perry. Shortly before takeoff on a flight bound for Florida, Beaty got a text. Running backs coach and recruiting coordinator Reggie Mitchell, a holdover from the Charlie Weis staff, was probably heading to Arkansas. So Beaty poked his head into the cockpit and requested a new destination.
"Drop this thing down in New Orleans," Beaty said. "We've got to get us a running backs coach."
When the plane touched down, Beaty headed straight to Warren Easton High, the alma mater of Lee Harvey Oswald and Master P. He found Warren Easton coach Tony Hull and didn't so much offer a job as give an order. "You're doing it. You're coming with me," Beaty remembered saying. "You're going to be a Jayhawk." Hull didn't need much convincing. Beaty and company climbed back aboard the plane and headed to Florida to recruit, but they had found their man.
A year later, Hull has done exactly what Beaty predicted he would. Check the 247Sports.com composite rankings for the recruiting class of 2018. See Kansas in the top 10? Yes, the same Kansas that has won two games total in Beaty's two seasons. The program that Weis left a smoking crater. That team is on a recruiting hot streak, and even though a lot can change between now and when class of 2018 players sign letters of intent, the fact that the Jayhawks are even in the conversation is a minor miracle.
They're there because of Hull, who leveraged his relationships with Louisiana players and their families to get some players who never would have visited Kansas before to come to Lawrence and take a look. Some of those players committed. One already has decommitted. Kansas will have to fight to keep the rest because the schools that will swoop in with offers this spring have won more games lately and sit closer to those players' homes. But Beaty is confident Hull can continue to bring Kansas a talent infusion. Why?
"He was a rocket scientist," Beaty said.
Beaty isn't kidding. Hull played center at Louisiana-Lafayette and graduated with an industrial engineering degree. After college, he helped build fuselages for F-18s for Northrop Grumman in California. Later, Hull returned to New Orleans and supervised welding on the Space Shuttle's external fuel tank for Lockheed Martin.
While working at Lockheed, Hull began volunteering as a football coach. He started in 2005 at his alma mater, Sarah Reed High, in the New Orleans East neighborhood. After Hurricane Katrina hit, Reed's building didn't reopen until October '06. So Hull spent that season volunteering at Mandeville High. "It overtook me," Hull said. "I just developed a serious love."
Hull decided he wanted to coach for a living. Specifically, he decided he wanted to be a college head coach. He wasn't sure how to do that, but he sent résumés everywhere volunteering to work for free. He hand-delivered one, and Hull said he could hear the head coach crumpling up the résumé to throw it in the trash as he left the office.
With no luck finding free work at the college level, Hull sought paid work at the high school level. Warren Easton, now a charter school, brought back football in '07 for the first time since '04. Many of the other local schools had returned to the field in '06, so all the best players were elsewhere. Hull was willing to take the job—and willing to give up "almost $100,000" in salary to take it—so he left engineering to work at the school. That first year, the 26-year-old Hull had 45 players in the program. Only three had played high school football. He had six coaches. Only two had coached high school football before. "We had to start from scratch," Hull said.
Playing in the same district that would produce future Texas A&M wide receiver Speedy Noil, Hull's team got clobbered at first. But he built the program into a contender, and in 2014 the Eagles made it to the Class 4A state title game. By that time, Hull was already on Beaty's radar. Beaty, then Texas A&M's receivers coach, was recruiting Edna Karr High receiver Noil for the Aggies in 2012 when he met Hull. Beaty was checking in on the schools near Karr when he walked into the Easton head coach's office. "It looked like a dungeon," Beaty said, and that gave the college coach an easy way to connect with his high school counterpart. Beaty had taken over a program badly in need of repair at North Dallas High in Texas in 2001. Hull and Beaty had some of the same horror stories—only with different names.
Two of Hull's players (Deshawn Capers-Smith and Clyde Criss) wound up signing with Texas A&M. Plenty of other college staffs also passed through Easton as the talent level rose. Hull held out hope that eventually he'd get the chance to move up to the college level, but he had decided early that he wouldn't get a job "off a kid's back." In other words, he wasn't going to take a job to follow a player or take one to then help recruit that player. If he was going to move up, he'd only do it if the head coach hiring him wanted him for his coaching ability—not for access to any one player. When Beaty arrived at Easton that day last year, it wasn't to recruit any player. It was to recruit Hull.
When he arrived at Kansas last March, Hull began recruiting players for the classes of '17 and '18. That paid dividends faster than Beaty had predicted. Mike Lee, a safety from Landry-Walker High in New Orleans, projected to be a decent Power 5 prospect in the class of '17. But Hull and Beaty realized Lee had made enough academic progress that he could reclassify and qualify for admission in the class of '16. So Lee came to Lawrence a year early and wound up starting the final eight games of last season as a safety. "He saw an opportunity," Hull said. As Lee was being honored for being named an honorable mention for the Big 12 Defensive Freshman of the Year during a basketball game at Allen Fieldhouse earlier this month, Hull sat with a group of class of '18 players from Louisiana who had come to Lawrence on unofficial visits. Six of those players committed to Kansas that weekend.
How did Hull get those players to come to Lawrence? For one, he spent hours scouring the Southwest Airlines website. Hull began searching months in advance for dirt-cheap fares so he could alert the players and their parents, who must foot the bill for unofficial visits. "You can catch a Southwest flight from New Orleans to Kansas City for $75 one way," Hull said. "That's cheaper than driving."
Will Kansas keep all those players? It's doubtful. Nelson Jenkins, a defensive tackle from Plaquemine, La., flipped his commitment last week to LSU. But Landry-Walker teammates Devonta Jason (a 6'3" receiver) and Corione Harris (a 6'1" cornerback) remain on board.
Hull is forbidden by NCAA rules from talking about any individual unsigned recruits, but he believes plenty of players will be intrigued by a sales pitch that includes an opportunity for the kind of near-immediate playing time Landry-Walker's Lee found in Lawrence. "They don't have to go to other schools and other conferences and wait two or three years to play," Hull said. "They can come and make an immediate impact. What competitor do you know who doesn't want to make an impact and leave a legacy as someone who started something?"
Hull knows one of his greatest values to the Jayhawks is his ability to connect with players and get them to consider moving to Lawrence, but he has not forgotten that his original goal remains intact. He wants to be a college head coach someday, so he hopes to make his name on the field as well as on the recruiting trail. "One of my greatest fears about this profession is that I'm just pigeonholed as a great recruiter," Hull said. It's a legitimate fear. Some ace recruiters are paid well but don't get considered for coordinator or head coach jobs because they get pegged early as pure recruiters. Hull hopes what he accomplished at Warren Easton, taking a program from doormat to powerhouse, will help dispel that notion.
If he can help Beaty transform Kansas from a doormat to a competitive Big 12 program, opportunities will arise both with the Jayhawks and elsewhere. That's one reason why Beaty gave Hull a bump in title earlier this month to associate head coach that included a raise from $150,000 to $400,000 a year. It was a wise move, especially considering LSU just shook up its staff primarily because of an inability to keep the best Louisiana players in the state. It also proves that Hull knew what he was doing when he left behind a rocket scientist's salary to chase a dream on the football field. Now, with a grateful employer and a star on the rise, Hull has to make sure he can land some of those recruits safely in Lawrence come National Signing Day.
A random ranking
I went down a commercial rabbit hole last week while looking for something for the Campus Rush Podcast, and the result is the top five commercials that made you ask "Why did he do that?" None of these are from Japan, so no Nicolas Cage. Also, none of these feature celebrities who hadn't hit it big yet. Yes, Brad Pitt did a Pringles commercial, but he'd met neither Thelma nor Louise at that point. All guys on this list were doing just fine but wanted to make a few extra bucks. There is nothing wrong with that, so if anyone needs me to pitch spray butter, I'm here and I'm ready.
1. Robert Loggia for Minute Maid orange-tangerine juice
2. Ringo Starr (with the Monkees) for Pizza Hut
3. Bruce Willis for Seagram's wine coolers
4. Fabio for I Can't Believe It's Not Butter in spray form
5. Bill Cowher for Time Warner Cable
First-and-10
1. The NFL released the full combine invitation list last week—after posting and quickly removing it a few days earlier—and the number of invitations by conference proved eye-opening.
That's a jarring drop between the Pac-12 and the Big 12, and it does not speak well of the Big 12 relative to its fellow Power 5 leagues. But the Big 12 does have fewer members than the other Power 5 leagues, so let's look at the numbers differently.
2. Here are the average invites per team for each conference.
That doesn't look much better for the Big 12. But perhaps this is an anomaly.
3. Here are the invitations by conference for the previous three years.
The Big 12 produced the lowest number of combine invitees among Power 5 leagues in those years as well, but the drop-off wasn't as precipitous. In 2015 and 2016, the gap could be explained by the sheer number of schools in the league. That isn't the case this year. We'll have to wait until next year to see if this is the start of a trend.
4. Why might it be a trend? Of the Power 5 leagues, the Big 12 is the one that has the most distinct style. Every team except Kansas State runs an up-tempo spread offense, and league members recruit accordingly. That results in a surplus of skill sets and body types recruited to run or defend schemes that don't really exist in the NFL because of clock rules and hash mark width.
The question now is will this scare away potential NFL players who would have considered a Big 12 school but might look elsewhere because schools in other leagues had more success grooming players for the NFL? One very recent piece of recruiting data suggests that's happening. Of the top 15 players in Texas the 247Sports composite rankings for the class of 2015, only three signed with Big 12 schools. Where did the others go? Florida State, Ohio State, Stanford, LSU, Texas A&M, Alabama and Notre Dame—all places that have done a better job recently than the Big 12 schools at putting players in the NFL.
5. What school had the most players invited to the combine this year? Michigan. Here are the top 11 in terms of combine invitees.
6. The news wasn't all bad in the Big 12. Former Oklahoma tailback Samaje Perine used magic to propose to his girlfriend, and it worked.
7. Jon Solomon of CBSSports.com writes that officials should begin ejecting coaches for going berserk on the sidelines. I would suggest that any official who wants to eject a coach for yelling and cussing should switch to basketball. They'll make more money, and they can eject coaches to their hearts' content. Football doesn't need coaches getting run by the zebras. It's a game that involves two groups of people trying to manhandle one another. People are going to yell. People are going to cuss. It's O.K.
8. Alabama hasn't announced it yet, but Chris Low of ESPN.com reported Friday that New England Patriots tight ends coach Brian Daboll will be the next offensive coordinator for the Crimson Tide. Daboll was assumed to be the coordinator-in-waiting for the Patriots, but when current OC Josh McDaniels didn't take a head-coaching job, it meant Daboll, who has served as the offensive coordinator for the Browns, Chiefs and Dolphins, would have to keep coaching tight ends or find a coordinator job elsewhere.
Also last week, Matt Zenitz of AL.com reported that Joe Pannunzio would return to Tuscaloosa to coach tight ends and special teams and fill the spot left vacant by Mario Cristobal's move to Oregon. Pannunzio had been the Philadelphia Eagles' director of personnel operations. He was Alabama's director of football operations from 2011–14.
9. David Feaster, the coach at Parkway High in Bossier City, La., was fired last week following an interview with a Baton Rouge radio station during which he accused Alabama of unethical recruiting tactics. Feaster told hosts Jordy Culotta and T-Bob Hebert that Alabama wasn't welcome on his school's campus because of the way the Crimson Tide recruited former Parkway quarterback Brandon Harris. At issue was the definition of a "committable offer." (That part comes at the 12:30 mark of the interview.) Harris went to LSU, and his decision last week to transfer away from the Tigers was what prompted Feaster's interview with Baton Rouge's ESPN Radio affiliate.
Feaster told The Shreveport Times that he believes his firing was directly tied to what he said in the interview.
10. On last week's Campus Rush Podcast, Dan Rubenstein of SBNation joined myself and Lindsay Schnell to discuss the greatest college football movie ever made.
What's eating Andy?
Did you hate when your favorite sitcom did a Very Special Episode back in the '80s? Me too. Now stay tuned for a Very Special Episode of "What's Andy eating?"
What's Andy eating?
Why is there a photo of an apple in a section devoted to finding new depths of gluttony? Simple. I'm tired of being fat.
I had already made this decision before I had surgery two weeks ago to repair a case of distal clavicle osteolysis in my left shoulder, but when I stepped on the scale the day before the operation, the number drove home the point. I weighed 273 pounds.
I've been that heavy before and lost the weight. In 2010, I weighed 276 and then starved myself down to 222 using the South Beach Diet and severely limiting my caloric intake. Basically, I starved myself. Needless to say, I gained it back. I did something similar in 2003, dropping from the 260s to the 220s and eventually fattening up again.
I can't do that again. Starving myself will work, but it isn't sustainable. As soon as I try to reincorporate some of the stuff I love eating and you enjoy reading about, I'll just gain everything back. So I'm taking a different approach this time. I'm not adhering to any fad. No South Beach Diet. No paleo. No nothing. I'm simply going to eat fewer calories—but not so few that I can't function. I'm also not going to be all weird about it. I'm going to limit how much bread and pasta and other worthless carbohydrates I eat, but I'm not going to eliminate it completely. If I ban a food, I only crave it more.
Exercise has never been an issue for me. I love it. My problem is food. But instead of trying to quit all the bad stuff cold turkey, I'm going to try to re-train myself to eat like a normal person. I need to lose about 40 pounds. I'm 6'3" and have a big frame, so something between 230 and 240 is a good, manageable weight for me. If I go lower, history tells me I can't maintain it. But it's simply too risky to keep living any heavier than that. So I'm going to try to learn to eat better while still occasionally enjoying some of the things I recently have eaten all too frequently.
So fear not. You'll still see the delights you've grown accustomed to reading about in this section. I've been cutting back for three weeks. I'd already started this when I ate the decadent bacon cheeseburger in Bradenton, Fla., that you read about two weeks ago. That was lunch on a Friday, and by dinner that night I was back eating smaller portions of mostly vegetables, meat and whole fruit. Hopefully I can keep this up. I'd love to drop a few pants sizes and still be able to enjoy the occasional plate of ribs.
But every once in a while, I'll sprinkle in an ode to a healthier meal or snack. You may not believe it if this is the only place you read about food, but plenty of healthy options are as delicious as the monstrosities I usually highlight. (And you won't feel nearly as bloated.) I'll keep you posted on my progress, and if you'd like to join in, go for it. Hit me up on Twitter, and I'm happy to either commiserate or offer moral support.
Today, we're going to talk about the best dessert/small meal money can buy for someone trying to lose a few pounds. The Honeycrisp apple broke that fruit out of a three-variety rut and turned something common into a delicacy. Why is the Honeycrisp the perfect apple? Because it's simultaneously crunchy, sweet and tart. It's the best of the stalwart apple varieties packed into one fruit.
Cut up a Honeycrisp and put the slices in a bowl. Then take a smaller bowl—I use my kids' snack bowls—and spoon in between one and two tablespoons of peanut butter. Do not just bring the jar of peanut butter with you. You'll eat too much. Dunk the apple slices into the peanut butter and enjoy. You'll be full when you're done, and you'll be just as happy as if you'd eaten a slice of cake.
O.K., maybe not a slice of really good cake. But it's definitely better than a slice of grocery store sheet cake. We're taking baby steps here.