He Made More of His Shots Last Year Than Anyone. Now Devontae Cacok Wants You to Know His Name
After leading the nation in field goal percentage (and taking only one jumper all year), UNC-Wilmington junior forward Devontae Cacok is ready to step out of anonymity (and the restricted area).
Devontae Cacok has a message to the college basketball world: Don't expect it to happen again. Don't expect the UNC-Wilmington junior forward to lead the nation in field goal percentage for a second consecutive year; don't expect him to shoot 80%, the highest mark of all-time, and more than six percentage points higher than the previous record.
It's not that he's backing down, or calling his 2016-17 season a fluke. Far from it. Cacok is expanding his game, venturing out beyond the comforts of the low, low post and taking his high-flying athleticism with him.
So no record, perhaps, this season. That's fine with Cacok. He's more concerned with making a name for himself.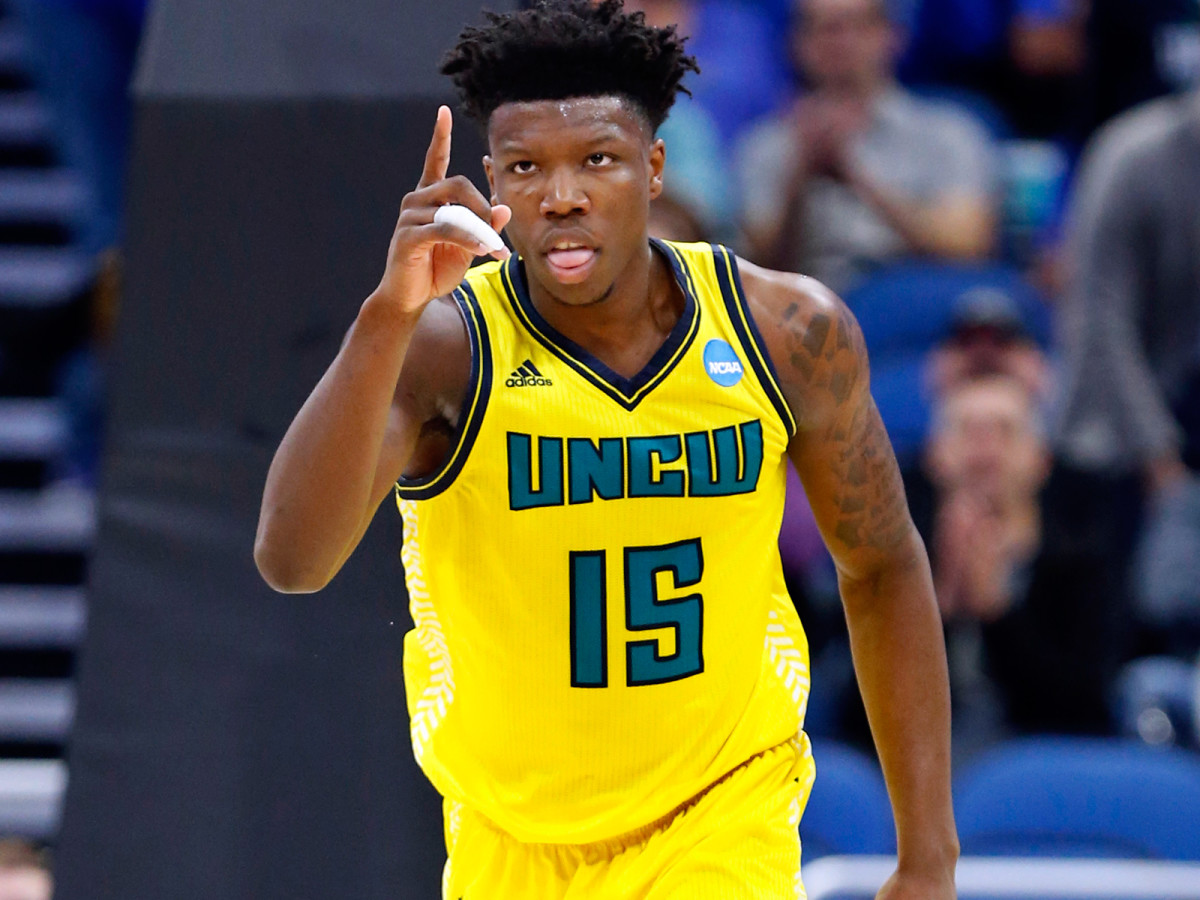 Cacok got into basketball with the snap of a bone. Growing up in Riverdale, Ga., Cacok played football, hanging on the offensive line. In eighth grade, he broke his wrist and missed most of the football season. Once it healed, the basketball coach reached out to him. He had never played before, and it showed. "I averaged like one point a game," he says.
The growth spurt helped. Cacok grew seven inches between his freshman and sophomore years and started for the varsity team after that. He transferred to Alpharetta High, on the other side of Atlanta, and as a senior, he averaged 22 points and 12 rebounds, leading the Raiders to a regional title.
But how did he go from 3.3 points his freshman year at UNCW to 80% last season? No other qualified player in the country (with a minimum of five makes per game and appearances in at least 75% of their team's schedule) averaged 70%; first-round picks John Collins (Wake Forest) and T.J. Leaf (UCLA) both averaged 61.7% and finished on the edge of the top 15.
It starts with a devoted dedication to the restricted area. Cacok attempted 230 shots last season. Just one was a jump shot (a 15-footer against Towson, which he made). The outer limit of his range was two feet, at best.
Part of that was by design. The Seahawks went 29–6, before losing to Virginia in the first round of the tournament, on the strength of four solid guards who all averaged above 33% from three. And why step out when you can do this?
But UNCW is in a state of transition, and Cacok is going to be the lead guy. Gone are the four guard starters; gone is coach Kevin Keatts, now at NC State. The Seahawks' new coach is C.B. McGrath, a Roy Williams disciple, who is looking to expand Cacok's game.
"He erred on [the side of the dunk]," McGrath says. "Two points is two points. But for his long term, for his career, and for our success, he's going to have to do more." Defenses will focus on Cacok this season, and it will be on the junior to respond. "He needed to develop a jump hook, a turnaround jump shot, the 12-to-15 foot jump shot," says McGrath. "But he works really hard. He's going to be able to show people what he can do, other than dunk."
Cacok, at 6' 7" and 240 pounds, is the fastest player on the team, according to McGrath. Cacok says he models his game after Montrezl Harrell, the former Louisville star now with the Clippers.
McGrath says Cacok has good touch—"You don't develop touch in four months," he says. "He's always had the touch and skill, just never had to use it." He's also a good rim protector. He was named the Colonial Athletic Association Defensive Player of the Year after averaging 9.8 rebounds and 1.26 blocks per game.
For Cacok, this year is about adjusting to being the offense's main option, a new situation for him. Despite the newness, he feels confident. "I feel ready," he says. "I've put in countless hours. I know what my role is."
Twice in conversation, Cacok mentions making a name for himself. McGrath wishes more people knew who he was, but both acknowledge that it's tough for a mid-major player to get widespread attention, especially without a deep tournament run. But McGrath also knows this: in his 22 years with both Kansas and North Carolina, no player—Brice Johnson, Tyler Hansbrough, Sean May or anyone else—has ever received a plaque from the NCAA indicating that they led the country in a statistical category.
But the story of Cacok's record received little press, especially after the Seahawks left the tournament. "Last year, North Carolina won the national championship, Joel Berry and Justin Jackson had great years, but if people said they were top 10 or top 100 in scoring, who knows?" McGrath says.
So they're hoping that Cacok's expanded game will do wonders for him and for the team. Another CAA title and tournament appearance will help. But Cacok is concerned with something else.
Before every game, he writes down a goal to achieve that night. Before their opener against against North Carolina Wesleyan, he already knows what he's going to write down: Win. Keep doing that, and everybody will know his name.