Turning Reggie Bush Into an Oscar
The former USC star was turned into a replica of Hollywood's biggest award.
Full Frame is Sports Illustrated's exclusive newsletter for subscribers. Coming to your inbox weekly, it highlights the stories and personalities behind some of SI's photography.
To get the best of SI in your inbox every weekday, sign up here. To see even more from SI's photographers, follow @sifullframe on Instagram and visit SI.com/photos. If you missed last week's edition on MLB's Field of Dreams game, you can find it here.
During Reggie Bush's three seasons playing running back for USC, he and his teammates became stars. Between 2003 and '05, Los Angeles was without an NFL team, helping vault the popularity of Bush and the highly successful Trojans to heights rivaling Hollywood's celebrity class.
"The Trojans' undefeated run to the national championship last year can be attributed in part to the Reggie Factor, which has corollaries that speak to the futility of trying to contain Bush," Sports Illustrated's Austin Murphy wrote in the Aug. 15, 2005, issue of the magazine about Bush. "Life isn't fair. You can do everything right, be in perfect position to stop him, and Bush will still hurt you."
From anywhere on the field—in the backfield, out wide as a receiver or as a returner on special teams—Bush was a threat to take it the distance. When USC's No. 5 was on your screen, you couldn't look away.
So, it made sense that Bush would grace the cover of an edition of Sports Illustrated on Campus published earlier that year that was dubbed the "movie issue."
The inspiration for the shoot came from work done to preview the 2000 Sydney Olympics. Photographer Peter Read Miller photographed athletes painted in gold, illustrating their embodiment of their ultimate goal.
With Bush, though, Miller took it a step further. Not only would Bush be painted in gold body paint, but he would be posed to mimic the Oscar statuettes handed out each year to the best of the film industry.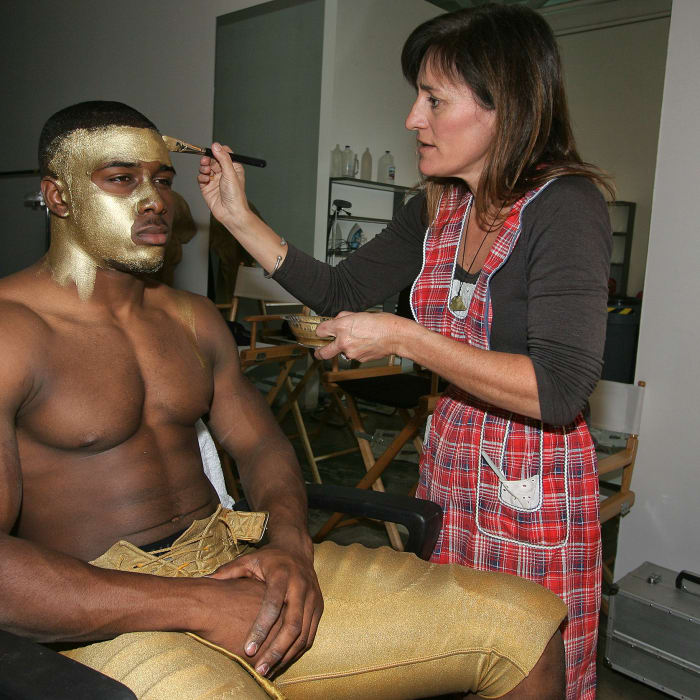 "I had known Reggie for a number of stories," Miller says. "So, I had kind of a good relationship with him. But there are points where I can tell that he's wondering why he ever signed up for this."
Bush had to sit for hours as makeup artists brushed the gold paint on him. They also sprayed his football pants, socks and cleats so that he, like the Oscar, appeared to be completely golden.
Aside from Bush himself, they also had to make props to mimic the award as closely as possible. But it wasn't easy.
​​"They don't encourage you to make replicas of the Oscars," Miller says. "So we couldn't get a copy. We had to find these things from photos."
The figure on the trophy holds a sword and stands on top of a gold disk, which rests on top of a black pedestal. All of that had to be created to get the full effect of the cover.
A carpenter put together the base in a VW van in the parking lot of the studio where Miller was doing the shoot, he says.
"He was pulling in pieces all the time," he says. "When you consider that, it's pretty amazing that it looks as good as it does. That was something that could have gone awry, but it worked out."
The sword was also put together in the parking lot, made out of mostly two-by-two wood pieces that were painted gold.
"When we break it down, it's pretty hokey," he says. "But as an effect, together. It worked just fine because you don't break it down. You go, 'Oh, that's the Oscar. That's pretty obvious.' "
As for what became of the sword, Miller brought it home with him. He says it's still in his closet.
Get Access to Our Exclusive Content
Already subscribed? Log In