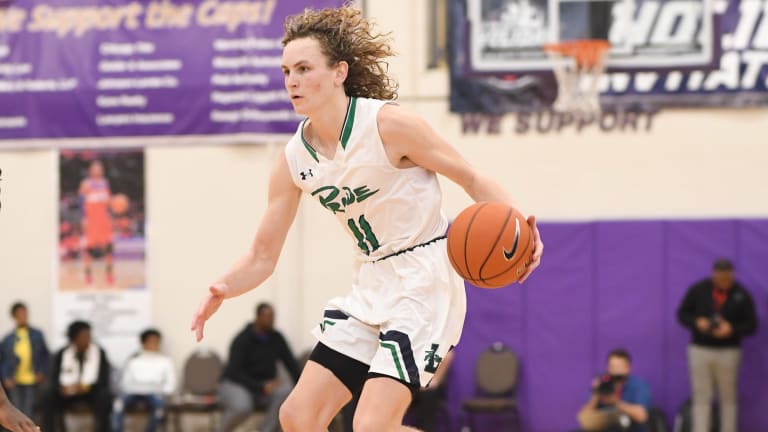 Carter Whitt Blog: Going to 2020 or Staying in 2021?
Elite Point Guard Breaks Down His Decision for Next Season.
Leesville Road (Raleigh, N.C.) point guard Carter Whitt was torn between staying put in the 2021 class or reclassifying up to join the 2020 class after a strong junior season where he averaged 23 points, nine rebounds and seven assists a game. Whitt holds more than 17 offers from schools like Virginia Tech, Boston College, Indiana, N.C. State and Ohio State. Here's his thought process behind that decision.
What's up world, this is Carter Whitt, and I've made a decision about my reclassification and I wanted to share that with you guys with the help of Sports Illustrated.
Well, I've decided to stay in high school in my 2021 class.
I know a lot of people were talking about it and thinking that I was probably gonna go ahead and go I the 2020 class, and it was a tough decision, but, in the end, I just felt like what was best for me was to stay in high school.
I had a lot of schools that wanted me to come early and there were a few that I really liked, but I did a lot of thinking and talked to some people who had done it and came up with my decision.
RELATED: COVID-19 Pandemic Leaves Players Without Hoops
I feel like it would be best for me to develop another year. I feel like I still have a lot to prove.
Once you leave home, that's it and that's a part that a lot of people don't think about.
I talked to Rodney Purvis and he did it back in 2012, and he told me once you leave your childhood is over. That really stuck with me.
I saw the benefits of 2020, but I feel like the benefits of 2021 outweighed them.
A lot of people were selling getting to college early and getting adjusted and that it was a quicker way to get to the NBA, if I was ready.
For me, I want to stay and develop another year. I want to be as ready as possible when it's time to go to college.
The schools that I had taken officials to – Boston College, Nebraska, Indiana and Virginia Tech – were the schools that were pushing for me to come now. They are still recruiting me just as hard for 2021 and I'm still interested in all of them. I was going to take an official to Ohio State but my state playoffs interfered with it.
It's a crazy time right now with the whole coronavirus pandemic and all. More than anything, I want people to stay safe so we can all get through it.
Of course, as a competitor, I'm hoping to get back on the court at some point this spring or summer. I am running with Team Thad on the EYBL and I feel like we have the team that can win Peach Jam.
That was one of the biggest things for me that I want to prove.
We came close to making the Peach Jam two years ago when I played with Boo Williams but fell just short.
I want to show everyone that I can lead a team and get wins; at the end of the day that's all that matters.
I want to get invites to the Skills Academy and the NBPA Top 100 and perform well out there.
Plus, there are a bunch of matchups on the circuit that I want so hopefully we'll get the chance.
OK everybody, I had a lot of time on my hands just like everyone else so I figured it would be a good time to let you guys know about my decision.
Stay safe out there and I'll talk to you soon.