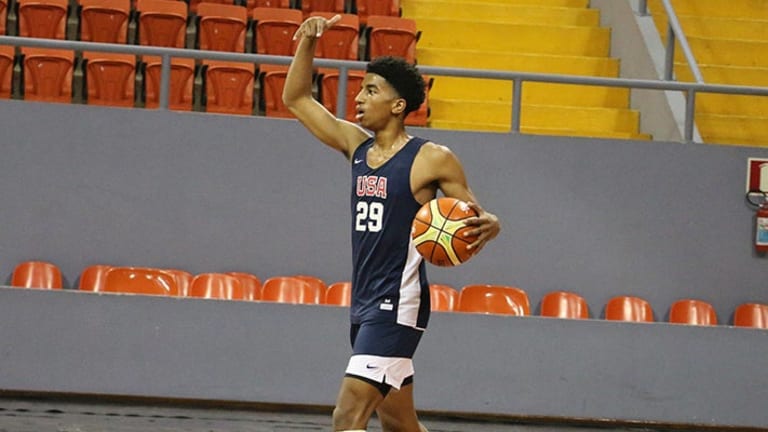 The Dillon Hunter Blog: This is Why I Committed to Baylor...
Hunter is Baylor's first commitment from the 2022 class.
Ypsi Prep (Mich.) shooting guard Dillon Hunter is one of the top shooting guards in the country and recently committed to Baylor over Florida State, Clemson, Memphis, Georgia, Georgia Tech, and others. He wrote an exclusive blog with Sports Illustrated to break down his thought process behind picking the Bears.
Hey, what's up world, it's Dillon Hunter and I'm excited to announce that I've decided to become a Baylor Bear!
I chose Baylor because it was just the best fit for me all around; from the system to how they develop their guards, it was the place I knew that I would grow on and off the court.
RELATED: Caleb Houstan focused on national title run
Davion Mitchell played for my AAU team and my coach, Coach Keke, and he was one of examples I looked at to see someone develop into a better guard than they were at this level.
My relationships with the coaches were another big factor in my decision too!
I built a really close relationship with Coach Nu (Jared Nuness).
Ever since they first started recruiting me, he was on me all the time, checking on me and making sure I was straight.
He really put in a lot of work to get me. Then Coach (Scott) Drew really showed me everything about the school through Zooms and built a strong relationship with me through those.
The coaches found out that I was committing through my stepdad and my mother.
As soon as Coach Nu got the news, he texted me then called me with a lot of energy on the phone! They were all really happy about everything.
I'm actually gonna have a Zoom with the whole staff later tonight, so I'm looking forward to that!
RELATED: SI99 Basketball Rankings
The crazy thing is that I've never actually been to Baylor!
Haha!
Just because of COVID-19 we aren't able to get out and travel for visits, but, like I said, Coach Drew really showed me all of the campus through Zoom, so I felt like I got a good feel for everything.
I would say another key factor for me was how successful they've been this season. Just watching how they're winning through their NBA sets and how they use their guards and share the ball.
I just love how hard they play and how they really buy in and play together.
I am very relieved to have this process over and done with.
I know you have to go through the recruitment process, but it can be a lot sometimes. I'm happy to get back to normal and have it out of the way.
I'm definitely gonna be coming after other elite guys to try and get them to Baylor with me, so just know that I'm gonna be putting in work to get everybody.
I want to thank my mom and my stepdad, my older brothers Chase and Jaden, Coach Keke, Coach Rodgers, Coach Major and, of course, all of the coaches at Baylor!
I can't wait to get there and I'm happy to officially be a part of the family!
Sic 'Em!
Don't forget to follow Dillon Hunter:
Twitter: @DillonHunter35
Instagram: DillonHunter