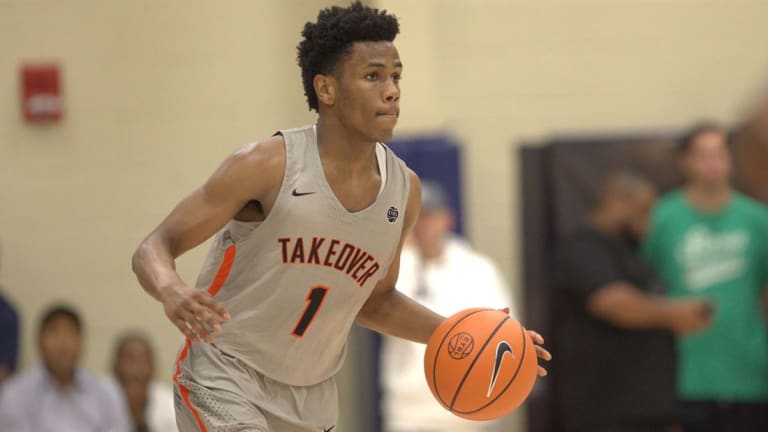 Duke Commit Jeremy Roach's ACL Injury Made Him a Mentally Stronger
Duke commit Jeremy Roach is the heir apparent to Tre Jones.
Jeremy Roach had always heard that great things come from adversity, but this time last year he was beginning to believe that notion was all just rhetoric.
In 2018, Roach was a consensus top-10 prospect in the 2020 class, coming off of a dominant summer where he led Team Takeover (Washington, D.C.) to the Nike Peach Jam title and in the first scrimmage of his junior year, the Paul VI (Fairfax, Va.) point guard suffered a torn ACL which sidelined him for a year.
RELATED: 2020 McDonald's All American Roster
"The first couple months were a struggle," Roach said. "It's not really the physical part, it's the mental part. I was constantly asking myself if I was gonna be able to be where I was before."
Even with the constant barrage of support and affirming from family, coaches and other players, Roach "had a lot of doubts."
"That battle in your head is a tough one when it's you going through it," Roach said. "It can make you depressed. At some point, I knew that I just had to have faith and work it out in my head. I would tell myself I would come back better, and I started to put the work in."
The result?
Roach, a Duke signee, is pumping in 21 points, five assists, four rebounds and three steals a game for one of the top teams in the country. Last month he was named to the McDonald's All American Game and is on the Watch List for the SI All-American team.
RELATED: HS Players With the Most NBA All-Star Potential
"My IQ is higher, my jump shot is better, and my speed, quickness and explosion are all better too," Roach said. "After going through that time where I had to rebuild the mental part of my game, it made me the strongest I've ever been."
That should help him next season as the heir apparent to Duke point guard Tre Jones, who most expect to declare for the NBA Draft after the college basketball season.
"Coach K told me that I was gonna come in next year and lead this team as a freshman," Roach said. "This kind of situation and opportunity doesn't happen for everyone so I'm excited about it. Mentally, I'm just at another level, and I know I'm ready physically. I can't wait."