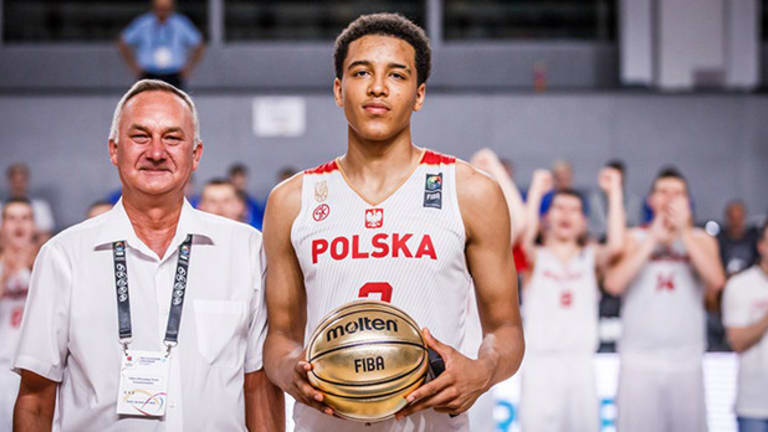 Former La Lumiere (La Porte, Ind.) forward Jeremy Sochan ended his recruitment Thursday picking Baylor over Kansas, Virginia, Michigan State, Arizona, Florida State and Vanderbilt, among others. Now in England, Sochan will play his senior season in Germany with Orange Academy. Sochan wrote an exclusive blog for SI All-American on why he chose the Bears.
Hello people this Jeremy Sochan and as you may have just seen I just committed to Baylor University.
I picked Baylor because of the relationship that I've built with Coach (Scott) Drew and Coach (John) Jakus.
RELATED: Langston Love Blogs About Commitment to Baylor
For the last 15 months we've continued to talk and grow closer and closer and they've invested a lot of time into me and my family. I knew that they really wanted me, which means a lot to me. I feel like it's the right environment and I'm really comfortable there.
The funny thing is that I never did an official visit there.
I never thought I would pick a school that I didn't get to visit, but when the pandemic hit it just stopped everything. I had plans to visit a couple schools and Baylor was on the list for sure.
I ended up doing a virtual visit and I was able to get a feel for the campus and loved it.
The bottom line for me is that picking a school isn't really even about the campus, it's more about the relationship that I have with the coaches and how they see me.
So, while it was nice to see the campus, it didn't play a big part in my commitment.
I'm staying in 2021 and finishing high school here and playing at Orange Academy and then I'll head to Baylor.
It was funny because when I called Coach Drew and Coach Jakus last night I could really tell that they were really happy and hyped up!
It feels great to have this decision out of the way because now I'm able to really focus on next year and developing so I'll be ready for Baylor.
It's always been a dream to play at the college level and also get an education and I feel like Baylor offers the best of both worlds for me.
I may reach out to some other guys in my class to try and get them to join me at Baylor, but we'll see! Haha!
Well, I've got to get going people, but I wanted to give you more of an idea about why I made my decision.
Take care and be safe out there.
Sic 'em!
Don't forget to follow Jeremy Sochan on:
Twitter: @SochanJeremy
Instagram: jeremysochan